I grew up in a family of artists. It was very often weird, but never boring. Our kitchen had bright red walls covered in medieval unicorns. Table tops were carefully arranged in bowls of fruit, beads and bones. When my sisters, cousins, and I raced through our houses, bumping said tables, the words "don't touch the still life" echoed after us. Bookshelves contained art magazines and the air smelled like turpentine. We visited a lot of art museums, usually while I crouched in the corner and complained that my legs hurt.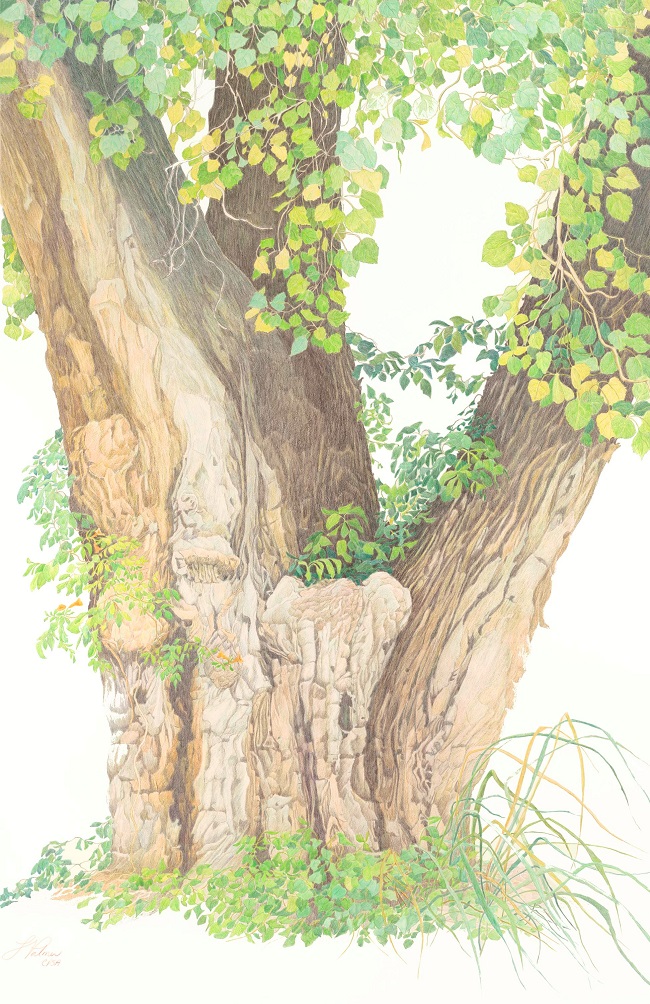 Linda Williams Palmer, Eastern Cottonwood (Populus deltoids), Crawford County, Van Buren, colored pencil drawing, one of 18 large format renderings in the Arkansas Committee traveling exhibit Arkansas Champion Trees: An Artist's Vision that toured over two years to 16 venues across the state. The artist and exhibit are featured in the AETN documentary Champion Trees, and the artist has produced an artist book documenting the project.
But growing up surrounded by artists influenced my appreciation of things lovely and sometimes bizarre (not to mention building my stamina up to the point where I no longer need those corner-crouching museum breaks). It also impressed upon me the difficulties of being an artist and finding a professional support system. But luckily, here in Arkansas, women artists have the ACNMWA (Arkansas State Committee of the National Museum of Women in the Arts).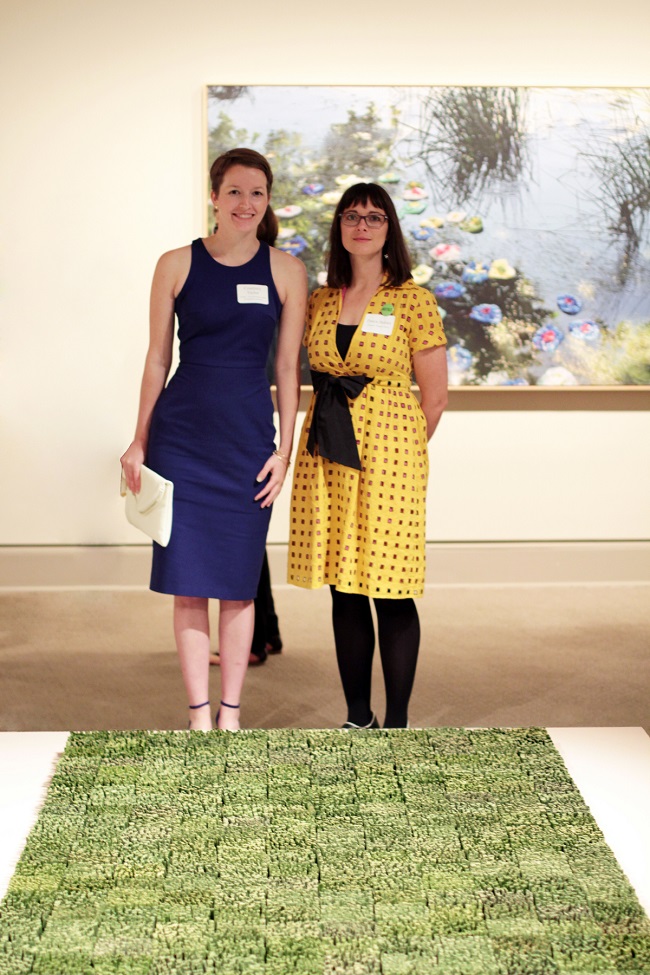 *Courtney Taylor, guest state curator for the Arkansas Committee of NMWA, and Dawn Holder, Arkansas representative selected for the international biennial competitive Organic Matters: Women to Watch 2015, standing by Dawn's selected work (Monoculture, a porcelain clay installation) in the National Museum of Women in the Arts, Washington, D.C. June 2015.
The National Museum of Women in the Arts was formed in 1981. It is housed in a former Masonic Temple near the capitol in Washington D.C. When Helen Walton visited the museum in 1989 she realized it was a truly significant milestone for women. She came back to Arkansas and began organizing the Arkansas State Committee, an independent nonprofit affiliate of the national organization, known as the ACNMWA.
When I spoke with Barbara Satterfield, ACNMWA committee member, sculptor, and former faculty member at UCA, she explained Helen's vision further.
"She wanted to bring back that national artistic emphasis to our state and figure out how it could benefit Arkansas women artists the most. We were very fortunate to be organized as an affiliate early on, not every state has this."
Barbara was introduced to the ACNMWA and invited to join their committee by fellow artist, Linda Palmer.
"Linda came to me with an exhibit of her drawings, a monumental series on Arkansas Champion Trees. We worked through the ACNMWA to gain grants so Linda's show could travel for two years. That would never have happened without the nonprofit Arkansas committee."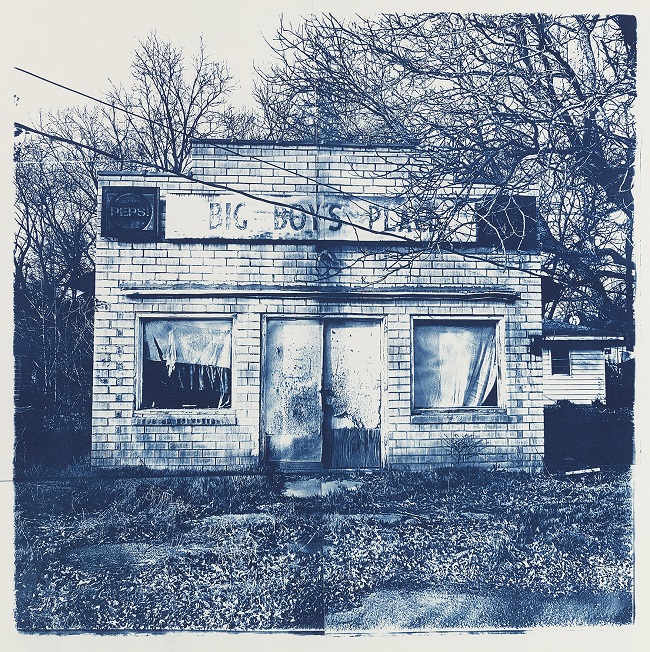 Beverly Buys, Big Boy's Place, Cyanotype print, image from the Delta Blues Series completed by the artist who was selected as the 2016 Crews Scholar Award winner (her work is featured in an exhibit of recent Arkansas Committee scholars at the Butler Center for Arkansas Studies in Little Rock); others include Robin Miller-Bookhout (North Little Rock), and Maxine Payne (Greenbrier).
Barbara also explained how the support ACNMWA lends women artists in Arkansas is substantial, ranging from internship programs across the state (one of Barbara's student gained an internship with the Arts and Sciences Center in Pine Bluff), a juried artist registry, and scholarships.
"We take women artists through their student level and into being an established artist. Scholarships can help with research, or travel or workshops. We also maintain and promote a juried artist registry. We currently have 42 artists this year. It's an important way to promote artists, and they are able to gain visibility and put it on their resumes. We want our programs to be easy and available."
The committee also organizes and promotes the Women to Watch Exhibition. It will be on display in the Arkadelphia Art's Center from Feb. 23 – April 6. More information about this exhibit can be found here http://acnmwa.org/events- exhibits/.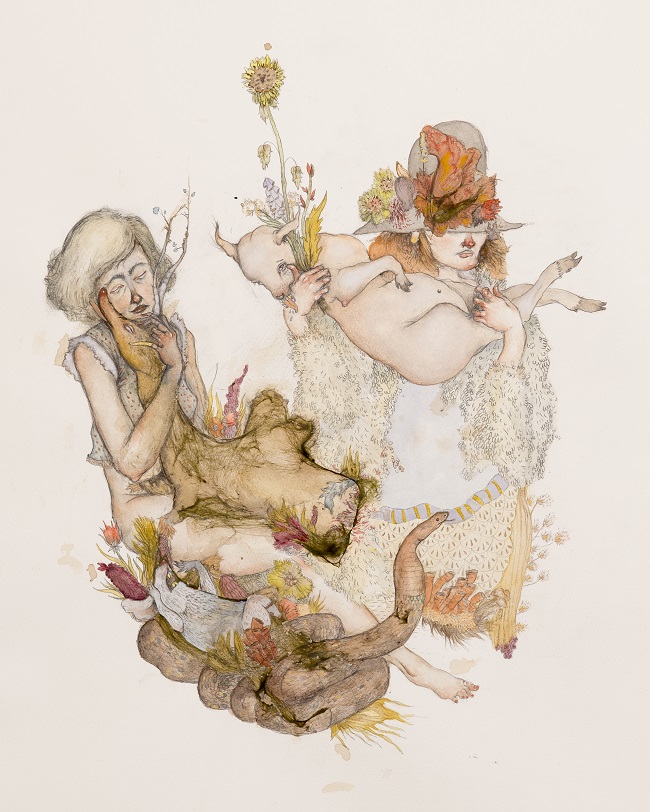 Katherine Rutter, Be Gentle with Yourself, a mixed-media drawing by one of three additional Arkansas women artists who were selected by the guest curator to show work with Dawn Holder in the Arkansas Women to Watch 2016 state tour that premiered at the Art and Sciences Center for Southeast Arkansas in Pine Bluff in December 2015 (the exhibit toured to 10 venues across the state); others included Sandra Luckett (Conway) and Melissa Wilkinson (Jonesboro).
As for Barbara, involvement in the ACNMWA was a full circle event in her life.
"I went to school in Washington D.C., and I was a docent at the National Museum of Women in the Arts. I had no idea that I would later work with this group."
Art has a way of coming full circle in all our lives. Just as I thought I was growing up and entering into a world free of still-life-table-tops, I was fortunate to become a mother to a budding artist. Our home is full of brightly colored markers, glitter glue and paint. My pillows and afghans have crayon smudges on them. We roll out long lengths of paper and do "projects" ranging from mermaids to fairy worlds. I can keep up with her momentarily, but she has so much artistic talent that I'll soon be passed by. I'm alright with this. I'm grateful that she's growing up in a world where women artists have great support networks and organizations like ACNMWA.
For more information on their internships, scholarships, artist registry and events, visit their website at http://acnmwa.org/.