Most people who have lived and gardened in Arkansas know at least a couple of Arkansas cultivars of fruits and vegetables, namely the Arkansas Traveler tomato and the Arkansas Black apple.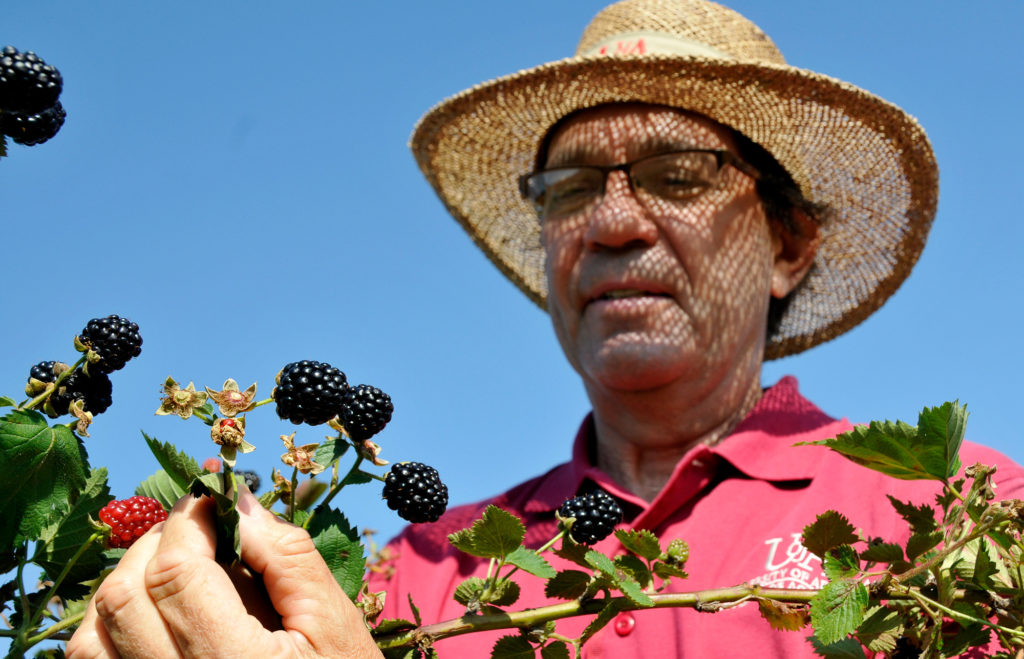 Fruit breeder John Clark shows Osage, a new blackberry variety released by the University of Arkansas System Division of Agriculture.
These two classics of Arkansas agriculture are still popular because of their great taste and their adaptability to the environment in Arkansas and elsewhere in the south. But did you know there are a lot of other fruits and vegetables – and even strains of cotton – developed in and for the Natural State?
Apples and Tomatoes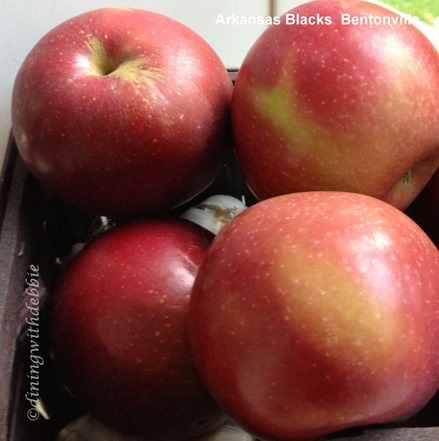 Photo courtesy Dining with Debbie, diningwithdebbie.net
The Arkansas Black apple originated in Benton County in the 1870s. It is one of the darkest-skinned apples and the skin actually gets darker with age, thus the name of the apple. They also have white flesh, so some people refer to them as Snow White apples.
These apples are great for storing, and they tend to be hard, crunchy and tart when fresh, but the mellow with age. Try them in a Black Apple Cobbler or Black Apple Pie.
Arkansas Traveler tomatoes are a classic through Arkansas and well beyond. They're a mild flavored, lovely pink fruit that grows to a medium size. The original Travelers are an heirloom that moved across the south in the 1900s and are prized for their flavor as well as their resistance to cracking.
Green Cotton?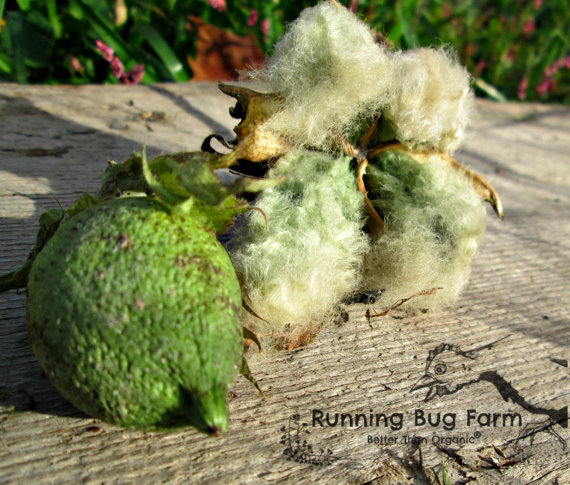 Photo courtesy of Running Bug Farm, runningbugfarm.com
I got interested in Arkansas cultivars because I was looking for things that would be good to grow in my garden. I was browsing the Southern Exposure Seed Exchange website and saw their listing for Arkansas Green Lint Cotton.
Sure enough, it really is cotton that looks green naturally, though the shade of green varies among plants. They say the plant blooms with yellow-pink flowers that are great to use in arrangements, and the plants are five to seven feet tall.
I don't think I have room to grow cotton but I'd love to just to be able to show my daughter what cotton looks like on a plant and to share the surprise of this cotton being green.
More Cultivars for Arkansas
Once you start digging, there are a lot of plants that have been developed in Arkansas for Arkansas gardens and farms.
The reason we have so many cultivars that are well-suited for growth in Arkansas is because of the research done at the University of Arkansas.
They've patented many special plants that can be purchased for home gardens, which is a whole different level of discussion. The United States Patent and Trademark Office will issue patents to people (or, in this case, the university itself) for successful production of a new variety of a plant with distinct characteristics.
Having a patent for a cultivar means that only people who have permission can sell or propagate the plant. The university maintains lists of registered and licensed propagators, so if you're looking for a specific variety you can find people who sell it.
A Few Good Cultivars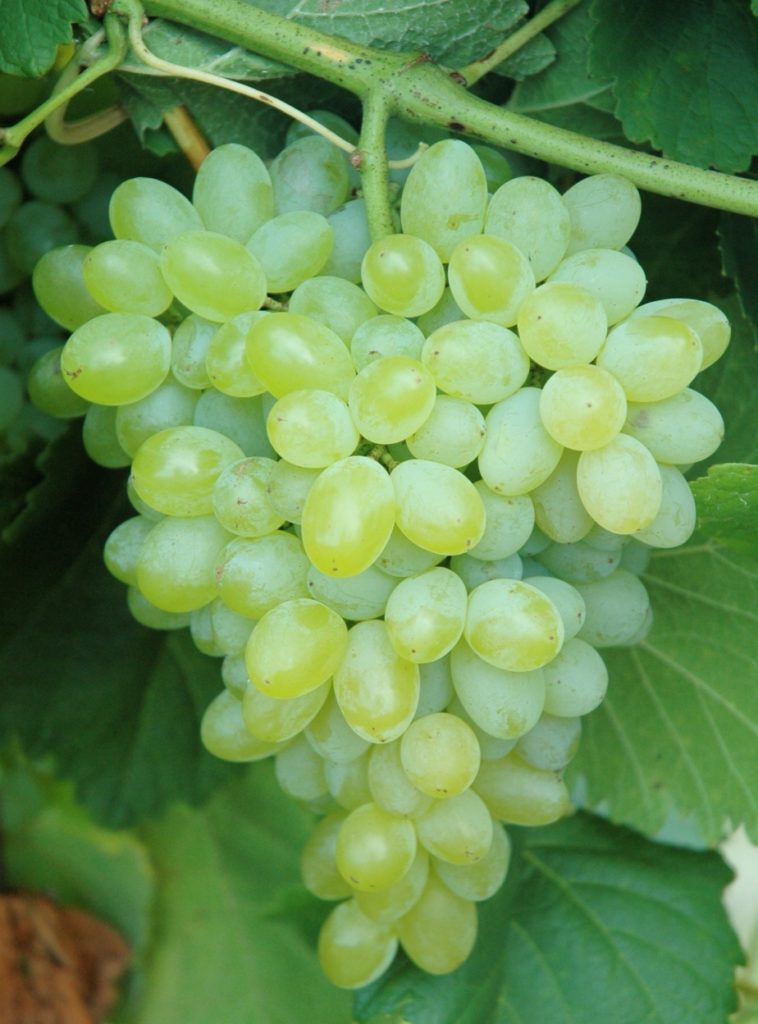 Photo courtesy University of Arkansas System Division of Agriculture.
This is by no means an exhaustive list of Arkansas-based cultivars of fruits and vegetables, but here are some of the more popular produce options that come from right here in Arkansas.
Blueberries: Ozarkblue and Summit are both mid-season producing, southern highbush cultivars that produce high yields; Summit was produced in cooperation with North Carolina State University.
Blackberries: Chickasaw, Choctaw, Kiowa and Shawnee are all thorny blackberry cultivars; Apache, Arapaho, Natchez, Navaho, Osage and Ouachita are thornless. Many of these are disease resistant as well as producing a variety of fruits.
Grapes: Sunbelt grapes are productive and resistant to mildew and are great for juicing. Table grape cultivars developed in Arkansas include Mars, Jupiter, Neptune, Reliance and Venus. These grapes vary in color and flavor.
Strawberries: Cardinal strawberries are large, sweet and strong-bearing plants. The fruit are glossy, red and firm, and they're great for fresh eating, processing and freezing.
Learn more about the best berries and small fruit cultivars to grow in Arkansas with this PDF from the Cooperative Extension Service.
Feature photo: Fruit breeder John Clark shows Osage, a blackberry variety released by the University of Arkansas System Division of Agriculture. Via the University of Arkansas System Division of Agriculture.