Librarians have always been among the most thoughtful and helpful people.  They are teachers without a classroom. –Willard Scott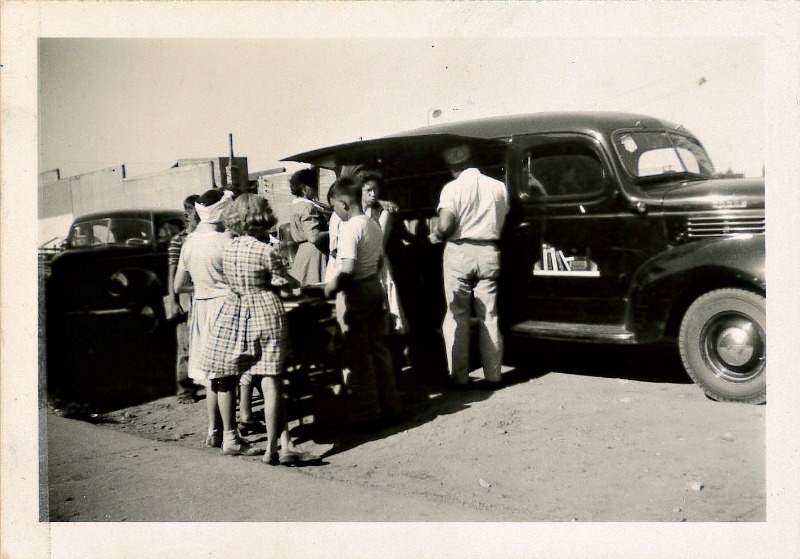 In 1947, the Jonesboro-Craighead County Library launched a bookmobile service. Schools, citizens' gifts, and public subscriptions paid for the specially fitted panel truck. (Courtesy of Craighead-Jonesboro Library)
In 1905, Mary Lemist Titcomb, the librarian of Washington County, Maryland recruited the library janitor to drive a two-horse wagon to deliver books to general stores and post offices in rural communities. Before long, the practice spread across the country and eventually to Arkansas.
A poor rural state, Arkansas struggled financially to establish public libraries. But visionaries were eager and resourceful in their mission to promote literacy and improve people's quality of life. By the spring of 1938, Lois Ranier, the first Pulaski County librarian, was hired to provide bookmobile service to outlying areas. Its purchase was the result of cooperative efforts of the county government, civic organizations, and citizen subscriptions. Even children helped by each contributing a dime toward the project.
In the first two weeks of operation, Ranier distributed 2,054 books to eager readers. By 1941 they had purchased a second bookmobile to travel to College Station and the Jacksonville areas. Students sold bookmobile booster buttons to assist in funding.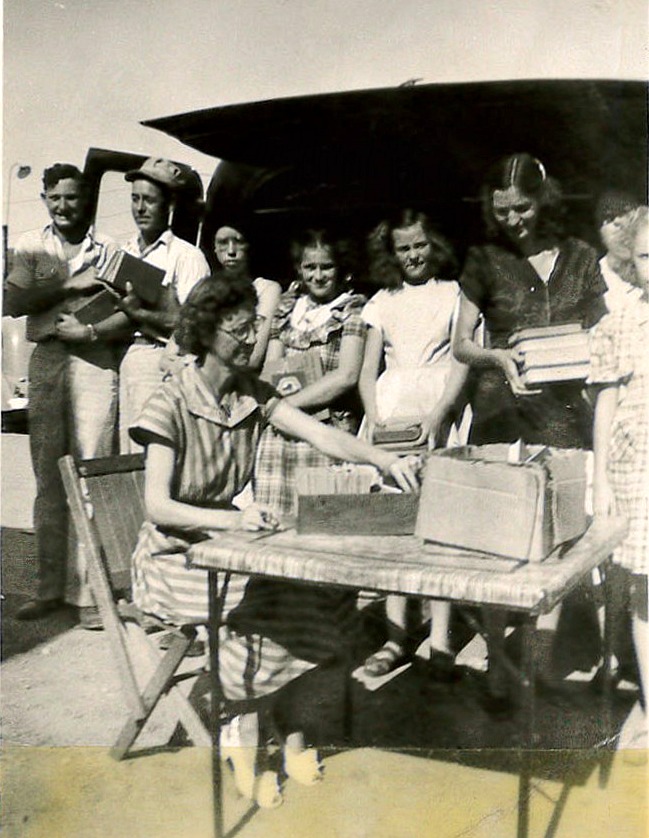 Courtesy of the Craighead County-Jonesboro Library
In 1947, both Marion County and Jonesboro-Craighead County Libraries acquired panel truck bookmobiles. Although neither library system has a bookmobile at this time, Craighead County-Jonesboro Regional Library is considering investing in one to serve areas without branch libraries.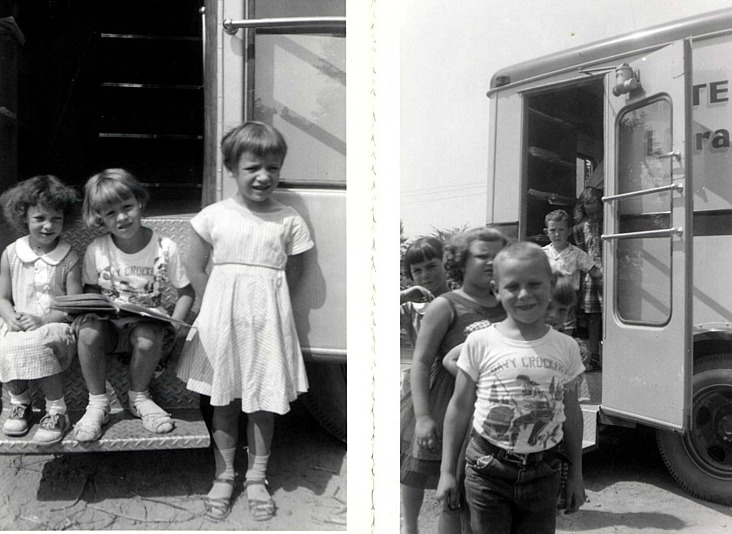 Photo courtesy of Darla Ino
Without libraries what have we? We have no past and no future. –Ray Bradbury
The Library Services Act of 1956 and government funding in the '60s enabled many public libraries to invest in bookmobiles. Happily, some of those dollars ended up in smaller Arkansas libraries.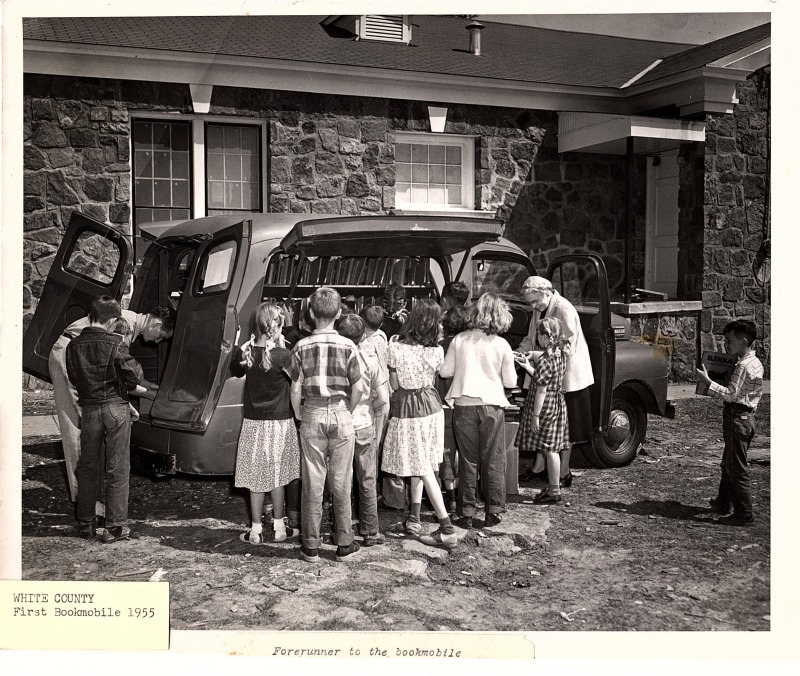 White County Librarian, Inez Shannon Bishop, welcomes children to White County's first bookmobile in 1955. (Courtesy of Darla Ino)
Several people who grew up near Searcy shared recollections of the White County Library's bookmobile.
Jo Carol Gentry remembers the bookmobile going to the Searcy schools where students were allowed to check out one book.
Mary Howell Bloomquest wrote about it stopping at the Pangburn Library in the early 1960s. "Our library was just a tiny one-room building. It was a chance for us to get new books. We read the same ones over & over because that's all there was."
Kay Bennett Wilkins remembered it going to the pumping station near Searcy in the late '50s or early '60. "I was one of many children that looked forward to checking out books to read."
When Searcy retired its last bookmobile in 1988, it was made stationary and given a second life as Bradford's first public library as the Southeast Arkansas Regional Library System had done in 1983 in Watson. Bentonville turned an old bookmobile into a recycling station. What great repurposing ideas.
Many libraries that no longer have bookmobiles—such as El Dorado, Benton, Fort Smith, and Jonesboro—provide shut-in courier service for people who cannot leave their homes.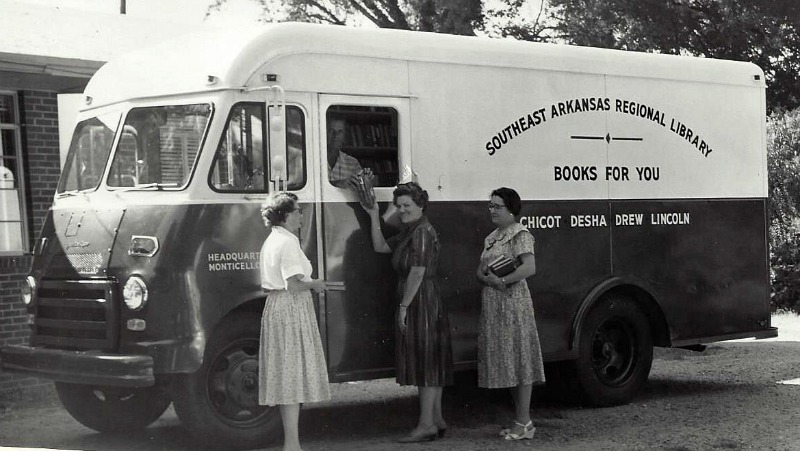 This customized truck, purchased in 1959 for $3685, was based in Monticello. (Courtesy of Judy Calhoun)
Judy Calhoun, Southeast Arkansas Regional Library Director, shared that while she was growing up, she lived 18 miles from town, which made the bookmobile's visit an important event. "It was my access to books during the summer .  .  . and a life saver because I was a big reader." She remembers being allowed to check out 30 books, one for each day of the month.
I ransack public libraries, and find them full of sunk treasure. –Virginia Woolf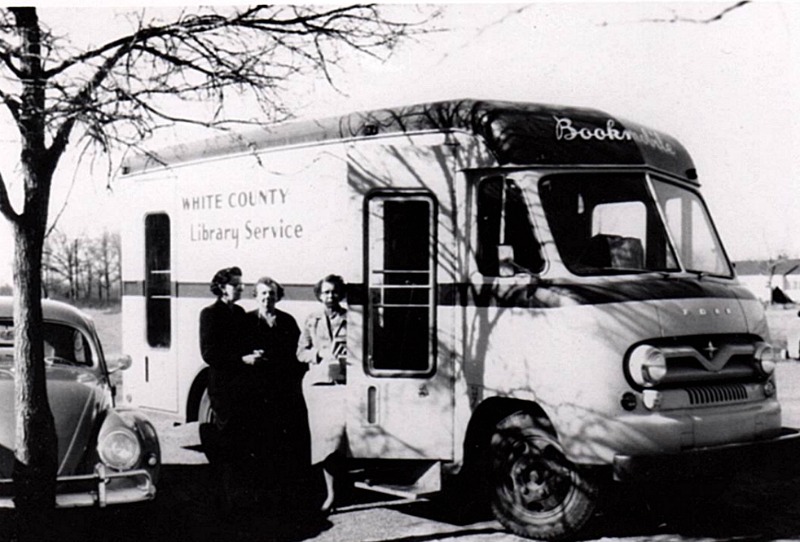 Tommy Prestidge of Searcy wrote, "I remember a bookmobile coming to Kensett back in the '60s. I don't know where it came from. Back then I guessed it came from the book factory."  (Courtesy of Darla Ino)
At a time when community and school libraries were small or nonexistent, many children, like Tommy, were far more interested in the wealth lining the shelves than the bookmobile's point of origin.
Bret Winingar, who visited the Little Rock Public Library Bookmobile in the Geyer Springs area of Little Rock commented, "In the age before the internet or even cable, the bookmobile was our link to the outside world."
At one time, three bookmobiles served Central Arkansas. One operated in Little Rock, one in Pulaski and Perry Counties, and a third delivered children's books to daycare centers in Little Rock.
Mike Brooks, a CALS employee, took the bookmobile to locations in Pulaski and Perry Counties. He wrote: "In some ways, Perry County was more enjoyable. Those stops tended in be in small towns. Patrons always seemed to view the bookmobile as a social event as much as an opportunity to find something to read . . . Pulaski County was fun too. Two of the most enjoyable (stops) were at retirement centers. I loved talking with patrons at both locations. No two days were ever alike. Patrons were always great."
In the early 1980s, my children and I visited a bookmobile at Butler Park on Rodney Parham in Little Rock. As I remember, it was a bus-like vehicle with a nice collection of books. The park was close to our grocery store and much more convenient than driving downtown where parking could be intimidating. Now the Terry Branch Library is closer to me than that park.
I have found the most valuable thing in my wallet is my library card. –Laura Bush
In the early 2000s, as more branch libraries were built and the use of the Internet became commonplace, CALS discontinued bookmobile services. These days it offers an amazing number of online services from eBooks and movies to book clubs and even legal information.
Linda Bennett of the Phillips-Lee-Monroe Regional Library System reports that a bookmobile operated throughout Phillips County in the 1970s. In 2002, the Louis and Joe Smith Estate donated $250,000.00 to provide bookmobile service to the Monroe County region, too. That two-person service covered approximately 189 miles while visiting nine towns twice a week. Although the bookmobile had to be retired in 2010, a public Library opened in the Smith's hometown in 2011.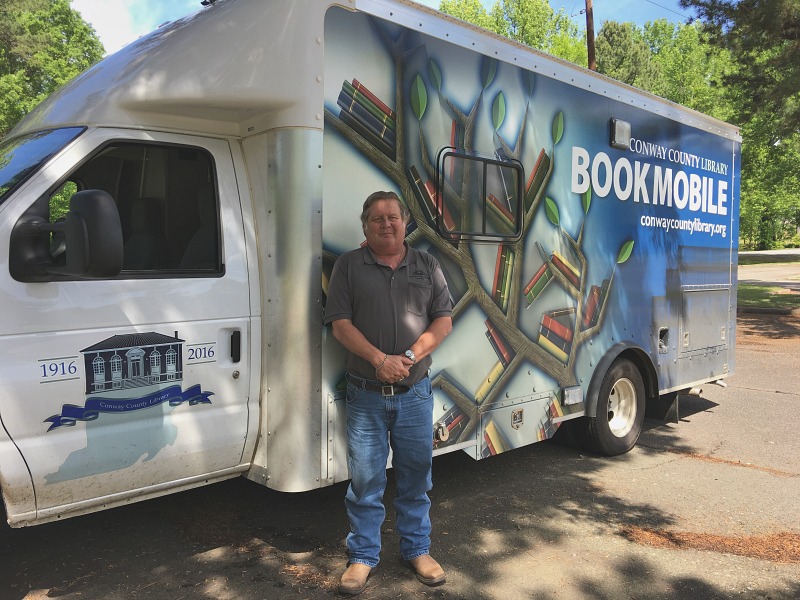 Books are a uniquely portable magic. –Stephen King
I'm happy to report that bookmobiles still operate in some areas of the state. The Conway County Library Bookmobile launched its operation in September 2016 to serve small communities around Morrilton.
Michael Cree, the driver/librarian, gave me a tour at its Museum of Automobiles stop on Petit Jean Mountain recently. The van, a deluxe model, is outfitted with a wheelchair lift, Wi-Fi and television capabilities. If you don't have a library card, Cree can issue one to you. And if you want a particular book that isn't on board, he will deliver it next time. For their schedule, visit http://conwaycountylibrary.org/index.php/book-mobile-calendar/.
The Malvern-Hot Springs County Library's bookmobile http://www.hsclibrary.arkansas.gov/bookmobile serves small outlying communities along with daycare centers, schools, a healthcare/rehabilitation facility, and the Boys & Girl Club in Malvern.
The love of libraries, like most loves, must be learned. –Alberto Manguel
Now even public schools are getting into the bookmobile business. Both Cabot and Beebe use them to promote summer reading. Dr. Kay Calvert, Literacy Interventionist at Beebe Badger Elementary, was eager to share about their well-received program. Their summer schedule will be posted on the Beebe School District website and at the Goff Library.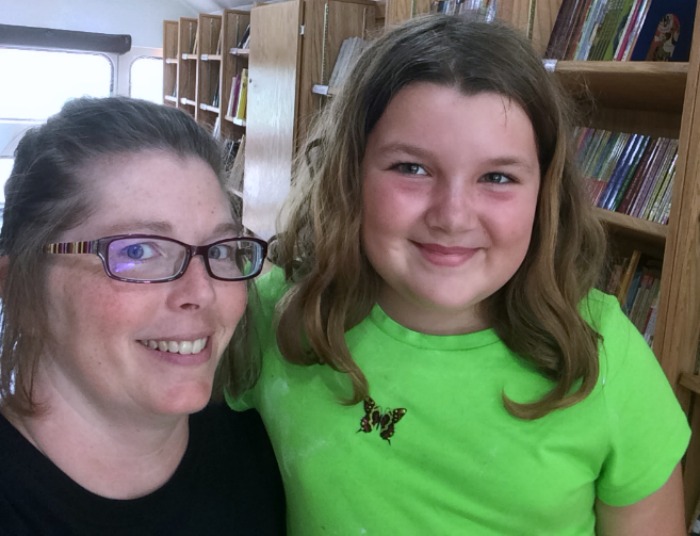 The Beebe Badger Bookmobile was the brainchild of Dr. Kay Calvert. One enthusiast, Josie Jackson, reveals her love of reading: "It feels like I'm right there with the characters watching everything that's happening to them." (Courtesy of Dr. Calvert)
In a recent Arkansas Democrat-Gazette editorial, Dana D. Kelley, a freelance writer from Jonesboro, described libraries as "gateways to imagination and launch pads for learning." In his closing, Mr. Kelley encouraged readers to support their local libraries because "any gift which aids a child's learning pays perpetual dividends."
I gladly join Mr. Kelley in asking you to support your local library.
For more information and pictures of vintage bookmobiles visit:
https://www.thevintagenews.com/2016/01/12/amazing-vintage-photos-of-american-bookmobiles-in-the-past/2/
http://www.messynessychic.com/2013/10/08/to-the-bookmobile-the-library-on-wheels-of-yesteryear/
http://www.smithsonianmag.com/smart-news/the-earliest-libraries-on-wheels-looked-way-cooler-than-todays-bookmobiles-1418682/
The Donkey Library http://www.pbs.org/pov/biblioburro/bookmobile/
https://americanlibrariesmagazine.org/2012/04/11/bookmobiles-a-proud-history-a-promising-future/