It hasn't been particularly cold this winter, but let's be real. January is not exactly topping anyone's lists of the best months of the year around here. It's probably not even in the top five. Sorry, January.
The trees are bare. It gets dark before we even get home from work. By comparison to the busy spring, fall and summer months, there just isn't as much happening in town.
But we can all take some comfort in the fact that warmer days are ahead, and with them will come some really fun local food, drink, and music festivals in Northwest Arkansas.
Here's some information on nine of them that we know about coming up in Fayetteville in the months ahead. Mark your calendars.
---
When:Saturday, Feb. 4
Where: 2463 N. McConnell Ave. (adjacent to the Washington County Fairgrounds).
What: The folks behind Fossil Cove Brewing Co. are planning their second annual winter beer fest in early February. The event will feature more than 30 of their favorite breweries, along with live music by Me Like Bees and Crescent City Combo.
Participating breweries include Anthem Brewing Company, Bike Rack Brewing Co., Riparian Ales, Ozark Beer Company, Earthbound Beer, Martin City Brewing Company, and several others
For a full list of breweries, ticket information, and more, read our full story here.
---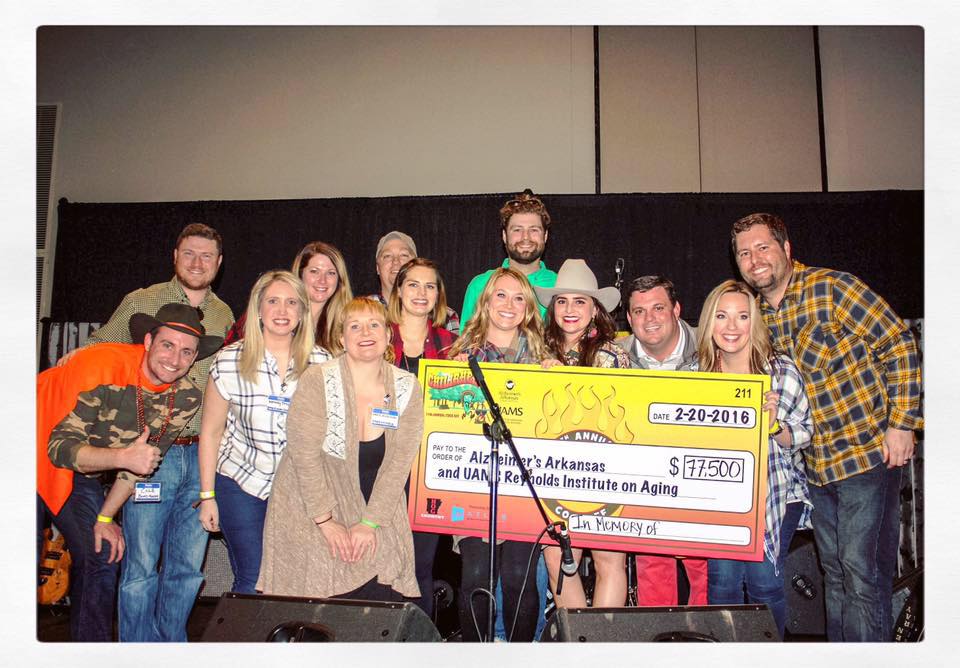 When: Saturday, Feb. 25
Where: Fayetteville Town Center
What: No list of food and drink festivals is complete without a chili cookoff, and this one is no exception.
Chilirhea is an all you can eat (and drink) chili competition benefiting Alzheimer's Arkansas and the UAMS Center for Aging Research.
With over 30 teams competing for the best chili, there will be plenty to sample. This year's event has an "Under the Bigtop" theme. There will be live music, and of course, plenty of adult beverages as well.
The folks behind the event have raised more than $300,000 for Alzheimers research since they started 12 years ago. Not too shabby.
Tickets are available now on chilirhea.net. Kids 13 & under are free.
---
When: Saturday, Feb. 18
Where: Washington County Fairgrounds
What: The folks behind the popular Fayetteville Foam Fest and Ales & Tails festivals are bringing back their Gumbo Cookoff event for a second year.
The event will feature several teams creating their best batch of the classic New Orleans dish. In addition, there will be live music, and local craft beer available.
Proceeds from the event will benefit the Juvenile Diabetes Research Foundation.
---
When: Saturday, April 1
Where: Washington County Fairgrounds
What: Ales & Tails is a boiled crawfish and craft beer festival that started a couple years ago in Fayetteville.
In addition to thousands of pounds of boiled crawfish, there will also be crawfish dishes by local chefs and restaurants on hand, as well as beer by local and regional craft breweries.
The event is also a benefit for the Arkansas Chapter of the ALS Association.
More details about this year's event will be released in the coming weeks at alesandtails.org.
---

When: Saturday, April 15
Where: Downtown Dickson Street, Fayetteville
What: Springfest will return to Dickson Street in April
The event, which has been a Fayetteville tradition since the early 80s, is a street fest that includes local vendors, live music, a 5k run, pancake breakfast, a dog parade, and of course, the bed races up Dickson Street.
The lineup and details of this year's event has not been released, but we expect to know more in the next month or so.
The event is also a benefit for the local chapter of Habitat for Humanity.
---
Arkansas Brewgrass Festival
When: Saturday, April 15 Moved to May 6
Where: Washington County Fairgrounds
What: The Arkansas Brewers Guild is planning a craft beer and bluegrass festival for this spring.
The event will include local and regional bluegrass music, local arts & crafts, and of course, plenty of Arkansas craft beer as well.
It's set to be a family-friendly event with plenty of activities for the kids. There will also be a market featuring handmade items from local makers and artists from the CattyWampus Coop.
A full lineup of musicians and participating breweries is expected sometime in February or March.
---
Springtime of Youth Festival
When: TBD
Where: TBD
What: The University of Arkansas' Headliners Concert Committee have been hinting that their new Springtime of Youth music festival will return for a third year.
The Headliners Committee also begin polling students back in September seeking feedback on who they'd like to see at the 2017 event.
The event debuted in 2015, and was introduced as an alternative to of the once-per-semester concerts held in the past at Barnhill Arena.
The festival typically takes place in late April, and the lineup will likely be released sometime in March.
---
Continue Reading at Fayetteville Flyer