Spring in Arkansas means lots of festivals, and this weekend there are five different festivals to choose from plus several other outdoor events. If you can play an instrument you might check out the event going on at Mammoth Spring State Park and have some fun pickin' and playin'. For the history buff, it would be fun to take a trip to the Lakeport Plantation for their weekend presentation. There is something going on to please just about everyone. Enjoy!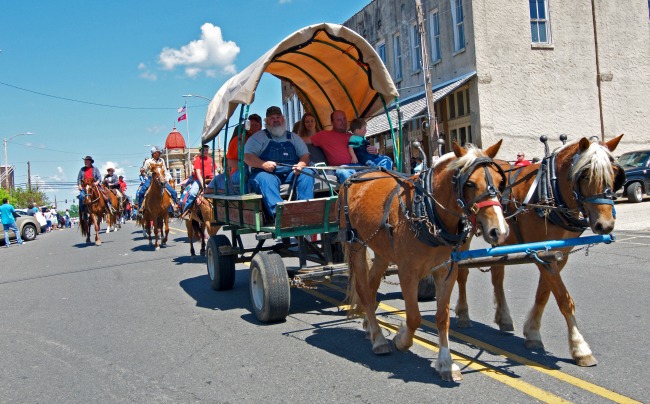 Photo courtesy of Arkansas Dept. of Parks and Tourism
34th Annual Fordyce On The Cotton Belt (Fordyce)
Fordyce is the place to be this weekend for the annual Cotton Belt Festival. There will be arts & crafts, carnival games, food trucks, parade, Redbug Reunion, live music, washer tournament, a beauty pageant, 5K run, a steak cook-off and MUCH MORE! There will be plenty for the entire family to enjoy.
Venue: Dallas County Courthouse (203 West Third Street Fordyce, AR)
Date: April 26th- April 28th
Time:  Click Here for full Event Schedule
Admission: Free
Contact: Click Here

15th Annual Arkansas Literary Festival (Little Rock)
The Arkansas Literary Festival offers a mix of sessions, panels, special events, performances, workshops, book signings and opportunities to meet authors. More than 70 authors, essayists, and illustrators—who have achieved national and international acclaim—represent an array of genres and will discuss topics such as science fiction, fantasy, crime, southern life, social commentary, science, women's history, young adult and children's books.
Venue: Multiple Downtown Locations
Date: April 26th- April 29th
Time: Varies
Admission: Varies- Most are free, but some require tickets
Contact and Schedule: Click Here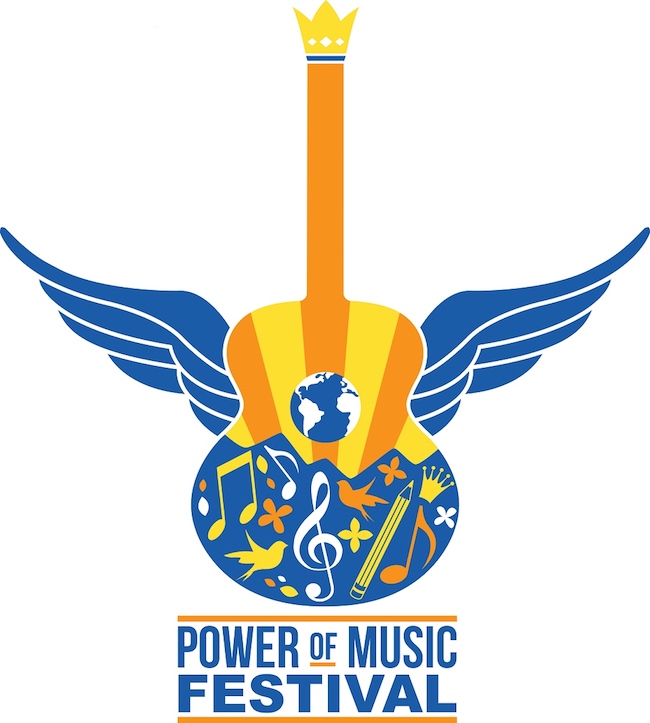 Power Of The Music Festival And Conference (Bentonville)
The festival celebrates the art of songwriting and brings in national and worldwide known songwriters to perform popular songs and hear the stories that inspired those songs. Up and coming acts and local songwriters will perform and there is also a music conference that brings music industry executives to Bentonville to lead workshops in their prospective fields to educate songwriters on the music business. The festival is a fundraiser for the I'll Fly Away Foundation. The foundation brings the "You Can Fly" Songwriting Program into the regular classrooms of 3rd-5th graders to write songs about what they're learning. 
Venue: Downtown Bentonville
Date: April 26th- April 29th
Time: Varies
Admission: Varies Some sessions are free and some require tickets
Contact and Schedule: Click Here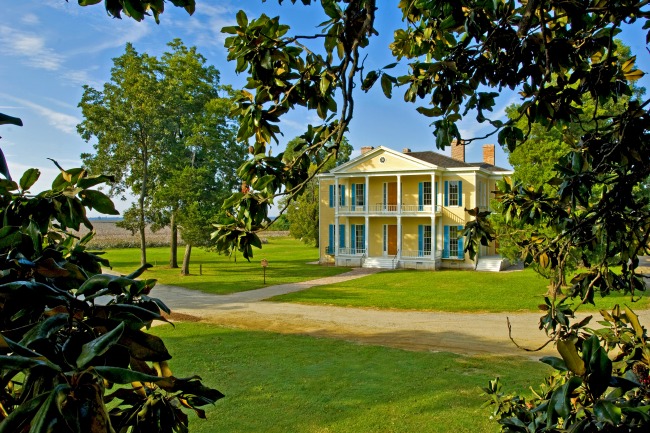 Photo courtesy of Arkansas Dept. of Parks and Tourism
Rev. Green Hill Jones: From Slavery To The State House (Lake Village)
Lakeport Plantation's Lakeport Legacies begins with Dr. Blake Wintory's talk on Rev. Green Hill Jones, an African-American legislator and former slave in Chicot County.  Rev. Green Hill Jones was one of over a dozen African-American men from southeast Arkansas who served in the Arkansas General Assembly between 1868 and 1893. Born a slave in Maury County, Tennessee in 1842, Jones was brought four years later to Kenneth Rayner's Grand Lake cotton plantation in Chicot County, Arkansas. A young man when the Civil War began, Jones joined the Union Army at Memphis in 1863. After the Civil War, he became an ordained minister and received an education in the North. He returned to Chicot County in 1873 and was soon elected county treasurer (1874-1876), county assessor (1876-1878), and served two terms in the Arkansas House (1885, 1889). Blake Wintory of Lakeport Plantation will tell his story from church and school records, and interviews with Jones and others contained in his Civil War-era pension file.  
Venue: Lakeport Plantation
Date: April 26th
Time: 5:30 pm – 7:00 pm
Admission: Free
Contact: Click Here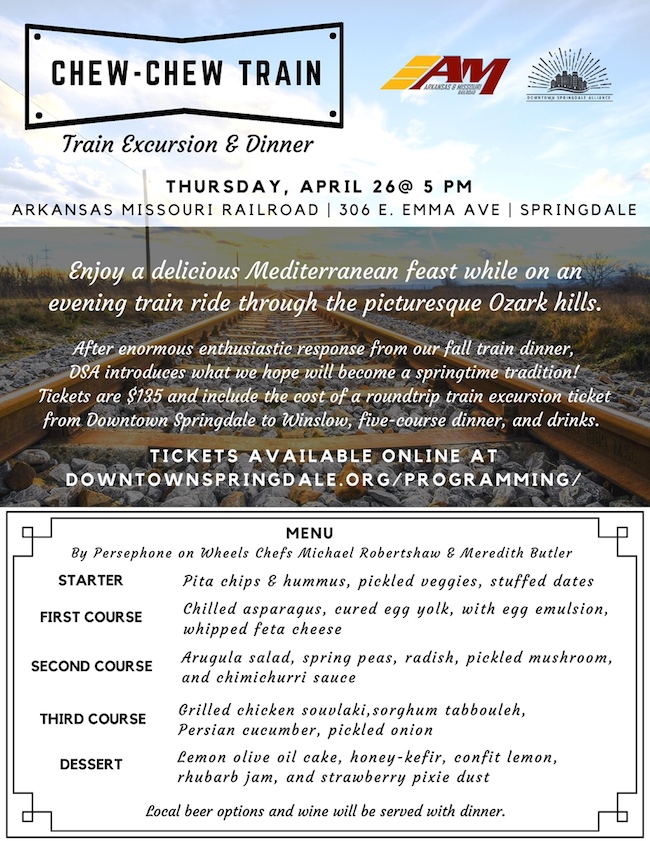 Chew-Chew Train Dinner (Springdale)
We're combining the excitement and charm of an old-fashioned train ride with a delicious adult wining and dining experience featuring a fresh, seasonal menu. The Chew-Chew Train will offer guests a relaxing ride on one of the Arkansas Missouri Railroad excursion train's three first-class cars, where they'll window gaze and enjoy a multi-course meal while traveling through the picturesque Ozark hills. 
Venue: Arkansas Missouri Railroad
Date: April 26th
Time: 5:00 pm
Admission: $135 to include roundtrip train excursion ticket, five-course dinner, and drinks
Contact: Click Here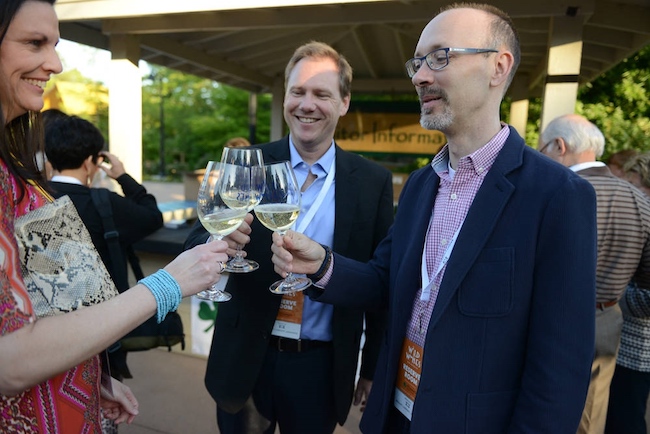 Wild Wines VIP Night (Little Rock)
Wild Wines features two nights of culinary delights and kicks-off with a Friday night experience featuring food paired with wine from O'Looney's Wine and Liquor in and around Cafe Africa. This experience connects some of the best wines with central Arkansas's best restaurants. The live tunes of steel drummer Harp, Bryan Nalan and Rodney Block and the Real Music Lovers will help keep you and the night moving. You'll also get a chance to meet some of the Zoo's animal ambassadors who carry the message of conservation education to the public and help our zoo create engaging experiences that inspire people to value and conserve our natural world.
Venue: Little Rock Zoo
Date: April 27th
Time: 7:00 pm – 9:00 pm
Admission: $150/ person
Contact: Click Here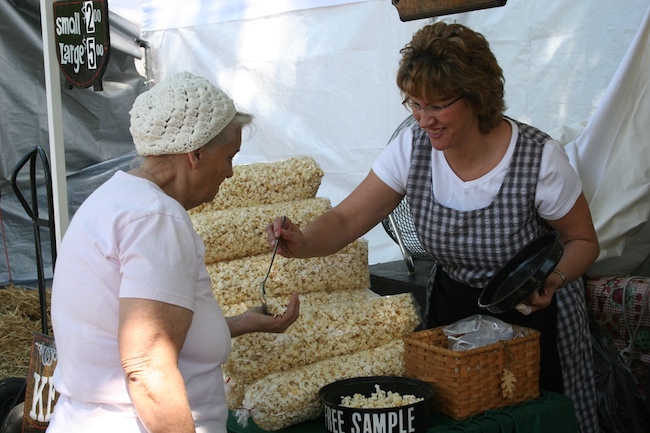 44th Annual Dogwood Festival (Siloam Springs)
This award-winning festival features exhibitors from all over the world. Visit this festival for a small-town, family-like atmosphere for those visiting over the long weekend. Food vendors provide a variety of foodie favorites including fried green tomatoes, gumbo, bread pudding, smoked chicken dinners, tacos, turkey legs, catfish, alligator-on-a-stick, corn dogs, caramel apples, funnel cakes, kettle corn, homemade root beer and fresh-squeezed lemonade. Come hungry and you won't leave that way! The KidZone provides rides and activities for the young and young at heart including a bungee jumper, inflatable obstacle course, rock-climbing wall, mechanical bull, train ride, helicopter rides and much more! The festival offers more than 200 vendors, including craft exhibitors, a kids' activity area, an entertainment stage and a variety of food.
Venue: City Park and Bob Henry Park
Date: April 27th – April 29th
Time: 9:00 am- 7:00 pm
Admission: Free
Contact: Click Here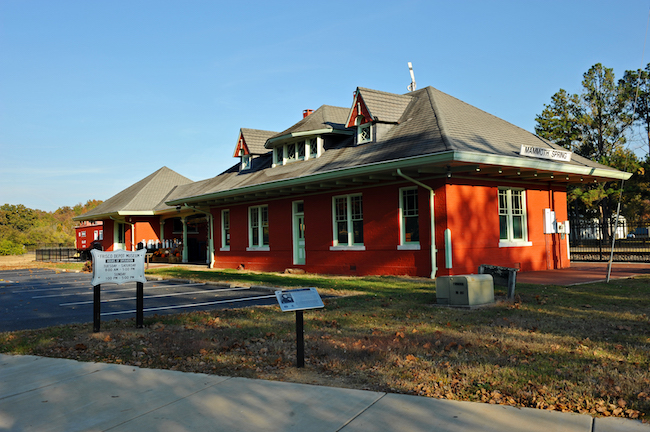 Picnic And Jam In The Park (Mammoth Spring)
Enjoy your lunch at the park and listen to some great music! Bring your chair, and come play or just listen to a little gospel, old-time country, and bluegrass music at the Depot. Professionals and amateurs are invited to bring instruments and spend a couple of hours "jamming". Pickin' and playin' will start about 1 p.m.
Venue: Mammoth Spring State Park
Date: April 28th
Time: 1:00 pm – 3:00 pm
Admission: Free
Contact: 870-625-7364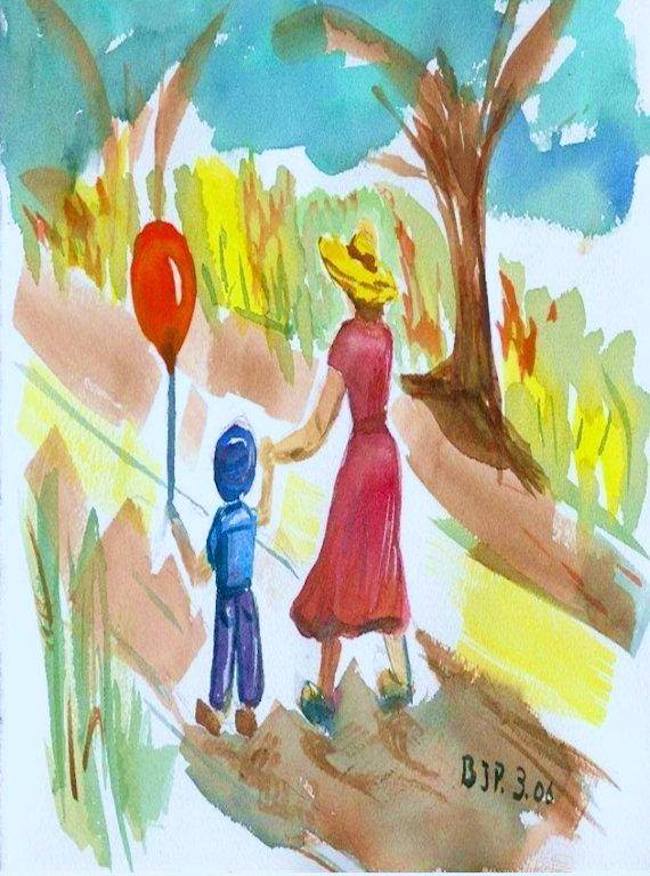 pARTy in the Park (Russellville)
With a combination of visual and performing arts, pARTy in the Park will create a day full of fun, entertainment and visual excitement for the whole family. Two outdoor stages will have non-stop musical entertainment; alternative bands wanting to play should contact the Arts Center. Dance performers and music will also be on stage in the Hughes Center throughout the day.
The Russellville city park will be filled with games and crafts for everyone. Admission is FREE! You can expect your favorite artist, crafts, games, bingo, live music & dance entertainment, vendors, delicious foods, art demonstrations, safety information booths, adopt a pet, all the things that contribute to a great festival for you and your family. pARTy in the Park continues to reach a broad audience. Make plans to attend NOW!
Venue: River Valley Arts Center
Date: April 28th
Time: 10:00 am- 3:00 pm
Admission: Free
Contact: Click Here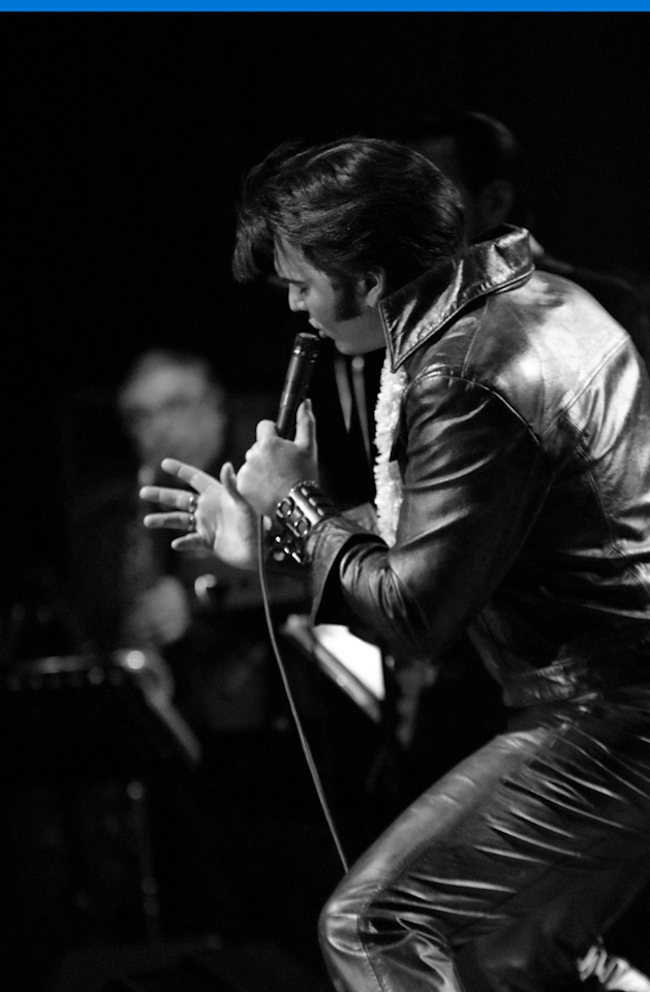 Elvis Tribute Artist Cody Ray Slaughter (Booneville)
Award Winning Elvis Tribute Artist Cody Ray Slaughter will be appearing at the Booneville High School auditorium. All proceeds to benefit American Cancer Society. Event sponsored by Community National Bank Team True Blue.
Venue: Booneville High School Auditorium
Date: April 28th
Time: 7:00 pm – 9:00 pm
Admission: $20 General Admission and $25 Preferred Seating
Contact: 479-675-7070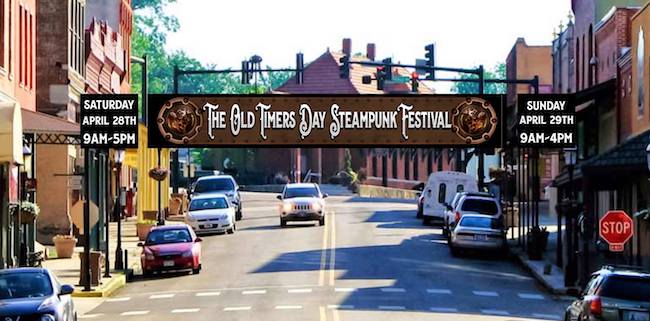 41st Annual Old Timers Day Steampunk Festival (Van Buren)
This is not your ordinary festival. Come stroll Main Street, shop our many vendors, see unique entertainment and attend special seminars on the artistry of steampunk design.
Venue: Historic Main Street (Van Buren)
Date: April 28th- April 29th
Time: 9:00 am – 5:00 pm
Admission: Free
Contact: Click Here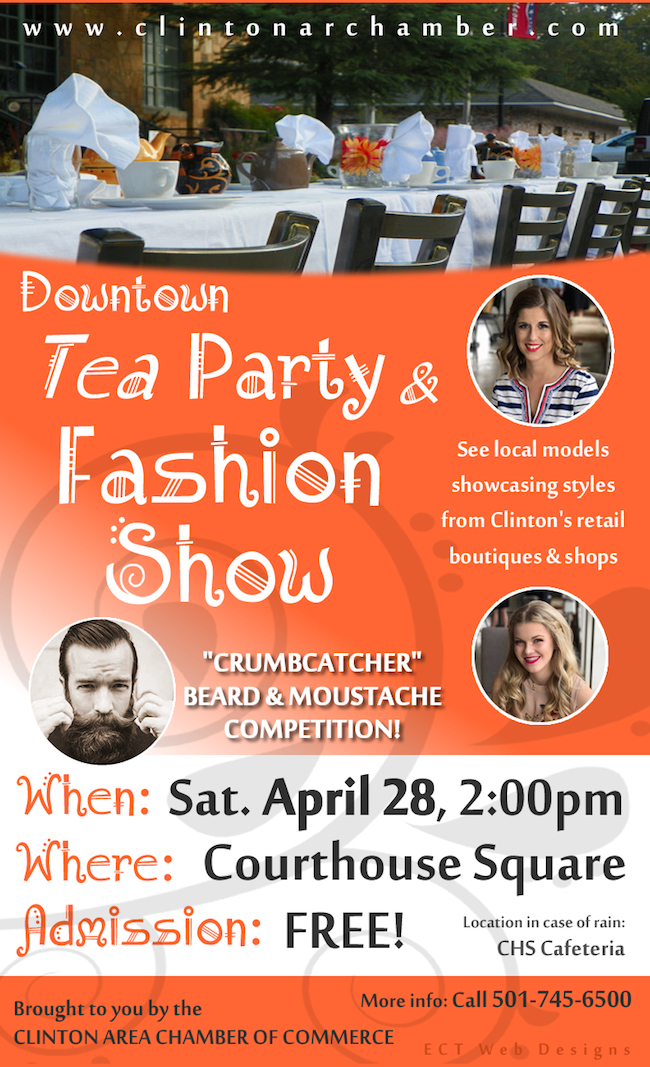 2nd Annual Fashion Show And Tea Party (Clinton)
Head to Clinton for the 2nd annual Spring Fashion Expo in historic downtown Clinton. See local models featuring the latest fashion, accessories, jewelry, makeup and hair by area retailers and stylists. Dress your best for an old-fashioned tea party on the square, and don't miss the gents during intermission, for a special Beard and Mustache contest. Sponsored by the Clinton Chamber of Commerce.
Venue: Downtown Square (Clinton)
Date: April 28th
Time: 2:00 pm
Admission: Free
Contact: Click Here