This weekend we will celebrate our fathers, grandfathers and father-figures that have had an impact on our lives. Step back in time with your dad at the Petit Jean Car Show. The annual show, synonymous with Father's Day, celebrates its 60th year this week. Whichever corner of the state you head to this weekend there are festivals, music events and outdoor activities to help you celebrate all the dads in your life.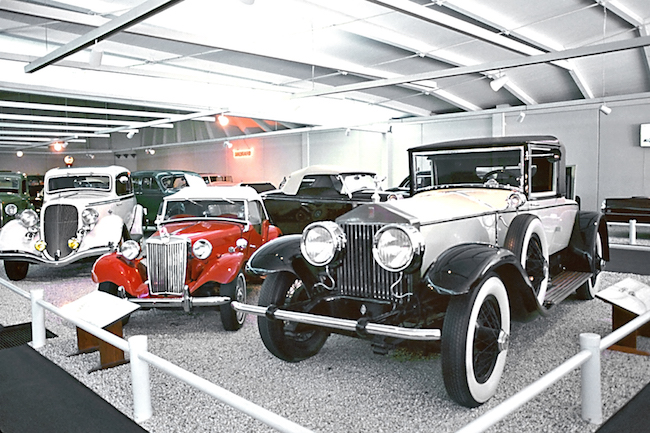 Head to Morrilton for a swap meet, car corral and arts & crafts. There will be more than 900 antique auto-related swap meet spaces, 60 arts & crafts flea market spaces, 500 collectible car corral spaces, and 200 RV parking spaces (no hookups) available on first-come, first-serve basis. There will be two car shows on Saturday the 16th at 11:00 a.m., an antique show for original and originally restored cars and an open car show for all other cars.
Venue: The Museum of Automobiles
Date: June 12th- June 16th
Time: 8:00 am – 7:00 pm
Admission: Free
Contact: 501-727-5427

Eureka Springs Blues Weekend
A four-day weekend of great blues music all around historic Eureka Springs, Arkansas is in store for the weekend. The weekend ends with an amazing Father's Day Sunday Blues Picnic at Turpentine Creek. Head to Eureka Springs for Blues, cold beverages, great food, arts & crafts vendors, and fun for kids of all ages!
Venue: Turpentine Creek Wildlife Refuge
Date: June 14th- June 17th
Time: Varies
Admission: Varies
Contact: Click Here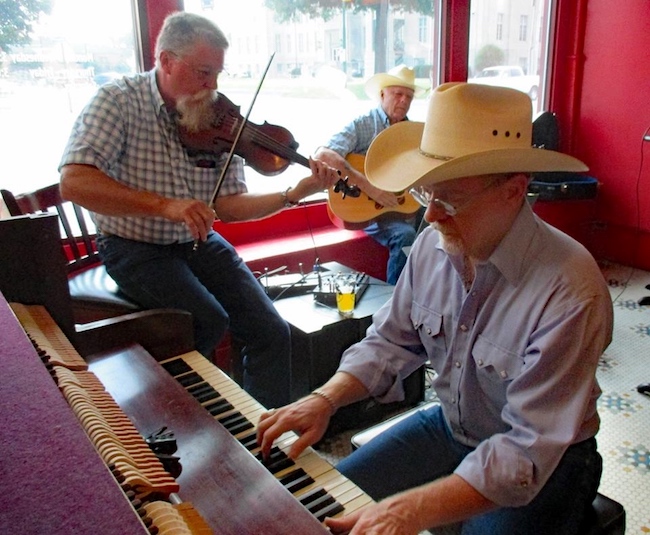 Welcome Home Judge Parker's Stickpin Party And Dance (Fort Smith)
Join the Fort Smith Museum of History as they celebrate the City of Fort Smith Bicentennial and the return of Judge Parker's gold and diamond stickpin. The pin was taken from a locked case, recovered by the Fort Smith Police Department and is now home safe and sound in the museum's vault. The party begins at 6:00 p.m. with Fry Daddy's food truck in front of the museum, wine, beer and soft drinks in the soda fountain and the Judge's pin displayed on the first floor. Robert Huston will provide music for dancing and a Fort Smith music history lesson on the museum's second floor. Learn the stories of Bob Wills, Bob White, Gene Gasaway, Jerry Roller and other music legends and their connection to Fort Smith. Wear your boots, kick up your heels and celebrate 200 years!
Venue: Fort Smith Museum of History
Date: June 14th
Time: 6:00 pm
Admission: $30 per person, 21 and over
Contact: Click Here or Call 479-783-7841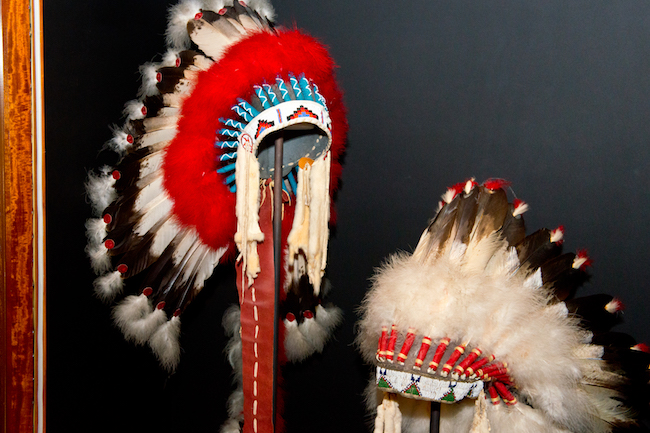 2nd Annual Native American Cultural Symposium (Bentonville)
This event features four days of free activities throughout the Bentonville community. Join Native musicians, playwrights, authors, artists, storytellers, and activists as they explore the Symposium's theme, "Reunification Through Reinvention: The Creative Visions of Contemporary Native America," and share the ways they amplify and give voice to a richly diverse cultural identity. All events are free or benefit the Seneca Black Elk Mathews Scholarship for Native youth attending Oklahoma State University.
Venue: Museum of Native American History
Date: June 14th- June 17th
Time: 10:00 am – 10:00 pm
Admission: Free
Contact: Click Here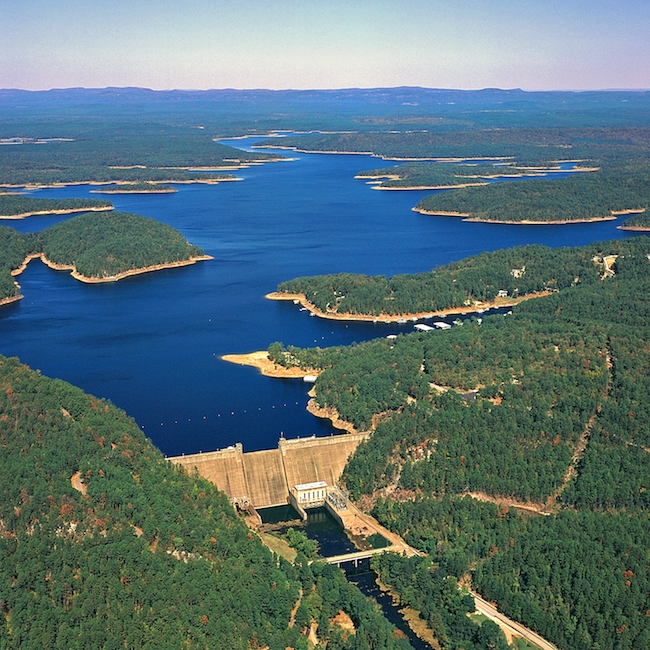 Annual Lake Greeson Days (Kirby)
It's time for Lake Greeson Days! This event will include the 29th Annual Kid's Fishing Derby as well as a variety of contests, programs, and tours. There will be prizes plus fun for the entire family! This weekend event is sure to bring the fun of Daisy State Park's natural resources to your family. Contact the park for a complete schedule and more details.
Venue: Daisy State Park
Date: June 15th- June 16th
Time: 9:00 am – 5:00 pm
Admission: Free
Contact: 870-398-4487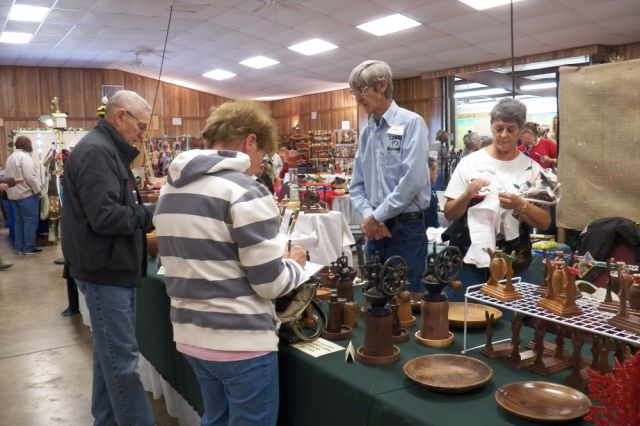 Craft Fest (Mountain Home)
This two-day craft show showcases all handcrafted items and over 100 vendor booths. There are no retail or commercial vendors, and food and beverages are available. Craft Fest is the longest running Craft Show in Mountain Home. Craft Fest began in 1963 on the square in Mountain Home, setting up on the Courthouse lawn.  The goal of the Arts and Crafts Association and Craft Fest is to give the home hobbyist/crafters a venue to show and sell their crafts. 
Venue: Educational Building (1507 Fairgrounds Drive)
Date: June 15th and 16th
Time: 9:00 am – 4:00 pm
Contact: Click Here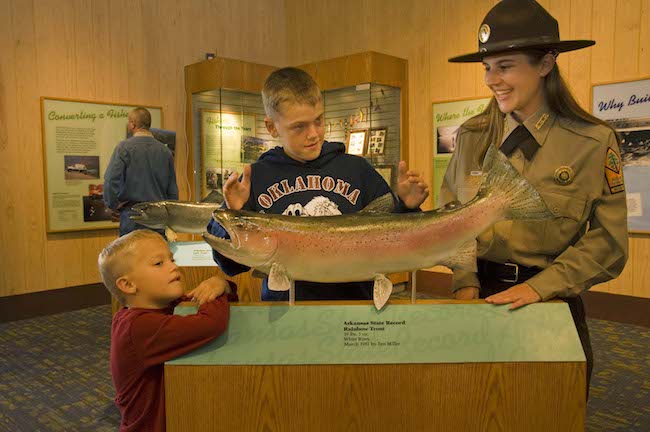 Trout Days (Bull Shoals)
The White River is one of the nation's finest trout streams. Whether you're a beginner or an expert, there is something here for you! Activities include trout cooking demonstrations, fly tying demonstrations, fly fishing 101, river cruises, lake cruises, and children's programs including interpreter favorites Incredible Caster and Kid's Campfire Cooking.
Venue: Bull Shoals-White River State Park
Date: June 15th – 17th
Time: 8:00 am- 9:00 pm
Admission: Free Except for Lake, River and Kayaking Tours
Contact: 870-445-3629
Madison County Timber Festival (Huntsville)
The logging industry festival will feature an expo with new trucks, tractors, skidders, and other equipment as well as a skillet throwing contest, sawing competition and live auction each evening. There will be a wood carving demonstration on Saturday and BBQ dinners, concessions, and crafts. Proceeds from the event are donated to the Madison County Health Coalition Breast Health Program.
Venue: Madison County Fairgrounds
Date: June 15th- June 16th
Time: 12:00 pm – 8:30 pm
Admission: Free
Contact: 479-738-6607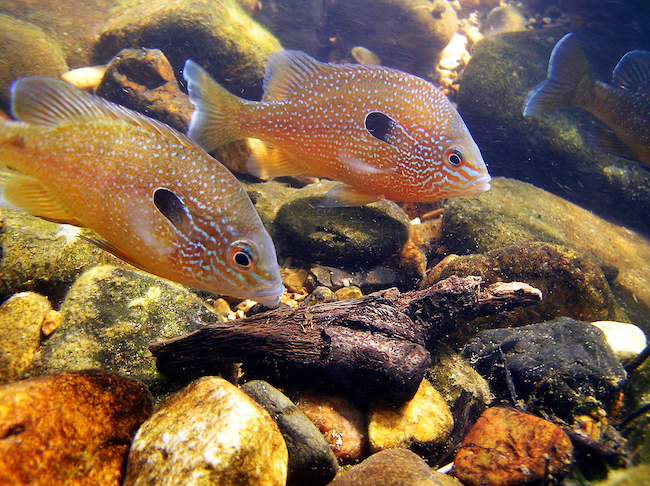 Perch Jerk Classic (Jersey)
This two-person team tournament is always held the day before Father's Day. One team member must be at least 18 years old. There is a friendly competition, but it is geared to promote fun in the outdoors and youth involvement. There will be award trophies and cash prizes for the winners (1st place = $100, 2nd place = $70, 3rd place = $50, Biggest Bream = $20, Biggest Crappie = $20). Teams can compete in one or both categories but can only collect the trophy and prize money in one category. Also, lots of valuable door prizes are given away each year. Call or visit the visitor center to learn more and to register.
Venue: Moro Bay State Park
Date: June 16th
Time: 7:00 am – 2:00 pm
Admission: $25 for registration before June 11th, $30 after
Contact: 870-463-8555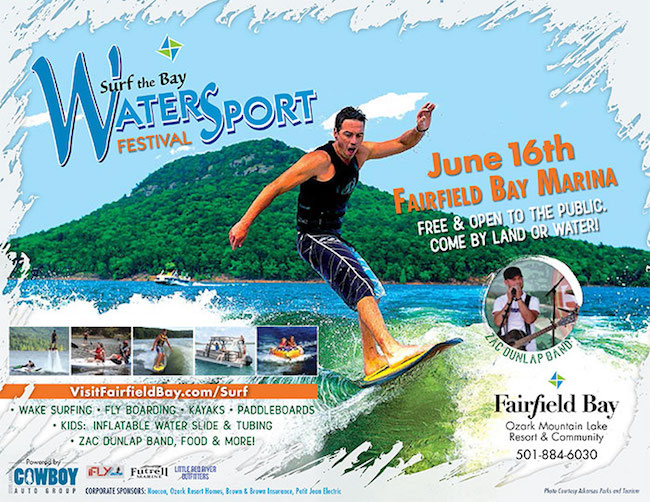 Surf The Bay Water Sport Festival (Fairfield Bay)
Fairfield Bay is making waves yet again this summer when they bring some fun extreme and family sports events to the North Shore of Greers Ferry Lake, returning with the wildly popular wake surfing, flyboarding, paddle boarding and kayaking, and family-fun water slides where you can "ride the wave." Want to challenge a friend? Check out the inflatable obstacle course, guaranteed to be a ton of fun.
Venue: Fairfield Bay Marina
Date: June 16th
Time: 12:00 pm
Admission: Free
Contact:  Click here or call 501-884-6010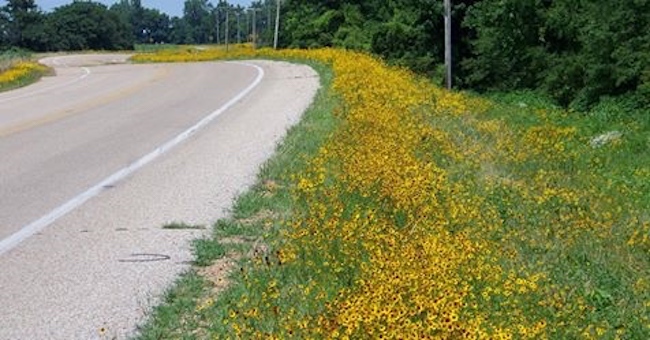 First Annual Blackeyed Susan Young Crops Bicycle Ride (Lepanto)
This is a touring bicycle ride that meanders through country roads surrounded by beautiful blooming Blackeyed Susans and young crops in the Arkansas Delta. Local farmers will be available at stops throughout the ride telling about the different crops. This ride will take you to Wilson, AR, for a light mid-ride lunch and time to walk around the beautiful little town. Other stops are the Johnny Cash Boyhood Home and an end of ride steak dinner at Connor's Steakhouse at Lepanto. Each participant will also receive a shirt. Approximately 50 miles.
Venue: Lepanto Fire Department
Date: June 16th
Time: 10:00 am
Admission: $60/ rider
Contact: 870-375-0280