While it's become super popular to roast or flash fry Brussels sprouts, when I'm at home, one of my favor ways to eat this vegetable is simply raw. Before you go rolling your eyes, check out this Shredded Brussels Sprout Salad with Petit Jean Bacon and Avocado recipe. Think of it as eating a slightly advanced, much cooler version of coleslaw.
And bacon makes everything better, right? Especially Petit Jean Ozark Hickory Smoked Bacon.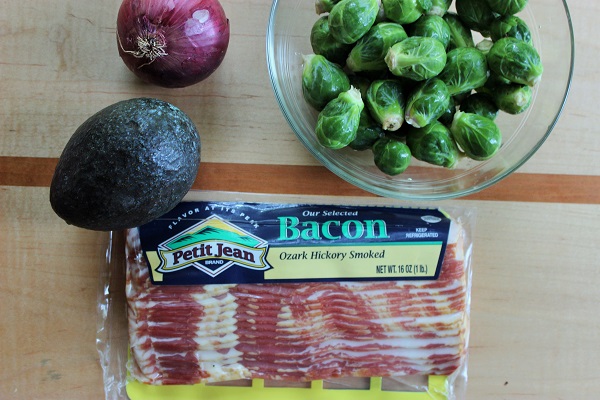 Take a minute and glance over the recipe. It's super easy to follow, requires only a few simple ingredients, and takes just minutes to prepare. The best part is it can double as a side dish or a hearty salad main entrée.
Here are a few tips to help make this salad just right:
When shredding each Brussels sprout, turn on its side, cut off the base, return the sprout to a vertical stance and shave (or shred) as finely as possible. You'll need a very sharp knife, so be careful.
Once all of the sprouts are shredded, go through with your hands and make sure the leaves are separated as much as possible. This will allow the vinaigrette to be evenly incorporated.
Use a ripe avocado, but not too ripe. You'll want the avocado keeping its shape and not getting mushy.
Do not fry the bacon too long. Make sure it's cooked through but not overly crispy or burnt. This will overwhelm the other flavors in the salad.
Make sure the red onion is chopped as finely as possible. No one likes to eat large chunks of red onion.
You'll be tempted to mix the bacon with the other ingredients and toss the salad. Do not do this. Top the Brussels sprouts with the bacon and avocado at the very end. This will help keep the avocado's shape and allow vegetarian eaters the option of not including the bacon.
Finish each serving with a nice crack of fresh black pepper.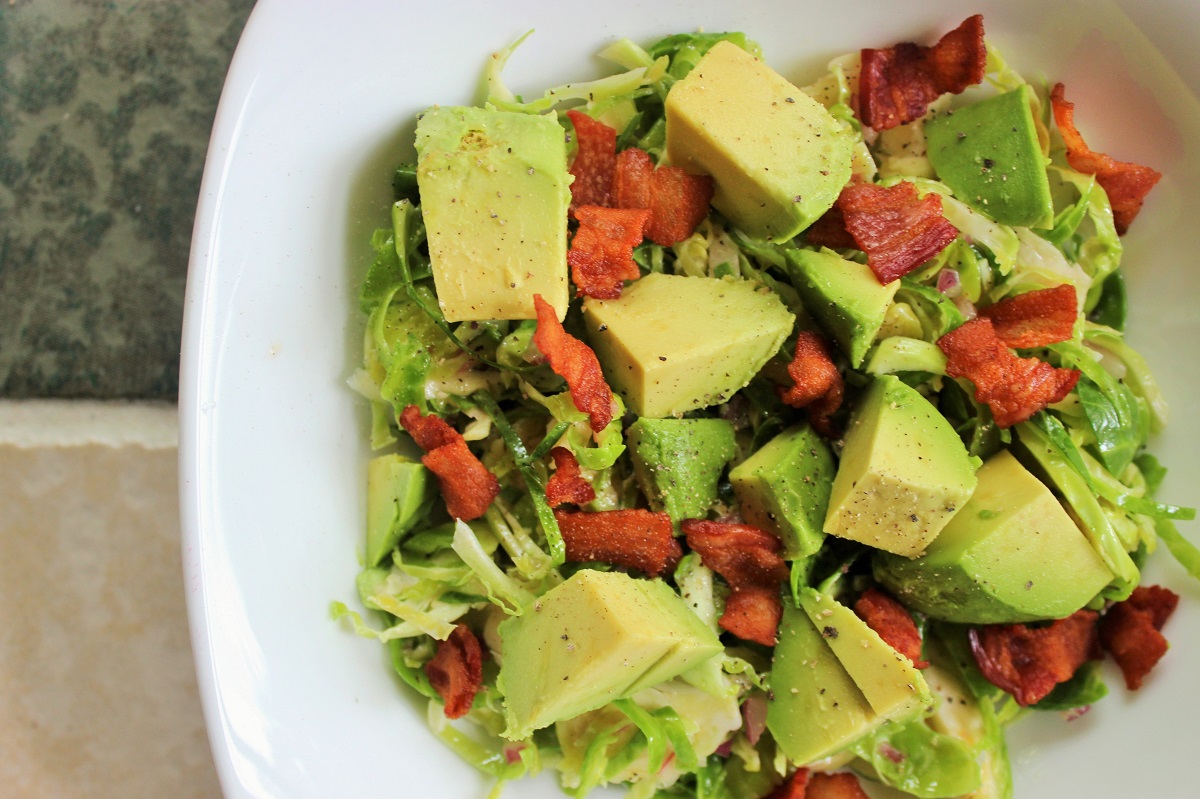 The end product is a bright, fresh and fairly healthy recipe that is sure to please. I enjoyed the tangy taste of the red wine vinegar paired with the saltiness of the bacon, but the real gem in this recipe is the creamy chunks of avocado. It is absolutely critical to use a great avocado in this recipe. I promise you it will make all the difference. Getting a bite with the bacon, avocado and dressed leaves is perfection.
Over the years, I've made variations of this salad, but can safely say this particular recipe is a keeper.
Hopefully, you'll agree.