Would you like a cup of coffee?
That's probably my favorite sentence in the English language. A cup of coffee is such a simple idea yet there is such an enormous culture and community surrounding coffee. And the city of Conway has experienced a boom of independent coffee shops in the past few years. Small local spots where citizens can sit, unwind, meet, and share all over a cup of the dark warm stuff.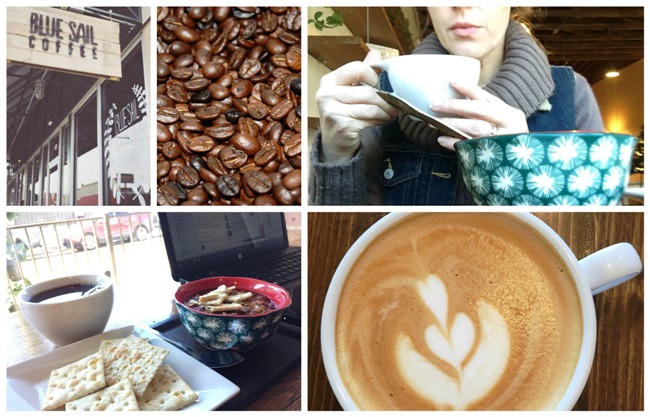 1028 Front Street
Conway, Arkansas
Blue Sail Coffee was started on the idea that fostering a strong coffee and tea culture would have a positive impact on Conway. And they aren't just focused on you and your enjoyment of their coffee. They want you to know your coffee. Owner and founder Kyle Tabor opened Blue Sail in May of 2014 with just the barest of essentials. With one espresso maker and cash for a month, he set out to educate the community of Conway on ethically-sourced, locally-roasted, quality coffee. They wanted to uplift the culture surrounding coffee by helping coffee growers to succeed. Now after three years, they have opened a second location in town on the campus of the University of Central Arkansas and most recently in Little Rock's Technology Park on Main Street.
Blue Sail's Downtown Conway location is bright and cozy with lots of space to network. Or you might enjoy a relaxing sip with friends on the patio. They also offer a small but tasty menu of soups, pastries, and other dishes if you're feeling peckish.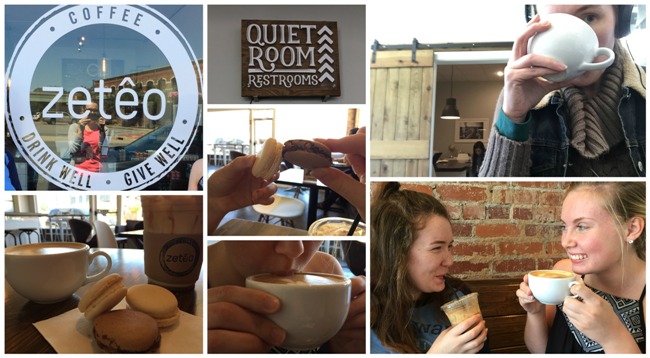 911 Oak Street
Conway, Arkansas
For Zetêo's the name says it all. It is Greek for "to search, seek out, or to crave." And that's just what owners Jon and Trina Mitchell did when they decided to bring together the ideas of community and great coffee.  After training at the renowned American Barista and Coffee School in Portland, Oregon, they traveled through the west and east coast learning everything they could about creating the best coffee experience. Zetêo's offers a wide coffee menu as well as breakfast, lunch, and sweet items. But coffee isn't the only thing they are passionate about.  How about water? They have seen firsthand what a lack of clean water can do for communities around the world already suffering from poverty. 5% of all profits go to Living Water International which provides clean water installation and restoration to 21 countries worldwide. So when you order a cup at Zetêo's you "Drink Well and Give Well."
I love the quiet area sectioned off from the front of the shop. It makes a great quiet spot to work. Zetêo's is connected to and provides refreshments for share.the.love KidsClub which is a fun indoor playscape for the little ones.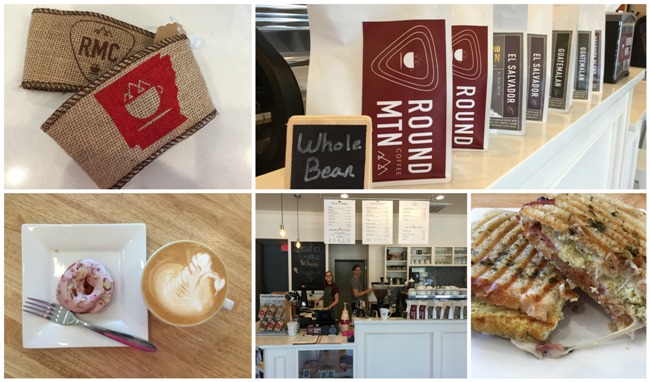 2850 Prince Street
Conway, Arkansas
Round Mountain Coffee doesn't just strive for the coffee culture and community within their four walls. With the motto "Take coffee everywhere," they want you to carry your coffee experience outside of the shop and into your home and other life adventures. Owners Scott Forbush and Kyle Sackhoff, not only what to educate you on the coffee they serve but also teach you how to recreate that fine elixir on your own. They offer a wide variety of events and classes such as Cupping (experiencing multiple brews they roast and learning how to critique properties of coffee), Steaming Milk 101 (learning how to properly steam milk to use in lattes), and Espresso Shot Extraction (the science behind taking a shot from beans to liquid perfection used in nearly all coffee drinks).
Round Mountain has become one of my favorite spots to work and network. They serve up tasty sandwiches and sweet things from a local bakery. There's a raspberry almond confection I am especially fond of. And they are in a great location surrounded by other interesting, locally-owned shops.
Back in the day during my college years, the coffee shop idea was becoming very popular.  But it never seemed to inspire this level of connection and community.  I love the passion behind each one of these locally-owned spots and how in their own way they are bringing people and ideas together over a cup of coffee in Conway.