When I knew a few friends would be coming over for a dinner party, I was inspired to make a healthy appetizer that featured some white eggplant from my Rattle's Garden's farmshare basket. I love eggplant but always seem to prepare the same dish–eggplant parmigiana—each time I get my hands on some.
That all changed after a quick internet search where I found this Eggplant Chips with Basil Yogurt Dip.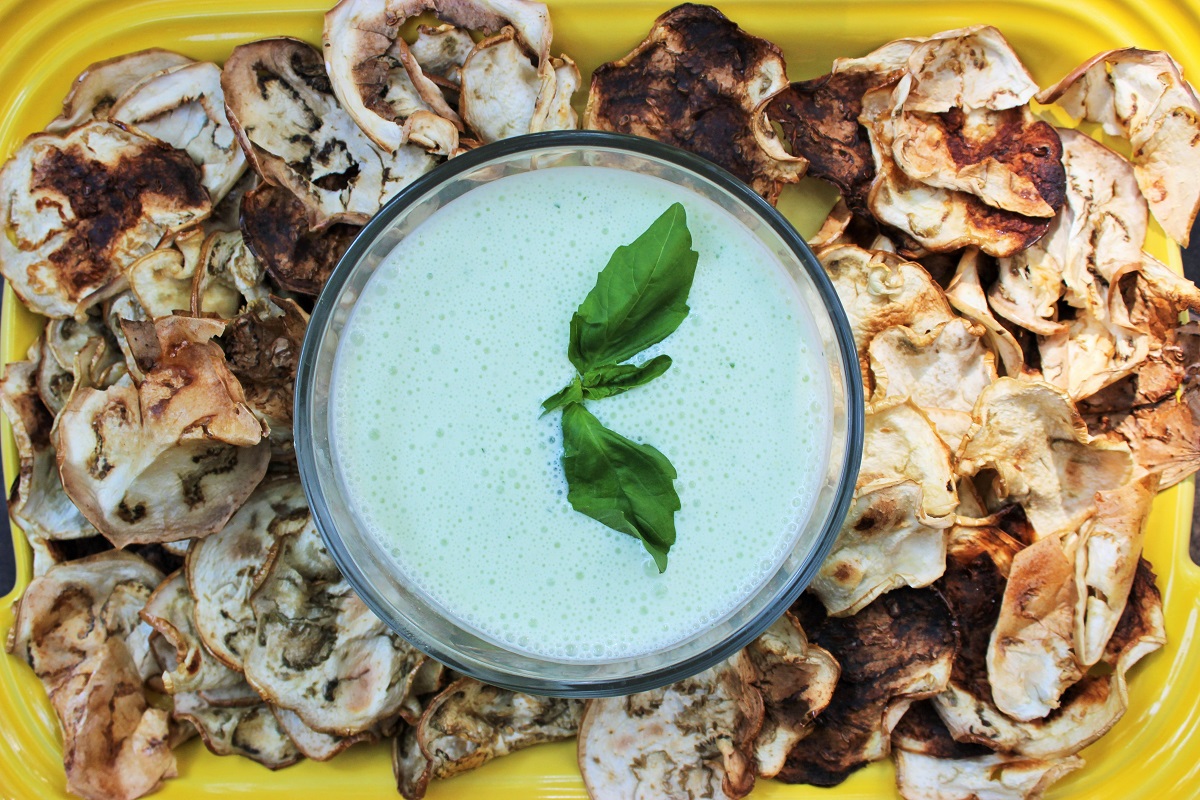 One of the things I love about this recipe is it allowed me to break out one of my favorite kitchen items, the mandoline slicer. Wait, did I just feel you cringe just a bit? No worries. While the mandoline is an amazing tool—with its ability to slice fruits and veggies with relative ease–it can be fairly dangerous if you're not using it properly. Simply put, watch your fingers and use the accompanying safety guard. With this in mind, I highly recommend slicing your eggplant with the mandoline. Yes, a knife definitely does the trick, but you can't beat the precision and uniformity of each piece that this utensil ensures.
Back to the food.
After the slicing, make sure to salt the eggplant, wait a few minutes, and then wipe off with a paper towel. This draws out the moisture and helps create a crispier end product. Bake the slices as directed but keep an eye on them. You may need to extend the baking time by a few minutes, which I did. You may also notice from the picture some missing garlic oil on the eggplant. I decided to not apply any this time around.
While the eggplant is in the oven, start on the dip. This is really just a matter of putting a few ingredients—cucumber, basil, and garlic—in a food processor and then mixing those items with the yogurt and lemon juice.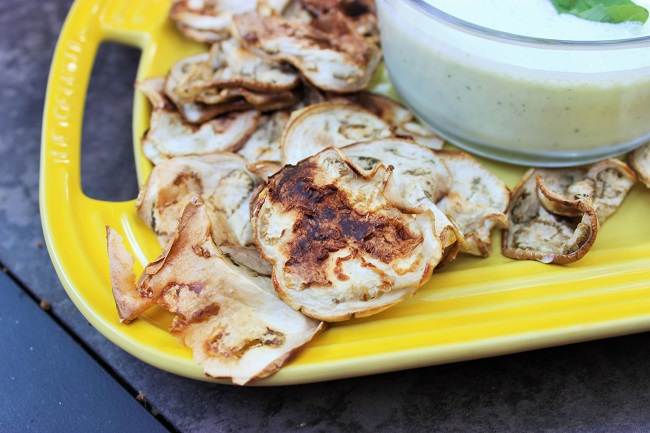 The result is a plate of warm, flavorful eggplant chips, perfect for dipping in a refreshingly cool yogurt sauce. One of the benefits of incorporating a lighter/healthier appetizer into a dinner party mix is that you get to save some more calories for the entrée and dessert.
Not throwing a dinner party?
This recipe is a perfect snack for the entire family and a good way to possibly get the kiddos to finally eat some eggplant. We can all dream a bit.
Finally, I'm guessing you'll also have some leftover dip. No worries … feel free to use it as a salad dressing, a burger topper, or even as a sauce with gyros and wraps.