Just up the road from Downtown Rogers sits Ivan's Old Time Meat Shop. Owned by David Lee, it's a family-run butcher shop. We've enjoyed shopping at Ivan's for a few years now. Not only are we able to find quality meats; but also, every time we go we open the door to friendly faces and plenty to chat about.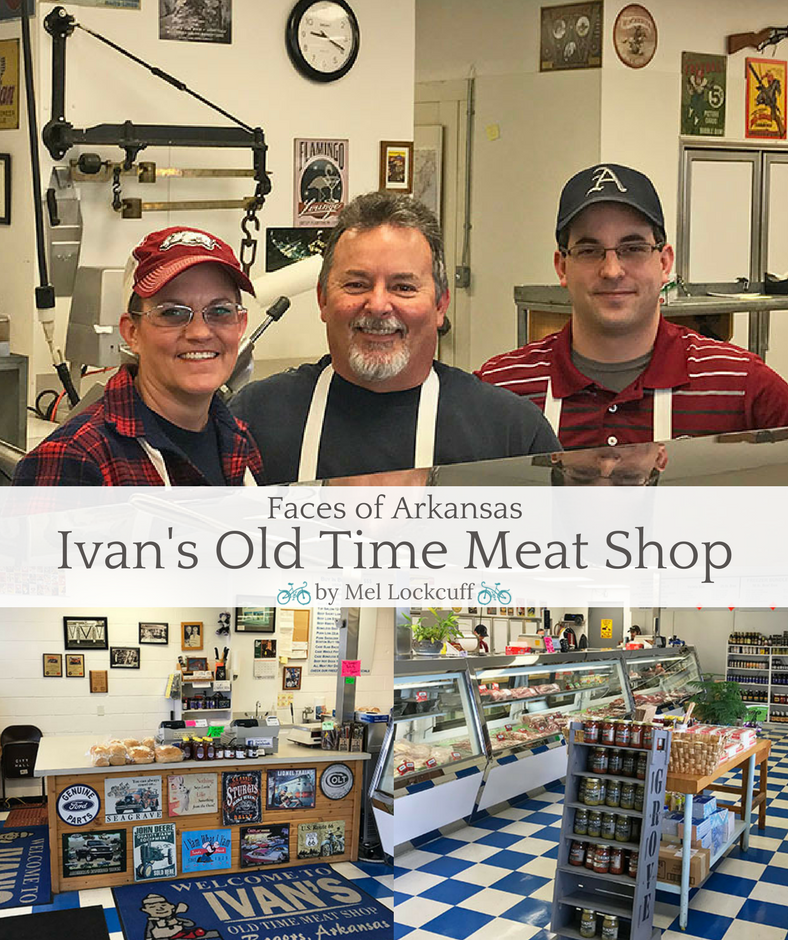 At this locally-owned butcher shop, you'll find a nice variety of meats, including beef, pork, chicken, veal, lamb, buffalo, elk, duck, rabbit, and frozen seafood. If you're looking for sandwich meats, you'll find a nice deli selection, from salads to meats and cheeses, including a delicious pizza cheese that makes a killer homemade pizza.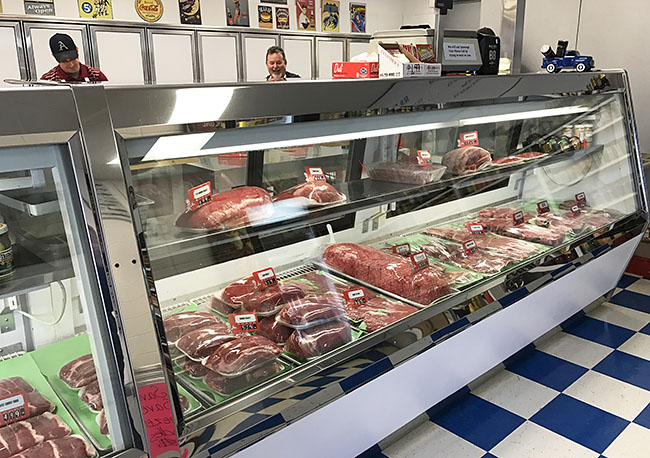 You'll also find a few other grocery and food supplies, like homemade bread, honey, pasta noodles, sauces, and spices/seasonings.
Stepping into Ivan's, you almost feel like you're taking a step back in time.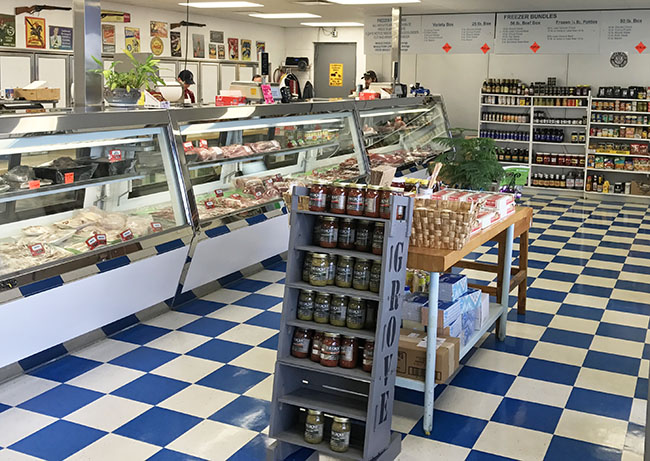 The atmosphere has a very retro feel, from checkered tiles on the floor to the pictures hanging on the wall. Step up to the counter, and you'll likely hear the friendly question, "What can I get for you today?"
A Little History Behind Ivan's
I had a chance to talk with owner David Lee, and as we talked he busily cut meat, stopping every so often to sharpen his knife.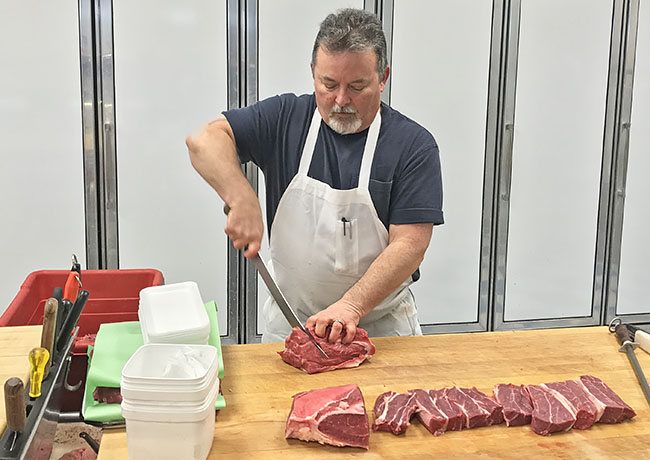 When asked how it all began, he told me about his previous experience as an employee of the former owner, the actual Ivan.
But first, a little history. A gas station at one time, the building that previously housed Ivan's started as a grocery store back in the 30s; at the time it was known as Northside Grocery. In the early 70s it was turned into a specialty meat shop. And just to get an idea of the area where it stood back then, a fruit stand stood where Susie Q's now operates; Susie Q's wasn't around until the 60s. The grocery store stood in the general area where Casey's now sits next to Susie Q's.
Former owner Ivan bought the shop from Bobby Ford in 1987. He and his wife and daughter ran the shop for several years. They hired a couple of part-time meat cutters from time to time to help them out.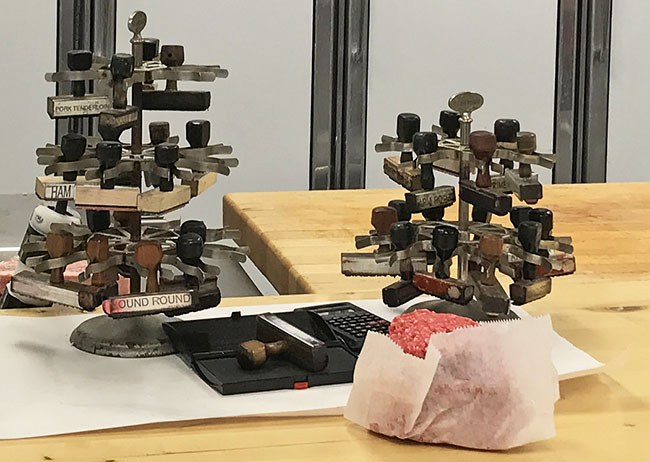 David said he's been at Ivan's since he started part time in 1992, though at the time it was a temporary gig. In 1994 he was called back in for work and has been there ever since. In 2000, Ivan had set his mind on retiring, and David had the choice of unemployment or to buy the shop. He chose to buy the shop. In 2008, David and his family moved the shop to its current location at 2101 N. 2nd Street.
Behind the Counter at Ivan's Old Time Meat Shop
David, his wife Lorri, and their son Matthew, all run the shop together.
When asked about the family side of the business, David notes that they run it as a family and he couldn't do it without them. When grandkids come to visit, they help out, too.
I asked David what he loves most about the meat shop. He answered, "Just meeting the customers, talking to folks, seeing families grow up around us. We've got several generations of customers. I started handing out suckers to these little girls when Ivan owned the place; now they're moms and they've got kids, and I still get to hand out suckers to their kids. It's kinda neat. We've been feeding families for generations. It's the customers."
Meats and Specialty Items at Ivan's
If you're wondering where Ivan's gets its meat, most of the beef is out of the Midwest – choice beef from Kansas, Iowa, and Nebraska. Chickens are fresh and come from a small company in Mississippi because their customers like smaller chickens. And the good quality pork you'll find is mostly out of Kansas City.
They do carry some specialty items, including our family's favorite, Grandma Kelly's Sausage. This sausage is made using a recipe from Lorri's grandmother. Lorri's grandmother would make it for her boys when they'd come visit, and she'd always send them off with a batch for the trip home. David and Lorri started making the recipe with her dad and eventually decided to sell the sausage in the shop. Paired with cheddar cheese (especially the smoked cheddar they sell in the shop), it's a treat we love to enjoy every so often.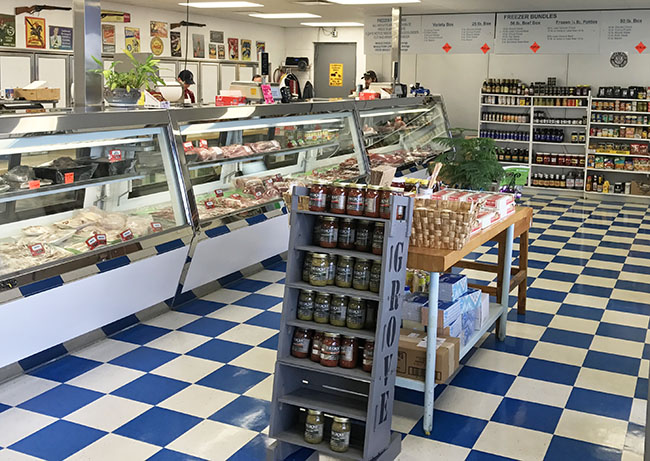 Other specialty items include their bacon; they smoke and cure their own. They also do their own hams and pastrami. They make their own roast beef mainly because, according to David, the quality of the roast beef they were getting commercially just wasn't there. David noted, "It's not rocket science, it just takes a little time. Having homemade is about having someone that watches it, who cares about it. The big stores are all about production…and of course, the price; and the quality can suffer."
When asked what his favorite item is they sell… "Ribeye. Can't eat them very much, but ribeye is the best. I limit myself to about 1 a year, but I really enjoy the heck out of it when I get to eat it."
When asked about plans for expansion, David said they'd have to see what happens with the economy. For now, they have a few ideas they're keeping under wraps.
Details for Your Visit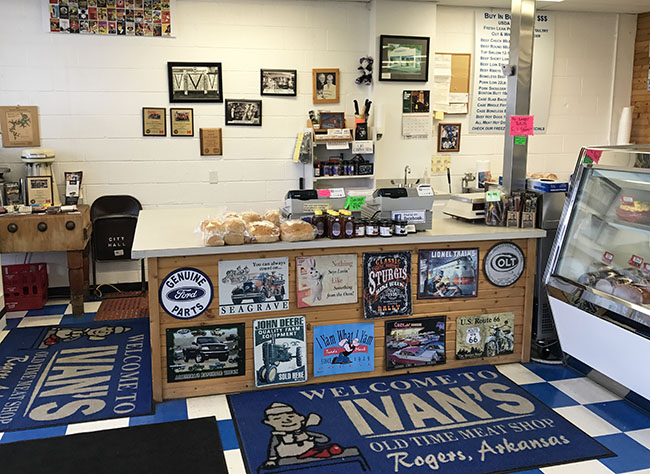 Whether you're grocery shopping or planning a spring BBQ, I encourage you to stop in at Ivan's Old Time Meat Shop. They're open Tuesdays through Fridays, from 8 a.m. to 6 p.m. and Saturdays from 8 a.m. to 5 p.m. Ivan's is located at 2101 N. 2nd Street in Rogers, Arkansas. You'll also find them on Facebook.