There's just something so satisfying and comforting about a big bowl of pasta, but rarely do I actually construct my own tomato sauce to pair with the noodles. It's often too time-consuming to build one from basically from scratch, and, truth be told, I'm usually pretty busy with carpooling and writing during the week and end up opting for a quality bottled version. This Linguini with Chicken Ragu recipe I stumbled upon might just end up severely decreasing future Prego purchases.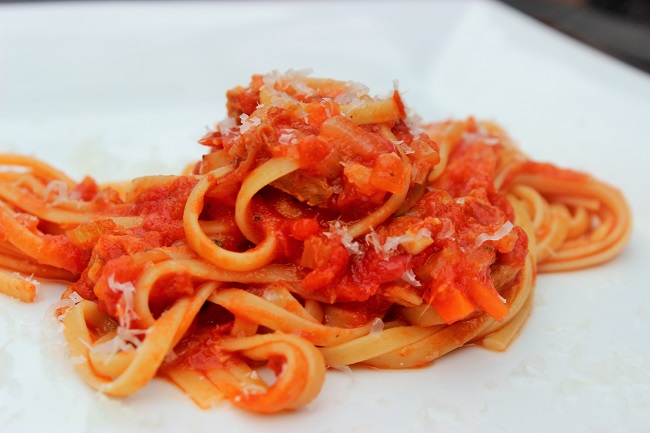 The bad news?
It does take a good hour to prepare the ragu, which isn't a crazy amount of time, but compared to popping open a bottle, it will feel like an eternity.
The good news?
The finished product is a thousand times better than anything you'll ever buy at the grocery store. Seriously.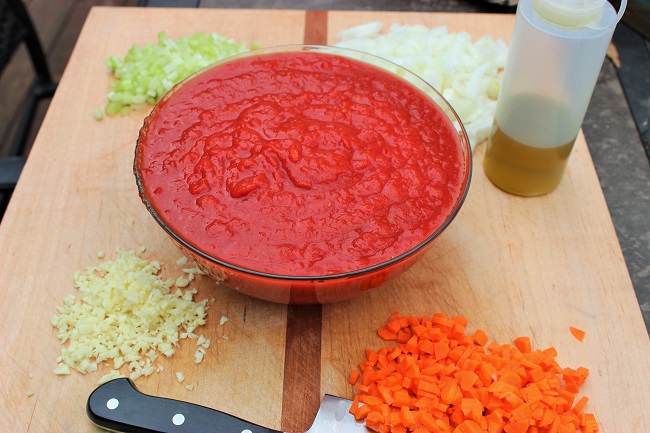 It's a pretty easy-to-follow recipe, but you'll probably want to use a few of these suggestions:
Make sure to cook with the boneless, skinless chicken thighs, as suggested. I love cooking with chicken thighs because they are very affordable, tasty, and almost impossible to dry out like breast meat.
Be careful not to overcook the onions/garlic combination at the very beginning. There's nothing worse than burnt, bitter garlic messing up things.
Salt and pepper both the sauce and chicken a few times throughout the cooking process. Don't overdo this, but also pay attention and make sure the dish is properly seasoned.
When you are deglazing the chicken, don't forget to really use some elbow grease and scrape all of those tasty bits off the bottom and sides of the pot.
The recipe suggests reserving some of the water after you've boiled the linguini and adding it to the pasta/ragu. I wouldn't do that, as I think it will end up making your final product too watery.
This recipe makes a ton of ragu, so reserve a few cups before you mix it all in with the linguini. Too much sauce will overpower the noodles.
Add a couple pinches of sugar to the ragu. This will help balance out the acidity from the tomatoes and add a subtle sweetness to the sauce.
Finally, use some good Parmesan to finish off the plate.
The end product is this big bowl of delicious pasta with a chunky ragu filled with tender chicken and bits of carrots, celery, and onions. No, this probably isn't a recipe you'd prefer to make for the family on a busy Wednesday night, but if you have a few hours on a Saturday night or Sunday afternoon, this is definitely something worth cooking up.
With Valentine's Day right around the corner, it's even sophisticated and romantic enough to impress your significant other.
Just don't forget the flowers and chocolates.