One of the newest eateries in Bentonville is on a mission. Ozark Mountain Bagel Company wants to "spread joy, love and cream cheese" on their traditionally-made bagels, but you won't find just plain white dough covered with lox in their kitchen – the recipes are as diverse as the community they serve.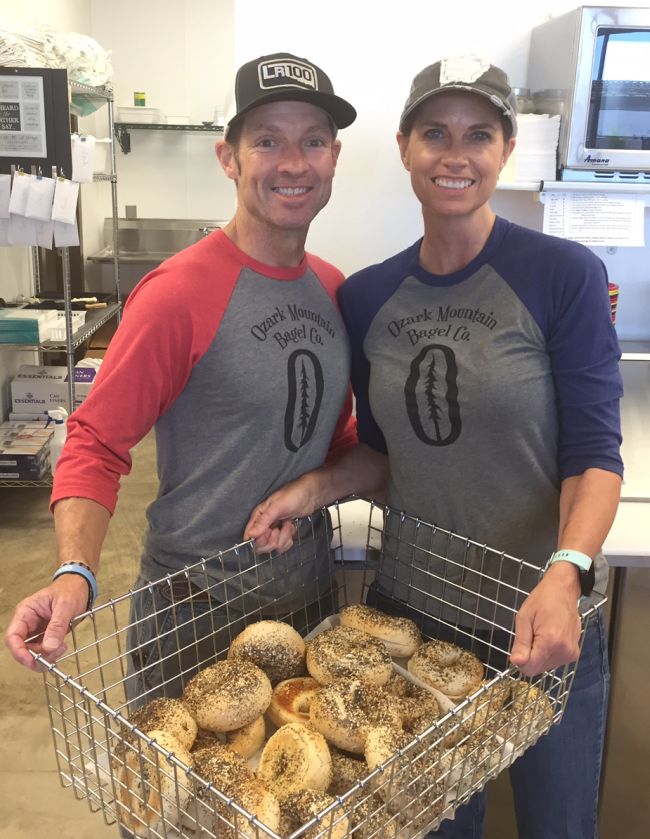 Owners Bill and Sheila Ford, are spreading joy, love and cream cheese
in their new Bentonville eatery.
It's hard to imagine that anyone today wouldn't be familiar with the "other" circle of baked dough  featuring a hole in the middle, but 50 years ago, the humble bagel was narrowly thought of as primarily a Jewish food product. Most folks living beyond the confines of large urban centers would likely not have known what to do with one. In the 1950s, the humble roll showed up in an article in Family Circle, and the rest, as they say, was culinary history.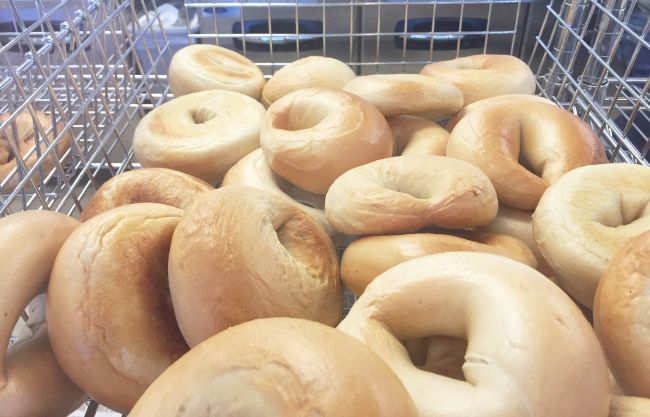 Ozark Mountain Bagel Company owners, Bill and Sheila Ford, along with their son Tyler, are bringing authentic New York-style bagels to Northwest Arkansas. Their bagel dough is handmade completely from scratch in their kitchen every morning. The process, which differs from that used to make some store-bought bagels, involves a quick bath in boiling water. The rings of fresh dough are dunked briefly before being placed on pans and baked to golden perfection. This method creates that perfect, shiny outside with a soft, chewy center that denotes a perfect bagel.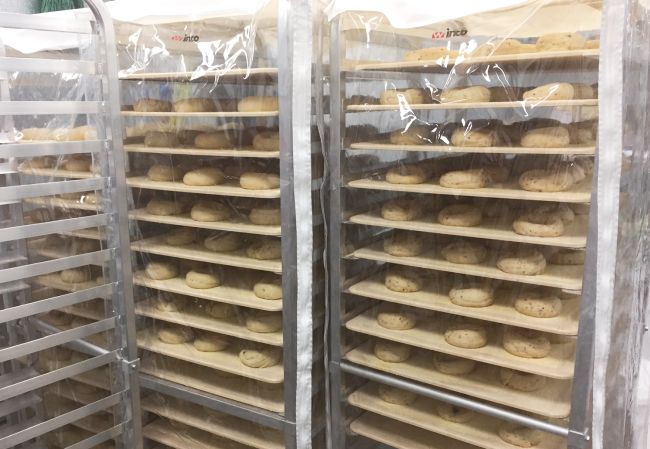 For purists (or folks stopping in for breakfast or a snack) you can choose from 17 varieties of bagels (17!!), and top them with eight flavors of cream cheese. Peanut butter, jelly, hummus and avocado are available if you're not a fan of cream cheese, but who would admit to that? They also offer six breakfast sandwiches with ingredients like lox, sausage, cheese and egg.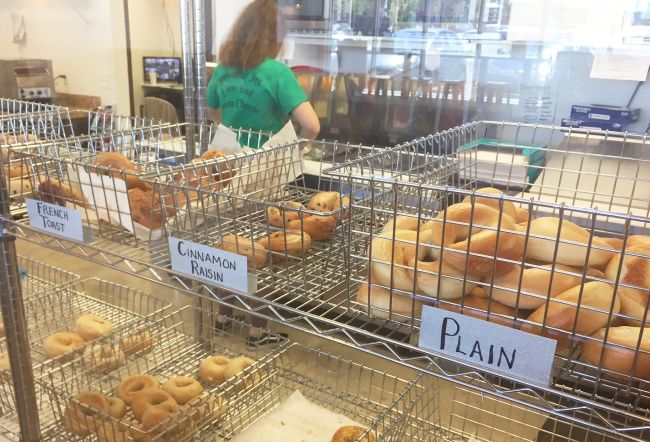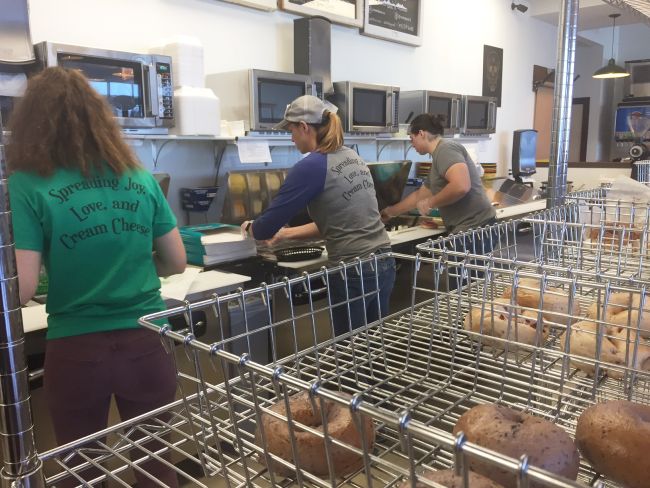 For lunch and dinner, 10 different bagel sandwiches are on the menu, including the Arklahoma with pulled pork and Head Country BBQ sauce, and a Rueben, complete with sauerkraut and 1000 Island dressing. Three salads, pre-packed and crispy-fresh, satisfy those of us cutting back on carbs, and they're good enough that you won't feel like you're suffering (much).
The menu is complete with a couple of side item options, a selection of bottled and fountain drinks and sweets for dessert. Three kinds of Onyx Coffee (house, seasonal and decaf) are also served.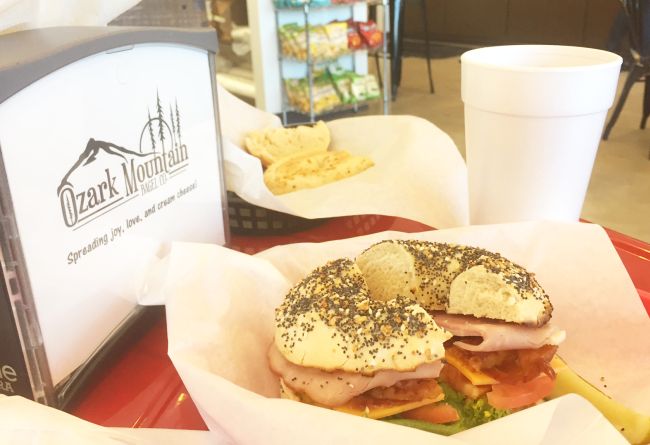 The Ozark Club on an Everything bagel was a filling meal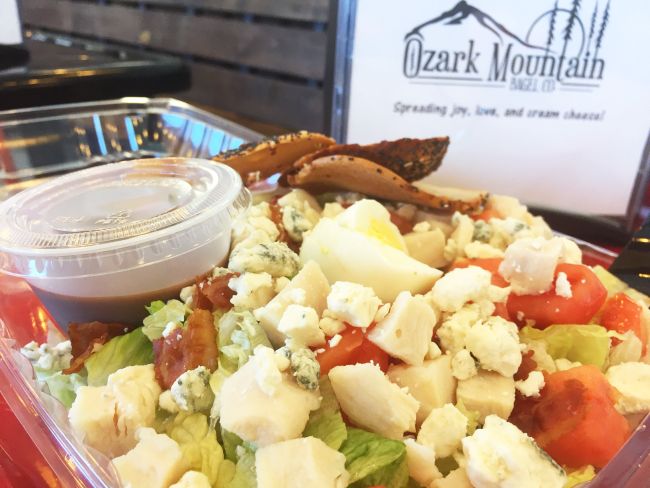 The Cobb salad had plenty of veggies to fill up a carb-conscious diner.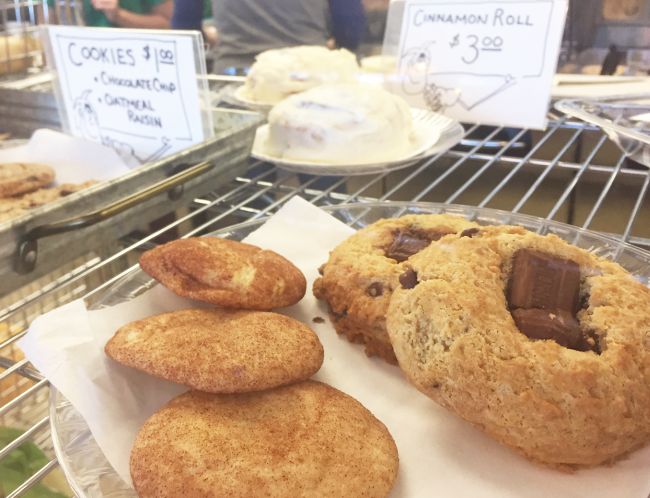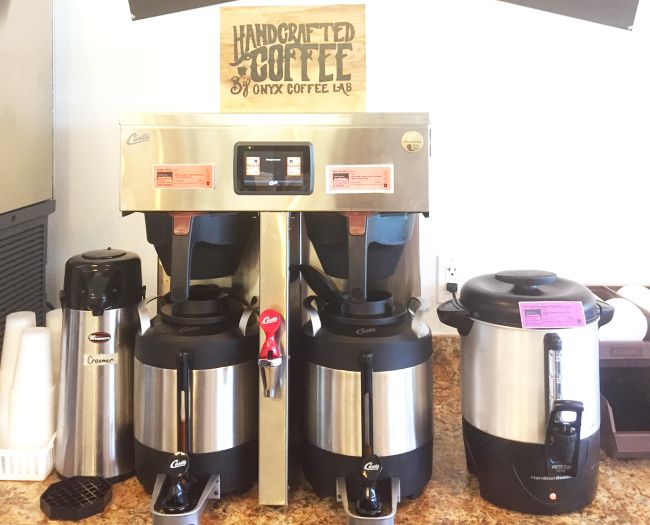 The food was delicious, but one of the most impressive parts of my visit was the level of cheerful attitude on display behind the counter. If the Fords keep boiling and baking, and offering smiles with their service, they'll surely be around a while. Go sample for yourself, and let us know which of their bagels is your favorite!
3600 Guess Who Blvd., Bentonville  |  479-319-6688  |  Open Monday – Friday 6:00 a.m. – 3:00 p.m.; Saturday – Sunday 7:00 a.m. – 1:00 p.m.