In almost every city and town in Arkansas, you'll find an oasis in the heat: a shaved ice stand. You can usually find them near the middle of town, and on a summer day, you'll find a crowd gathering to get their very own treat. Just like ordering fancy coffee makes some people anxious, the variety of choices and the lingo at a snow cone stand can do the same. If you've wondered what the offerings are at your local shaved ice stand, we are here to decipher your options.

Let's start with a little history lesson. This treat has roots deep in Japan, dating back to 800 A.D. In Japan it's called "kakigori," originally made by bringing ice down from the mountains. Of course, with that much effort, it was a treat for the royalty. It became more widespread in the late 1800s and was brought to Hawaii in the 1920s by immigrant sugar plantation workers. On a 90-degree day, I'm sure glad they shared this sweet treat with us.
When you step up to the stand, you will find one of two delicacies: shaved ice or snow cones. Shaved ice is made up of smaller granules, more on par with fine snow. It's fluffy and light. Snow cones are made up of larger pieces of ice and provide a crunchier mouth feel. Both are typically topped with a sweet syrup.
Choose a Size
The size options will vary from stand to stand, but you'll usually find options in some form of small, medium and large. Most stands will overfill your cup with a ball or cone on top, so if you don't want the hassle of that, you can order a small in a medium cup, which will keep the contents of your shaved ice entirely in the container.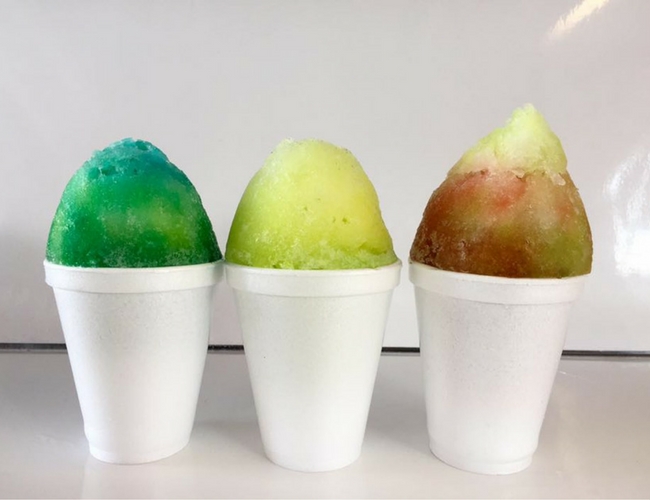 More Than 31 Flavors
Your next choice after size is flavor. Depending on where you are, you may have a few choices or hundreds. You'll find many self-explanatory popular flavors: cherry, grape, coconut and root beer. However, there are a few popular flavors that will have you wondering, "What does that taste like?" While each stand may make their own flavor mixes, these are typically what you'll find for these common shaved ice flavors:
Tiger's Blood — Animal lovers, rest assured that no tigers were harmed in the making of this snow cone! This is a fruity blend that's typically watermelon and strawberry. You may also find cherry or coconut added to the mix.
Silver Fox — This artic treat includes almond and vanilla flavors. Some locations will include a creamy ingredient, either cream or sweetened condensed milk.
Wedding Cake — Very similar to silver fox, this flavor includes vanilla and almond, but it usually heavier on the vanilla.
Tutti Frutti —Pay homage to the classic Little Richard song with this flavor packed full of sweet berries and fruit. It is a little tart, a lot sweet and tastes like biting into a Farmer's Market.
Blue Hawaiian — For a tropical treat, this is your pick. It's a bit like a traditional fruit punch with coconut. You may find flavors of pineapple, orange, peach, cherry, coconut — but blue in color.
If you can't decide on one flavor, most stands can create a rainbow of two or three flavors or mix multiple flavors. A mix would be all the flavors over the entire shaved ice, where a rainbow would be like Neapolitan ice cream with stripes of each flavor.
Customize Your Shaved Ice
Beyond choosing a flavor, you may have options to add other things to your cup. Depending on what your local stand offers, you could find many things to add:
Cream – One of the most popular additions is cream. It may be a mix of sweetened condensed milk, milk, cream, sugar, and/or vanilla. Some stands may use straight heavy cream or just sweetened condensed milk. It's typically a $.25-.50 upcharge, but it's worth it to get the creamy texture on your shaved ice.
Sour or pucker – If you love sour candies, then the addition of sour will provide the bite you want. It's either a splash or a spray of sour flavoring (which is usually a mix of citric and tartaric acid).
Sauces – Chocolate sauce, caramel, whipped cream and strawberry sauce are common additions at snow cone stands. You can create some interesting flavors with sauces: think chocolate covered strawberry or caramel coconut.
Candy – You can find anything from sprinkles, rainbow candy, gummy candy, or even popping candy to add to your shaved ice. Talk about a sugar high!
Ice cream – Some locations will combine frozen delights in the ultimate dessert by putting a scoop of vanilla or chocolate right on top of your shaved ice. Creamy, sweet, cold — what more could you want?
Other Options for Your Snow Cone
There are a couple other things to consider when ordering your shaved ice. The first is color. If you're a messy eater, ordering for a child, or if you want to avoid a mouth full of color, think about the color of the syrup. Many places will have designations on their menu for clear flavors, so you can enjoy your treat mess-free.
You may also have the option for spoons or straws to enjoy your shaved ice. I recommend choosing both. I think the spoon is helpful for the beginning of your snow cone, but as it melts and you get to more of the syrup at the bottom of the cup, a straw can be handy. And be sure to grab plenty of napkins!
What is your go-to shaved ice order? Or maybe your summer challenge is trying a new flavor each time you visit? Let us know your favorites!
Photos courtesy of The Little Red Caboose shaved ice stand in Fort Smith.