If you want less stress and no mess this Thanksgiving, going out to eat is your best option. Well, that and your favorite pair of stretchy pants. Here's your list of restaurants in Arkansas where you and your family can enjoy eating on Thanksgiving Day! You'll be able to get your feast on and bask in the tryptophans with no dirty dishes.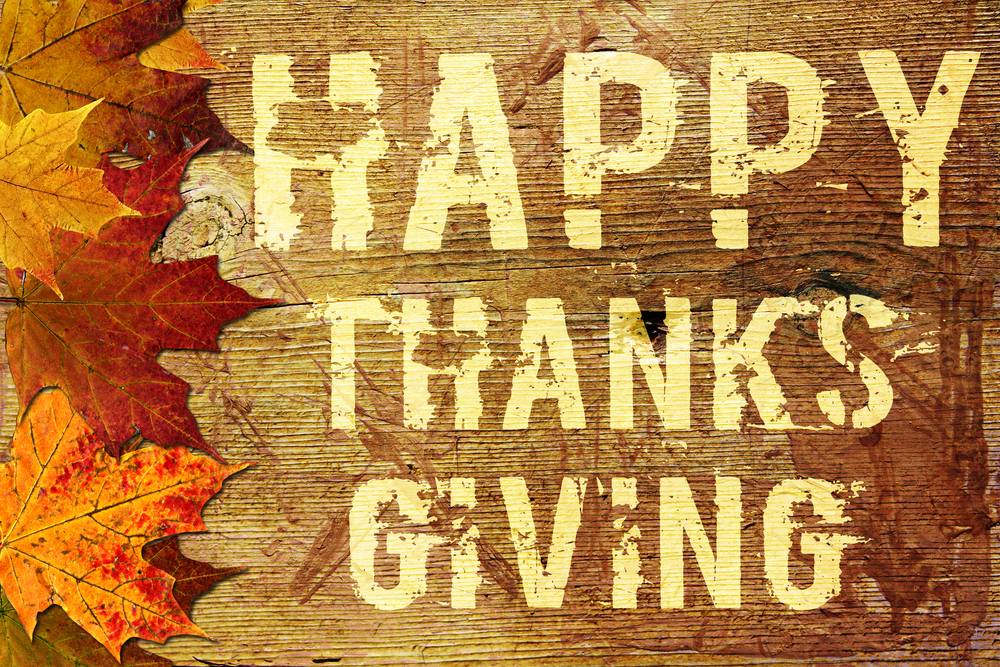 Thanksgiving at The Hive – Bentonville
200 NE A Street
Bentonville, AR 72712
12 p.m. to 7 p.m.
Call 479.286.6575 for dinner reservations
From The Hive: A day being preoccupied with a giant bird in your oven doesn't sound like something to celebrate? Give yourself a break this year and celebrate thanks with mouthwatering selections from four-time James Beard Award Semifinalist executive chef Matthew McClure at The Hive's Thanksgiving celebration. Friends will be impressed. Family will be thankful. The hardest part will be choosing between the House Made Campanelle with butternut squash and rosemary, the Swordfish with Brussel sprouts and shell beans, or the traditional Smoked Falling Sky Farm Turkey with cornbread stuffing and whipped potatoes. Pretty good problem to have, if you ask us.

Ozark Folk Center- Mountain View
Skillet Restaurant
1032 Park Avenu
Mountain View, AR 72560
If you don't feel like cooking, go enjoy a Thanksgiving Day buffet  at the park from 11 a.m. to 2 p.m. It's a great way to enjoy the holiday, family, friends and being together without having to wash all those dishes. The park's restaurant will serve turkey, dressing and all the fixin's.

DoubleTree – Little Rock
Bridges Restaurant and Lounge
424 West Markham St.
Little Rock, Arkansas 72201
(501) 508-8156
You can celebrate your Thanksgiving at Bridges Restaurant & Lounge in downtown Little Rock. They'll be featuring a special, three-course menu with all of your favorite holiday classics. The special is available from 11:30 a.m. – 2 p.m. The cost is $18 per person.

Crowne Plaza Hotel – Little Rock
201 S Shackleford Rd,
Little Rock, AR 72211
(501) 223-3000
Crowne Plaza Hotel's Cafe 201 is serving Thanksgiving Brunch from 11 a.m.- 1:30 p.m.
Call to reserve a spot for their Thanksgiving Brunch! They have an extensive menu- including cold and hot Thanksgiving entrees. You'll find a great selection of meats to choose from; turkey, honey baked pit ham, roasted prime beef, apple walnut stuffed pork loin with an apple demi glaze. Cost: Adults $32, Seniors $29, Kids (6-12 years old) $19 and kids 5 and under eat free with a paying adult.

Capital Hotel- Little Rock
111 W Markham St.
Little Rock, AR 72201
(501)370-7068
When it comes to dining out on Thanksgiving, The Capital Hotel is giving you several choices.
You can have Thanksgiving Lunch in One Eleven from.11 a.m.-3 p.m. The cost will be:
Adults $95 or $135 with wine pairings; Youths $35; Children 5 & Under Free plus tax and gratuity.  There's also Thanksgiving Brunch on the Mezzanine from 11 a.m.-3 p.m., The cost: Adults $58; Youths $25; Children 5 & Under Free. Finally, there's Thanksgiving dining in Capital Bar and Grill from 11 a.m.- 9 p.m. A limited menu will be available or a 3-Course Prix Fixe Menu for $38 plus tax and gratuity. To make reservations for dinner, lunch or brunch call 370-7068.

Del Frisco's Grille – Little Rock
17707 Chenal Parkway
Little Rock, Arkansas 72223
(501) 448-2631
Enjoy their 3-course Thanksgiving Dinner featuring Sliced Roast Turkey with sage apple sausage stuffing and all the trimmings. Their Prix Fixe Menu costs $39. For your first course you can choose from truffle chive vinaigrette deviled eggs, butternut squash bisque or a holiday salad. It will be hard to make your decision on dessert. You can pick from: pumpkin cheesecake, nutella bread pudding, molten chocolate cake and salted caramel pudding. Make your reservations now.

Mimi's- Little Rock
11725 Chenal Parkway
Little Rock, Arkansas 72211
(501) 221-3883
You can celebrate Thanksgiving with Mimi's and dine in from 11 a.m.-8 p.m. They have a traditional 3-course Thanksgiving meal. The cost is $18.99 for adults and $8.99 for kids. Be sure to call to make your reservations.

YaYa's Euro Bistro- Little Rock
17711 Chenal Pkwy
Little Rock, Arkansas 72223
(501) 821-1144
Let them serve your family an incredible Thanksgiving Dinner buffet from 10 a.m.-5 p.m. Their carving station features hand-carved turkey, blackened prime rib and Petit Jean ham. You can choose between 8 side dishes… or try them all! If you leave room for dessert- there's pumpkin pie, pecan pie, blackberry cobbler, bread pudding and much more. The cost is $32.95 per person and kids (10 and under) eat for $15.95. Be sure to make your reservations early.

The Iron Skillet- North Little Rock
3205 Valentine Road
North Little Rock, Arkansas 72117
(501) 945-3206
They are open 24 hours and no reservations are required… just take your appetite. You can have turkey and all the fixings. There's ham and dressing too. Let's not forget the beloved green bean casserole! They have a great salad bar too. Be sure to try their yummy raspberry vinaigrette dressing… Hello, you can eat an extra dessert for all the calories you saved! The cost is $15.99 per person and kids eat for $5.69.

1886 Crescent Hotel and Spa – Hot Springs
75 Prospect Avenue
Hot Springs, AR 72632
(800)342-9766
They will be serving up a Thanksgiving Feast from 11 a.m. until 4 p.m. And I do mean feast! If you aren't in the mood for turkey, you can have their carved Prime Rib with Horseradish Cream and Red Wine Au Jus, carved Molasses and Brown Sugar Glazed Ham or Baked Atlantic Salmon over Wild Rice with Champagne Cream Sauce. If you aren't a carnivore- they have Vegetarian Butternut Squash and Quinoa Casserole with Kale, Onions, Carrots and Celery. No worries- they have a bunch of sides and desserts too. The cost: Adults (13 & Up) $29.95, Youth (6 & Up) $14.95, Kids (5 & Under) Complimentary. Reservations recommended.

Houlihan's – Rogers
2203 S Promenade Blvd
Rogers, Arkansas
(479) 246-0296
They have all the Thanksgiving classics you are craving. Like, bottomless a la carte roasted turkey dinner with cornbread dressing, mashed potatoes & gravy, garlic green beans, and fresh cranberry orange relish. You get your choice or salad or homemade soup. Plus, pumpkin or apple pie. Their regular dinner menu is also available. They're open 11 a.m. until close. The cost is $21.95 for adults and $9.95 for kids. Remember to make your reservations!

Boston Market
Multiple locations in Arkansas
They have a Thanksgiving dine-in menu or a pre-order, to-go Thanksgiving heat & serve menu. Open 11 a.m.-8 p.m.
Cracker Barrel
Multiple locations in Arkansas
Thanksgiving menu available. Open 6 a.m.-10 p.m.
Denny's
Multiple locations in Arkansas
Thanksgiving menu available and open 24 hours.
Golden Corral
Multiple locations in Arkansas
Thanksgiving Day buffet. Open 10:45 a.m. – 8 p.m.
IHOP
Multiple locations in Arkansas
Turkey or ham dinner. Plus, their regular menu. 24-hour locations will be open all day on Thanksgiving.
Ryan's
Multiple locations in Arkansas
Thanksgiving buffet menu. Open 11 a.m. to 7 p.m.