Cookie season is upon us! I credit most of my love of cooking to growing up with two parents who love good food and who love to cook. My dad had us help with spaghetti by letting us cut the olives we sprinkled on top and my mom always recruited us to help with the holiday baking.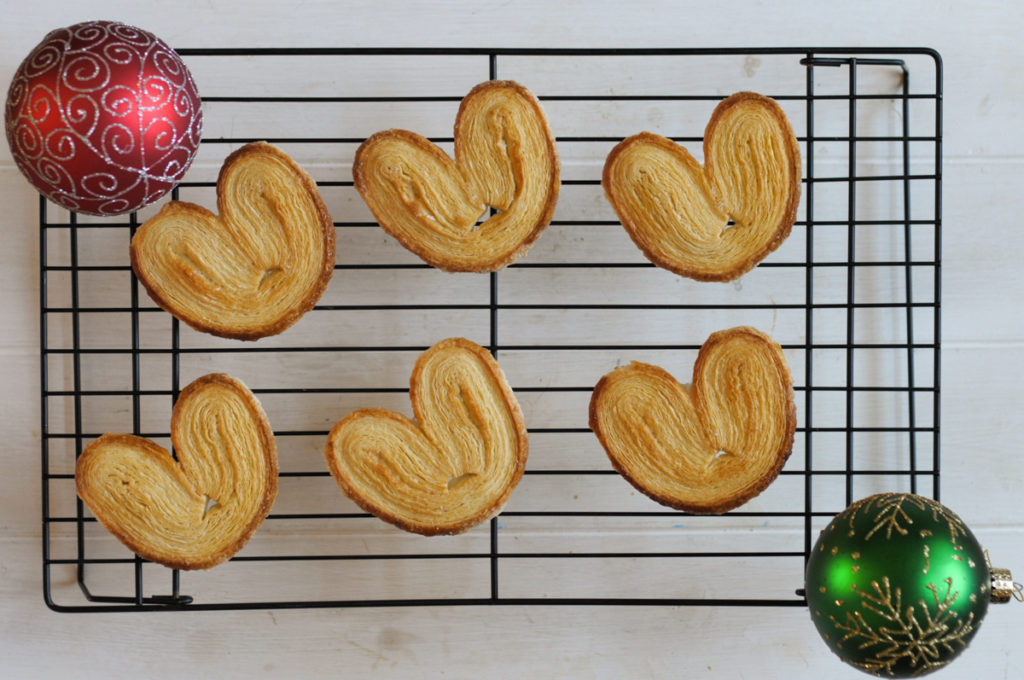 Every year, we would make dozens of batches of cookies and various candies – chocolate chip cookies, magic bars, fudge, Italian wedding cookies, smoked pecans, peanut brittle, the works. We had trays and trays of those goodies cooling all over the house, all so that we could package them up in plates and give them to neighbors, teachers and the co-workers of my parents. It was hard work but is the basis of so many amazing memories.
For years, I've said that I'm going to spend a weekend creating those same kinds of cookie plates, and every year I've fallen through with the exception of a few goody bags for the teachers in my kids' lives. However, as our circle of friends and co-workers grows so does the potential for cooking-giving, which is good news for the baker within!
Below are a few of my favorite tried-and-true recipes, as well as a list of even more fantastic cookie options from some of our Arkansas Women Bloggers. Spreading holiday cheer may take a little time and commitment, but it sure is sweet!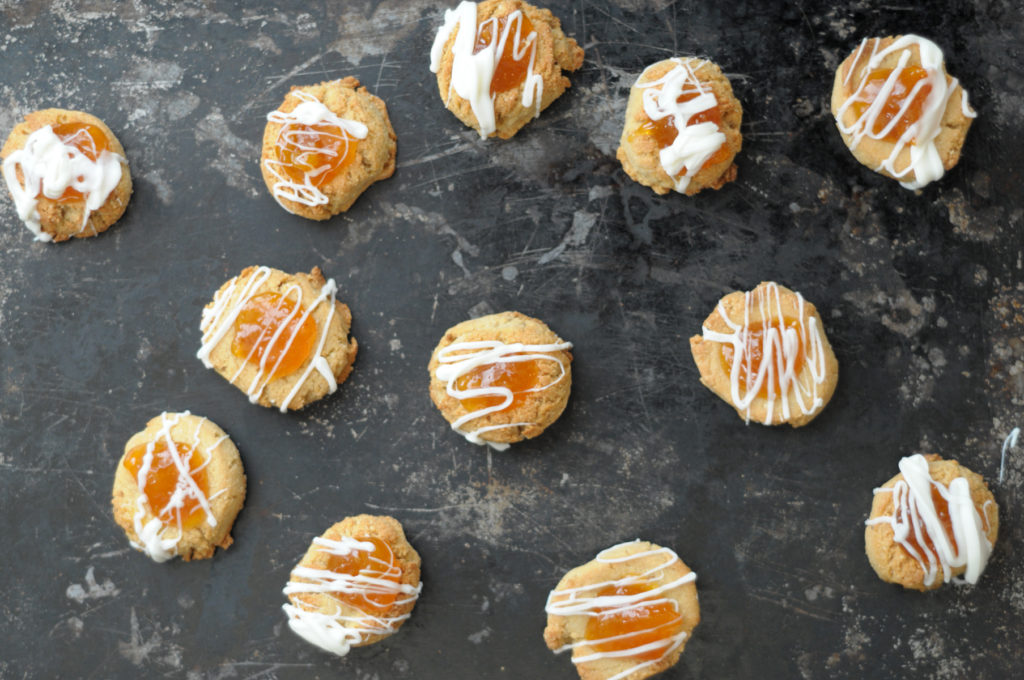 ALMOND APRICOT THUMBPRINTS
Makes 48 cookies
Ingredients:
6 cups blanched almond meal
1-1/2 cups dark brown sugar
2 whole eggs
2 tablespoons vanilla extract
1/4 teaspoon sea salt
2 cups apricot preserves
2 cups white chocolate, melted and slightly cooled
Directions:
Preheat oven to 350.
Line a baking sheet with parchment paper or a silicon baking mat and set aside.
Combine the sugar, eggs, vanilla and salt until smooth.
Fold in the almond meal until well combined.
Scoop the dough into tablespoon-sized balls and roll into balls.
Gently press a small hole in the middle of each cookie; if using your thumb it works best to dip your thumb in water before each cookie.
Bake at 350 for 15 minutes.
Allow the cookies to cool for about 10 minutes, then fill each thumbprint with apricot preserves.
Drizzle the cookies lightly with the melted white chocolate.
Allow to cool completely.
CHAI-SPICED PALMIERS
Makes approximately 40 cookies
Ingredients:
2 sheets puff pastry, thawed in the refrigerator overnight
1 cup granulated sugar
1 cup raw sugar
1-1/2 teaspoons ground ginger
1 teaspoon ground cinnamon
1/2 teaspoon ground cardamom
1/2 teaspoon ground allspice
1/2 teaspoon ground cloves
Directions:
Preheat oven to 425.
Line two baking sheets with parchment paper and set aside.
In a small bowl combine the ginger, cinnamon, cardamom, allspice and cloves.
Stir in the 1 cup of granulated sugar until the spice mixture and sugar are evenly combined.
On a clean countertop evenly spread 1/2 cup of raw sugar.
Unfold one sheet of puff pastry onto the raw sugar.
Sprinkle half of the granulated sugar mixture on top of the puff pastry.
Using a rolling pin, gently roll the puff pastry out until it reaches a 12- x 12-inch square. The goal is to roll the sugars into the puff pastry dough.
To fold the palmiers, fold opposite sides toward one another, about halfway toward the middle.
Fold again so that the two edges are toughing in the middle.
Using a sharp knife, cut each palmier about 1/2 inch thick and gently place on the prepared cookie sheet, about 1 inch apart.
Repeat for the other sheet of puff pastry.
Bake the palmiers at 425 for about 7 minutes until the sugar on the bottom is caramelized and brown.
Remove from the oven, gently flip each palmier onto the other side, then bake for another 4-6 minutes until both sides are lightly golden.
Allow to cool completely.
BROWN BUTTER WHITE CHOCOLATE CRANBERRY COOKIES
Makes 48 cookies
Ingredients:
1 cup unsalted butter, cut into tablespoons
2 cups brown sugar
2 whole eggs, at room temperature
1 tablespoon vanilla extract
3 cups all-purpose flour
1 teaspoon salt
1/2 teaspoon baking soda
2 cups white chocolate chips
1-1/3 cups dried cranberries
Directions:
Preheat oven to 350.
Line a baking sheet with parchment paper and set aside.
Place the butter in a saucepan and heat over medium heat.
Let the butter melt over medium heat and swirl (but don't stir) the butter as it starts to foam.
Keep an eye on the butter to make sure it doesn't burn; as soon as it starts to turn a medium golden brown, pour the butter into a bowl.
Add the sugar and vanilla extract, whisk to combine, and then allow to cool for about 10 minutes.
Whisk in the eggs until creamy and smooth.
Add the flour, salt and baking soda and mix until just combined.
Add the white chocolate chips and dried cranberries and mix until combined.
Scoop the dough into 1-tablespoon balls and place 2 inches apart on the prepared baking sheet.
Bake at 350 for 9-11 minutes until golden on the bottom.
Allow to cool for 10 minutes, then remove to a cooling rack to cool completely.
Repeat until all of the cookies are baked.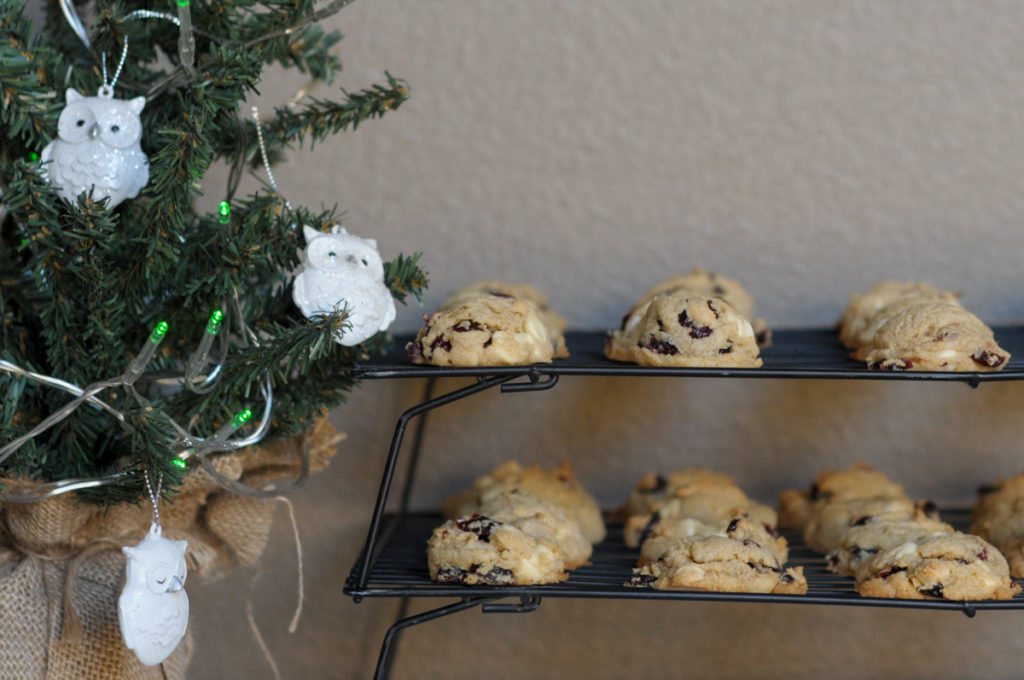 For even more cookie inspiration, check out these fantastic recipes from some of Arkansas' best bloggers:
Best Chocolate Chip Cookies Ever
Chocolate Cherry Cookies
Double Delight Chocolate Chip Cookies
The Quest Chocolate Chip Cookie
Almond Flour Chocolate Chip Cookies
Snickerdoodles
Gingerbread M&Ms Cheesecake Cookie Mix
Glazed 4-Ingredient Pumpkin Cookies
Lacy Oatmeal Cookies
Strawberry White Chocolate Chip Cookies
Cinnamon Bun Cake Mix Cookies
English Toffee Cookies
Meyer Lemon Madeleines
Spiced Pumpkin Chocolate Chip Walnut Cookies
Cacao Crunch Mini Pavlova Cookies
Brown Sugar Bacon Cookies
Lavender Sugar Cookies
Mexican Hot Chocolate Cookies
Triple Chocolate Oreo Oatmeal Cookies
White Chocolate Covered Walnut Cookies