For Kyleigh McGee, one of the best parts of having her own lemonade stand on wheels is, simply put, "being the boss."
Kyleigh, who is just 7 years old, runs Kyleigh's Lemonade Stand, which serves classic summertime staples and signature items. A rising second-grader, Kyleigh got her start selling lemonade in her Nana's front yard last spring. When Kyleigh's  mother, Gabrielle Williams, came across a mobile stand this spring, they welcomed the idea of a change in venue.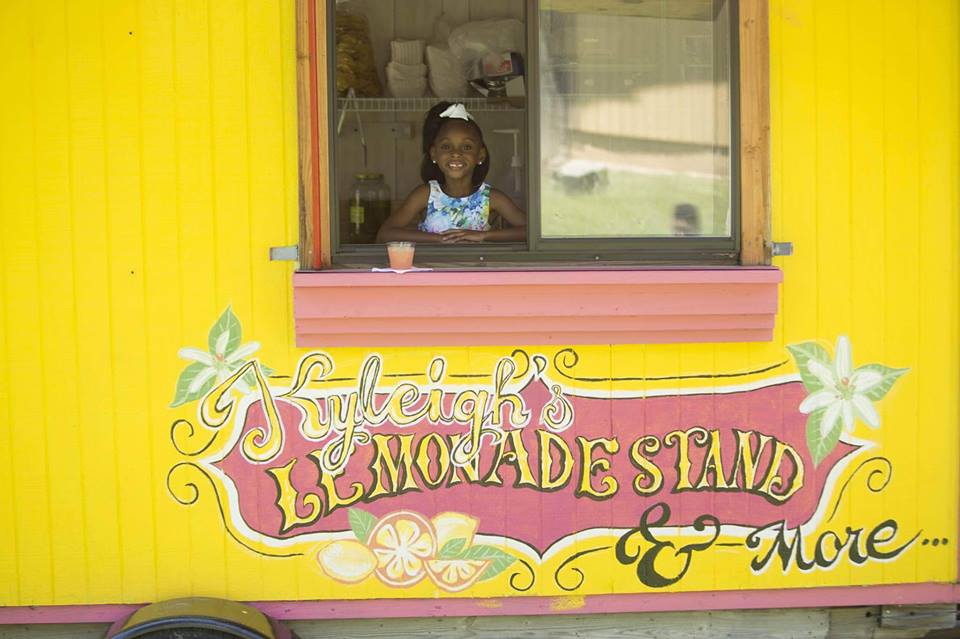 "We just thought, 'Why couldn't we have one on wheels?'" Kyleigh said.
Today, Kyleigh's pink-and-yellow stand can be spotted at the Little Rock Food Truck Stop on South Chester Street and is also available for events by request.
Kyleigh said she began selling lemonade because it's a favorite of hers. The only lemonade she serves is pink lemonade, a nod to her favorite color.
"That's something I really, really like to drink," Kyleigh said. "[People like buying it] because we make the goodest lemonade."
With the help of Williams, Kyleigh also serves ice cream, nachos, popcorn and chili cheese dogs. Her signature Pineapple Paradise is a snow cone that is served inside of a pineapple shell that has pineapple chunks at the bottom.
To prepare for a day's work, Kyleigh and her Nana make the secret recipe for the lemonade together, and Williams does the shopping and cooking for other menu items up to three or four times a week. Some events, like Mosaic Templars Cultural Center's Juneteenth celebration, get very hectic and require a lot of communication between Kyleigh and Williams to meet the demand of customers.
"[It was] busy because we had to go back and forth like, 'Two snow cones! Can I get some more snow cones? Can I get 10 snow cones? Can I get a lot of snow cones?' And it kept going back and forth," Kyleigh said.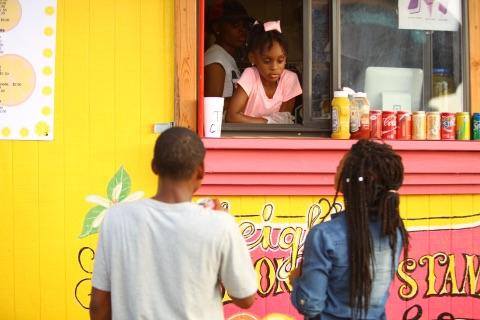 Because of Kyleigh's ambitious entrepreneurship and success at such a young age, her stand has even attracted the attention of Good Morning America, which featured her business earlier this summer.
"I feel very happy because it makes me feel famous like my mom," Kyleigh said.
Kyleigh has been learning the values of running her own business from Williams, who owns a mobile boutique called KM Styles, named after Kyleigh. KM Styles sells clothing and shoes for women and children, and it even has a dressing room inside. Williams, who has been laid off before, said owning KM Styles allows her to both be in control of her career and be the mother she wants to be for Kyleigh.
"The main thing is: I don't want her to ever have to depend on anyone," Williams said. "I want her to be self-sufficient. I want her to understand the sky is the limit. You can do and be whatever it is that you want to be."
Through Kyleigh's Lemonade Stand, Kyleigh learns how to count money, save it and also give back to others. After each event that Kyleigh works, a percentage of the money goes into a bucket. Once the bucket reaches a certain amount, Williams and Kyleigh will have a stand prepared for a child who wants to run their own business, too.
"Giving other people the opportunity to see what it's like to be an entrepreneur and have their own business—it's a fun experience," Williams said. "We also don't want to take away their childhood. It's summertime. They still want to be kids. But at the same time, we also want to teach them to be more responsible."
Williams said she often tells people that it's important to leave something behind for their children.
"If you don't have anything to leave them, you should be worried," she said. "I don't ever want her to have to worry about anything if I'm no longer around. I'm always thinking of ways to generate more income and to better her future because my whole world revolves around her."
In the future, Kyleigh hopes to take her mobile lemonade stand to "Disneyworld, New York City, Japan, Africa—all around the world where people don't have food."
For now, she hopes other young business owners grow in their talents.
"I want them to get better like I am doing and do the same thing where they can be just like me," Kyleigh said. "Stick with what you're doing, and never give up."