Well-known DJ Patrick Beam has been sharing his gift of gab with Arkansas on 100.3 The Edge for years. Now he is sharing his creativity in an entirely new way. Patrick and his business partner, Tim Bailey, recently opened The Reclaimed Artisan Shoppe in Little Rock.
Located just off Kanis Rd., The Reclaimed Artisan Shoppe may look small from the outside but that's an optical illusion. It's packed full of one-of-a-kind treasures.  It's where you can shop locally and help the environment. You would never know by looking, but it is full of items that were once trash. Patrick and Tim have literally turned trash into treasure. Everything inside their store, including the beautiful wooden floors, are rescued works of art.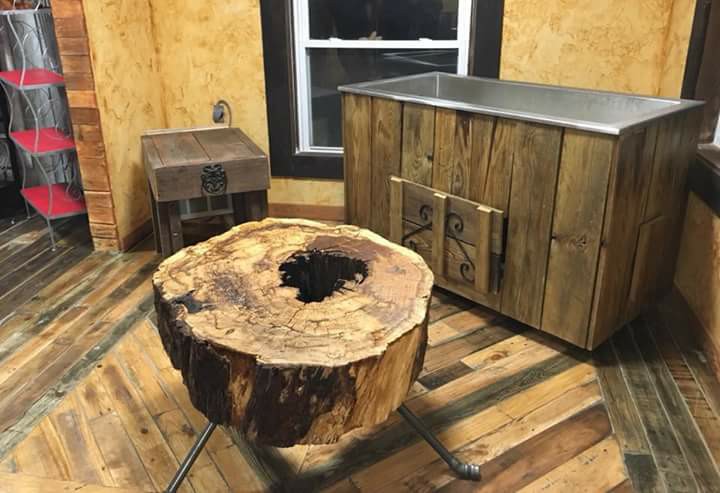 "I have a passion for creation. I love to make things and to make people happy… this way I get to do that and it's a small way to give back. Customers get to take home something special. Plus, it is a great way to help the earth," said Patrick.
They take anything and everything that was destined for a landfill, the trash or your burn pile… with a lot of work and an awe-inspiring amount of imagination, they turn what were once unwanted items into pieces even the most discriminating customer or designer would want in his or her home. The guys love working with glass, metal and wood.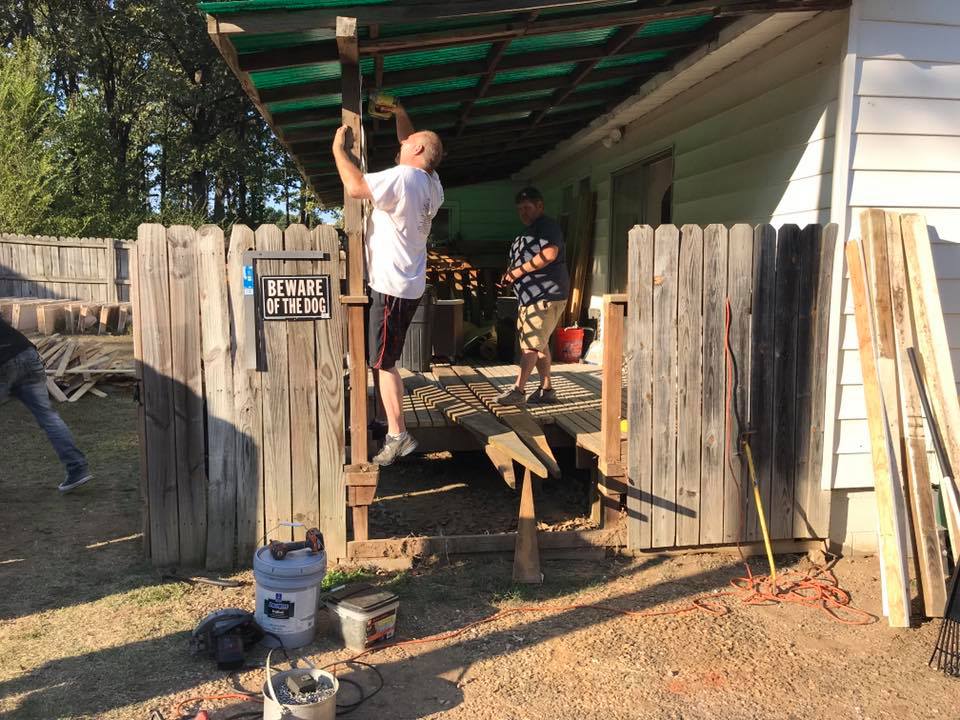 Both Patrick and Tim are native Arkansans. With this business, they are seeing their childhood dreams come to reality. Patrick said this is exactly what he dreamed of doing as a child. He said "Sanford and Son" was his inspiration back then. He used to find things and he'd make them pretty again. Then, he would sell them to make money to buy comic books. Tim said he always loved to build things, even when he was a little kid. He had built a bike shop by the time he was 10 years old. "Building- it's what I have always loved to do. Now, I get artistic license to do what I want and be creative," he said.
Tim has worked in the construction business for 27 years, and he owns Bailey Renovations and Construction, LLC. It's what he does when he isn't working in his and Patrick's workshop, which sits directly behind The Reclaimed Artisan Shoppe. Their new business gives him creative freedom, along with the ability to think and build outside the box. Sometimes commercial construction is imaginatively stifling, he said. "This gives me the artistic license to do what I want and work on what I choose," he said. Now, his imagination gets plenty of exercise. One of the perks of his full-time construction job? He gets first dibs on whatever is left over after a job is completed. Another perk is his flexible schedule.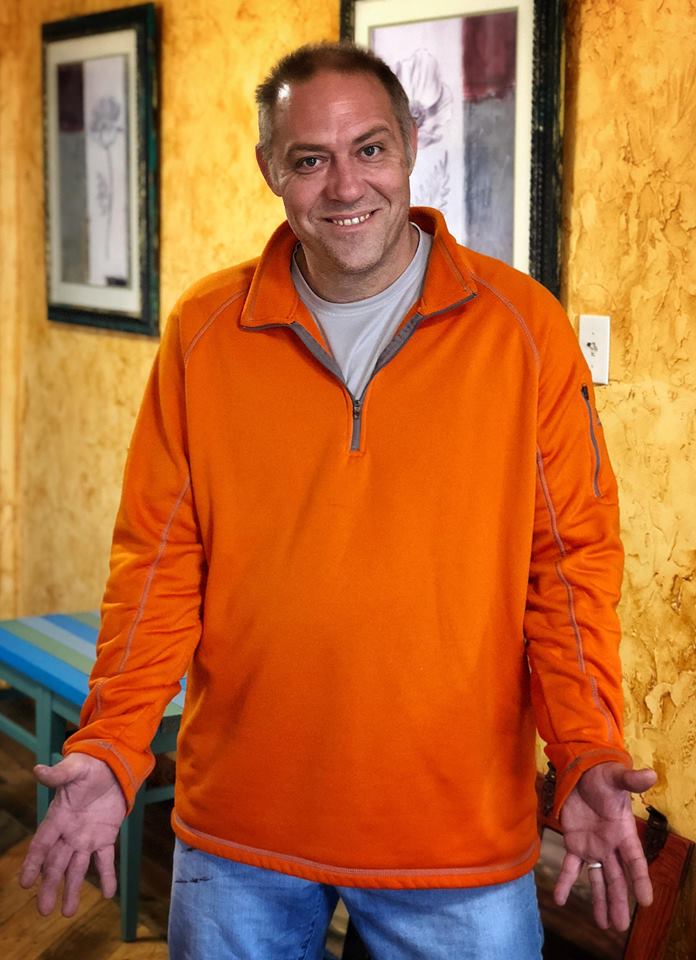 Photo courtesy of Wally Jarrett
Whereas, Patrick's schedule is set in stone over the airwaves. He spends his mornings on the radio as part of "Corey and Patrick in the Morning." After he's done there, he spends his time between The Reclaimed Artisan Shoppe and the workshop. "It's where all the magic happens," he said.
If you look out the back door of their store, you can see their workshop. Your eyes find a plethora of items. As you walk out- there are pallets, broken chairs, granite and an eclectic assortment of tiles. Plus, there is every kind and shape of wood imaginable. There's glass and metal, too. They can pick and choose what they want to use. While they aren't opposed to dumpster diving, they really love it when people bring their broken or unwanted stuff to their shop. Instead of Arkansans throwing unwanted items away or burning them, they'd rather you stop by with it, drop it off or call them to possibly pick it up.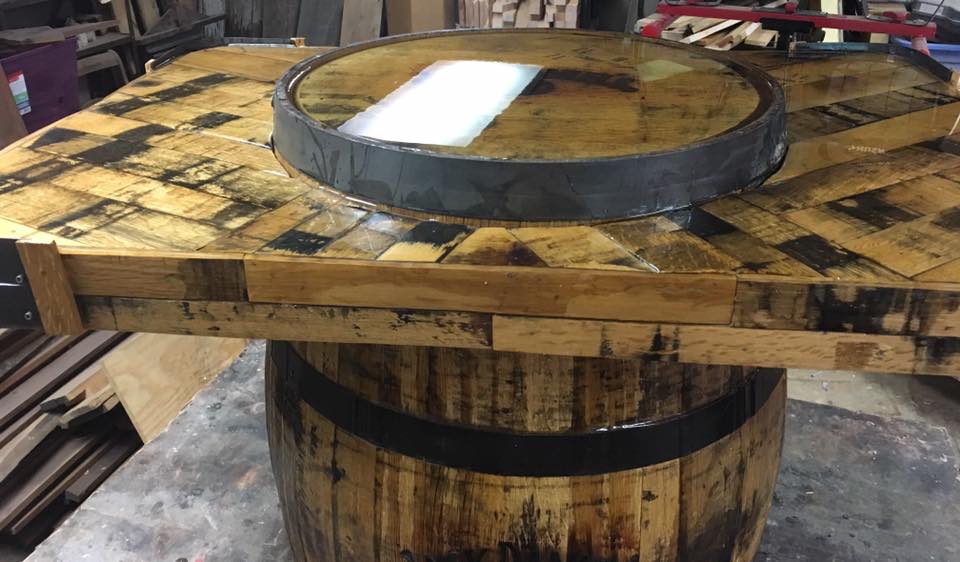 Inside their workshop, they have a wide array of projects they are working on. And some they cannot wait to start. Once completed, they are ready for customers to purchase in the store.
Speaking of custom, they also do custom projects. They have customers who give them their cherished items to refinish and restore. Patrick said, "We will rescue treasured items for them." If it needs to be fixed, re-stained or painted, Patrick and Tim are happy to do it. If a customer wants them to completely overhaul an item, they find creative ways to breathe new life into something old.
Patrick and Tim are letting other artists from Arkansas get in on their fun. On the store's walls and throughout the store, they feature art from local artists. "They use our store like a gallery. We want to give other Arkansas artists the time and the chance to shine!"  Everything you see is for sale.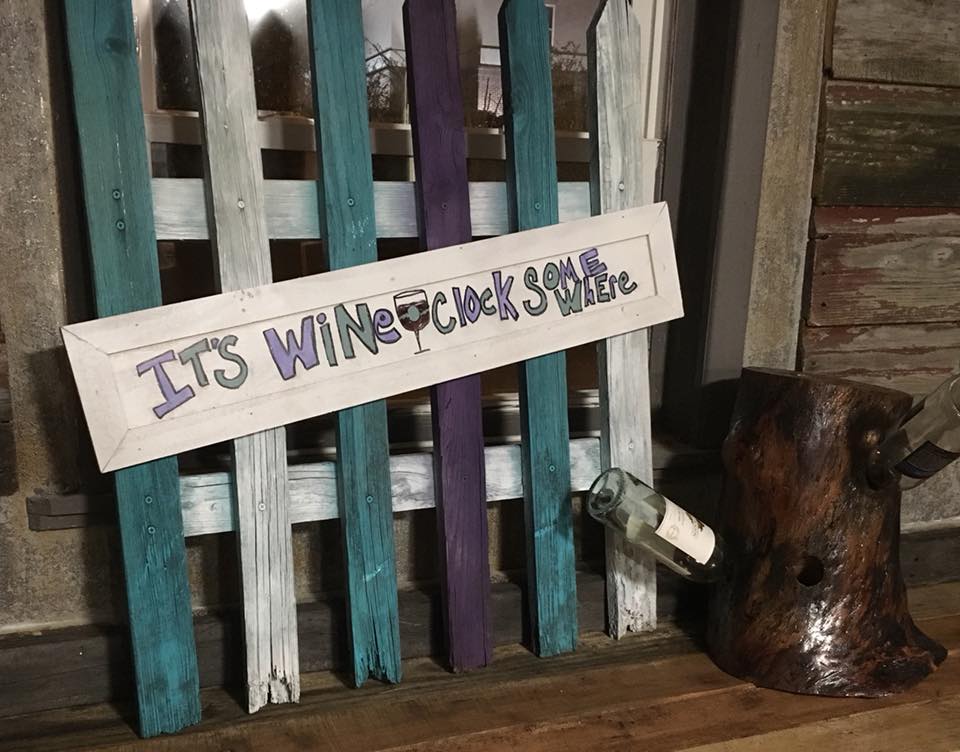 These guys are very sociable. You can visit them at the store or in the shop. Of course, you can check them out and follow them on Facebook. They'll give you an inside look into the magic that's happening in their workshop with updates, photos and videos.
You won't believe your eyes when you see what they have to offer in person. The Reclaimed Artisan Shoppe is located at 1226 Kaufman Road in Little Rock, AR. They are open Monday- Thursday from 11am-4pm. Their hours on Friday, Saturday and Sunday are 1-6pm.
Cover photo credit: Wally Jarrett