Fayetteville entrepreneur Mark Zweig enjoys fixing things.
Fixing dilapidated houses and commercial properties. Fixing struggling companies. Shaping the minds of budding entrepreneurs.
He's been doing so here in Fayetteville for nearly 20 years, and during that time, it's difficult to think of anyone in town who's done more to alter the landscape of this city.
Zweig currently runs two companies here in town, Zweig Group – a company that consults with architecture and engineering firms on a variety of topics as well as publishes a popular newsletter and a magazine for professionals in those fields, and Mark Zweig Inc., a residential and commercial construction, remodeling, and rental business. He is also an Executive in Residence at the University of Arkansas, where he teaches two courses per semester on starting entrepreneurial ventures and running a small business.
You could say he wears a lot of hats, and in fact, he literally does that, too.
Starting out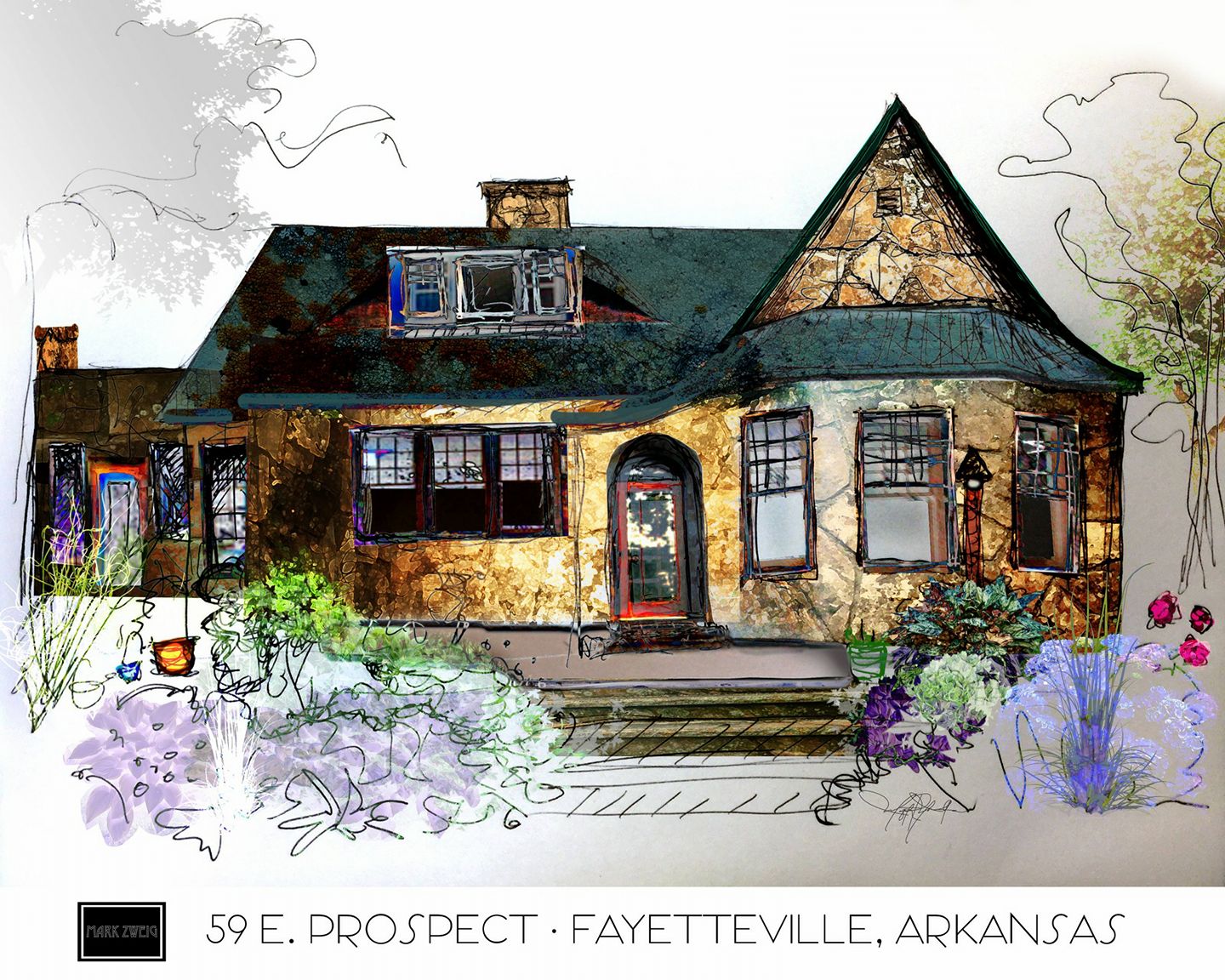 Drawing of Mark Zweig's first remodel project in Fayetteville, the home of A.L. Trent near Wilson Park
Zweig got his start in business at a local bike shop in his native Kirkwood, Missouri when he was just 12 years old.
"My dad said, 'You should go down there and tell them you'll work for free, and if they like you, they can pay you a buck an hour,'" he recalls. "So they hired me for a buck an hour."
Zweig had a passion then – and still to this today – for bikes and old cars, and he quickly found a way to make money buying and selling them. "I found out I could make a lot of money working at these bike shops," he said. "By the end, I was knocking down $700 a week and I was still in high school."
From there, he went on to get an undergraduate degree at SIU Carbondale in Illinois, where he finished in just three years. He got his MBA just a year after that, and began working in the construction and development business, and later in architecture and engineering, at a handful of firms around the country.
He moved around some, living in Memphis and Fort Worth before landing in Boston around 1988. It was there that he started Mark Zweig and Associates, the company that would later become his highly successful current business, The Zweig Group.
The Zweig Group
Not unlike its founder, the Zweig Group does a little bit of everything. The company focuses on serving the architecture and engineering field with a variety of services including strategic planning, business planning, help with mergers and acquisitions, valuation, recruiting, marketing, and others.
In addition to the consulting services, the company also publishes a magazine called Civil + Structural Engineer, and an industry newsletter called The Zweig Letter and conducts about 50 seminars around the country each year.
The story of how it ended up in Fayetteville is relatively interesting as well.
Continue Reading at Fayetteville Flyer