Beer brewing is coming back to Dickson Street. The owners of Hog Haus Brewing Company, which hasn't included on-site brewing in several years, have hired a brewer, are building a new system, and will soon begin brewing craft beer and cider inside the restaurant.
Owner Julie Sill said she had been trying to come up with a way to get back into the beer-making business, when the solution to her problem walked in the door one day with a job application in hand.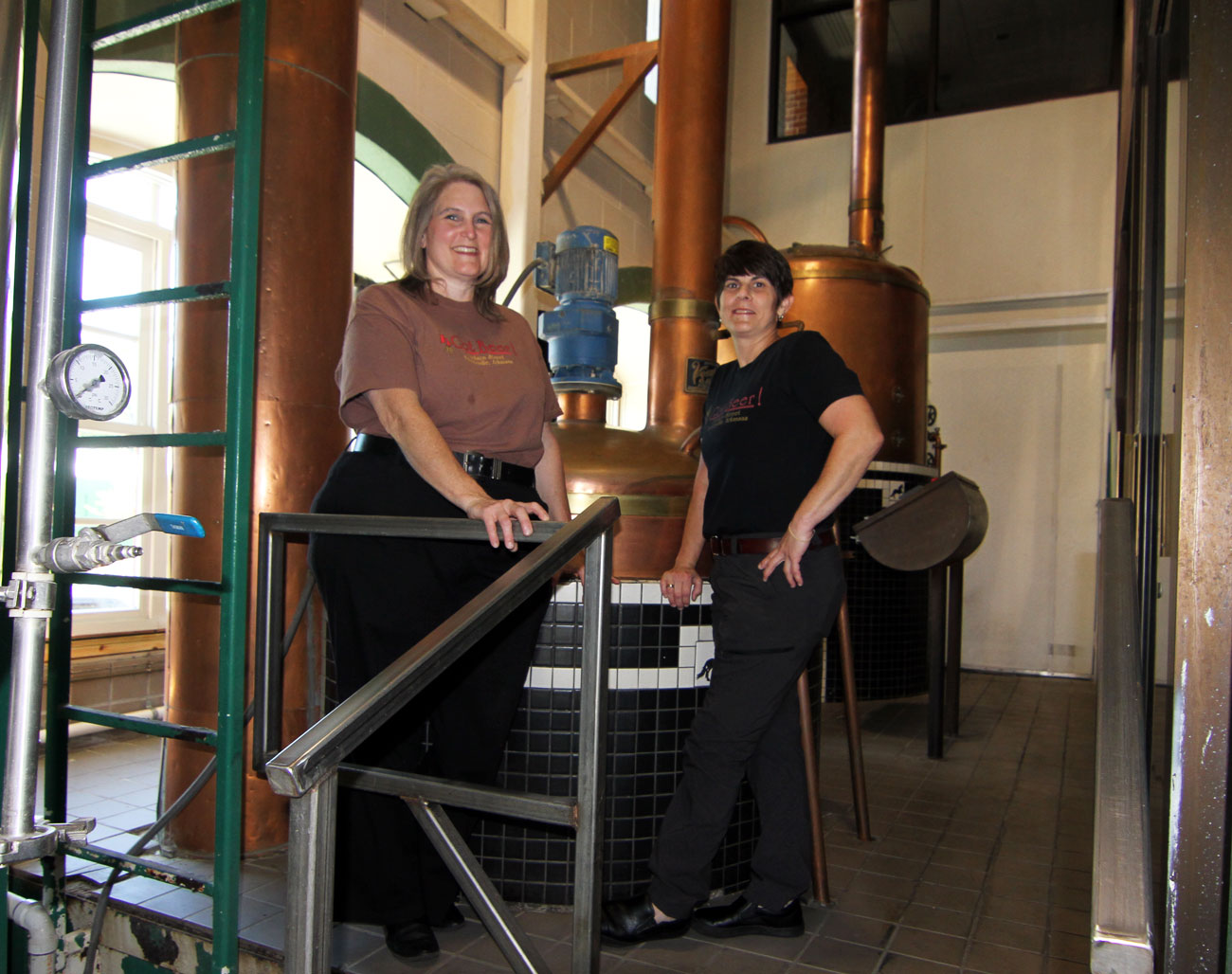 Head brewer Leigh Nogy (left) and Hog Haus owner Julie Sill / Photo: Dustin Bartholomew
"A lady came in to apply to be a server or bartender," Sills recalled. "And I'm looking at her resume, and during our second interview, I said, 'I don't want to hire you for that. I want to hire you to brew.'"
That brewer was Leigh Nogy, who was in 2008 very close to opening her own brewery specializing in gluten-free beers in Fayetteville. Financing for that project, called Dark Hills Brewing, fell through when the recession hit, and one of Nogy's key investors pulled out. She became pregnant with her third child around the same time, and it seemed as though the universe was trying to tell her something.
"It felt like someone kept putting up roadblocks for us," she said. "Now, looking back, I think it was for the best."
Nogy had all but given up on that dream of opening her own brewery, but her passion for brewing remained.
"She told me, 'I want to brew. It is in my blood,'" Sills said. "So I said, 'I want you to bring your concepts, and theories, and drive, and your interest here to become a Hog Haus brewer.'"
A bit of history
Long before Hog Haus existed, and before the craft beer renaissance in Northwest Arkansas had even begun, 430 W. Dickson Street was the site of Fayetteville's first brewery.
John Gilliam opened Ozark Brewing Company in the building in 1994, and the restaurant and brew house thrived for the better part of 10 years before Gilliam decided to sell the business to Sill and her partner, Kari Larson in 2004.
Sill and Larson changed the name, and Gilliam agreed to stay on to help brew the beer. He eventually moved on, and Hog Haus struggled to find a suitable replacement. Brewers came and went for years, until finally Steve Mazylewski showed up in 2007 from Chicago.
Mazylewski turned things around for a while. He created the brewery's British IPA, the Curly Tail Ale, as well as a saison and a java porter. He eventually returned to Chicago for a job at another brewery, and Sill decided it was time to go in different direction.
"We were spending a fortune getting these brewers in here, and trained on the system, and they all ended up leaving," she said.
She briefly contracted with Core Brewing to brew beer for her at their own production facility, before striking a similar deal with Saddlebock Brewery later.
Saddlebock has continued to brew Hog Haus' signature brews since that time.
A new era of brewing at Hog Haus
Nogy has hit the ground running since accepting Sills' offer to resurrect the brewery. She enlisted her husband Chris to build a custom electric system that can brew up to two barrels (roughly four kegs) at a time. With that, Leigh will be able to keep things fresh with small batches of unique beers to go along with the staples that have been served at Hog Haus for years.
"We're going to make a wide selection of specialty beers," she said. "We'll regularly have something new, and we can create all these beers in a relatively short amount of time. We can get a lot of customer feedback, and we can take that feedback to the recipes we develop in the future."
Nogy said she is generally a big fan of German styles but plans to try all kinds of things once she gets up and running.
"I like wheat beers, dopplebocks, goses," she said.
Continue Reading at Fayetteville Flyer