Fayetteville has seen its fair share of breweries open over the past few years. Everywhere you turn it's all about local IPAs and stouts. For local restaurateur Jody Thornton local beer can be much more than a hop storm of flavor. His new endeavor – JJ's Beer Garden & Brewing Co. – will ensure light lager will be another viable option for people thirsty for locally crafted beer.
Thornton, a native of Hot Springs, is a veteran of the restaurant and bar industries. After spending some time in Fayetteville as an undergraduate he moved to Austin, Texas to work for Fred Nelson at Souper Salad. Despite success there as general manager, family ties eventually brought him back to Northwest Arkansas to help revive Hoffbrau Steaks (which was owned by his sister and brother-in-law). The venerable eatery on the downtown square had seen business dip and needed a jump-start, which Thornton provided through promotions that proved popular with the college crowd like "flip for your burger" and "drink 'til you pee." By the late 90s it was again bustling with business. Ask anyone who attended the University of Arkansas during those years and he or she is sure to have fond memories of Hoffbrau.
In 2001 Thornton partnered with Matt "Grub" Christie to open Grub's Bar & Grille. After leaving Grub's and after a detour through Texas and a gig as general manager at the short-lived Granite City Food & Brewery in Rogers, he struck out on his own with JJ's Beer Garden & Brewery in 2008.
If you live in Northwest Arkansas you probably know how successful JJ's has been since it opened. The concept has scored many devoted fans. There are now a total of eight JJ's locations across Arkansas, including the recently unveiled JJ's on Dickson.

Photo: Todd Gill
JJ's features a menu of approachable favorites like burgers, sandwiches, and nachos that is complemented with local music on most nights of the week. By Thornton's count JJ's is now booking more live music than anyone else in the state – an average of forty-two shows each week. The acts are local, and the hospitable venues provide a place to get their name out in the public. Many have developed a loyal following, including Bottlerocket, which plays at most of the JJ's locations across the state. The band is a four-piece collective of local musicians led by guitarist and lead vocalist Jerrod Mounce.
"JJ's has meant a lot to me," said Mounce. "I more or less cut my teeth on playing 'real' live shows there. They've created a great opportunity over the last few years for a lot of us local musicians to perform and do what we love to do."
Another big part of JJ's Grill's success is the commitment to beer in the restaurants. Local and regional breweries are featured alongside more common offerings from the big industrial brewers. "We've had 32 taps since we started," said Thornton. "But light lager is still our best seller." It is more commonplace for patrons to order a Bud, Miller, or Coors over a local IPA (of which several are available at JJ's). This is true at virtually every restaurant and bar in the area, despite the rising popularity of craft beer.
Over the years Thornton has seen the big corporate brewers squeeze his margins on beer. "It's really simple," he said. "When we first opened a keg of Bud Light cost $78, and now it costs $111." Passing on the added expense to price-conscious beer drinkers was hardly an option, so profit on pints dropped like a rock.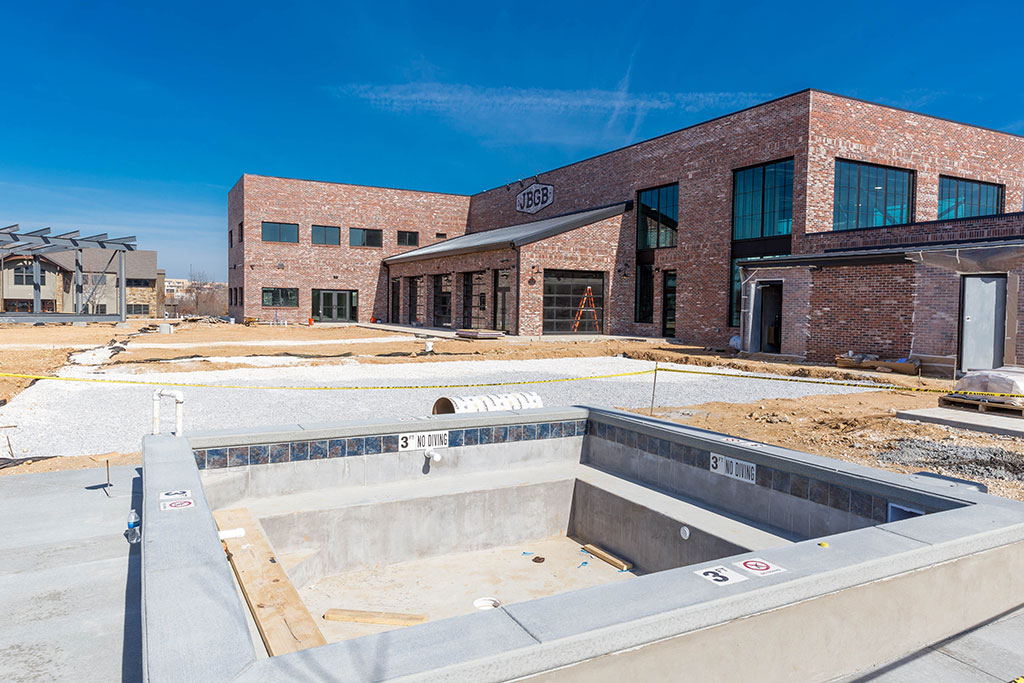 That led Thornton, who is not much of a beer drinker himself, to start thinking about making a JJ's branded beer. The reasoning was fairly straightforward. He could make it for less than it cost to buy wholesale.
The original plan involved contracting with a local brewer to make a light lager at another location, to be sold at JJ's locations (Hog Haus Brewing Co. is currently partnering with Saddlebock Brewery in Springdale in a similar manner). Much to Thornton's surprise, however, none of the local brewers was keen on the idea. It was at that point he decided to do it all himself.
Continue Reading at Fayetteville Flyer