Putting up the Christmas tree can be a big chore and let's be honest; there isn't much magic in pulling a tree out of a box. Hunting for the perfect real tree can take the boredom out of the chore and bring some magic to the season.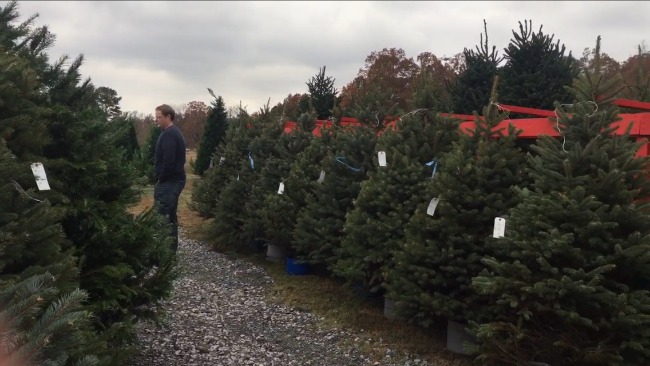 For the last 15 years, my husband and I have used an artificial tree. It got dragged out the day after Thanksgiving and shoved in a box at the end of the season. Over the years it became ragged, the pre-strung lights burnt out and the needles began to fall off by the handful. The "easy artificial tree" started to have all the problems that I thought I hated about real trees.
Real trees do take some work. They need to be watered daily and you actually have to string the lights. But in deciding to go get a real tree, we have brought back a little excitement to the work and created a fun new family tradition.
The day after Thanksgiving we loaded up the pickup, put on some holiday tunes and headed out to the Romance Christmas Tree Farm in Romance, Arkansas. While others were battling lines at Black Friday sales events we were wandering around the trees searching for the perfect one.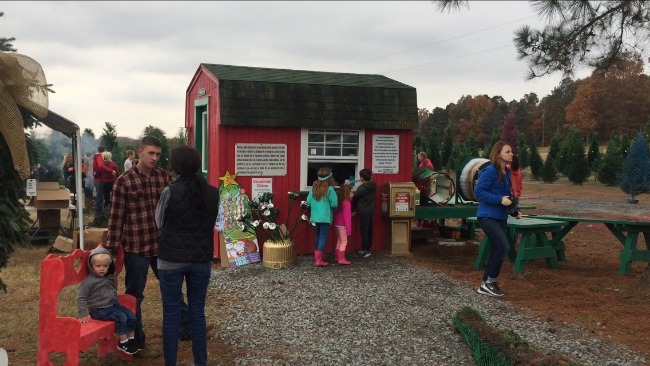 The folks at the Romance Christmas Tree Farm have a great thing going. Their farm is a full-service operation and all you have to do is have a good time and pick out a tree. They will do all of the hard work for you.  They will cut the tree down, bag it, even load it into the car for you. The only thing they won't do is set it up for you at home. Check out my video from our recent trip for more about the farm.
The Romance Christmas Tree Farm is located at 1260 Highway 5 North in Romance, Arkansas. They are open daily from 9 a.m.-5 p.m. and offer Leyland Cypress, Virginia Pine, Blue Spruce and several other varieties.
If the Romance Tree Farm isn't in your neck of the woods, perhaps one of these other farms around Arkansas is.
Central Arkansas
Papa Santa's Christmas Tree Farm
4976 Warford Rd., Benton, Arkansas
Saturday and Sunday 8 a.m.-5 p.m.
Cash and Check only
A quaint little Christmas Tree Farm located on the outskirts of Benton!! Come bring your family to create the lasting memory of hunting and cutting down your own tree at Papa Santa's Tree Farm!
Schilling's Family Christmas Tree Farm
1476 Highway 294, Lonoke, Arkansas
Open Daily 9 a.m. – 5 p.m.
Schilling's grows Leyland Cypress and Virginia Pine. They will also have a limited number of Carolina Sapphire. A new crop of trees is planted on their 14-acre farm each year and lovingly cared for so your family can take home the perfect tree.
Northwest Arkansas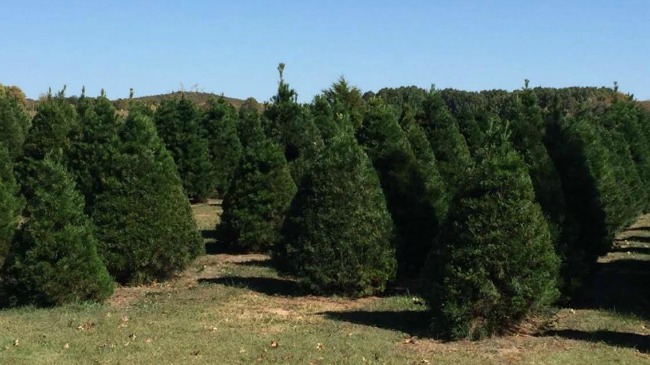 Wonderland Christmas Tree Farm
14821 Miser Road, Pea Ridge, AR 72751
Tuesday – Friday 2 p.m. to sundown
Saturday 9 a.m. to sundown
Sunday 2 p.m. to sundown
Wonderland Christmas Tree Farm has Virginia Pines, Scotch Pines, and Leyland Cypress ready for harvest along with pre-cut Fraser Fir trees. They also have container-grown living trees which can be planted after the holidays. Enjoy a complimentary hayride through the trees and sing along with festive music.
Hilltop Christmas Tree Farm
21669 N State Highway 7, Dardanelle, Arkansas 72834
Sunday – Friday 1 p.m. till dark
Saturday 10 a.m. till dark
Hilltop grows Leyland Cypress and Virginia Pine and ships in Fraser Fir trees. They encourage you to come out and make memories with your family. Have a family photo made, drink hot chocolate and of course, pick out your tree.
Christmas Tree Lane
8102 AR-23, Ozark, AR 72949
Saturday 9 a.m.-5 p.m.
Sunday 2 p.m.-5 p.m.
Christmas Tree Lane is a fun place to bring the family. There's a lot of fun activities for the kids and adults will find a peaceful retreat from the holiday busyness. When you plan a trip to our farm make sure to schedule enough time to play a game of checkers while you sip our special Hot Chocolate blend and eat a few of our delicious Christmas cookies.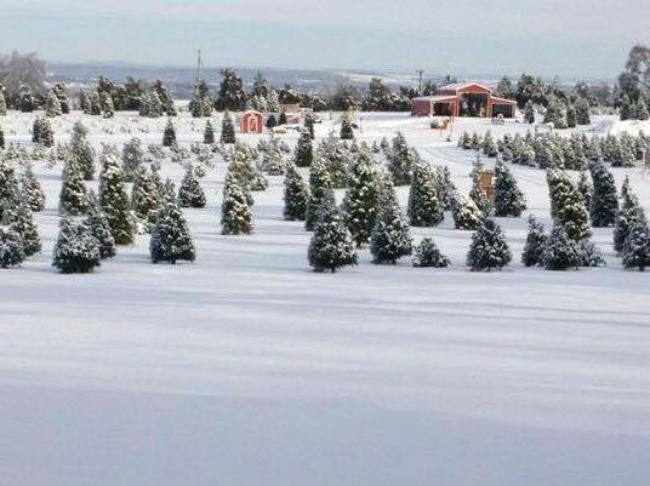 Pine Grove Christmas Tree Farm
2919 Yocum St., Charleston, Arkansas
Saturday and Sunday 10 a.m.-5:30
Monday-Friday 1 p.m.-5:30
Family Owned and operated since 1979, Pine Grove is ready to help you get your holiday season started. They grow Virginia Pine, White Pine, Leyland Cypress and Murray Cypress trees. People come out to the farm and pick out a tree, then they cut it down for them. They also have Fraser fir trees shipped in a few days before we open for another option.
Southeast Arkansas
Old Milo
604 Ashley 485, Hamburg, AR 71646
Sunday – Friday 1 p.m. – Dark
Saturday 10 a.m. – Dark
Old Milo grows gorgeous Leyland Cypress trees, Carolina Sapphire trees, and Blue Ice trees. We also offer fresh cut Frasier Fir trees. They have a pond, petting zoo, playground and offer hayrides.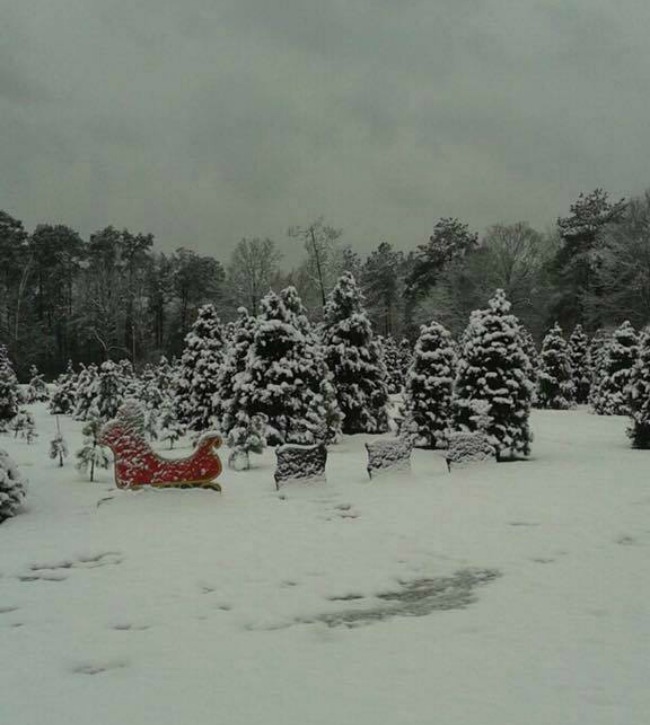 Tidwell Christmas Tree Farm
3404 Calhoun 162, Fordyce, Arkansas
Saturday and Sunday 9 a.m.-5 p.m.
Tidwell Christmas Tree Farm is family owned and operated. They are selling Leyland Cypress, Virgina Pine, Carolina Sapphire, and Fraser Fir trees. Attractions include free hayrides, treats for kids, hot chocolate, tree shaking, netting, and baling. They also have Christmas ornaments, tree stands, and other decorations for sale.
Northeast Arkansas
Vandiver's New Castle Farm
7596 Hwy 284, Forrest City, AR 72335
Monday – Friday 1 p.m. – 6 p.m.
Saturday 8 a.m. – 6 p.m.
New Castle farm started in 2007 with 350 Leyland Cypress, Carolina Sapphire, and Blue Ice Christmas trees.  They have a Farm Market and are known for their variety of baked goods. New Castle Farm also makes and sells their own wreaths and garland.
Christmas Tree Plantation
171 County Road 468, Jonesboro, AR 72404
SOLD OUT FOR 2016
Selling Leyland Cypress and Carolina Sapphire the Christmas Tree Plantation has been a big hit in Jonesboro for several years. They have already sold out for the 2016 season but if you live in the Jonesboro area you will want to look for them in 2017. And be sure to get there early!