Devils Canyon is a beautiful area located in the Ozark National Forest near Mulberry, Arkansas. We'd read about it, so we knew there were two waterfalls in the area.
On our first visit there, we only found the first waterfall that pretty much everybody visits. The ever-elusive second one awaited another adventure… And let me tell you, it was definitely an adventure we'll never forget.
The road into the Devils Canyon area was a bit intimidating, and though you can take a vehicle all the way back, I'd recommend it only if you have a high clearance vehicle. Some of the puddles we encountered were much deeper than they appear. Along the way, it's pretty easy to find a place to park, and then hike the rest of the way in.
It was too bad that we didn't have our camping trailer because there were a couple of really beautiful cliff side camping spots along the way.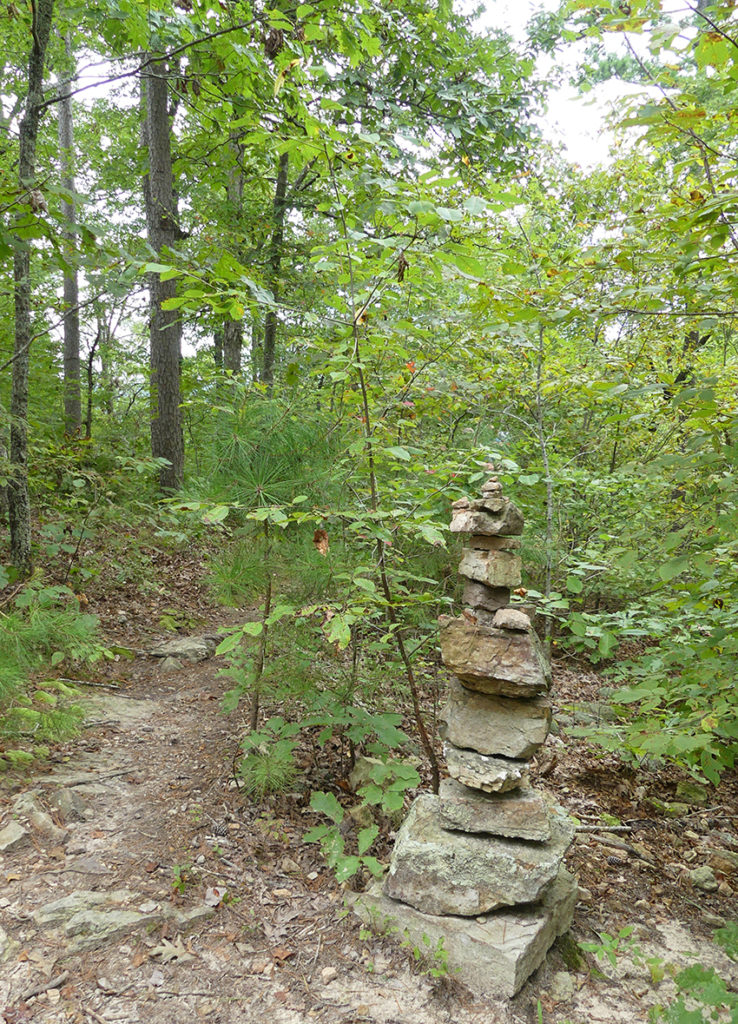 Toward the end of the road, a pile of rocks marked the beginning of the trail down to the first waterfall.
The narrow trail winds its way down through trees and big beautiful boulders. As we made our way down the trail, the closer we got, we could hear the first waterfall.
Then around the corner, we saw it, a steady stream of water flowing over about a 16-foot drop into a pool of blue water.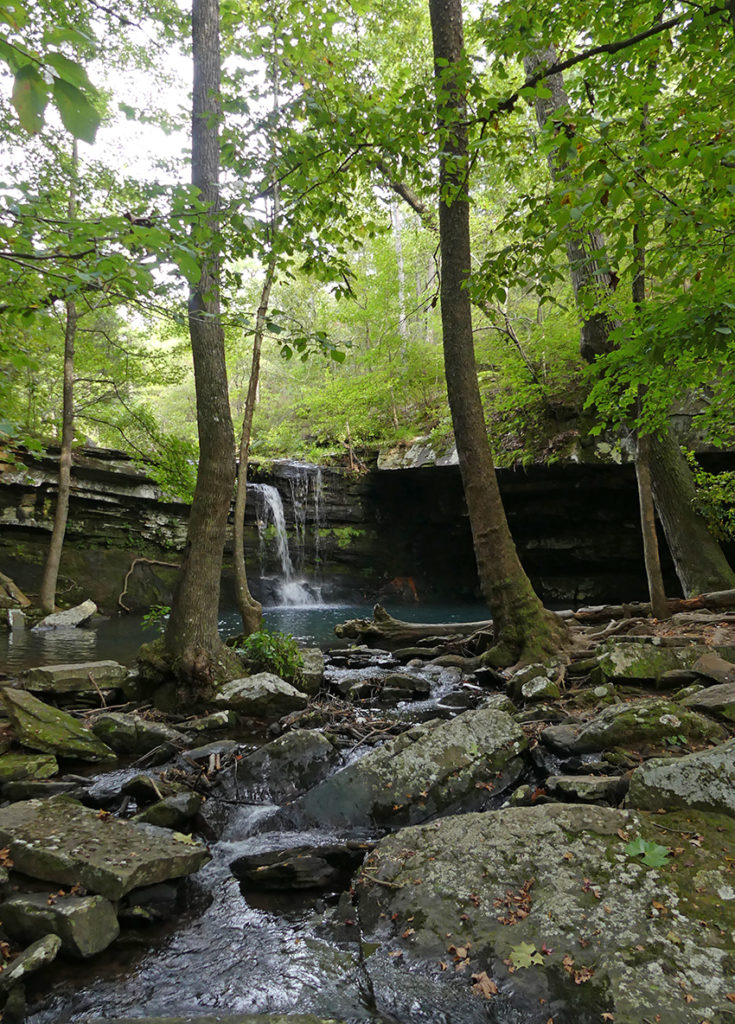 You can scramble down the hill into the gulley below where the water rushes over rocks and through boulders down the creek bed. It was a forest of green and so beautiful as we stood there gazing downstream.
And then there was the trek to the second waterfall…
It would seem that no one tells you exactly how to get to it. Oh sure, there are hikers who have mapped their trail online, and you can try to follow those trails. But when you're actually out there, it's so easy to get turned around.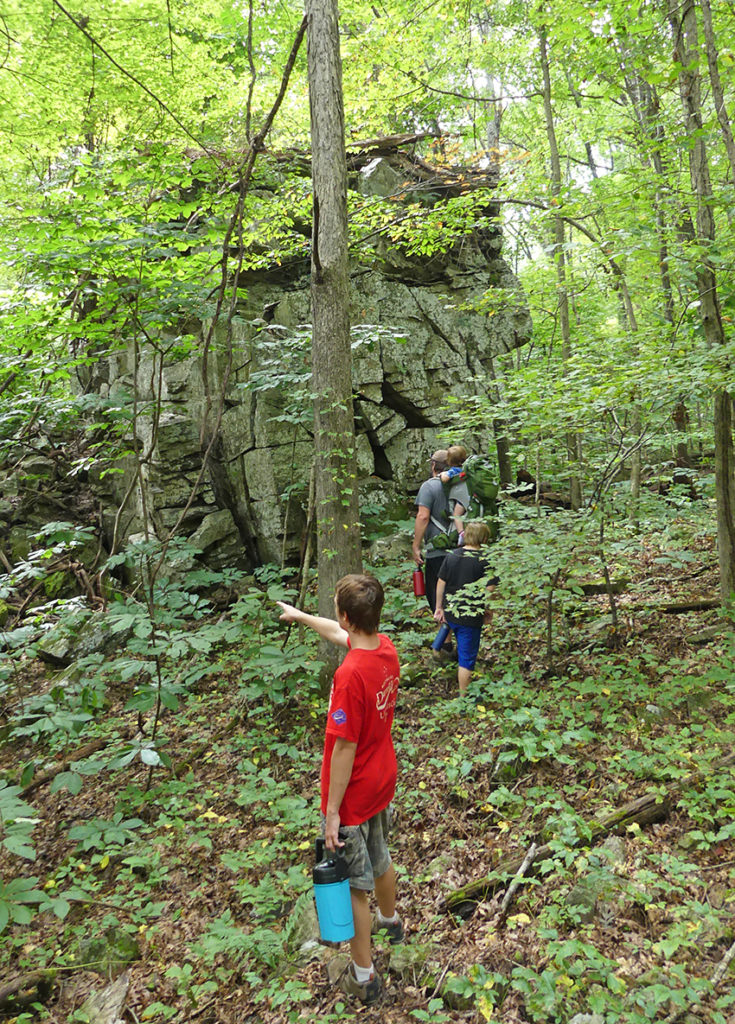 I jokingly said that we wandered around like the children of Israel, but it really was true. We wandered, checking and re-checking topography, stopping to listen, trying to make our way. This is where I'd suggest taking along a machete because there is no actual trail. You're making your own way, which is why they call it a bushwhack trail.
After crossing the creek, we scrambled up over the hill and through the woods.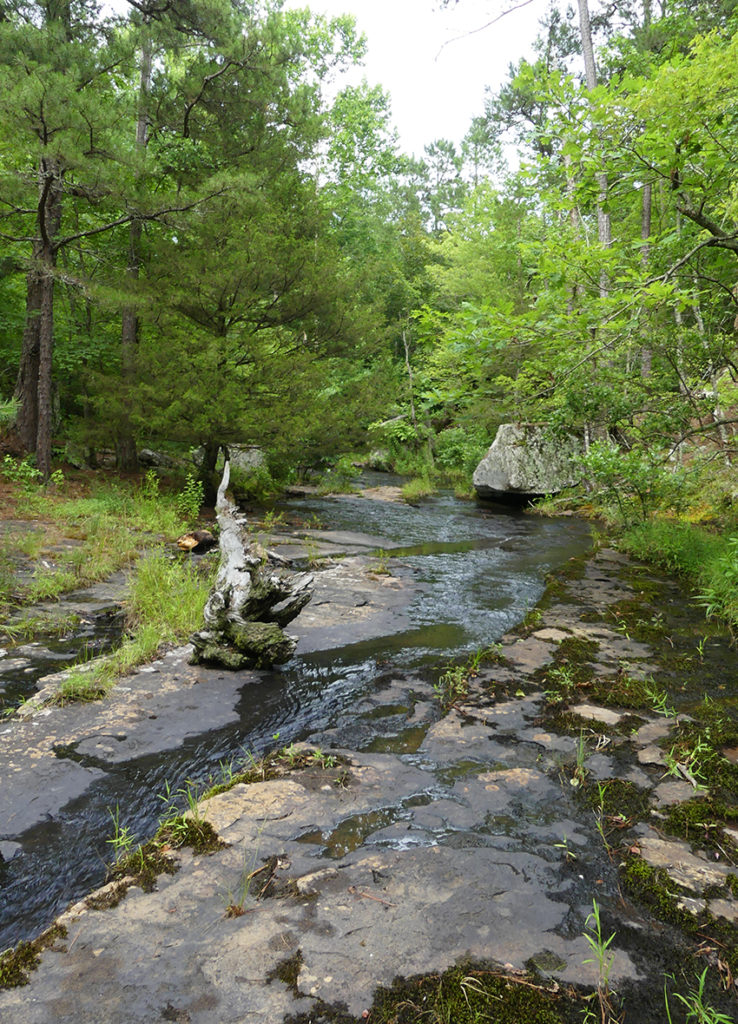 It was absolutely gorgeous, and the sounds of Arkansas deep woods permeated our very beings.
Topographical lines are what eventually led us to pick the right location and head toward that. Finally after about 2-3 hours, we heard the familiar sound of a waterfall. We scrambled down the mountainside, which we would later have to scramble back up, down to the top of the fall.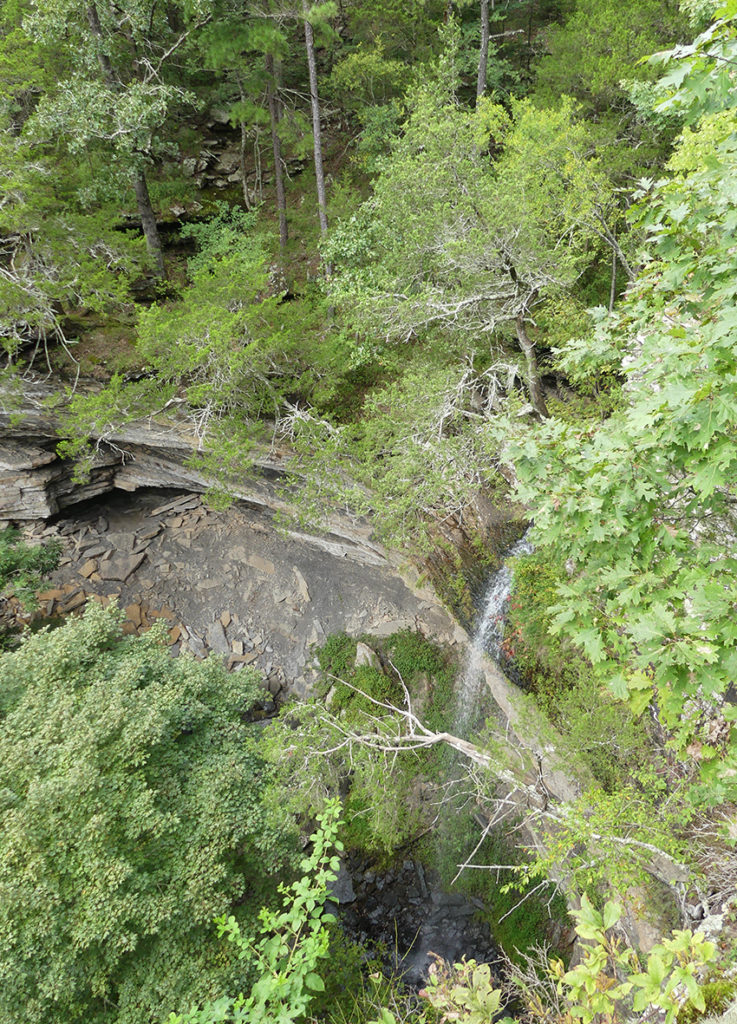 Stepping out onto the rocks, we were greeted with the most magnificent sight of a beautiful waterfall (about 60-80 feet in height) plunging over the side of the canyon. Pictures just don't do it justice.
The feeling of accomplishment we all experienced upon finding it was incomparable. It was an amazing feeling. We collapsed on the rocks for a snack, explored the creek bed, and just enjoyed the view.
I'm not going to tell you exactly how to find the second waterfall… The trail we mapped was full of squiggles and this way or that way. I could definitely make my way back there after finding it, though. And AllTrails does give directions, but my personal opinion is good luck following them. Either way, it feels like an adventure and a rite of passage that my fellow hikers should all experience.
Things to Know Before You Go Exploring Devils Canyon
• AllTrails touts this as a trail for more experienced hikers. I would concur on the second part of the trail. The first part of the trail is fairly moderate, though there are things to watch out for like chasms in the rocks and steep drop offs. Keep your kids close should you choose to hike it with kids.
• As for wildlife… Along the way, we found the bluest of butterflies, walking sticks, a nest of yellowjackets, hornets, bear scat, and more. I would prefer to hike this in the cooler months of the year so there's less chance of stepping on a yellowjacket nest (a close call for us).
• Take a walking stick so you can poke around for snakes, holes, nests, etc.
• You may also want to take along a machete, though we did o.k. without one.
• Wear pants. I'm still dealing with something similar to poison oak because for some strange reason, I decided to wear shorts when I got up that morning. Lesson learned.
• Wear good shoes. Terrain is rough. Sometimes you're jumping from boulder to boulder; other times you're scrambling up or down the side of a mountain. Wear good shoes.
• There are no bathrooms, just the bush. So be prepared to rough it.
• Carry plenty of water and snacks in case you wander for a while.
• Also carry a compass.
• Have a topographical map handy; we used a map on our phones that showed topographical lines so we could eventually deduce where the waterfall actually was. It was super helpful and what actually got us there.
Have you ever experienced a bushwhack trail similar to Devils Canyon?