Wedding bells are at an all-time high in June in Arkansas. We are dusting off our dancing shoes and preparing to hit the open road of the Natural State to some beautiful venues for some memorable weddings.


Arkansas brides have a wide selection of venues for the big event. We have beautiful, elegant chapels, grand hotels, great state parks, gardens and estates. So, I asked my fellow Arkansas Women Bloggers (we attend a lot of weddings) where their favorite places for "I do's" are in their region.
Moss Mountain Farm
A unique experience surrounded by beauty and gracious Southern hospitality.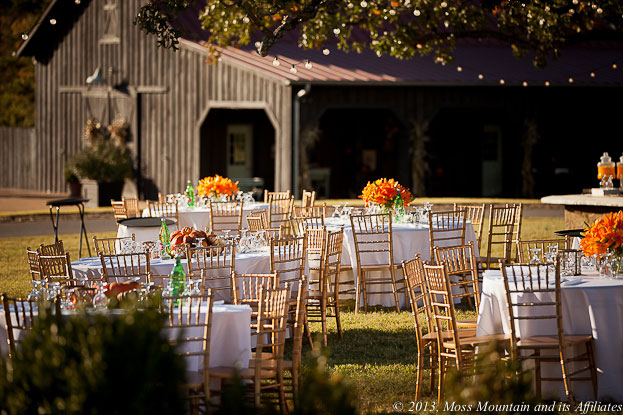 P. Allen Smith's picturesque estate and a working farm with a collection of garden rooms, orchards, ponds, and an heirloom vegetable garden is an ideal, and yes, dreamy, wedding venue.
Located just west of Little Rock along the banks of the Arkansas River, the idyllic setting is quickly becoming a popular place to exchange vows and is available for weddings of all sizes. Bridal parties may choose the ceremony and reception location from the property's numerous options, including a romantic and intimately set English rose garden, a sprawling grass lawn, a fountain-terraced garden or the East rose lawn.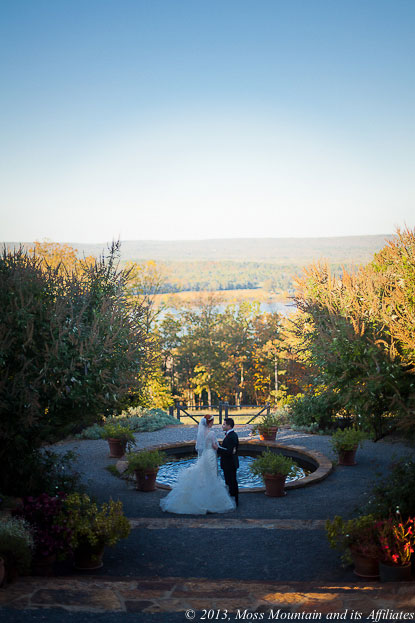 The venue offers full-service catering, bar service and event staff. On-site floral design and a stylist are available, as well as a wedding coordinator. Post-ceremony activities may include a horse-drawn carriage ride, fireworks, a bonfire, hayrides or dinner and dancing in the temperature-controlled barn.
This is what little girl's dream of when they plan their wedding. Check out their website at Moss Mountain Weddings.
St. Catherine's at Bell Gable
Quiet reverence, classical elegance found at this stunning wedding venue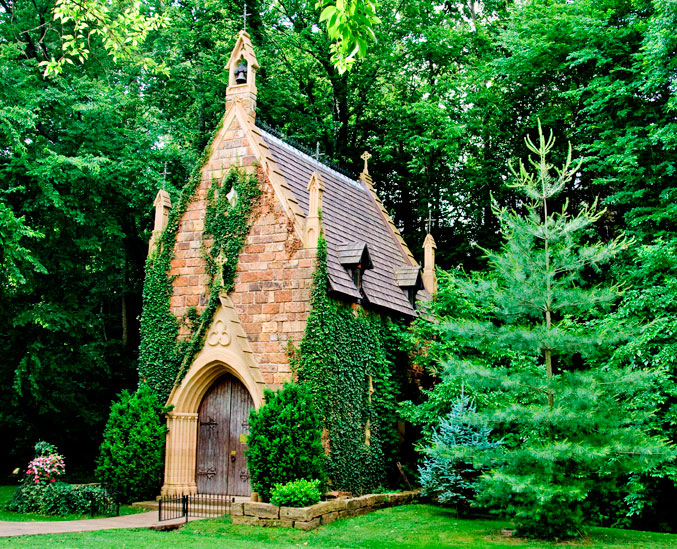 The unique, native stone chapel is nestled in the Ozark Mountains outside of Fayetteville. A family business, three generations live on site and their primary goal is for the family to drive over the bridge as they leave saying it was the best day of their lives.
The wedding chapel location includes areas for indoor or outdoor ceremonies, a 1902 Mercedes-Benz limo, a stylish dressing room, an elegant water garden with water flowing over a beautiful waterwheel, and a picturesque chapel-side cascading waterfall.
Receptions may be held along the beautiful creek side, by the chapel or the rustic elegance of the barn.
You will need to handle all catering, and alcoholic beverages are limited to champagne. View their website for more information.
Sassafras Springs Vineyard
Arkansas' newest premier winery and wedding venue
Forget expensive destination weddings in Napa Valley or Italy. The most picturesque winery garden wedding venue is right in Northwest Arkansas. Sassafras Springs is located outside Springdale but stepping on the property means stepping into a new world of grace, beauty and spaciousness. The property has many features about it that make it unique; it has many natural springs and is terraced and full of beautiful trees and wildlife.
Owners Gene and Cheryl Long converted the beautiful horse stables into an event center that seats up to 200 people seated at round tables. It's perfect for corporate meetings, fundraisers, reunions, and wedding receptions. The Longs also built the Chapel Ruins, which seats about 400.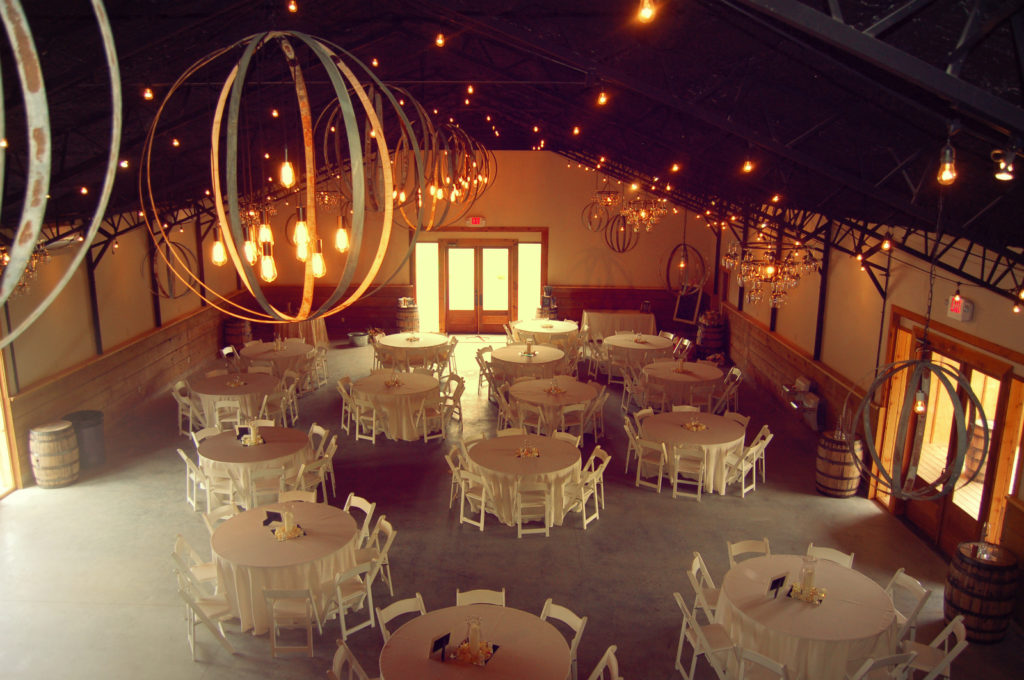 Sassafras Springs Vineyard looks forward to making its own wine, an effort lead by an award-winning wine maker. Did you know that the U of A invented the seedless grape many years ago? Now, they have created this amazing hybrid grape and have allowed about 400 vines to be planted at Sassafras Springs. The wine will come from these grapes when they mature and be presented to everyone who visits Sassafras Springs Vineyard.
The Barn at Twin Oaks
Rustic romantic dreams come true at Twin Oaks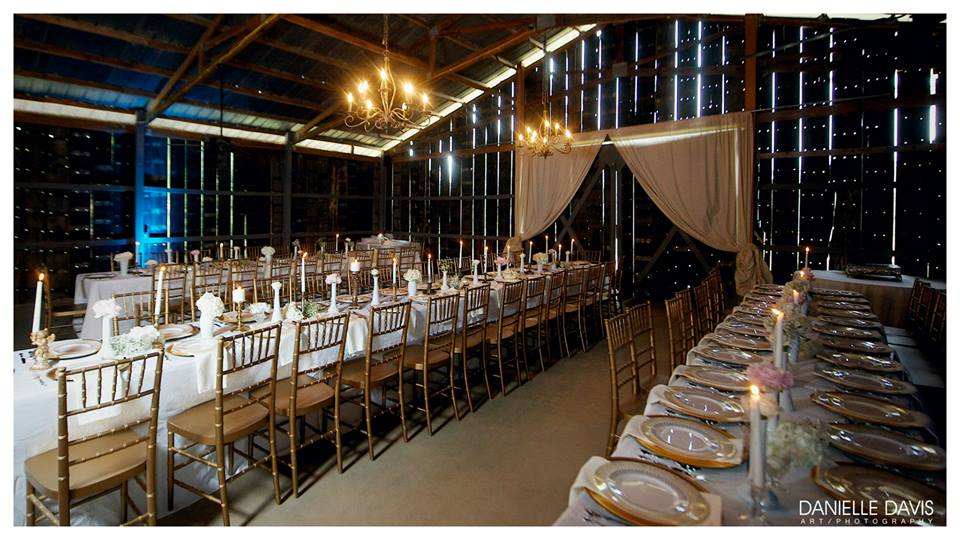 The Barn at Twin Oaks Ranch is a rustic setting for weddings and special occasions. Located minutes from Dardanelle, Twin Oaks Ranch offers a unique venue for ceremonies, receptions and any event.
The folks at The Barn at Twin Oaks knows each bride has her dream wedding and wants the focus to be on the special ceremony. This is why they only schedule one wedding per day, Tuesday through Saturday. This allows the entire wedding celebration to be unhurried and special.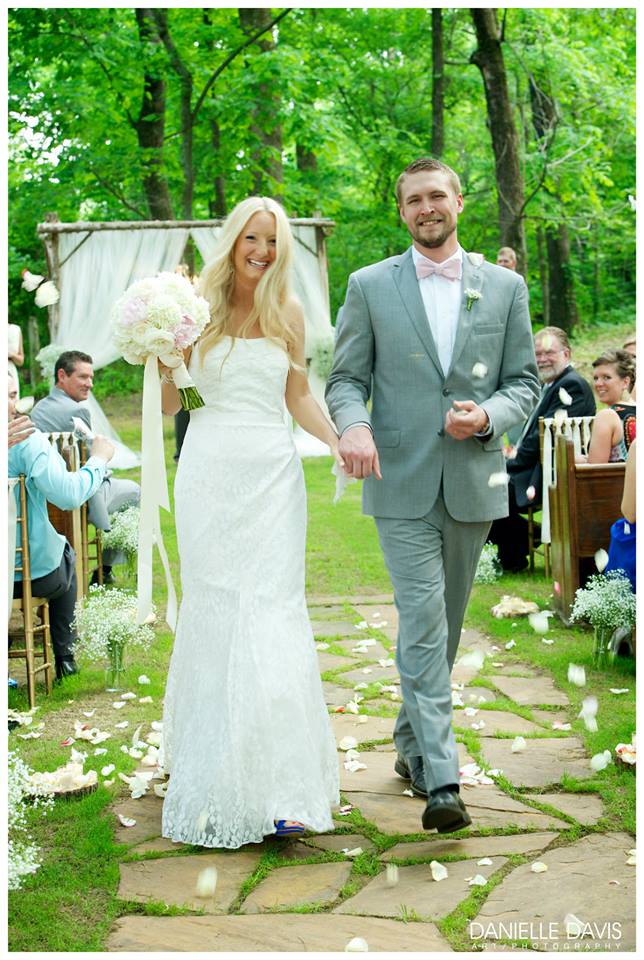 Their all-inclusive event services include wedding and reception details such as invitations, ceremony planning, catering, cake and music. Lush designer floral, linen and décor from Twin Oaks Ranch's design team create sensational settings for any style or season.
Outdoor ceremony spaces at Twin Oaks Ranch include The Shady Grove, which is approximately a 4,000 square-foot canopy of tall trees and surrounded by natural foliage. The Shady Grove is an idyllic setting for outdoor weddings with a capacity for seating up to 175 guests. The area is shaded at all times of the day for a comfortable outdoor ceremony. The Shady Grove is adjacent to The Barn.
Grab your cowboy boots and get ready for a rustic, beautiful time when you attend a wedding here.
Lookout Point Lakeside Inn Hot Springs
An idyllic lakeside garden wedding at Lookout Point Lakeside Inn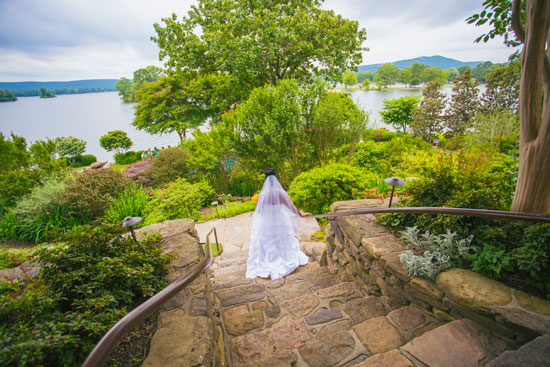 Lake Hamilton is home to Lookout Point Lakeside Inn, proclaimed as the top romantic wedding venue in Hot Springs. It offers a romantic lakeside ceremony and reception location combined with a luxury 12-room bed and breakfast.
The retreat can accommodate up to 35 guests for either an outdoor wedding in the lush lakeside garden or inside the inn. This is the ideal place for a couple who wants a stress-free, intimate wedding.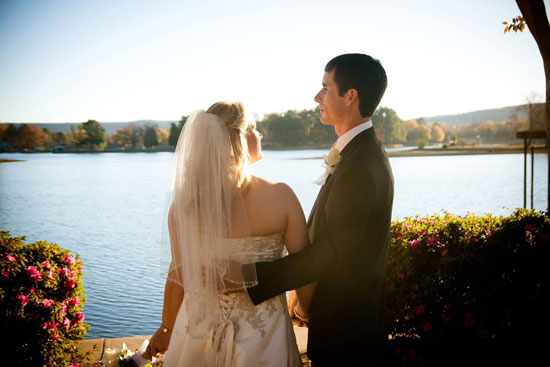 An on-staff wedding coordinator will assist you in creating an intimate, customized, stress-free wedding while providing luxurious pampering. Plus, they have elopement packages (your dad's wallet will thank you) and honeymoon packages. Now, that is convenience.
There are so many wonderful places in our state to tie the knot. What are some of your favorites?