The Boston Mountains cover an area between Northwest Arkansas and the River Valley, between Fort Smith and Fayetteville. If you've driven on I-49 to NWA, you've been through part of the Boston Mountains.
We live south of Fort Smith, and so for weekend getaways, it's the perfect spot. The Boston Mountains are full of smaller towns, but that doesn't mean they are boring. There's plenty to explore!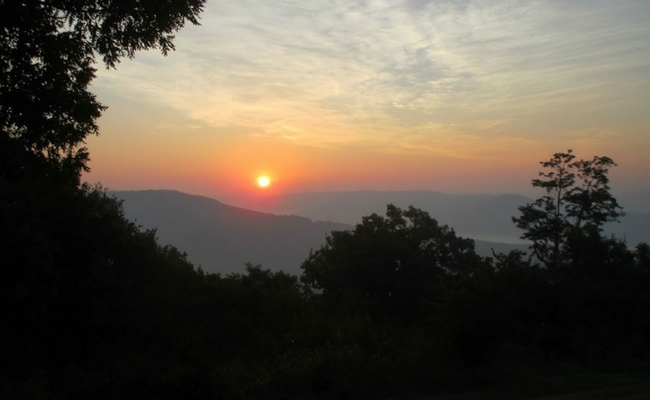 There are lots of places to stay — cabins, yurts, campgrounds, and more — but our favorite is the historic Sky-Vue Lodge.  It's a family-friendly bed and breakfast with some cabins and some lodge rooms. It is on Highway 71 in Winslow, and it's a gem of a place. It sits atop Mount Gaylor, and the views are spectacular.
Sky-Vue was originally built in the 1940s as a tourist court, and over the years, the cabins have been remodeled. They all have plumbing, AC, heat, cable, wi-fi and beautiful views. You may have spotted Sky-Vue in the movie Gordon Family Tree, starring Richard Karn. 
The cabins have a shabby chic vibe, with décor devoted to the nearby activities, like fishing. We have stayed several times in Cabin 6, and it's got a neat rock wall, which you can tell was part of the original cabin.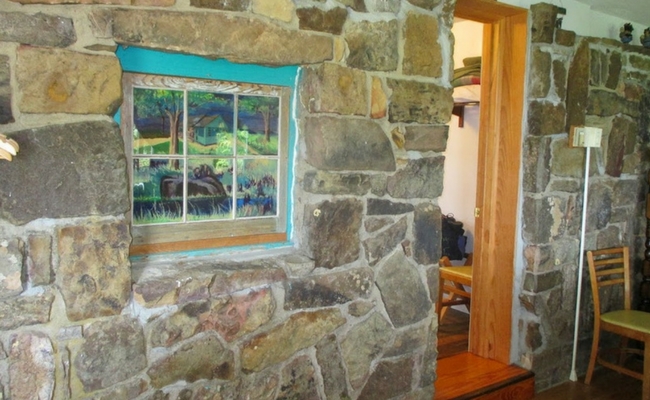 Sky-Vue may feel remote, but that doesn't mean great food isn't accessible; one of the highlights of staying at Sky-Vue is the food.  On Friday and Saturday nights, they make amazing pizza for dinner, and for breakfast each morning, the owners prepare a delicious spread of egg casseroles, fresh-baked bread and more. You can even take home a cookbook full of their recipes or find several online! The cabins at Sky-Vue have mini-fridges and a small kitchenette if you bring your own food to cook. Several small towns in the area offer great dining options as well.  Neon Moon is a roadside café in Mountainburg with burgers and diner classics like chili dogs and onion rings. Drive north to Winslow or West Fork where the Why Not Café and Jake's Pizza both serve up yummy food.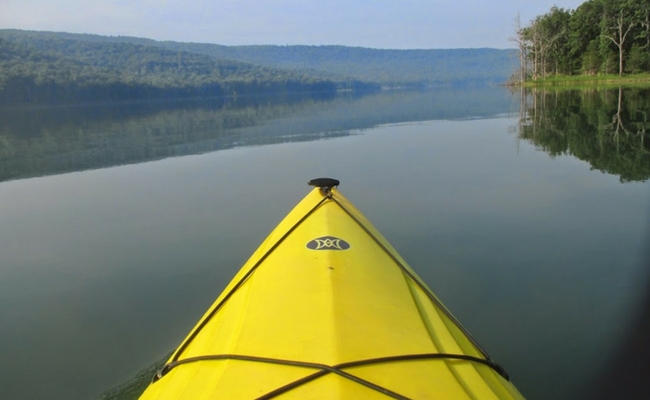 When you aren't enjoying the views and the food, you can trek down the mountain to Lake Fort Smith for fishing, kayaking or hiking. We've done all three and love them.  On one trip, we rented tandem kayaks from the marina. You can't swim in Lake Fort Smith (it's the area's water source), but you can boat and fish. You dry launch from the marina, and paddle around the calm lake taking in the gorgeous sights. While it's a bit of an upper body workout, you can take the trip slowly, paddling around the calm waters of the lake at a reasonable price. Pack a cooler with snacks and water for a fun lunch on the water. 
Lake Fort Smith is also great for fishing. Launch your boat and spend all day fishing for bass, crappie, catfish, and trout. Don't forget to get your fishing license first!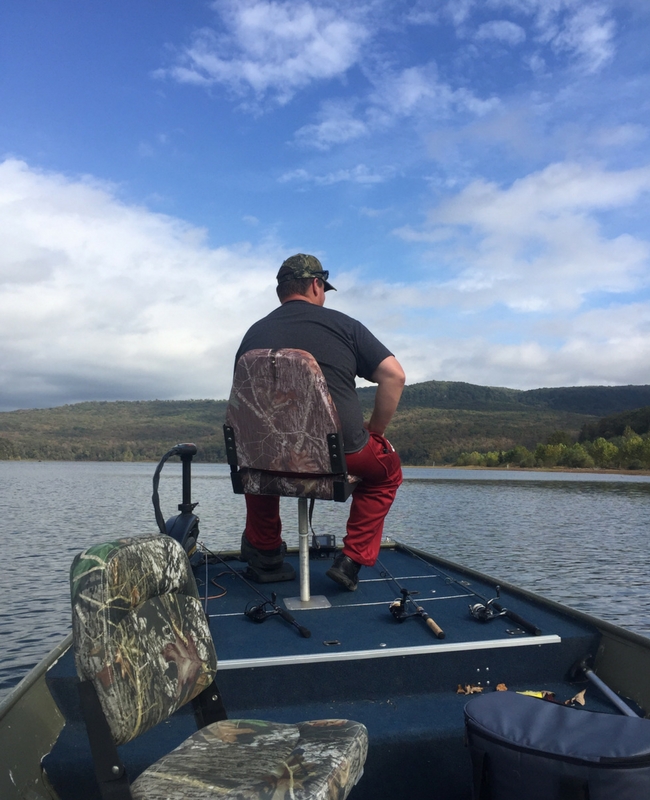 If you prefer to stay on land, Lake Fort Smith has several hiking trails. Our favorite is the Ozark Highlands Trail. Over 230 miles of trails start at Lake Fort Smith and go all the way to the Buffalo River. We hiked in a couple of miles and hiked back out, seeing waterfalls and wildlife along the way.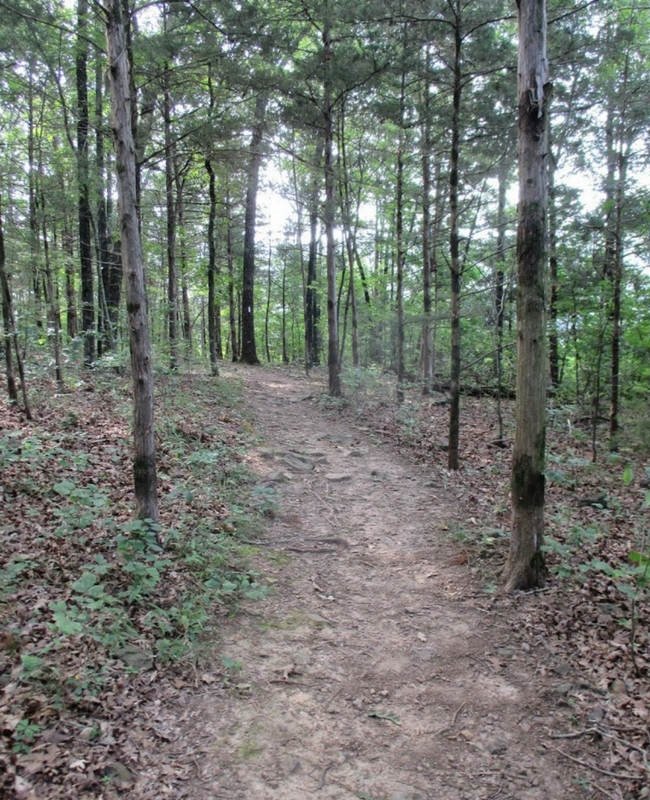 On one hike, we spotted several deer on the trail. Stop by the Visitor's Center to check maps and get information before heading out to hike. If you prefer a shorter trail, Warren Hollow is just over a half mile, so it's an easy out-and-back hike.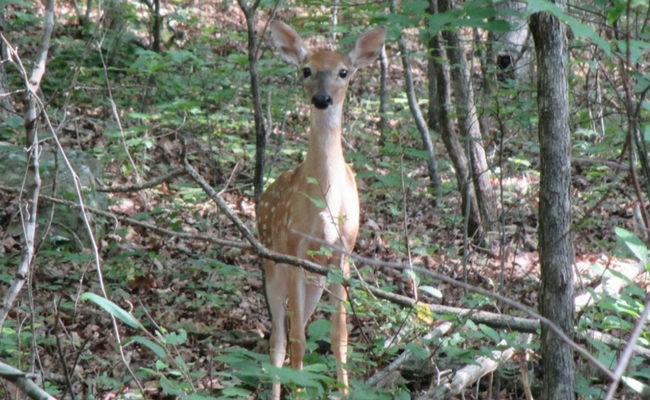 On hot days you don't want to miss a trip to Riverside Park in West Fork for some swimming. The area has amazing bluffs and is perfect for wading or floating in the cool, shaded waters. We spent hours here floating down the river and then padding back up on our rafts. Even on a busy summer day, it's big enough to still be quiet and relaxing. People are here flying kites, fishing and exploring the area.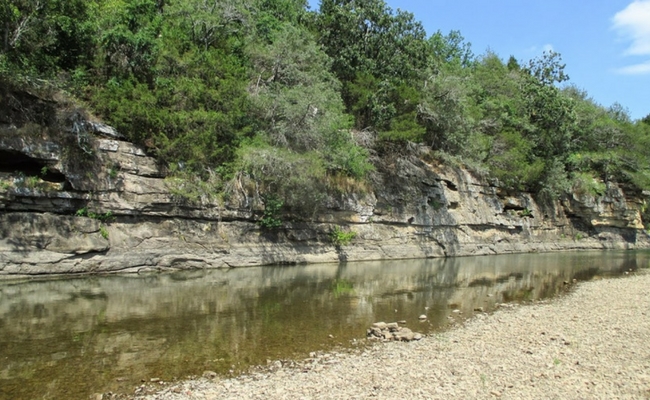 If all of these activities wear you out, spend the evening relaxing on the porch of your cabin. One of my favorite things is listening to the birds and crickets chirping while enjoying some pizza from the Sky-Vue kitchen. After dark, we play games and watch movies which are available for free from the lodge office. You can even check out Gordon Family Tree!
The Boston Mountains are the perfect place to make family memories or it's ideal for a romantic, relaxing getaway. Looking for more of a day drive? Check out this family drive around the area.