The first time I hiked the Compton Trail I was with my husband Garrett and his brother Noah. We were so eager to begin that we set out as soon as we parked. After hiking for an hour I asked, "Weren't we supposed to stretch first?"
"Oh, yeah!" Garrett said, and he and Noah started doing spontaneous lunges.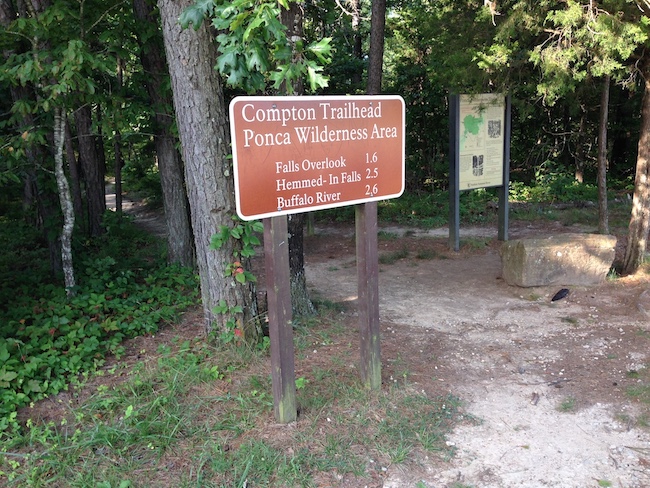 The Compton Trail is not a trail you should begin without first stretching. The trail, located in the Ponca Wilderness, is about 2.5 miles, ending at either the Buffalo River or Hemmed-in Hollow, and most of the trail is steep and rock-littered. Lengths of it are arranged like stairs in the mountainside with rocks and boulders. Our difficult descent was deceptively quick, as we realized the first time we hiked down to Hemmed-in Hollow and Noah informed us of his fitness tracker app's results: "We must have been going pretty fast at one point, because it says we were riding bikes for 11 minutes."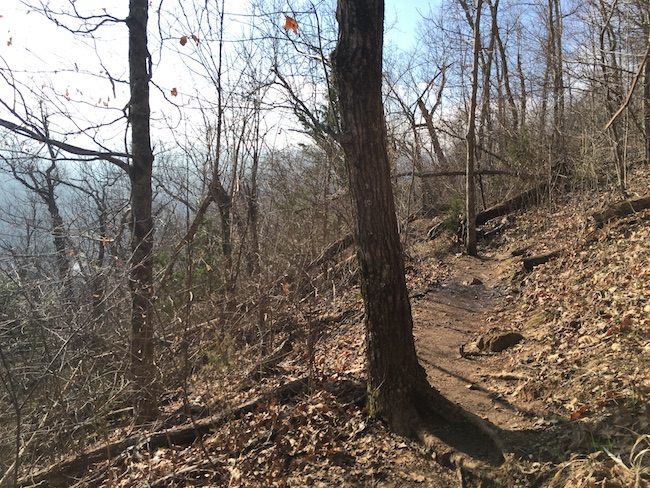 After hiking down to the valley floor visitors must hike back up, a grueling task. Resting at Hemmed-in Hollow is a strategic opportunity to recover energy for the return hike as well as an opportunity to enjoy the waterfall. Hemmed-in Hollow is lauded as the tallest waterfall between the Appalachian and Rockies mountain ranges, a proud claim for our Arkansas Ozarks. Ice in winter makes Hemmed-in Hollow a spectacular sight while also making the trail treacherous. In the summer Hemmed-in Hollow slackens and the Buffalo becomes too low to float, while on the Compton Trail snakes sun themselves on stone steps, spiders string boobytrap webs and horseflies harass hikers.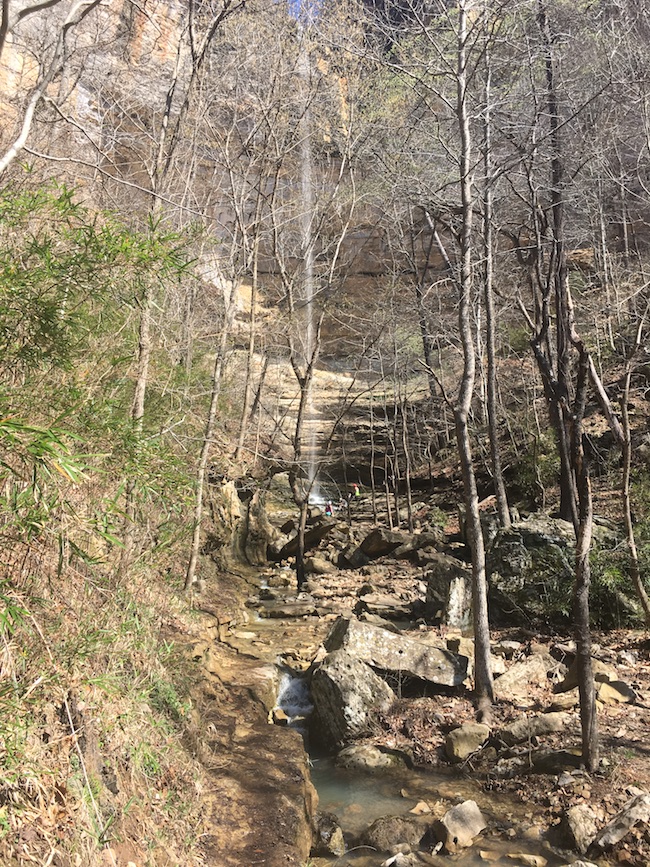 Despite the trail's difficulty, it has heavy foot traffic during times of plentiful rainfall and is hiked by all sorts of people, including dogs of all sizes and their owners (although dogs are not allowed on the trail), trail runners, families with children, people with babies in carriers and older couples. Last year I performed a solo hike in the spring, and when I arrived at Hemmed-in Hollow I met a spry Little Rock couple in their 80s using big walking sticks. They told me they travel and hike all over the state, and I was impressed they managed this particular hike—which only proves that anyone can hike it provided proper care is taken.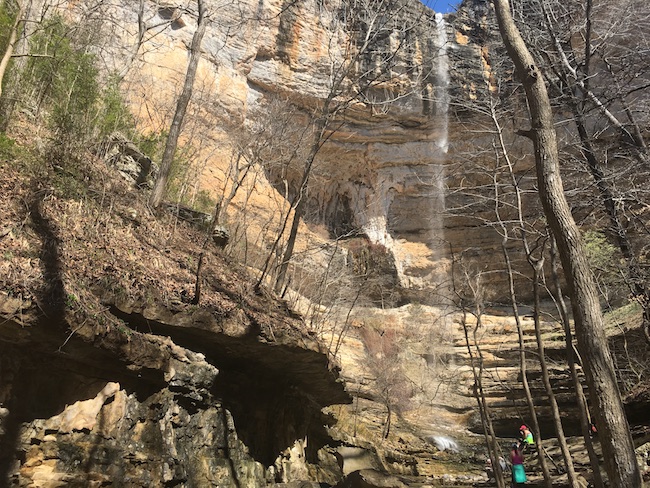 There are several variations on how to hike the Compton Trail. The most common way is parking at the trailhead and hiking down to Hemmed-in Hollow, but the trail splits at the bottom and hikers can also visit the Buffalo River to fish or swim. A shorter hike of just an hour from the trailhead takes hikers to a clearing, a popular camping and picnic location, with a nice lookout point over the valley. Hiking up from the river is also an option: during a float trip between Steel Creek and Kyle's Landing the trail takes off from the north side of the river for about half a mile to Hemmed-in Hollow, a fun side trip that floaters in sandals can easily manage.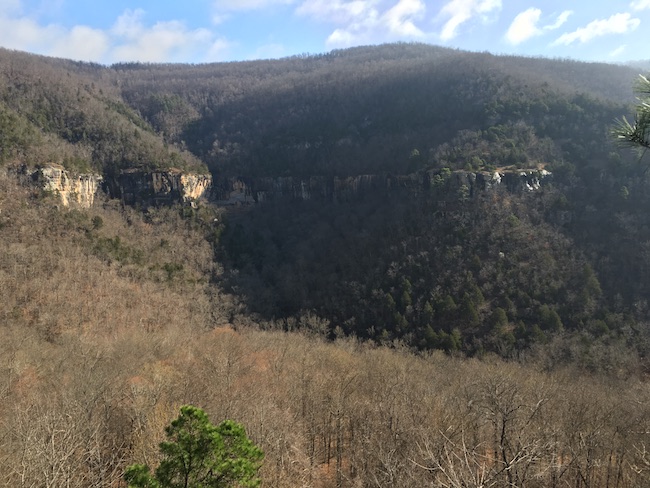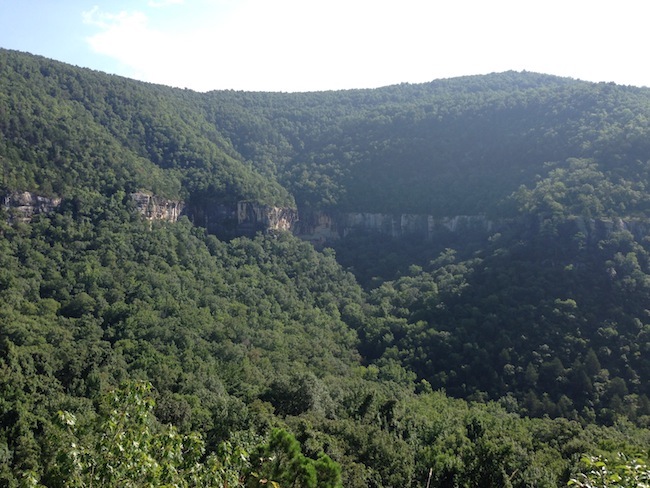 The hike on the Compton Trail is difficult but doable for all types of people, provided caution and care are used. Don't start too late in the day or you will risk being caught after dark. Bring plenty of water (or a filtration system) and nutritious snacks and take breaks as needed during the strenuous hike. However you choose to hike the Compton Trail, you'll be rewarded with the expansive Buffalo River Valley view, the inspired awe for Hemmed-in Hollow's carved-out corner of the bluffs or an appreciation for the difficulty and challenge of the steep trail—just don't forget to stretch first.