If live music is your thing, then you should be excited about this weekend! There are several festivals happening around the state where live music from some noteworthy artists will be part of the lineup. Learn to juggle, visit a new town, get outside. It's going to be a beautiful weekend.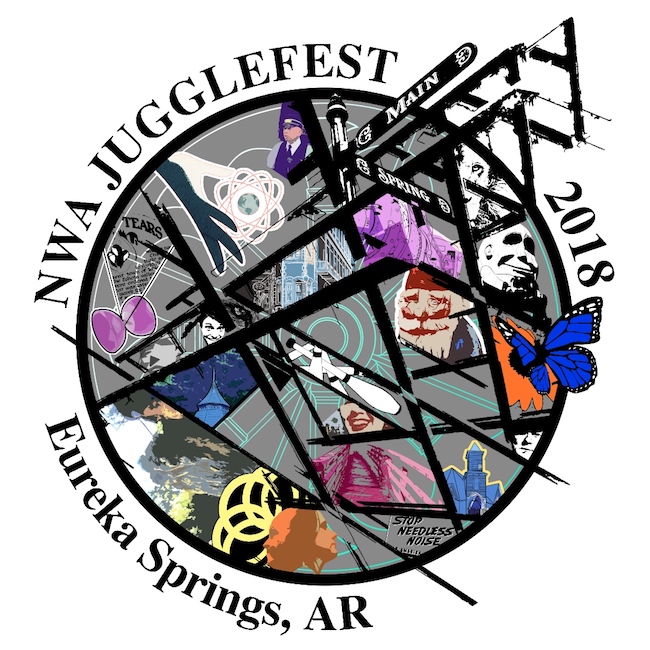 Juggling Festival (Eureka Springs)
The Northwest Arkansas Juggling Festival brings local communities together with jugglers from all over the country for a fun-filled weekend. The festival provides opportunities to enjoy creative play through games, workshops,  social circus, demonstrations and shows. All skill levels and prop types are welcome. The festival camping area and afterparty are located at The Farm Campground.
Venue: Eureka Springs Community Center
Date: May 11th- May 13th
Time: Varies
Admission: Free for the public to watch and learn how to juggle. Shows require tickets.
Contact: Click Here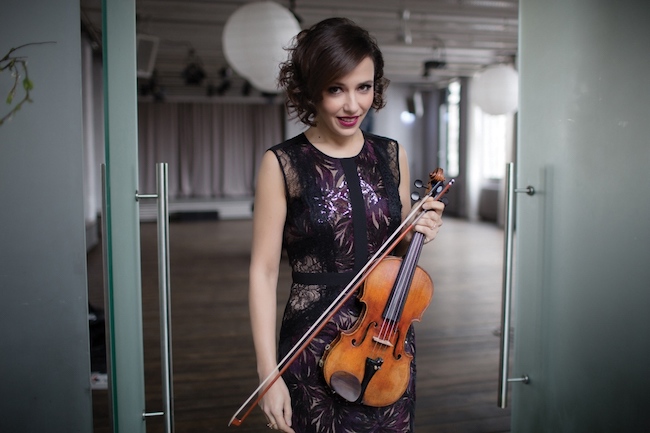 Shades Of America (El Dorado)
Shades of America features music by two of our country's best-known composers – Aaron Copland and Philip Glass – and the first symphony by South Arkansas Symphony maestro Kermit Poling. Performing the Violin Concerto by Glass is violinist Natasha Korsakova, who has performed in the greatest concert halls of the world, including Wigmore Hall in London, the Accademia di Santa Cecilia in Rome, the Martinu Hall in Prague, Tokyo's Suntory Hall, and the Concertgebouw of Amsterdam.
Venue: El Dorado Municipal Auditorium
Date: May 12th
Time: 7:30 pm
Admission: $15- $40
Contact: Click Here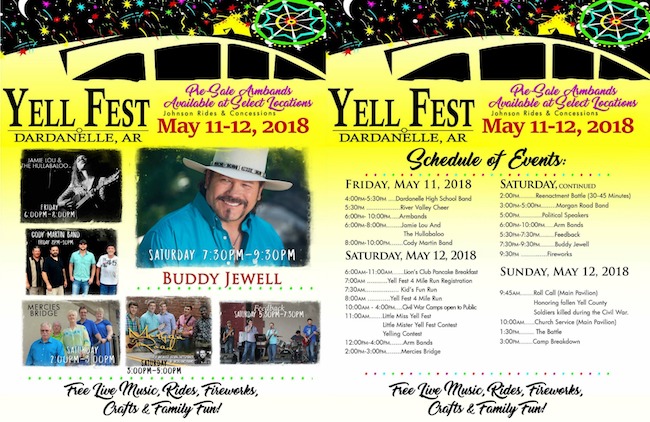 29th Free State Of Yell Fest (Dardanelle)
Celebrating the heritage of Yell County, while showcasing the community with a carnival, crafts, 5K and Fun Run for kids, Civil War reenactment, yelling contest and a battle of the bands.
Venue: River Front Veterans Memorial Park
Date: May 11th- May 12th
Time: Check photo for a schedule of events
Admission: Free
Contact: 479-229-3328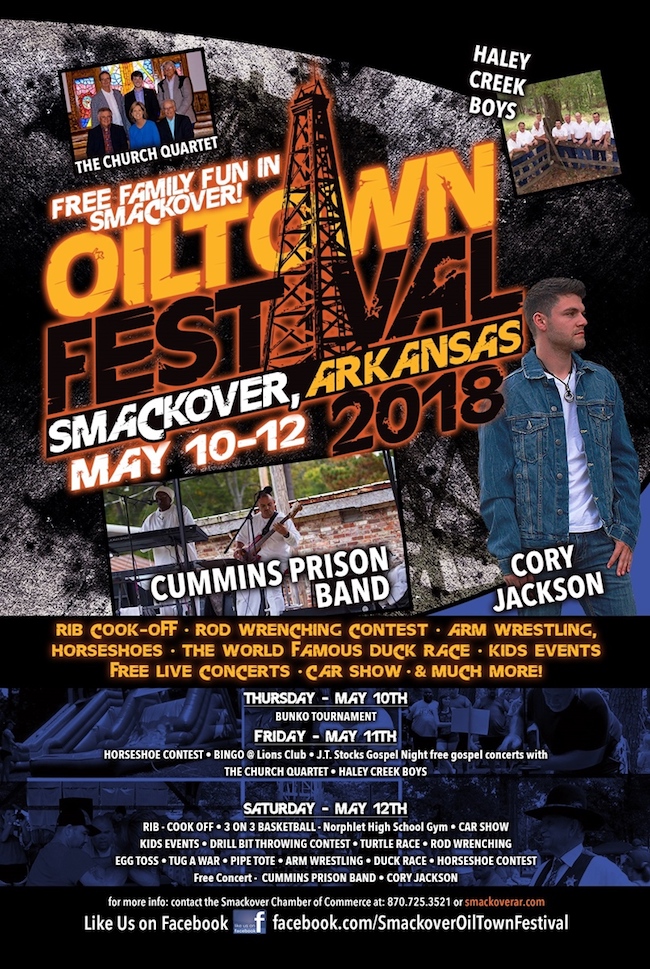 47th Annual Smackover Oil Town Festival
Head to beautiful downtown Smackover for the annual Smackover Oil Town Festival for FREE family fun.  Join thousands from around the region at this unique event for the entire family! This family festival features free concerts every night. Attendees can enjoy horseshoe pitching, arm wrestling, turtle races, bingo, Bunco, rod wrenching, a drill bit toss, pipe tote, rib cook-off, children's activities, 3-on-3 basketball tournament, the world famous yellow duck race down No Name Creek, a myriad of vendor booths and festival food favorites and much much more.
Venue: Broadway and 10th Street (Smackover, AR)
Date: May 10th-May 12th
Time: Varies
Admission: Free
Contact: Click Here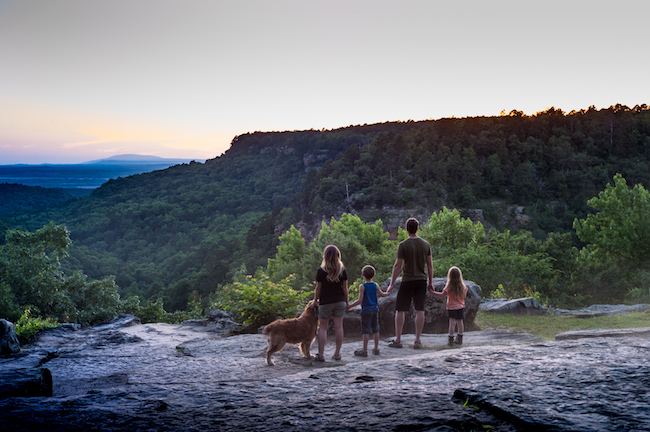 Arkansas Heritage Day At Petit Jean 2018 (Morrilton)
May is Arkansas Heritage Month, and you are invited to discover the state's rich heritage in Arkansas's first state park. From Native American Indian life to the era of the Civilian Conservation Corps, Petit Jean State Park is a place rich with the influence of the past. Contact the park for a schedule
Venue: Petit Jean State Park
Date: May 12th
Time: 8:00 am- 8:00 pm
Admission: Free
Contact: 501-727-5441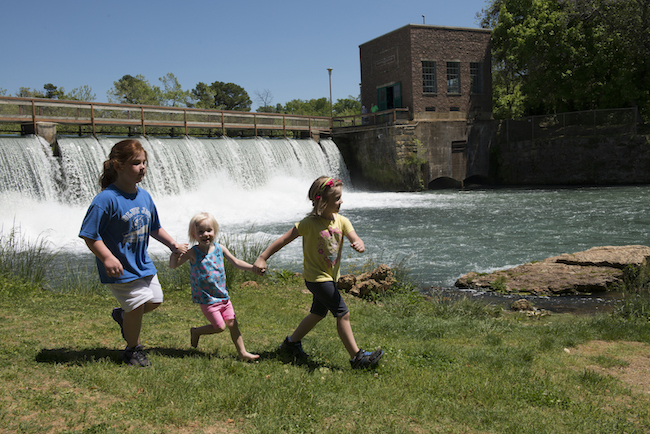 Tourism Day (Mammoth Spring)
Join us to celebrate National Tourism Week. The fun begins at 10 a.m. and includes free balloons, door prizes, refreshments, and more! The event lasts until 4 p.m.
Venue: Mammoth Spring State Park
Date: May 12th
TIme: 10:00 am- 4:00 pm
Admission: Free
Contact: 870-625-7364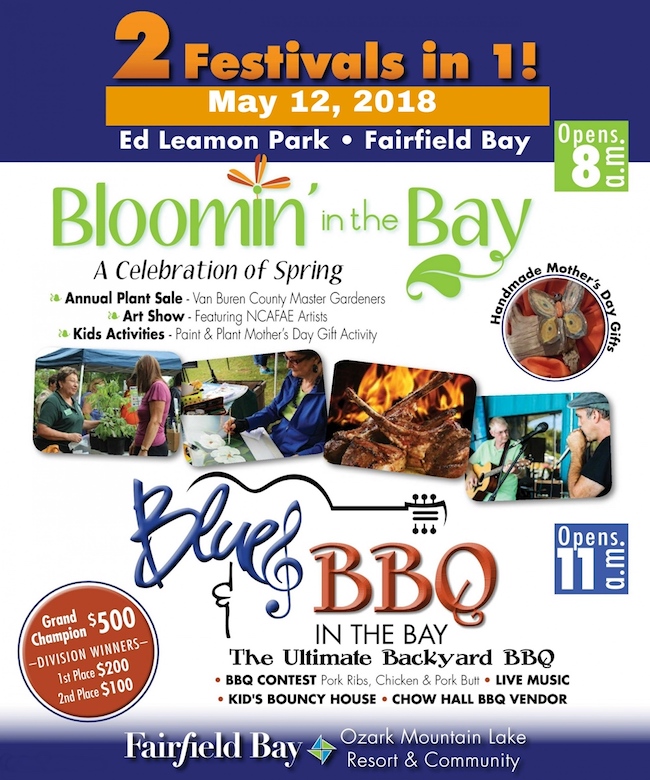 Bloomin' At The Bay And Blues & BBQ (Fairfield Bay)
A celebration of spring featuring the very popular 14th annual Van Buren County Master Gardeners Plant Sale. The Ultimate Backyard BBQ begins at 11 a.m. Meander your way through the park to the second festival of the day. Sample the culinary creations of both local and out-of-town. Hosted by the Fairfield Bay Chamber of Commerce, there will be a 50/50 Raffle, prizes, and other giveaways. 
Venue: Ed Leaman park
Date: May 12th
Time: Begins at 8:00 am
Admission: Free
Contact: Click Here

Veterans Bass Tournament And Outdoor Expo (Clinton)
Hooked on Heroes is teaming up with the Patriot Riders, the Clinton A&P Commission, and other supporters to bring you the 1st Annual Veterans Bass Tournament and Outdoor Expo. Registered boats will take veterans out on Greers Ferry Lake, followed by a motorcade escort from Choctaw Park to Archey Fork Park. Trophy presentation, booths, arts and crafts, music, games and more. Proceeds benefit the VA home expansion project in NLR.
Venue: Archey Fork Park
Date: May 12th
Time: 6:00 am- 6:00 pm
Contact: 501-592-1389