I grew up in Vermont where a heat wave meant the daytime temperature reached above 85 degrees. Here in Arkansas, we consider that to be a quintessential fall day and the months of September, October and November are often perfect for getting outside. The high humidity has subsided and the breeze has shifted to the cooling winds that remind us that summer will soon be a distant memory. The Natural state is beautiful in the fall and seeing it from the water will give you a whole new perspective.
Stand Up Paddleboarding (SUP) is continuing to grow in popularity and is a great activity for fall. I was bit by the SUP bug a few years ago and do my best to hit the lake at least once every week or so from April through November. Check out my top four places to SUP in Arkansas. These spots are also perfect for kayaking and canoeing. Don't forget to bring your water, snacks, sunscreen and lifejackets. You may also want to bring a waterproof camera because you are in for an adventure.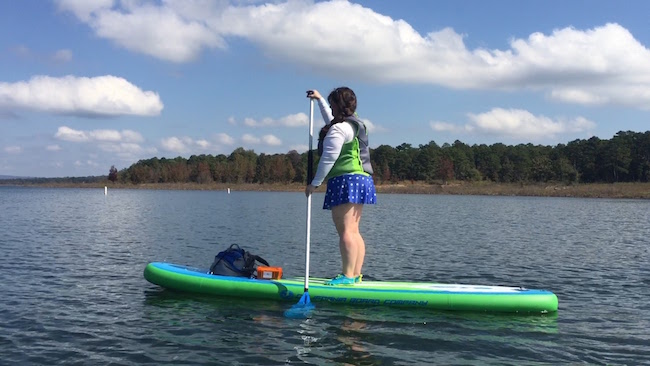 4 Places to SUP in Arkansas
#1. Greer's Ferry Dam and Tumbling Shoals
The boat launch area at Old Hwy 25 State Park in Tumbling Shoals is only a short drive from my house and is one of my favorite places to SUP. There is ample free parking, a picnic area, a swim beach and bathroom facilities adjacent to the launch area.
Once out on the water, head to the left and you are about a 40-minute paddle from the Greer's Ferry Dam. Head to the right and you can circle around a small island where you can even get out and explore. If you are new to paddle boarding the little inlet right near the boat launch is the perfect place to get your "sea legs." It's a No Wake Zone so you will enjoy calmer waters than you will on the open lake.
#2. Sugar Loaf Mountain Island National Nature Trail
Greer's Ferry Lake is great for paddle boarding but this area is extra special because of Sugar Loaf Mountain Island. The island is easily accessible from both the Fairfield Bay Marina on the north side of the lake and the Sugar Loaf Marina in Hidgen on the south side of the lake. Once you paddle out to the island you can dock near the base of the mountain hiking trail. The trail is an intermediate level hike and there are no facilities on the island so be sure to come prepared with plenty of water and some snacks. The hike is about 1.5 miles but the view is a spectacular reward. Check out this video I made of our paddle and hike last fall.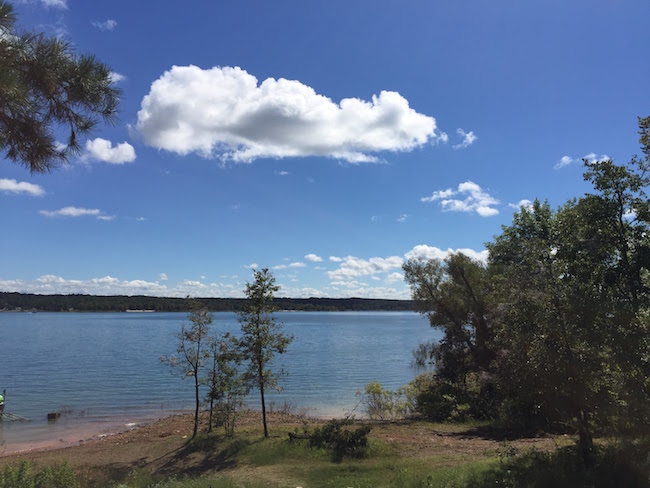 #3. Arkansas River/Little Maumelle River
The Arkansas River has a lot of great spots to paddle but my favorite is where the Little Maumelle River flows into the Arkansas River. Two Rivers Park Bridge Park offers parking, a boat launch area and walking and biking trails. Paddle up the Little Maumelle river for beautiful views of Pinnacle Mountain and down the Arkansas River for a unique perspective of the I-430 Bridge and the Big Dam Bridge.
#4. Islets Cove Paddle Trail, DeGray Lake
DeGray Lake is absolutely beautiful. As the leaves begin to change and fall it becomes a breathtaking site. A paddle anywhere on the lake could afford you sightings of Bald Eagles, herons, hawks, deer and myriad flora and fauna. My favorite spot is the Islets Cove Paddle Trail. This three-mile trail begins at the DeGray Lake Resort State Park boat launch. Follow the eight yellow signs along the shore that mark the trail and you will be treated to a spectacular adventure. Check with the Marina staff before you depart as a few parts of the trail can be tricky to navigate when water levels are low.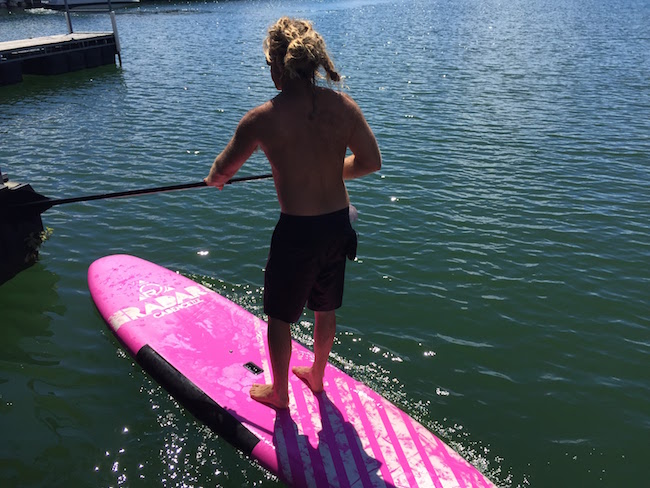 4 Places to Rent SUP's in Arkansas
I made the decision to buy my own inflatable SUP just over a year ago. It's fairly lightweight and easily fits in the trunk of my car. A portable pump that runs off my car battery makes pumping up my board a breeze. Yet, if you've never tried SUPing you may want to give a rental a try first. That's how I got started. Here is a list of several places around Arkansas that offer SUP rentals. Many also offer kayak and canoe rentals.
Sulphur Creek Outfitters
625 S. 7th Street, Heber Springs, AR 72543
501-691-0138
Tues – Fri: 10 a.m. – 5:30 p.m. | Sat 8 a.m. – 5:30 p.m. | Sun – Mon CLOSED
DeGray Lake Resort State Park Marina
2027 State Park Entrance Road, Bismarck, AR 71929
501-865-5810
Daily 8 a.m. – 5 p.m., year-round
Ouachita Outdoor Outfitters
112 Blackhawk Lane, Hot Springs, AR 71913
501-767-1373
Monday-Friday 9 a.m.-6 p.m.; Saturday 9 a.m.-5 p.m. (Closed Sunday)
SUP Outfitters
Eureka Springs, AR
479-244-7380
SUP Outfitters is a mobile business, call for hours and location.