It must be heady stuff for an Arkansas teenager:
Your picture plastered all over social media.
Your bio on NBC's official Olympics website.
Your own Wikipedia entry.
Every major news outlet in your home state clamoring for a story.
Heck, most major (and many obscure) news outlets in the country clamoring for a story.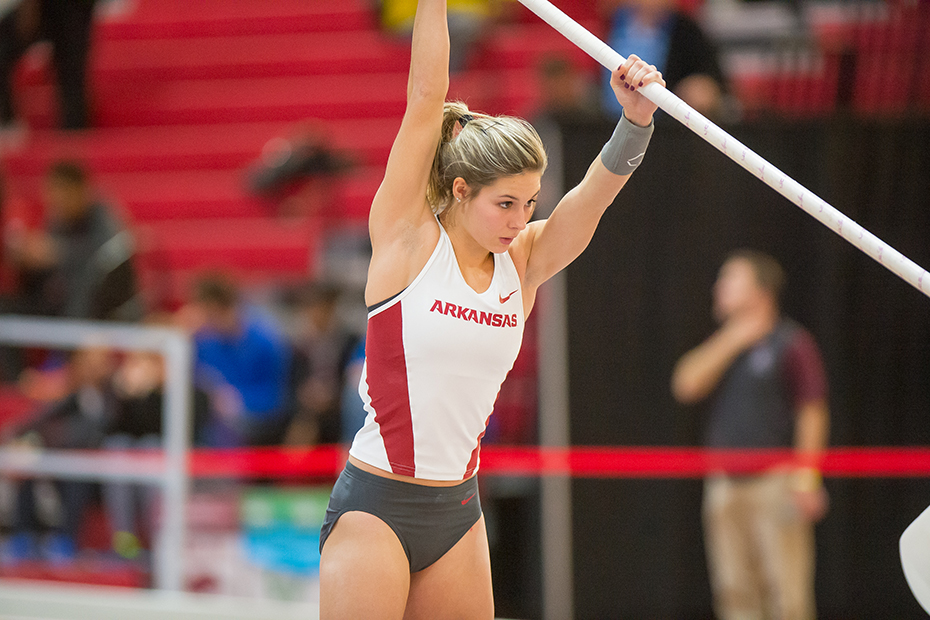 Photo courtesy of ArkansasRazorbacks.com
For 19-year-old Lexi Weeks of Cabot, who just finished her freshman year as a University of Arkansas Razorback pole vaulter, fame isn't new, but fame in this venue just kicked up a notch or two.
You might say her profile jumped sky-high after her Olympic-qualifying 15-foot, 5-inch vault in Eugene, Ore., placing her third in the U.S. Track and Field Olympic Trials and securing her place on Team USA for the 2016 Summer Games.
With that giant leap for womankind, Weeks was Rio bound.
Just hours before she boarded the plane for the Brazilian capital, she tweeted:

Weeks should be well prepared for tense competition after facing the daily challenge right on her home turf from her twin, Tori.
My husband, a volunteer cross-country coach at Batesville High School, witnessed the athletic prowess of both Weeks girls at the Arkansas Heptathlon in May 2015. The two were seniors at Cabot, and Bruce gives this description of their performance:
The twins' tightest battle came at last year's heptathlon, held at Cabot High School. Lexi led the field after the first day's four events, with Tori third, 172 points behind. The second day began with the high jump, and Tori jumped nearly half a foot higher to close the gap to 9 points. Tori then threw 2 inches farther in the shot put to nudge within 6, but they had dropped to third and fourth place overall.
But they came in as favorites in the final event, the 800-meter run. At the gun, they ran smoothly step for step, quickly leaving their nearest challengers well behind. They picked it up together in the stretch, with Tori edging ahead at the last steps to win by a third of a second, 2:19.47 to 2:19.81. Theirs were the top two times, more than 100 points better than their overall challengers.
Lexi's stride-for-stride run to the last second of the last event with her strongest competition gave her the title by 1 point. Now she moves onto an even bigger stage, but once again with a friendly connection among her greatest rivals in former Razorback Sandi Morris.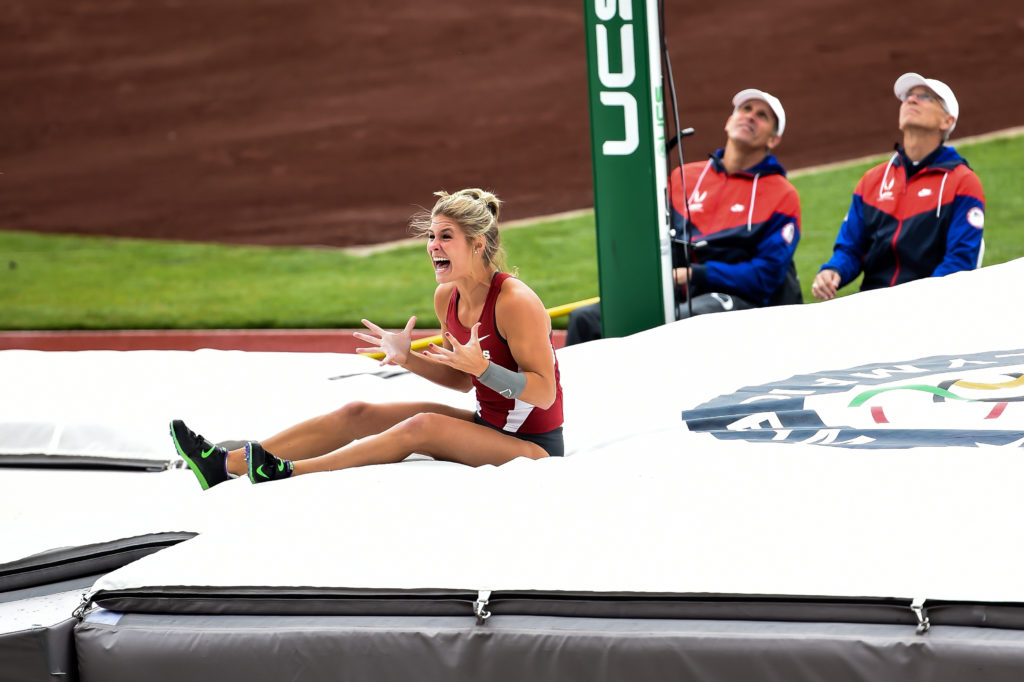 Lexi Weeks 2016 Olympic Trials. Photo credit:  Mike McCarthy, PoleVaultDaily.com
Friends and teammates Weeks and Morris are not only world-class athletes; they are scholars.
For the fourth time in five years, the UA women's track and field team has been recognized as the USTFCCCA Indoor Scholar Team of the Year, according to an article on the UA website. And Weeks was named the USTFCCCA Indoor and Outdoor Scholar Field-Athlete of the Year (she maintained a 4.0-grade point average as a freshman chemistry major). Morris received indoor field recognition in 2015 and 2016.
And Weeks and Morris are not the only 2016 Summer Olympians with Arkansas ties. A few others:
Team USA members Taylor Ellis-Watson, Tyson Gay, Jarrion Lawson and Chrishuna Williams are current or former Razorbacks.
PGA Tour pro David Lingmerth, also a former Hog, is representing Sweden.
Representing Nigeria for her second-straight Olympics is Arkansas indoor quarter-mile record-holder, Regina George.
Past Arkansas distance standouts Christine Kalmer and Dominique Scott are among 13 women in the South African delegation.
The Arkansas Democrat-Gazette has a roundup – including photos – of the 23 athletes with Arkansas ties who are competing in Rio this year. Click here for the list, which includes Weeks, Morris and the others mentioned above.
Catch the women's pole vault on Aug. 16 at 9:45 a.m. CDT (qualifications) and Aug. 19 at 8:30 p.m. CDT (final).
Here are a few social media sites where you can follow the 2016 Olympic Games and teammates Weeks and Morris: