My husband is an avid outdoorsman who enjoys hunting, fishing, riding 4-wheelers and hiking. He loves shooting his bow, but had never been bowfishing. On our vacation this summer, I decided to treat him to a bowfishing excursion. I was mostly along for the ride (I was 26 weeks pregnant and didn't feel super steady to stand and shoot the bow), but I really enjoyed it. We have so many lakes and rivers in Arkansas – it's a fun activity to see nature in a new way. You could probably find a guide at an area marina, or ask around to find a friend who already enjoys this hobby and can take you out on the water.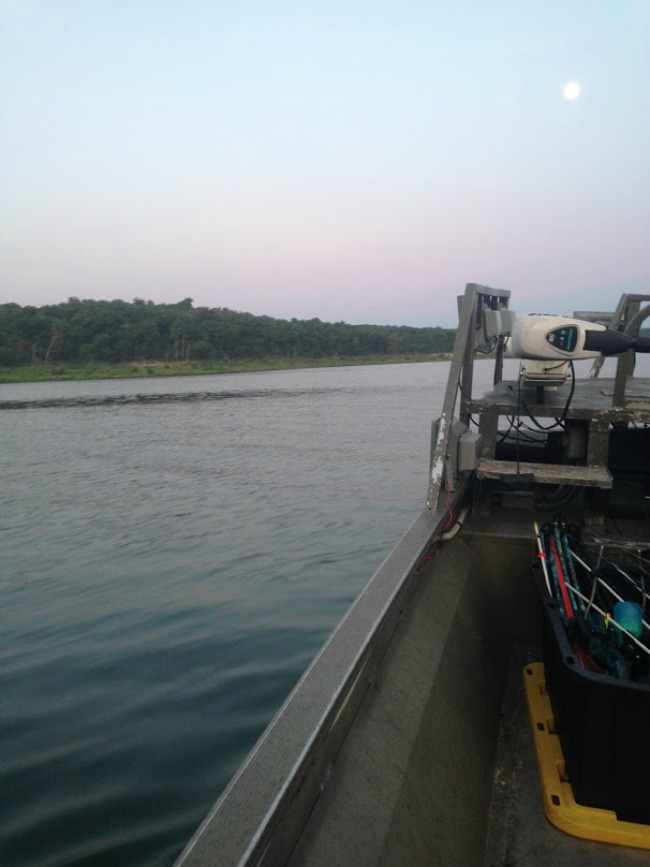 We called a local guide on Bull Shoals Lake, got our fishing licenses and headed to the lake. Don't forget those licenses! Even though I planned on mostly riding along, I needed to have a license to be out on the water participating. You have options to get a resident fishing license or just a three-day license (if you don't think you'll go fishing again anytime soon). If you're going with a visitor, there are non-resident licenses available.
We set out on Bull Shoals Lake just before dusk. You bowfish primarily at night, so we wanted to get the boat in the water and get to our spot before dark.
The boat is a flat-bottomed boat that's been modified for bowfishing. It had a raised platform at the front to allow you to easily see into the water. The boat is also equipped with lights that shone into the water and both an outboard and a trolling motor to allow for both riding quickly across the lake and maneuvering along the shallow areas. The guide explained to us that we were out hunting for "nuisance" fish that aren't typically caught via a fishing pole. The fish we were looking for are the type to eat sporting fish such as bass and crappie, so helping cut back the numbers of these fish can actually help with wildlife management.
As we got settled on the lake, we saw a gorgeous sunset from the water just before we got set up to fish.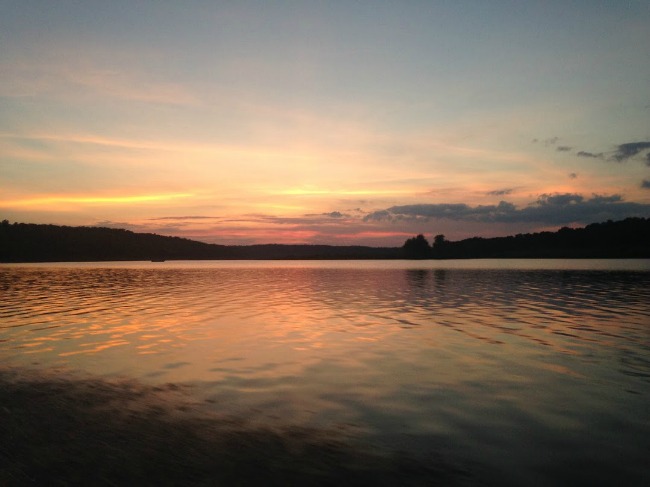 Bowfishing is much more active than casting and waiting for a bite. The bowfishing bow is a combination between a hunting bow and rod and reel. You use arrows that are connected via a reel back to the bow. You stand on the platform, shoot the arrow into the water, hoping to hit a fish. However, one of the difficult things about bowfishing is learning to compensate for the water's diffraction and the arrow's deflection as it enters the water. These factors change based on the distance you're shooting away from the boat and the fish's depth within the water. You do eventually get the hang of it! Once you get a fish, you reel the fish in.
After the guide fully explained how this would all work, we rode around the lake looking into the water. It was really nice to be on the water at night! While there were plenty of bugs flying around, I was surprised that none of them were interested in biting us. The cool air on the water made for a really comfortable evening. We saw tons of turtles and even a raccoon going for a swim! But the highlight was spotting the big fish in the water. We were mostly looking for gar and carp. When my husband would spot a fish, the guide would help him aim and count to shoot. My husband caught two sizeable gars and one giant 25 lb.+ buffalo carp during our few hours on the lake. The guide caught several fish as well.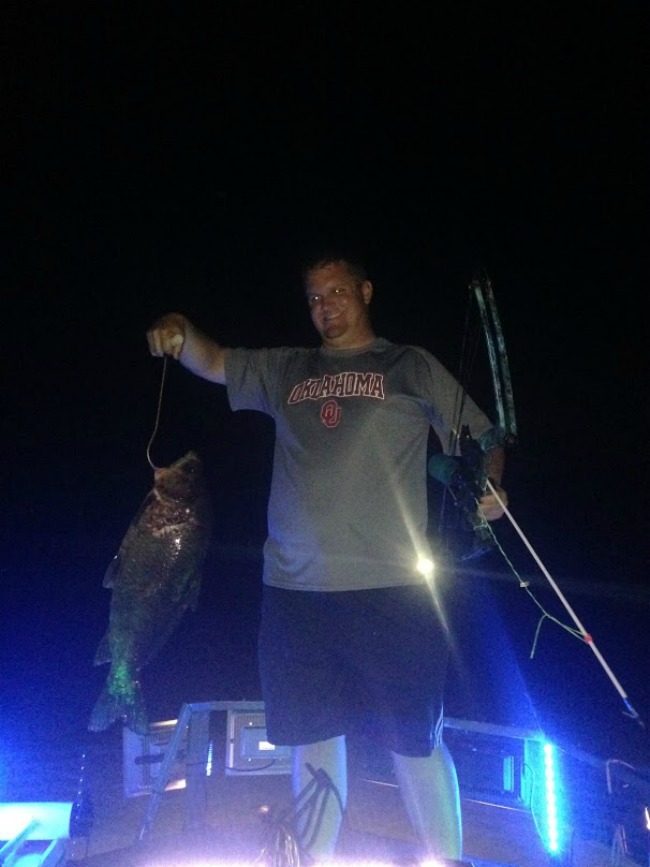 When we caught the fish, we put them into a big bucket on the boat. Since we were on vacation and out of town (and had no way of transporting the fish), the guide was going to take them home for dinner the next evening.
It was a really neat way to experience the water. I grew up boating, but that mostly happened during the day. If we were out at night growing up, it was just for a joyride. To be able to actually see into the nighttime water and watch all the active wildlife was so interesting!
Even if you have no experience shooting a bow, you would catch on quickly. The guide we had was very helpful and instructive. Call the marina at your nearby lake and see if they have any bowfishing guides! You just might find your new favorite hobby!