He bleeds a little bit before each bike race. One burgundy drop, squeezed out of his newly pricked index finger is all he needs.
His blood tells him what to eat, when to eat it and whether or not his type 1 diabetes is going to give him a chance to win.
This race day routine has a Pavlovian effect on Austin Dixon, an 18-year-old cyclist from Fayetteville, who raced around the U.S. and trained in Spain before his senior year of high school.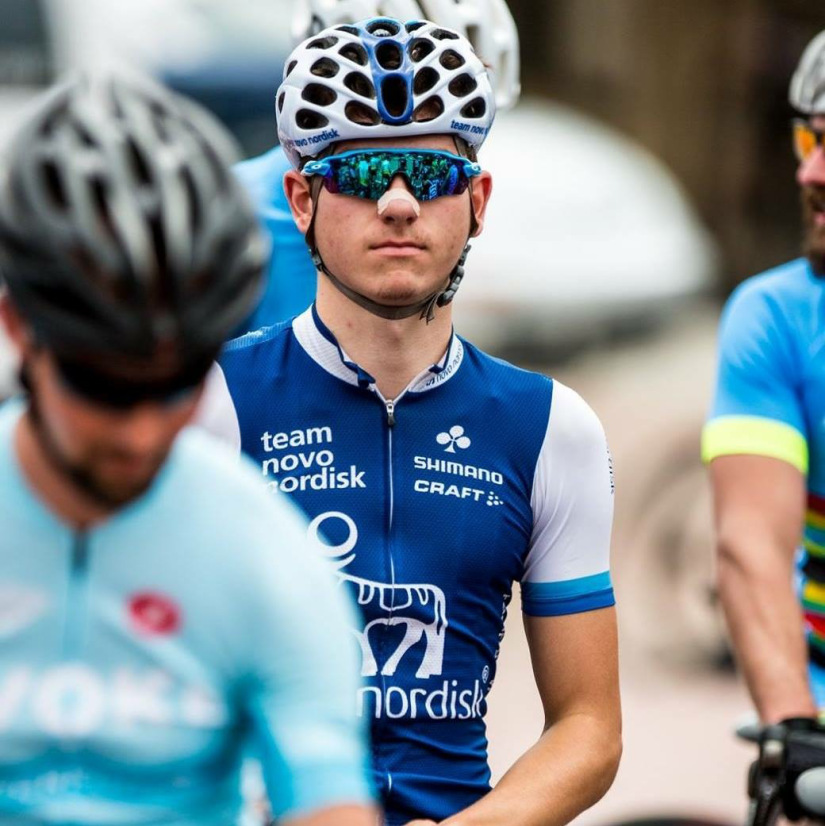 Austin Dixon before a race for Novo Nordisk in 2016. / Courtesy
The sting of the needle ignites his adrenaline. His beating heart reminds his body how much blood it can move.
Unfortunately, the same isn't true for Dixon's pancreas.
"Even if you do everything right with diabetes, you can still have a bad day (on the bike)," Dixon said.
Still, the senior at Fayetteville High School has dedicated the last five years to a sport that guarantees frustration and offers acclaim few people know exist.
Trying to be a competitive cyclist with diabetes is like trying to be a scuba diver with an arbitrarily filled oxygen tank.
Dixon's cycling mentor and current teammate Brad Schrag, 37, knows Dixon has the engine to be a world-class cyclist, but Dixon's performances are nearly impossible to predict because of fluctuating blood sugar levels.
"It's definitely a daily struggle," Schrag said. "Seeing him on rides where the blood sugar is not an issue for him, how well he can perform… and on race day there seems to be some form of anxiety that he is dealing with where his (blood sugar) numbers just don't stay under control. His numbers those (race) days don't follow the same pattern they do on other days."
For Dixon, race days are paradoxical. High-intensity, endurance exercise lowers blood sugar levels, as does an insulin pump (which Dixon uses). However, Dixon often has race day anxiety, that, combined with adrenaline, raises his blood sugar levels.
When someone is diagnosed with type 1 diabetes it's because the T-cells from their immune system have killed the insulin producing beta cells in their pancreas. In short, the person's body has killed its ability to take and use sugars from carbohydrates, known as glucose, for energy. It has also taken away its ability to regulate blood sugar levels, which lie between 80 – 120 mg/dl for a person without diabetes.
Diabetic beginnings
In 2009, Dixon was a normal fifth grader at Root Elementary School. Growing up in Fayetteville, Dixon played t-ball and soccer but showed no signs of a future as a competitive athlete.
"I was sort the nerdy kid who didn't really wanna socialize," Dixon said. "I'd just sit in the corner and do my homework. I was not a social butterfly."
In December of 2009, Tiffany, Dixon's mother, noticed her son had less energy than usual and was developing habits that are symptoms of type 1 diabetes.
"He was drinking a lot of water and using the bathroom a lot, so I googled that and diabetes was the first thing that popped up," Tiffany, 36, said. "But that made it seem like he would be guzzling gallons of water and using the bathroom all the time. For him, it wasn't as excessive as that."
Then, three weeks before Dixon's eleventh birthday, Tiffany took her son to the hospital. That Monday in December she saw her son nearly die.
"That morning he came out of his bedroom without his shirt on and I actually threw up at the sight of him," Tiffany said. "It looked like I could fit three fingers in his eye socket and my fist under his ribs. He had lost so much weight."
For the weeks prior, Dixon had told his mother that he was fine. A then 10-year-old boy, who was nearly dehydrated to death, too stubborn to admit that he didn't feel good. Too strong to know that the pain he was absorbing may kill him.
Ironically, these were the first signs that Dixon resembled a competitive cyclist. On the bike, there are days racers have to be willing to experience pain and take risks they've never encountered. Such are the demands of a sport that races over mountains, requires seven-hour training rides, and sends people flying over guard rails at 60 mph.
In the emergency room, Dixon's blood sugar levels were 1265 mg/dl, meaning that his levels were over twelve times that of a healthy person without diabetes. Death or a diabetic coma can occur with levels over 600 mg/dl.
Continue Reading at Fayetteville Flyer