How a Greenwood native became the first Arkansan to coach a Final Four team in 71 years.
When it comes to college basketball, the state of Arkansas isn't nearly the coaching hotbed it is in college football. There, natives like Bear Bryant, Barry Switzer and Gus Malzhan have regularly contended for national titles over the decades.
If the most recent NCAA Tournament is any indication, though, this imbalance may be changing. At least four Arkansas natives coached in teams in March Madness, including Alpena's Joe Foley and Little Rock's Wes Flanigan (Arkansas-Little Rock), as well as Bryant's Karen Aston (Texas).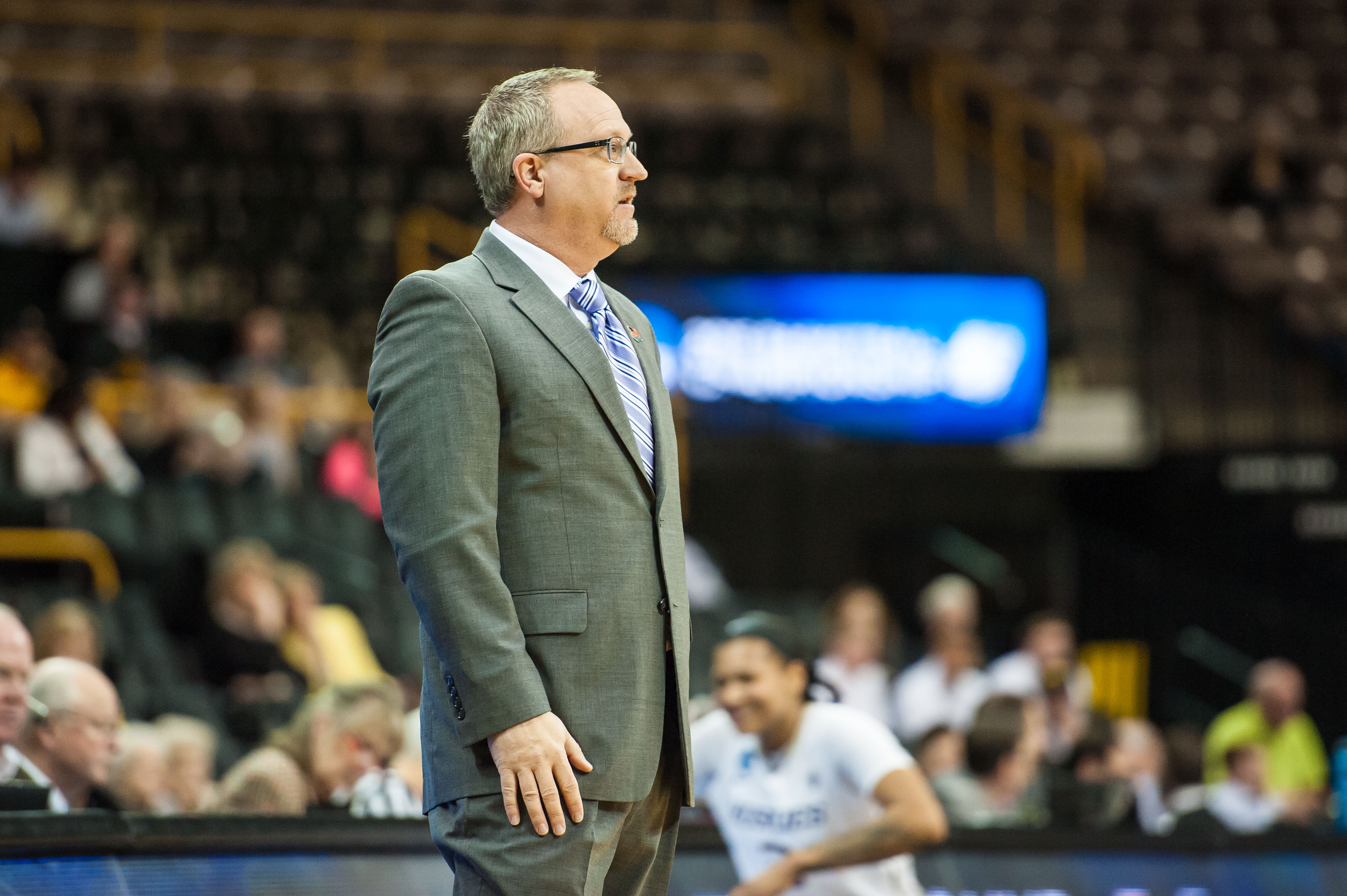 Photography by Scott Eklund/Red Box Pictures
But the most impressive run belonged to Mike Neighbors, a Greenwood native who took the Washington Huskies women to that program's first Final Four appearance. In doing so, he became the first Arkansan head coach of a Final Four team since the NCAA Tournament expanded to 64 teams (and the first overall since World War II).
The sixth-seeded Huskies knocked off both No. 2 seed Maryland and No. 3 seed Kentucky on the road. Although their surge stopped at the hands of Syracuse in Sunday's semifinals it nonetheless marked the greatest season in Huskies history. With returning core players like forward Chantel Osahor and point guard Kelsey Plum, who is on track to become the leading scorer in Pac-12 conference history, they should be strong next season.
And don't be surprised if Arkansans join Neighbors' program in the coming years. The 47-year-old almost signed Fort Smith Northside star Aaliyah Jackson, a senior who ultimately opted for Texas A&M.
When Neighbors first got into the business more than 23 years ago as an assistant boys coach at Bentonville High, he never imagined what was in store for him. "I was anti-coaching girls. I was only going to coach the boys," he told the Southwest Times Record. "But the girls [head coach] retired at Christmas [1993], and I was suddenly helping them out."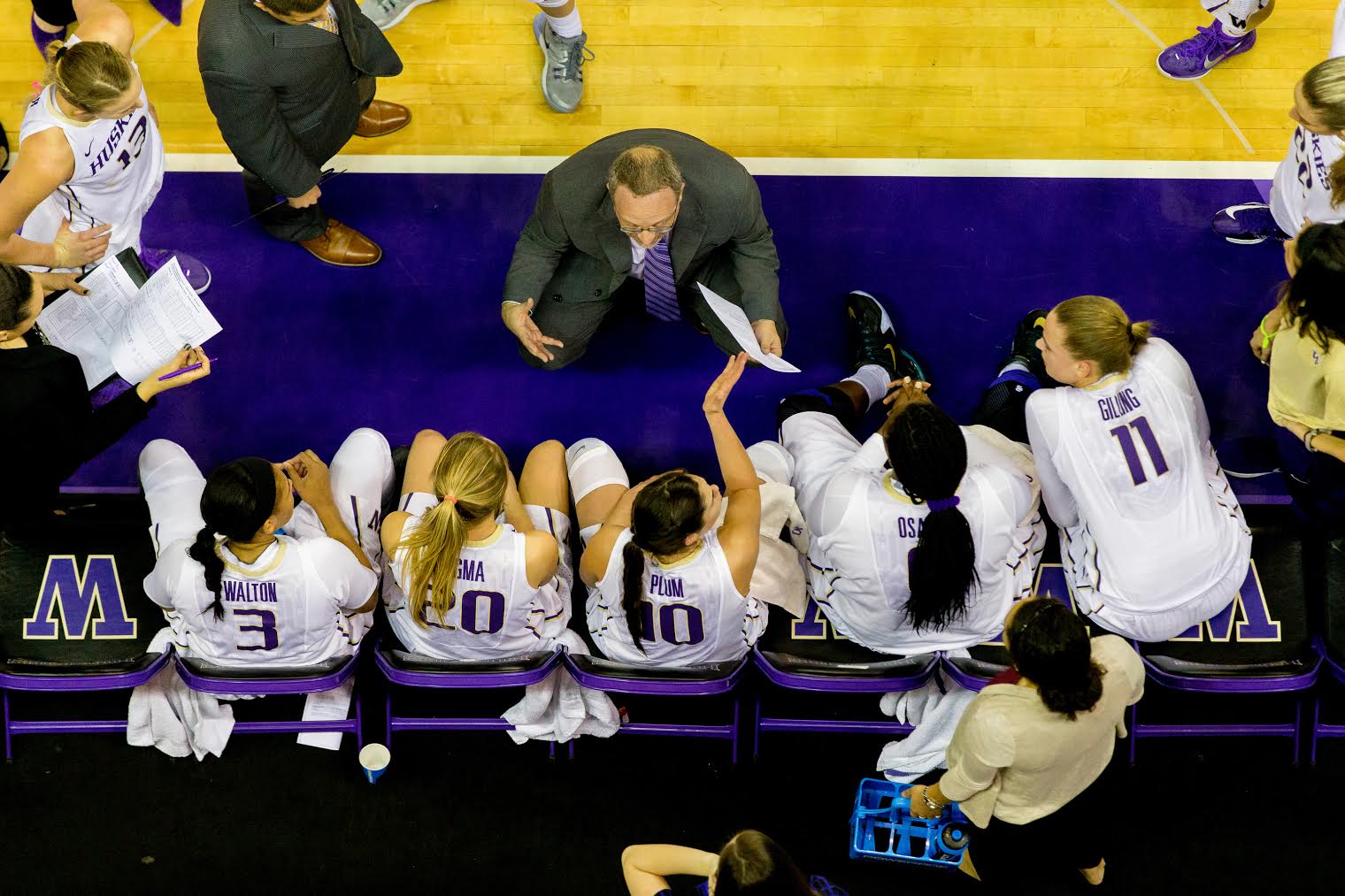 Photography by Scott Eklund/Red Box Pictures
When nobody applied for the job, Neighbors essentially got it by default. "That first year we went 1-and-23, but I loved it." Rickey Smith, coach of conference rival Fort Smith Northside, recalled that first campaign was rough — "I felt sorry for them" — but also that Neighbors rapidly improved the program in subsequent years. By the time he left in 1997 he'd led Bentonville to an appearance in the state finals.
Neighbors got a $72,000-a-year job as Cabot's coach and seemed destined to move up the local high school ranks. Yet his body, which cannot break down plaque, didn't cooperate. At age 29 he suffered a heart attack which caused him to realize that life was too short to further delay his long-held dream of coaching at the college level.
That pursuit started with a $14,000-a-year job gophering for the women's team of his alma mater, the University of Arkansas. According to news reports Neighbors went from a 4,000-square home to an 800-square foot apartment, and had to live apart from his wife and three-year-old daughter.
The job wasn't exactly one to write home about, either. "The first assignment I got was to make sure Gary Blair had a Diet Coke at practice," he recalled, referencing Arkansas' former head coach. "I went from making every decision on every facet of our program to being Gary Blair's Diet Coke guy."
Again, it seemed, Neighbors was starting at absolute ground zero.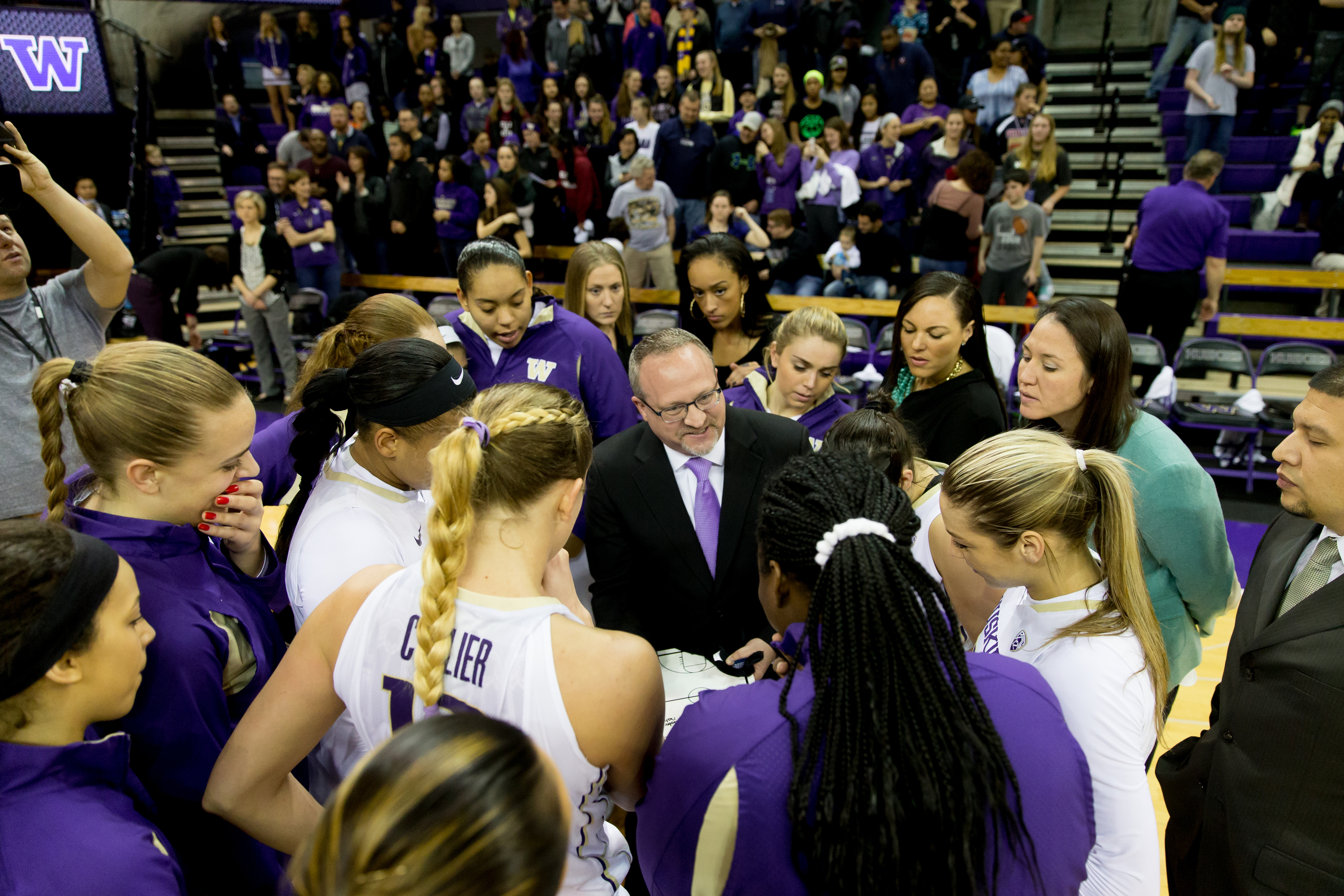 Photography by Scott Eklund/Red Box Pictures
The return path to the top, this time on the high college level, included stops as an assistant at Tulsa, Colorado, Arkansas again, Xavier and finally Washington. Through it all, Neighbors has maintained strong ties to the Arkansas high school coaches he befriended in the 1990s.
Many of them receive a weekly email newsletter Neighbors sends with basketball tips, life advice and motivational tactics. Neighbors' friend Rickey Smith is one. The Northside girls' coach estimates more than 70,000 other high school and college coaches nationwide do as well. Neighbors and Smith also text each other inspirational quotes and talk about the local prep scene — Smith is surprised that Neighbors still keeps up with Northside's regular season and tournament schedules despite coaching in the Pac-12. "You could talk to 50 other high school coaches around the state and they would tell you the same thing" about Neighbors, Smith adds.
The coaching industry attracts naturally gregarious personalities but Neighbors does appear to be at a different level here. The give and take he has with star players like Kelsey Plum differs from the dynamic many elite college men's coaches share with their stars. "Coaching girls, you get more of an emotional connection with them," Neighbors told the Times Record. "Besides, when it's Christmas they bring you presents and guys don't."
Neighbors has learned to give, too. In games, for instance, he'll give Plum a clipboard so she can draw up plays during timeouts. In practice, though, they sometimes bump heads.
"We're very Type A," she told the Seattle Times. "Sometimes I'll even agree with him but act like I don't because I don't want to give in." Plum added Neighbors' "no BS" attitude is a major reason she wanted to play for him in the first place.
Neighbors sacrificed much to get to this point in his career. One thing he hasn't lost, though, is a bond with those who were there from the start, when the prospect of playing on the brightest stage seemed light years away.
On the night of Washington's Elite Eight win against Stanford, a flood of congratulatory messages poured into Neighbors' phone and Facebook account. Four or five of them came from members of his first team, those Bentonville High girls with whom he'd gone 0-14 in conference games — the base of a long, long climb upward.
***
Any time an Arkansan heads to the state of Washington, it seems, record-breaking scoring results. Decades before Neighbors, Frank Burgess (Eudora) and Eddie Miles (North Little Rock) led the way. Read more about this unique Arkansas-Washington pipeline here