Bret Bielema, Blake Anderson and the (crowdsourced?) future of the college game.
No sport is more authoritarian than football. If basketball at times evokes jazz, and baseball poetry, then America's most popular sport resonates most with large-scale warfare. This is, after all, a brutally physical game, with an area of play literally called "the trenches." Chains of command are clearly delineated, flowing upward from the freshmen to the upperclassmen, to the assistants and trainers and finally on up to the top of the mountain where the head coach stands.
But signs indicate this hierarchy, bedrock to the game since the early 20th-century days of player-coaches, is slowly crumbling. This will most dramatically manifest next year when an indoor football team becomes the game's first fully fan-run franchise. Project FANchise is a California-based startup which intends to develop a mobile app to help put practically every aspect of team decision making into fans' hands, from where its first team will be located (Salt Lake City was the vote), to what players it should sign, to play-calling in real time. Fans consistently showing the most football knowledge get a bigger say in the operation, with the opportunity to land a spot on the executive board.
Don't hold your breath for the first fan-run college football team. There are, for starters, the same questions TheComeback.com's Sean Keeley asked about the idea at the pro level:  "How is the franchise protecting itself from fraudulent voting? … Should a collection of random fans be determining financial decisions such as contracts or cutting players? Should they be calling plays from afar that affect the well-being of athletes?"
Subbing out "contracts" for "athletic financial aid agreements" and "players" for "student-athletes" above only complicates an already tricky hypothetical situation. There's simply too much yet to be worked at the pro level.
All the same, a few college football head coaches have already paid homage to the spirit of the FANchise by outsourcing a small portion of their play-calling to the public. Two of them happen to reside in Arkansas.
In more than three seasons on the job, the Razorbacks' Bret Bielema has proven to be a marketing savant. Whether he's calling touchdown pass plays for 350-pound linemen, mixing it up with pretty-boy Red Raiders or trumpeting his desire for year-round eggnog on his very own mini-documentary, Bielema goes where no coach has gone before in grabbing headlines.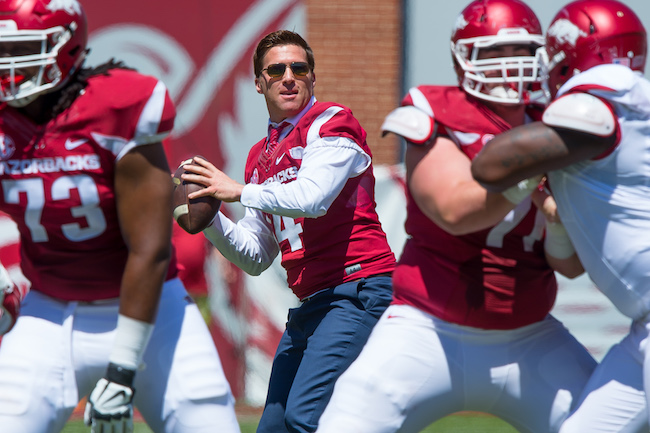 The latest gambit came April 23 during the Razorbacks' spring football game when Bielema called a "tribute play" in honor of the team's 1999 upset against the No. 3 Volunteers. Former quarterback Clint Stoerner and former wide receiver Anthony Lucas donned jerseys to take the field in formation with current Razorbacks. They successfully recreated their 35-yard touchdown pass play which had sealed the win against Tennessee in Fayetteville.
It appears this was the first time a head football coach at the college or pro levels had reenacted a play based on a signature moment from the program's past. But the idea wasn't originally Bielema's. It came from Steve Sullivan, the longtime KATV sportscaster, who a few weeks ago shared the idea during a sit-down interview. Bielema rolled with it, and the fans loved it just as intended.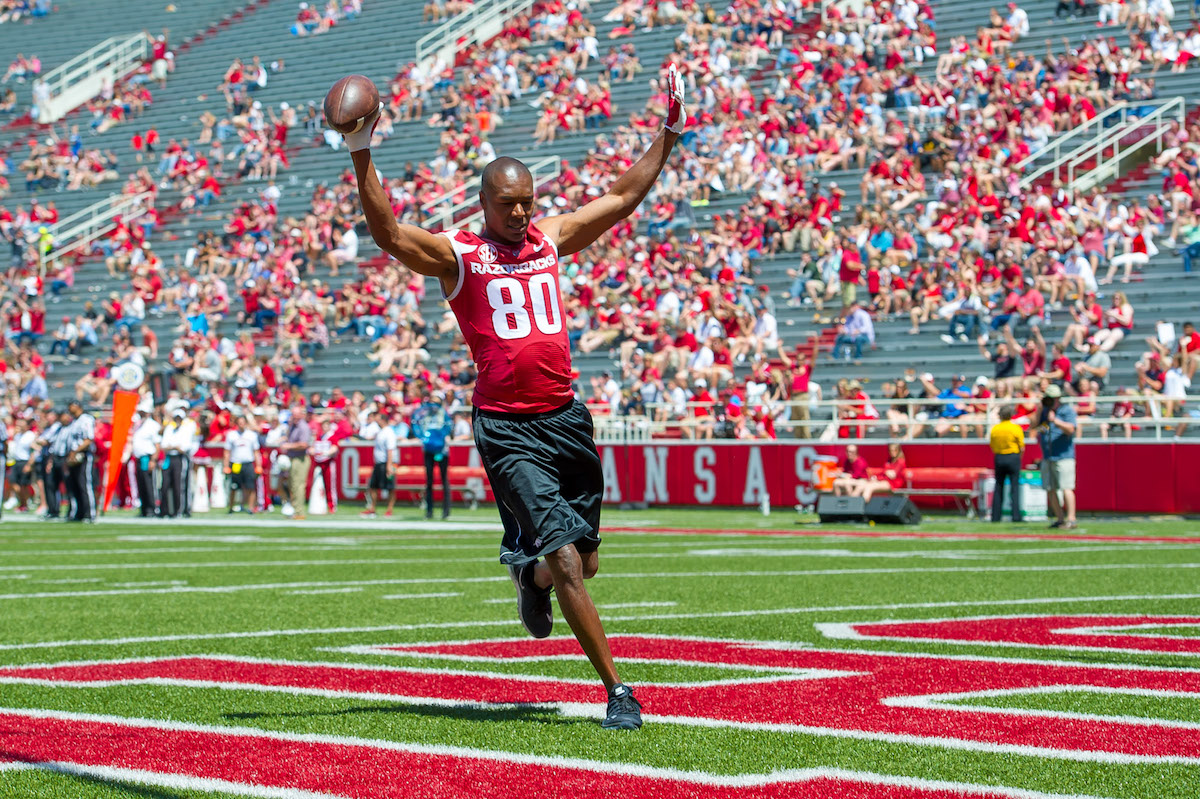 On the other side of the state, in Jonesboro, the Red Wolves football program had already established their own play-calling synergy with a media member.
A few months ago Blake Anderson, head coach of Steve Sullivan's alma mater Arkansas State, reached out to Sports Illustrated reporter Thayer Evans to serve as an honorary guest head coach for A-State's spring game. Evans agreed, signing an official contract which included a termination clause that might or might not have mandated grabbing a bite at Denny's. As expected a small flood of social media posts, articles and videos chronicling Evans' experience on the sidelines transpired.
Anderson isn't a marketing major like Bielema, but working with less resources at his disposal he has proven media savvy and player friendly in his own way. Anderson is one of the few head coaches whose cornerstone program values — faith, family and fun — stress work-life balance. Anderson walks the walk with in-game calls like the "fainting goat" play and his love of bringing in the public to coach his team's spring games.
The idea started with Larry Fedora, the former head coach of Southern Mississippi under whom Anderson coached in the late 2000s. That program auctioned off its head coaching position to boosters, but did not make it the all-out extravaganza Anderson has at Arkansas State, Anderson told OnlyInArk.com.
The Red Wolves had auctioned their spring game coaching positions to the public in 2014 and 2015, and this year got six winning bids on 10 auctioned assistant coaching positions. The program has raised a total of $26,400 through the auctions. The guest coaches have been treated to one-day whirlwinds of press conferences, player meetings and strategy sessions with the real coaches.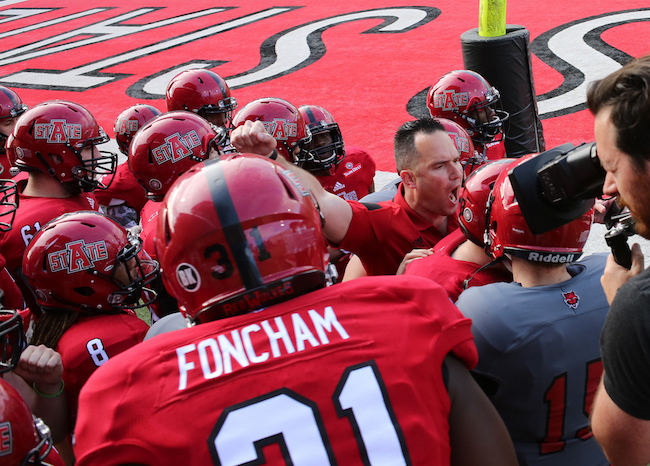 These guests don't actually make specific play calls. Rather, they make situational strategy decisions: When to blitz, when to go for it on fourth down, when to throw it deep down the field, for example.
The FANchise is different.
It wants its teams to ultimately allow fans to choose specific plays — on every down. But only those fans proving themselves as the most engaged and knowledgeable will get access to a virtual clipboard. "This is not a true democracy. Not all fans are created equal," said Grant Cohen, a Project FANchise co-founder. "The basic stuff, the decisions that won't necessarily impact the team, anyone can vote on. Bigger decisions, like making the play call with the game on the line? You better be invested and know what you're talking about if you want your voice heard."
You won't hear a college coach or athletic director dare say something like "not all fans are created equally" in public. Such talk leads directly to the hot seat. It's more likely, though, that in the short term athletic directors will consider putting their own twist on FANchise tactics which leave play-calling alone.
Here's one: "Every week we're going to have fans submit videos of themselves choreographing what our first end zone dance should be when we score our first touchdown," Cohen said. "The person whose video wins the most votes, we'll fly him out and sit him next to the endzone so when we score, we'll put him on the Jumbotron and he can do the dance alongside the players."
The industry is already trending this direction. Increasingly, college programs of all sizes actively seek fan engagement by posting Tweeted images and "Kisscam" video to stadium Jumbotrons during breaks in the action. Why wouldn't an aspiring mid-major program also allow a super-fan to play a hand in the team's touchdown celebration dance in return for the publicity such a move could bring?
Crowdsourced play-calling promises plenty of kinks to work out, but if over time the crowds prove more wise than coaching staffs, expect some major pro teams to start trying it as well.
Blake Anderson doesn't rule out the possibility one day the concept may spread to the college level. He hadn't heard of the FANchise before our phone interview, but his initial impression is positive. He says the idea of getting "1 million armchair quarterbacks" involved would be "awesome." Such fans, after all, would be hyper-invested and engaged. That's exactly what he has been seeking all along with his spring game experiments.
Like Bielema, Anderson puts a premium on fun. Both coaches want to win, sure, but not if it comes at the cost of losing perspective on the fact at the heart of all this is a game. And, without the fans, the show need not go on.