With the All-Star break at hand, it's a good time to check up on how former Arkansas Razorbacks are doing in the big leagues.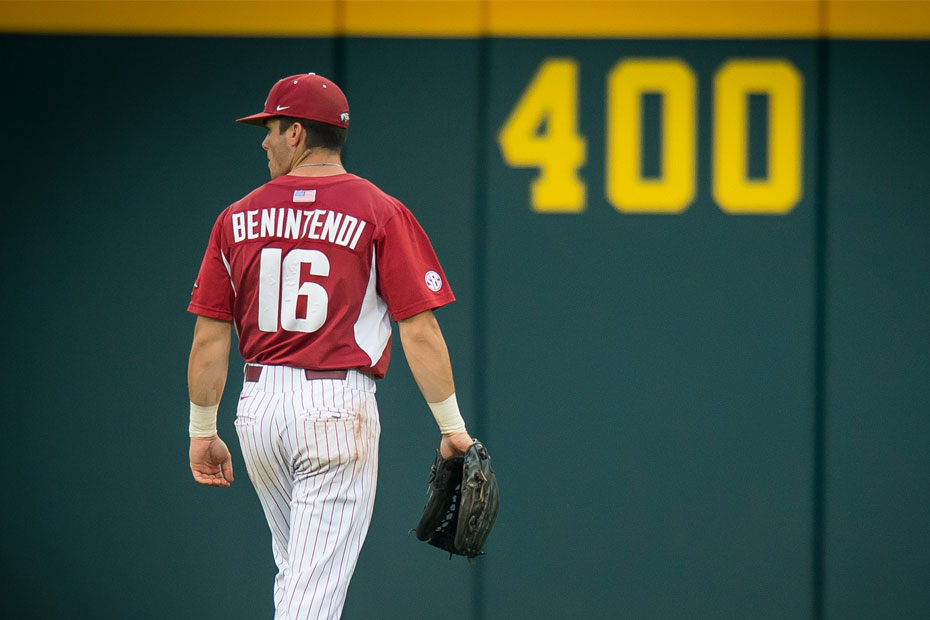 Andrew Benintendi
Andrew Benintendi has been tearing it up for the Boston Red Sox over the last 10 games. The Cincinnati, Ohio, native batted .306 with 11 hits, 11 RBI, and 6 runs. While sleight of frame, he's also hit 2 homers during that span, while also playing excellent defense in left field.
For the season, Benintendi is hitting .279 with 12 home runs, 13 doubles, and a triple. He has 51 RBI and has taken 33 walks. His slugging percentage is .446. The Red Sox lead the American League East with a 50-39 record, 3 ½ games ahead of the New York Yankees.
Mike Bolsinger
After spending June in Toronto's AAA affiliate, Mike Bolsinger returned to the Blue Jays roster on July 3. He has yet to pitch for Toronto since a May 15 loss to Atlanta. The right-hander from McKinney, Texas, is 0-2 on the season with a 5.68 ERA. In the minors this season, Bolsinger went 3-2 with a 1.60 ERA. Toronto is 41-47 this season, at the bottom of the American League East, 8 ½ games back from division leader Boston.
Logan Forsythe
Logan Forsythe is playing well for the Los Angeles Dodgers at second base. The Memphis native has 14 of 32 from the plate in his last 10 games for a .438 batting average during that span. He's hit a home run and 5 RBI and taken 6 walks.
For the season, Forsythe is batting .249. He's driven in 16 RBI, scored 30 runs and hit three home runs for the Dodgers that are leading the National League East with a 61-29 record, 7 ½ games ahead of the Arizona Diamond Backs.
Craig Gentry
Craig Gentry is back up at the Major League level after spending 25 games with the Baltimore Orioles' AAA affiliate following a back injury early in the season. The left fielder from Fort Smith is batting .176 in his last 10 games. He's scored 2 runs, drove in a run and walked twice in that span.
For the season with the Orioles, Gentry is hitting .175 with 2 doubles, a home run, 5 RBI, and 7 walks. In the Minors, Gentry hit .245 with 6 doubles, a triple, a home run, 14 RBI, 11 runs scored, 9 walks. Baltimore is 42-46 on the season, 7 ½ games behind Boston in the American League East.
Dallas Keuchel
Pitcher Dallas Keuchel remains on the 10-day disabled list for the Houston Astros because of a pinched nerve in his neck. The Tulsa native was selected for his second All-Star Game, but will not pitch. However, he could be back on the mound for the Astros soon, who lead the American League West by a comfortable margin. Houston is 60-29, 16 ½ games ahead of the Los Angeles Angels.
James McCann
Catcher James McCann moved up from Detriot's AAA club after just two games this season, and he has performed admirably for the Tigers. In his last 10 games for the Tigers, he's batted .304 with 2 home runs, 7 RBI, and a walk
For the season, the Santa Barbara, Calif. Native is hitting .201 with 8 home runs, 5 doubles, 25 RBI and 14 walks. Detroit is 38-48 on the season 9 games behind Cleveland in the American League Central.
Continue Reading at Fayetteville Flyer