There's an old saying in football that says teams need two things to be successful: They need a quarterback, and they need someone to hit the other quarterback.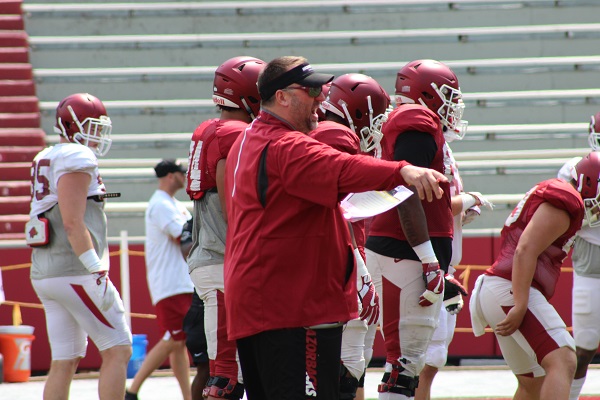 Photo courtesy of Bart Pohlman, Sport & Story
The Arkansas Razorbacks are lucky. They already have their quarterback.
Austin Allen, the senior gunslinger who led the SEC in passing yards last season with more than 3,400-yards and 25-touchdowns, is set to return for his final year at the helm of head coach Bret Bielema's offense. He was named to the Maxwell Award Watch List, the Manning Award Watch List, and will be key to whatever success the hogs have this season.
However, things are a bit more complicated on the other side of the football.
Last season, the Razorbacks' defense recorded just 25 sacks. This year, things weren't set to be much better. Jeremiah Ledbetter, their sack leader from last season, is now a Detroit Lion. They've turned to Paul Rhoads, a veteran coach with nearly three decades of experience–including six years as the head man at Iowa State, to help get their defense back on track.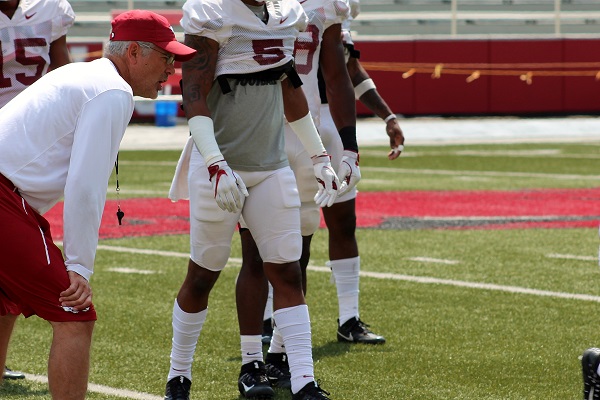 That's not all, though. Rhoads is bringing an entirely new defensive scheme with him.
This season, the Razorbacks will look to a new 3-4 defensive alignment in the hopes that it can better fit their personnel.
The 3-4 defense relies on a stout nose-guard to plug holes in the middle of the defensive line. That job will be filled in Rhoads' new scheme by senior lineman Bijhon Jackson.  Jackson, 21, recorded 9-tackles and 2.5-sacks last season. Many believe those numbers will need to improve if he is going to become the player the Razorbacks need him to be. For his part, though, Jackson isn't worried about individual statistics.
"I just want guys to turn on the film and see me being disruptive," Jackson said. "I don't really set goals for stats or anything like that. I think if I stick to my technique and do what I'm coached to do then the stats will come."
Yet, in the modern pass heavy era of college and professional football, 3-4 schemes are becoming more and more reliant on athletic outside pass-rushers flying off the edge to get after the quarterback. That type of elite rusher is extraordinarily rare. However, if the Razorbacks' transition to the 3-4 is going to be successful, it's exactly the kind of rusher they will need to find.
One candidate for the job is junior outside linebacker, Randy Ramsey.
Ramsey has had more than his share of difficulty since first coming to Arkansas. In July 2015, he was suspended from the team and Bielema made it abundantly clear that Ramsey's future with the team was in serious jeopardy.
"I don't think he'll be with us," Bielema said at the time.
Last season something changed.
Ramsey cleaned up his life, got back on track academically, and returned to the team. Playing in a limited role last season, Ramsey recorded three forced fumbles, 2.5-sacks, and 23-tackles. This year, he could be asked to do much more.
Ramsey's 6-foot-3-inch 220-pound frame, combined with rare athleticism make him an ideal fit to become a speed rusher in the 3-4 scheme.
"I think Randy overall is an important piece to our defense," Rhoads said. "I say that because Randy is a capable playmaker. We're not going to put 11 play-makers on the field. We're going to put 11 guys out there who know and understand their job and can execute their job, but Randy is one of those guys who can do a little bit more. He's got to do the first thing first, but he can pursue the ball and get off a block and get to the quarterback. Him doing that on a consistent will make us a much better defense."
Like most pass rushers, Ramsey knows what he's capable of and he knows what drives him. The success he has this season, and any improvement Arkansas can muster in their pass rush this season will be driven by one thing: the desire to win.
"Rushing the quarterback is a great way to help the defense," Ramsey said. "Being able to create sack fumbles and things like that can turn games around. You're able to help the team win."