So much has already been said about the dynamic and transformative life that Coach Frank Broyles lived that I find it difficult to add much meaning to the conversation that hasn't already been said.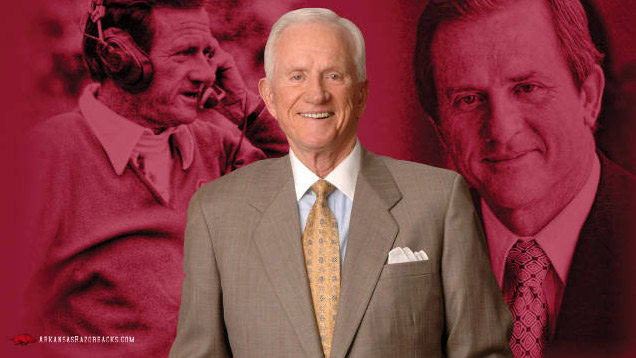 Anyone taking the time to read this story no doubt knows of his decades of service to the University of Arkansas first as head football coach (1958-1976), then as athletics director (1974-2007), and finally as a fund raiser and ambassador with the Razorback Foundation.
You likely know that before serving in the Navy during the last days of World War II, the Decatur, Ga., native became a three-sport letterman for Georgia Tech in football, baseball, and basketball, and was named the SEC Player of the Year for the 1944 football season.
You know that he is the only Razorback head football coach that won a national title when the College Football Writers of America awarded his 1964-65 Hogs the Grantland Rice Trophy after they were the only major-college squad to complete an undefeated season following the bowls.
You may also know that his Razorbacks were oh so close to winning national titles in 1965 and 1969 and that the 22-game winning streak his Razorbacks went on from the final game of the 1963 season until the 1966 Cotton Bowl was the longest of that decade.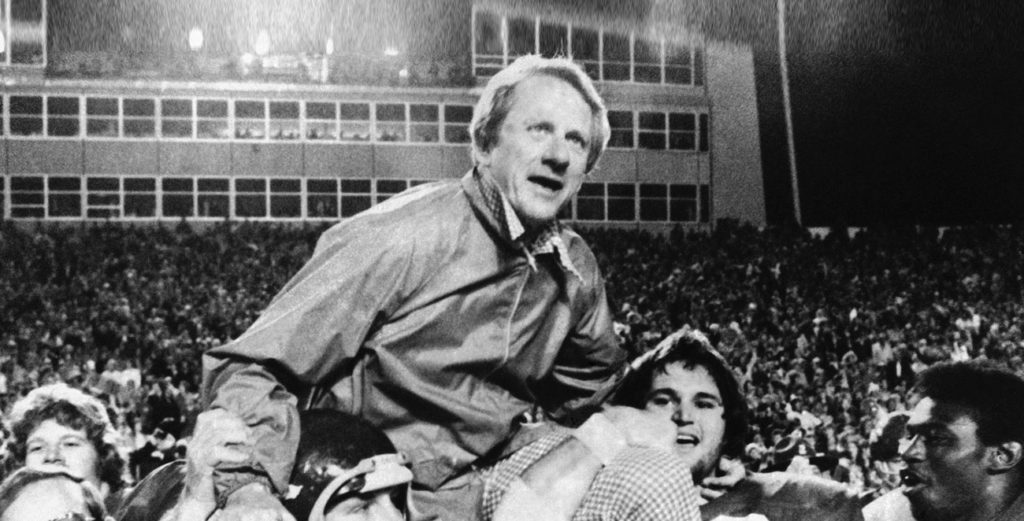 You probably know that at least 40 of his assistant coaches went on to become head coaches in collegiate for professional football. His coaching tree is a who's who of the game, including Jimmy Johnson, Barry Switzer and Johnny Majors who went on to win national college championships, and Johnson, Switzer and Joe Gibbs won Super Bowls.
While Coach Broyles devoted his early professional life to football, he was a champion of all sports as the UA's athletics director. He made basketball an emphasis, growing Arkansas' mediocre program into a national power by hiring Eddie Sutton. With a second revenue-producing sport, funds flowed into other men and women's sports, creating a proud tradition of an all-sports program that remains today.
During that same period, Coach Broyles worked for ABC with legendary broadcaster Keith Jackson to provide color commentary of the national football game of the week from 1977-1985.
You know that when Sutton got too big for his britches and "crawled" to Kentucky after the 1984-85 season, Coach Broyles made the landmark move of hiring Nolan Richardson away from Tulsa to take Arkansas' basketball program to even greater heights. Richardson became the first African-American basketball coach to be hired by a major-college program in the South. The hire coupled with Richardson's success quickly opened the door for more coaches of color to garner top coaching jobs in the South.
You know Coach Broyles was a man of vision, and perhaps his vision was clearest in 1990 when he worked to broker a deal that moved Arkansas, a charter member of the Southwest Conference, into the Southeastern Conference. Coach Broyles knew the gears of change were on the horizon, and he battled to make sure the Razorbacks would not be victims of that change.
A quarter of a century later, the SEC is the most lucrative and competitive conference in the nation, with each of its 14 members garnering $40 million a year from television contracts. Competing in the SEC is difficult, but being a member of the league gives Arkansas the funds to be ranked among the top 25 programs in terms of the athletic budget each year, without taking money from the state to do its athletic business.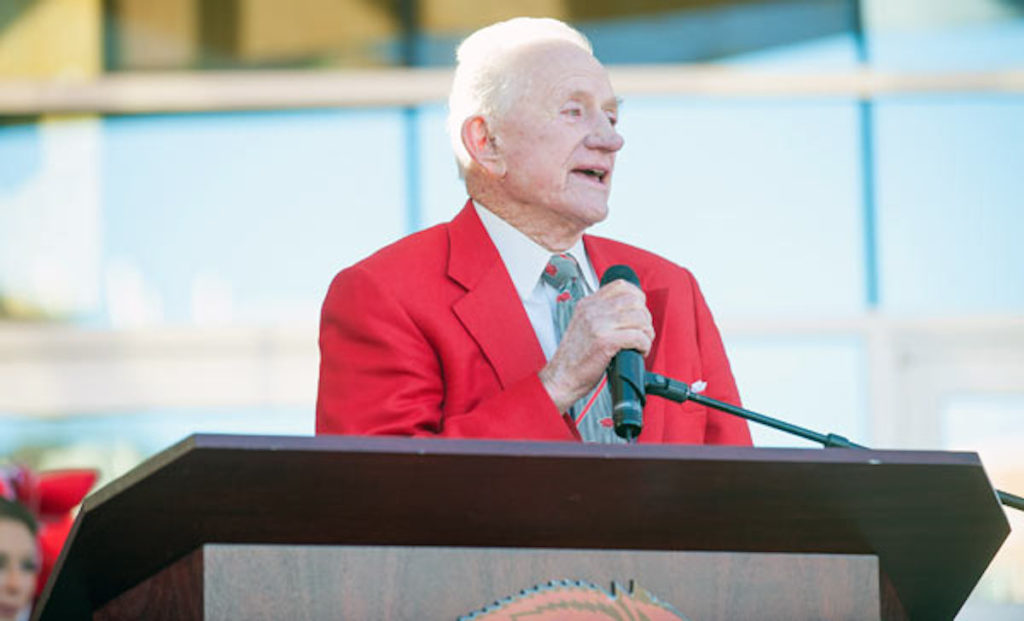 You may know that since his retirement as athletics director in 2007, Coach Broyles became a key figure in the fight against Alzheimer's disease as a fundraiser, lobbyist, and author of "Coach Broyles' Playbook for Alzheimer's Caregivers: A Practical Tips Guide."
It is a great guide that has been invaluable to my family as we care for my mother who suffers from the disease that robbed him of his first wife Barbara, and which ended his life on Monday.
While I did not know Coach Broyles other than on a professional basis, I interacted with him on countless occasions, first as a graduate assistant in Arkansas' Sports Information Department for a year and then as a reporter and columnist.
Veteran broadcaster Mike Irwin of KNWA dotes on telling the story of a "dumb kid" who spoke out of turn at a Razorback football practice when Coach Broyles sought compliments among the gathered media for hiring former Oklahoma coach Barry Switzer as the color commentator for football radio broadcasts with Paul Eels and Rick Schaeffer in 1991.
Coach Broyles asked the group what they thought of Switzer's first performance. No one spoke up until the "dumb kid" said something to the effect that Switzer sounded distracted and uninterested. To which Coach Broyles responded, I thought he was insightful and articulate.
Yeah, I was that "dumb kid."
Continue Reading at Fayetteville Flyer