Tucked away in uptown Fayetteville is a lush little courtyard; an urban oasis complete with greenery, blossoms, brightly colored bistro tables and now, coffee. This secret garden of sorts is ensconced behind an iron gate, and hedged in between a flower shop on one side and, on the other, a garden shop that is now home to Fayetteville's newest destination for coffee.  The Grounds at Garden Living brings new meaning to the idea of the "third place" as it is literally the third place of business owner Chelsea Hermez has opened in her little corner of Fayetteville; the first being PIGMINT, the flower shop, and the second, Garden Living, the garden shop.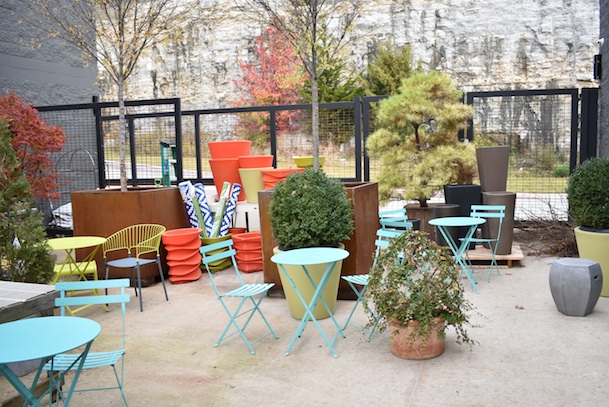 It may seem odd to find a coffee shop within a garden shop, but when you learn more about Hermez, who started her floral business in a vintage Airstream at the Yacht Club (a gathering of small, mobile businesses in downtown Fayetteville), the idea begins to become clearer. Besides, as Hermez says, it gave the public a reason to come into the courtyard and linger awhile. "It was just too special to be ignored. I wanted to give people an excuse to come to Garden Living more often and hang out in this beautiful space.  I always envisioned a coffee shop in Garden Living, but wasn't sure how to go about it," she said. She enlisted the help of Jon and Andrea Allen, owners of local coffee purveyor Onyx Coffee Lab, to bring her vision to reality. The fact that the space Garden Living now occupies was previously home to a sub shop with a kitchen put her that much further ahead.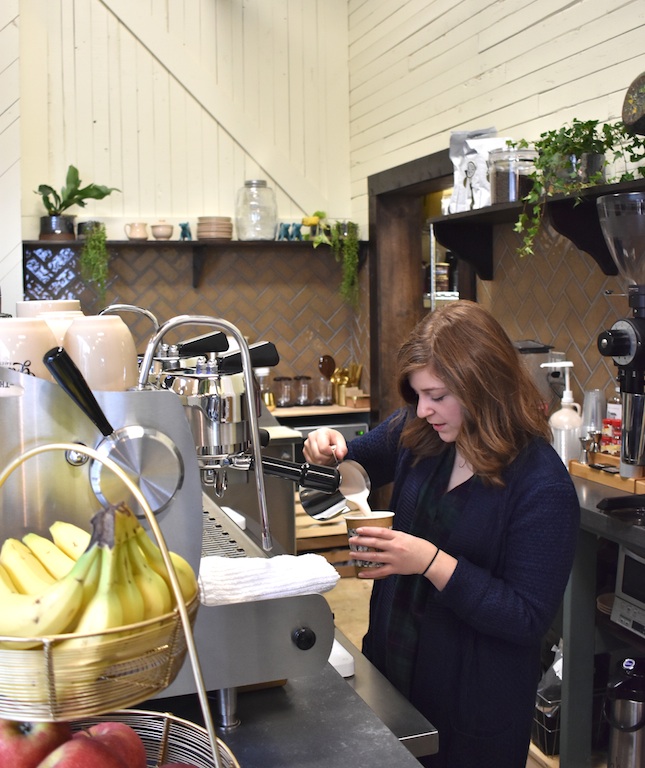 While Hermez had a mind for the business management and customer service, and could depend on her training in interior design to create a functional, beautiful space—she knew she would need to rely on someone knowledgeable about coffee to bring the coffee shop to fruition. This is where the Allens came in. Not only were they a great local resource for coffee, they were also instrumental in the hiring and training process. They recommended Natalie Rakes, a former Onyx employee, to manage The Grounds, and sent on names of other qualified applicants from which Hermez and Rakes selected their Groundskeepers (Hermez's name for the coffee shop employees).
Working with other local businesses and vendors is an important part of Hermez's business strategy. In fact, the menu at The Grounds is almost entirely local. In addition to serving coffee from Onyx, The Grounds also serves tea from Savoy Tea Company, pastries and cake from The Little Bread Co., and uses syrups from Pink House Alchemy in many of their drinks. This commitment to all things local can also be seen in the other two shops as well.  PIGMINT and Garden Living partner with local businesses when they can, whether it's the Botanical Garden of the Ozarks, flower farmers, tree growers, or the nearby apartment complex, Uptown Fayetteville.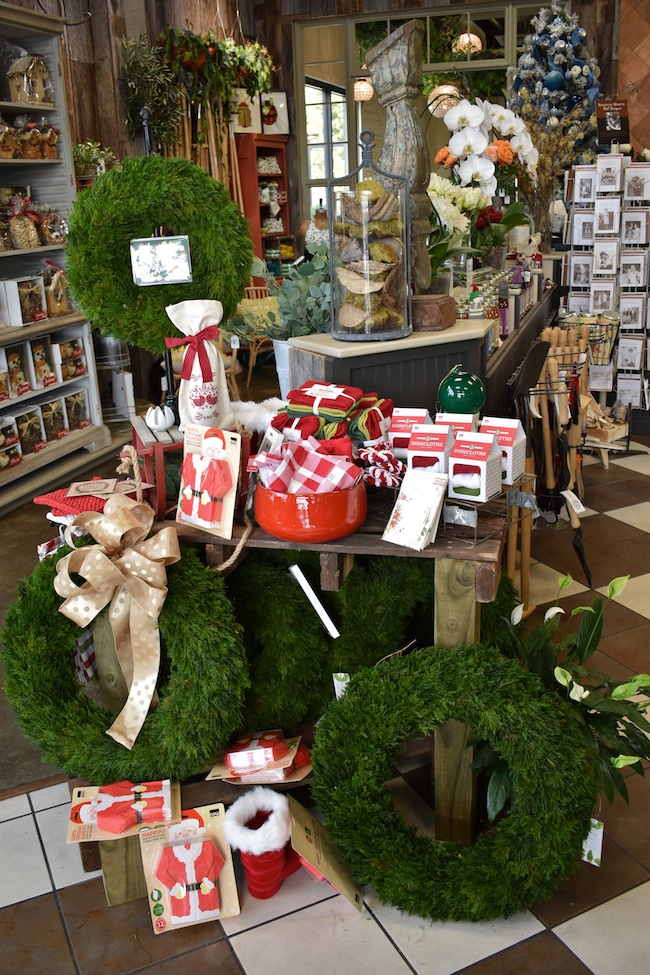 With Hermez's background in interior design, it is no surprise that when you walk into any of the three shops the décor and beautiful displays are the first things that you notice. In PIGMINT the vibrant color and glamour fit with the fresh, colorful flowers they sell. Garden Living is more natural and earthy, going along with the more traditional, decorative and useful items sold there including pottery, plants, trees, and gardening tools. The aforementioned courtyard between the two shops, described by Hermez as a blank, concrete box before they moved in, is now an inviting spot full of plants including trees, succulents, shrubs, herbs and flowers. The effort put in to bringing life to the space is evident in every corner, even up to the concrete wall where you'll see pallet planters bursting with plants. Inside The Grounds there is shiplap on the walls, greenery and dazzling chandeliers hanging from the ceiling, a couple of cozy booths and a bar with stools that look like they were salvaged from an industrial site. The atmosphere is homey—the kind of place you would go to hang out, catch up with a friend, have a business meeting, or just grab a drink.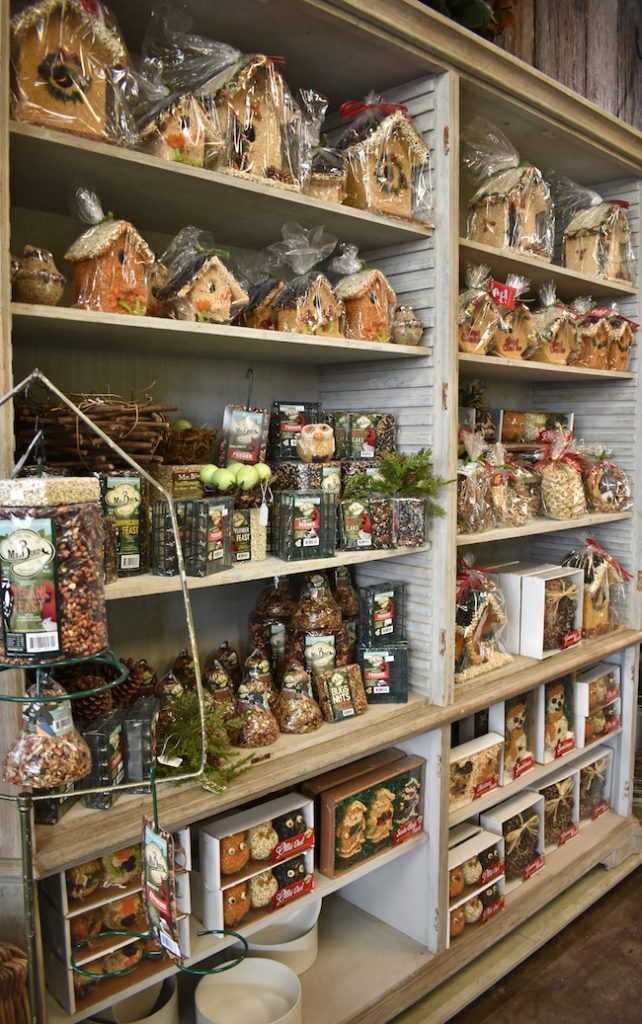 Events and Classes:
The highly trained and experienced staff at both PIGMINT and Garden Living offers classes to share their knowledge of plants, flower arrangement and more. You can choose from a variety of classes through Garden Living, including succulents, terrariums, and the very popular holiday wreath class, while PIGMINT hosts the floral classes. They also offer private classes to groups of 10 or more. Classes fill up fast!  Visit the website [insert: https://shopgardenliving.com/] for more information or to register. As an added bonus, Rakes said that the coffee shop will now stay open late when classes are in session so those attending can learn while drinking delicious beverages.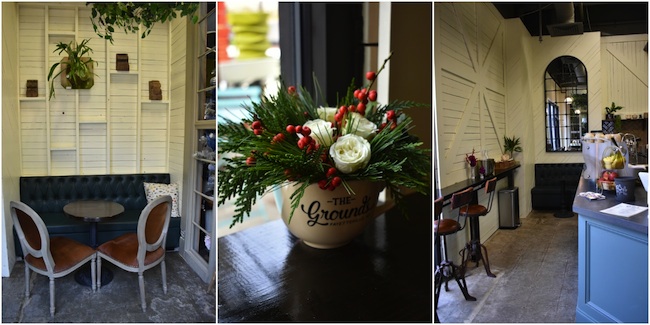 Both stores and the coffee shop also offer a variety of gift items from candles and home fragrances to seasonal décor, coffee mugs, and paper goods. According to Hermez, between the three shops you should be able to find something for absolutely everyone. When asked about the most popular holiday gift item, Hermez and the staff of Garden Living all pointed to birdseed. "Our most popular item for the Holiday season is our line of cute giftable birdseed. Birdseed covered birdhouses, ornaments, and wreaths.  They're fun to put out in the trees and watch the birds go crazy.  The presentation is beautiful, and it's a unique gift idea for that person you're not sure what to get," Hermez said.
Hours and Location:
All three shops are located in uptown Fayetteville off of Joyce Blvd. Spend some time looking around the shops, and while you're there, grab a Maple Cardamom Latte or another one of their great seasonal drinks.
PIGMINT | 100 E. Joyce Blvd. | Open 10 a.m. – 6 p.m., Monday-Saturday
Garden Living | 160 E. Joyce Blvd. Ste. 101 | Open 10 a.m. – 6:00., Monday-Saturday
The Grounds at Garden Living | Open 7 a.m. – 6 p.m., Monday-Saturday
The coffee shop opens at 7 a.m., but the shop doesn't open until 10 a.m. so you walk through the patio area to enter the coffee shop.