When I went to Rose Stop International Grocery & Gas Station to find out more about this hidden gem, I expected to gather history on the small business that corners a busy intersection in Springdale, Arkansas.
I certainly found history. More significantly, I discovered a story about the importance of connecting with other people—a theme weaved throughout every sentence I heard in conversation with Rose Dodras about her business, customers and family.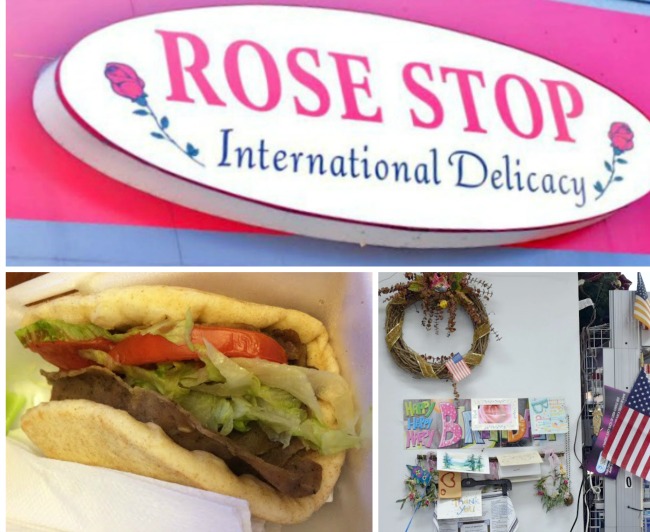 Rose's story begins 7,000 miles away—in Persia. She and her husband, Ali Golmirzaie (with Rose in header photo), moved to Nebraska in the 1970s and then to Fayetteville in 1979. She worked at the University of Arkansas student union in the kitchen for several years, supporting her husband (who had a degree in agriculture) as he worked on his Ph.D. in the field of agricultural genetics.
After Ali obtained his degree, he and Rose moved again, this time to Lima, Peru. And this time with two children. They called Peru home for several years. Ali taught and led a department at an international school; Rose had a driver and a maid. When her oldest son obtained a scholarship to attend medical school back in the States, Rose, who remembers with tears how difficult it was being separated from her own parents, knew that she did not want to be that far from her sons.
"I lived away from my parents for 18 years. And I knew, I knew that I could not be that far from my own children."
She also did not want her children to have to worry about jobs while studying, rather wishing for them to be free to study and pursue success in their careers. Rose and her husband gave up their life in South America and moved back to Arkansas in 1999. She worked again for the benefit of her family, this time at a department store, helping to support her children while they attended college.
"I told my sons: My job is to bring you into the world and help you. Your job during school is to study and become successful. I am going to do my job, so you can do your job."
Rose developed a deep connection and love for her customers during her time in the retail business, forming relationships and treating those customers like family.
That same kind of personal connection is what helped transform the gas station at the corner of Sunset Avenue and Pleasant Street from yet another corner convenience store to a place where being Rose's customers means being valued and offered the most delicious of foods. In the first years of owning the business, they often worked 15-hour days without profit, managing the store and the gas pumps and all the cleaning involved themselves. Rose gradually used her love of cooking and her love for people to draw in customers who thought they would be leaving with little more than a full tank of gas. She continues to run the local store with her husband and her brother, Raze Dodras.
Customers stop by for gyros, made fresh to order by Rose. They also arrive for falafel, baklava, bread, pies, and a variety of international and Middle Eastern products stocked on the shelves (and hard to find elsewhere). I regularly purchase her spicy breakfast burritos and spent some time eyeing the pistachio muffins she makes from scratch. When she found out that I wasn't buying those because one of my children couldn't have milk products, she made a large dairy-free batch. The day I went to get her story, I left with a gift loaf of banana nut bread made with almond milk and grape seed oil. My children finished it off in two mornings.
And though Rose loves to cook, it's the people who come in for the food who keep her going.
"Material items don't mean anything to me. I'm not a material person. The relationships we develop and our connections with others; that is what is important."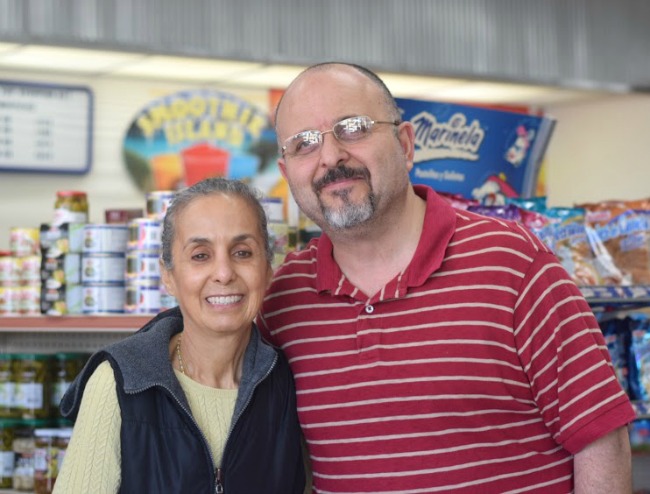 Rose with her brother Raze Dodras.
That spirit keeps the community coming back to Rose's store. In turn, the regular visits from others give Rose energy, something she says she would be without if she retired, as her family has encouraged her to do. She doesn't want to leave her customers who are her lifeline in a season where her health isn't good. She can't imagine missing out on greeting and talking with them each day. Seeing familiar faces come through the door and sending people on their way with smiles and hugs is her livelihood. And she doesn't plan on giving that up anytime soon.
Visit Rose at Rose Stop International Grocery and Gas Station at 1003 S. Pleasant St. in Springdale and follow them on Facebook.