A fresh new look, slight name tweak, and added dinner service are highlights of some big changes at 42 bar and table, the upscale, yet approachable restaurant inside Clinton Presidential Center. Previously known as Forty Two, 42 bar and table's stunning revamp is a welcome sight for both tourists and local diners.
"The whole restaurant was redone and designed by Gerry Mertains. We now have a new entrance with a beautiful foyer area and eye-popping paint and an amazing bar that rivals, if not exceeds, a lot of bars in town with its specialty drinks, local beer and spirits, and amazing selection of top-shelf options. The restaurant also has new furniture inside and out, as well as a patio with lounge chairs and fire pits that will definitely be a hopping spot once the weather settles down," says executive chef Gilbert Alaquinez.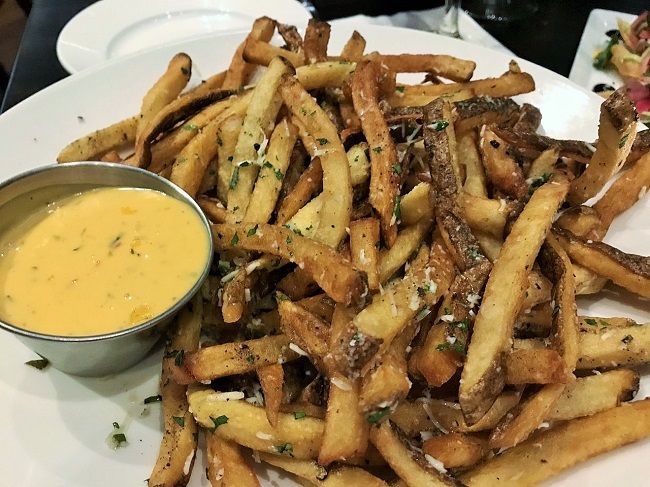 The view from 42's outdoor patio is second to none for this area, as it includes the Clinton Presidential Park Bridge and park that surrounds the Clinton Center.
"There's bar seating along the glass with chairs and tables topped with beautiful soapstone. We also have really comfortable lounge chairs that surround toasty fire pits where you can enjoy a cocktail and watch the lights on the Clinton Bridge change color," says Alaquinez.
An improved look and beautiful patio is great, but at the end of the day, top-notch food is what brings folks through the door. And 42 bar and table has that covered.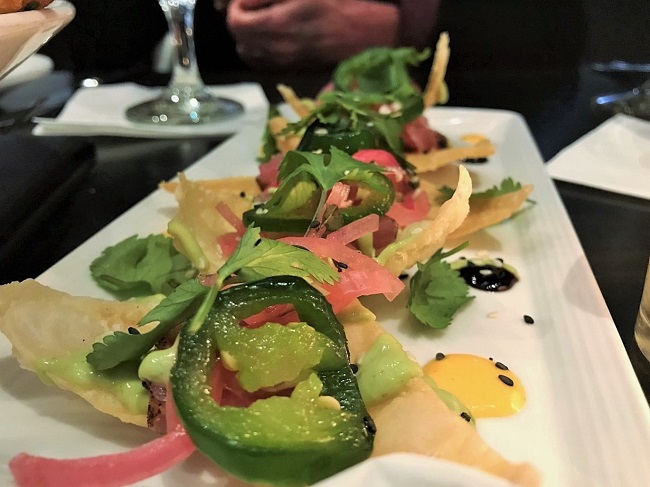 "For lunch, we have all the favorites you would expect in a modern American restaurant, which includes awesome burgers and sandwiches, amazing fresh salads, and a few sprinkles of international flair with the sesame noodle bowl and the chilaquiles. Our dinner concept is slightly different. The main focus is to highlight appetizers and entrees from around the world. We took inspiration from countries like Spain, Mexico, Germany, Italy, India, and added a little southern hospitality," says Alaquinez.
During a recent a dinner, I was particularly impressed with my order of Molé Spiced Lamb Chops with Sweet Potato and Pearl Onion Hash and Whole Grain Mustard Cream, as well as appetizers of Truffled Parmesan Fries with House Hot Béarnais, and Tuna Tostadas with Pickled Onions, Avocado Crema, Jalapenos, and Cilantro. Each dish combined delicious taste with a beautiful presentation and paired wonderfully with our wine. Service was friendly, knowledgeable, and attentive throughout the evening, and combined with a stellar setting, and it's easy to see why the big changes at 42 bar and table have elevated the restaurant into the upper echelon of Little Rock dining destinations.
Sometimes change is good.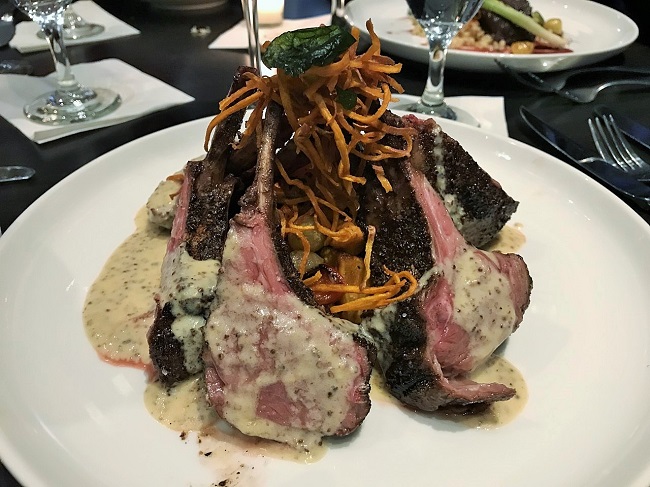 Popular Menu Items
Lunch: SSS Smoked Salmon Salad, Sesame Crusted Yellowfin Tuna Salad, Smoked Brisket Grilled Cheese, Local Craft Beer Battered Fish and Chips, The Arkansas Traveler Burger.
Dinner: Southern Chicken Biscuits, Crab Empanada, Fennel and Crushed Red Pepper Salmon, Hühner Schnitzel with Cheese Spätzle.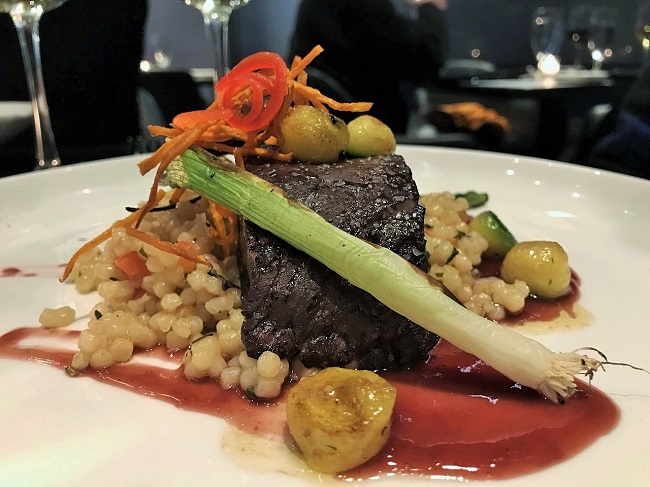 Did You Know?
The restaurant offers free valet parking for its dinner guests. The valet station is located in Celebration Circle right in front of the library. Also, 42 bar and table offers a Happy Hour on Thursday-Saturday from 4:30 p.m.-6:30 p.m.
42 bar and table
1200 President Clinton Avenue (Little Rock)
Phone: (501) 537-0042
Hours: Lunch Service, Monday-Saturday 11 a.m.-2 p.m.; Dinner Service, Thursday-Saturday 5 p.m.-10 p.m.; Bar Hours, Thursday-Saturday 5 p.m.-12 a.m.