I'm a born and raised Texan. I only mention this fact on OnlyinArk.com because when you spend 30+ years of your life in the state of Texas, you end up knowing a thing or two about brisket.
In the Texas barbecue scene, beef rules and brisket reigns supreme. In Arkansas, however, pork butt and ribs are the main draws, while brisket is often overlooked at many joints around the state. This isn't the case at Wright's Barbecue in Johnson, where smoking great brisket is at the forefront of this burgeoning barbecue powerhouse.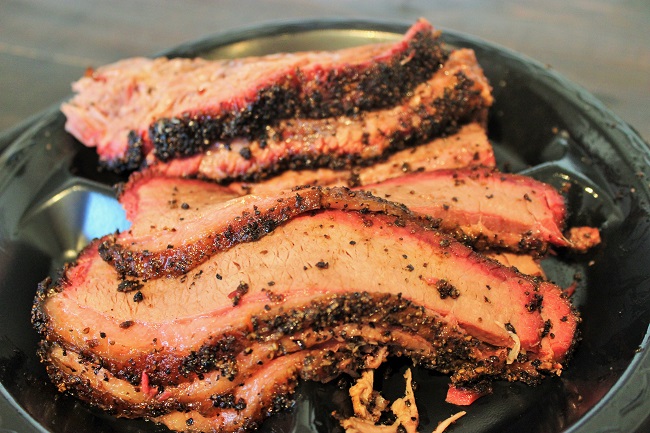 Knowing people will come from far distances for top-notch barbecue and not overly enthused about the possibility of waiting in a long line, I got the family up early on a Saturday morning, and we made the drive from Little Rock to Johnson. We arrived one hour before the scheduled 11 a.m. opening to a line of zero. Frankly, this was my first time at Wright's, so I didn't know what to expect. Thirty minutes later, the line was thirty people deep of ravenous Arkansans ready to eat healthy portions of meat before their Hogs' game.
At 11, we filed into the small house, ordered a ton of food, and sat down at one of the few inside tables. Just know there's also plenty of outdoor seating. Our table was immediately adorned with a plethora of barbecue offerings, from smoked pork ribs to slaw to mac & cheese to potato salad to baked beans, and, of course, slices of beautiful brisket.
While it's essential to order both the lean and fatty pieces of brisket, barbecue die-hards will tell you the latter is the real prize. With a dark salt and pepper bark and gorgeous smoke ring, Wright's fatty brisket practically melts in your mouth. Everything else on the table was outstanding, but, make no mistake, the brisket is what makes Wright's a barbecue destination spot and a place that measures up with many of the iconic Texas heavyweights. I'm only guessing the same can be said about the beef ribs, which, unfortunately, weren't available during our visit.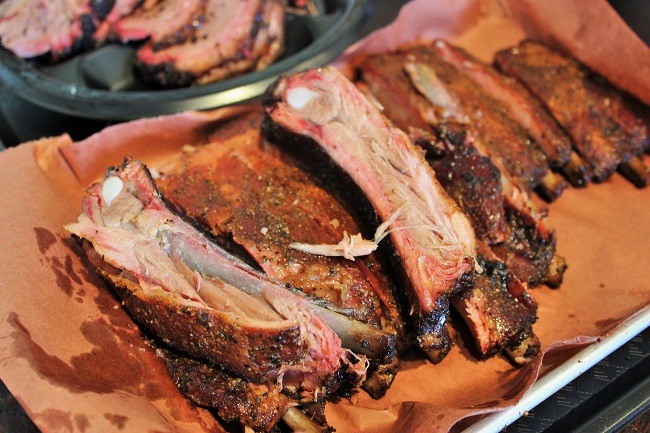 All of our sides were tasty, especially the hearty baked beans and coleslaw with its unique inclusion of pickle pieces. People will tell you that great barbecue doesn't need sauce, and while this may be true, just know that Wright's also does it particularly well.
From the taste of things, it's hard to imagine that there's better barbecue in Arkansas than what the folks at Wright's Barbecue are churning out.
Just make sure to order plenty of brisket.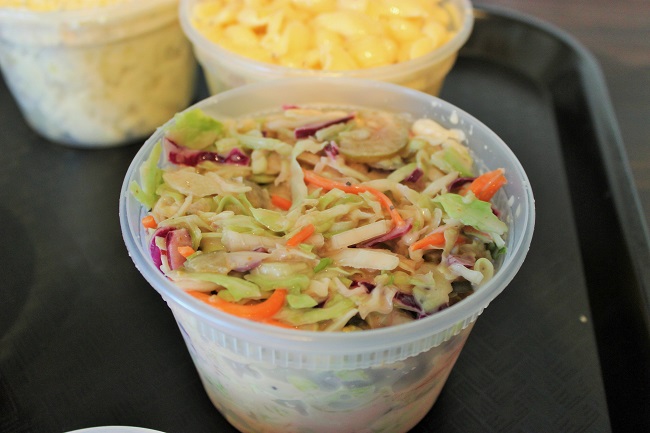 On the Menu
Smoked Meat (by the pound): brisket, pulled pork, chicken, bacon burnt ends, ribs (by the rack), sausage (by the link), and beef ribs (Saturday only); variety of sandwiches; Sides: mashed potatoes, mac & cheese, roasted veggies, cole slaw, green or smoked beans, potato salad; BBQ Plates: brisket, rib, pulled pork, 2 Meat, and Texas Trinity; Homemade desserts also available
Wright's Barbecue
2212 Main Drive (Johnson)
Hours: Tuesday-Saturday 11 a.m.-9 p.m.
Phone: (479) 633-7229