As Old Man Winter continues to bear down, I find myself in a desperate search to please my stir-crazy family. On our most recent small-town adventure, we landed ourselves at Coffman's Sweet & Sassy Confections in Heber Springs, Arkansas; a dream come true for my young son who has become quite fond of sweets. We have visited Coffman's on numerous afternoon occasions to survey the delightful goods, but this was our first time to experience afternoon tea. Afternoon tea service is offered from 11-2 Monday through Saturday and includes your choice of assorted tea sandwiches or a wrap, fresh pastries and mini scones, a beverage (hot or cold tea or a soft drink) and, of course, chocolate.
Once we settled in at our table to study the menu, we had to keep ourselves focused on the meal before the dessert; for sweet temptations are abundant! From our seats, we could see all the various chocolates behind the glass counter – Valentine's gift-basket selections, cookies, scones, cupcakes, pre-made chocolate boxes, mix-and-match candy choices and of course the seasonal favorite hand-dipped chocolate strawberries.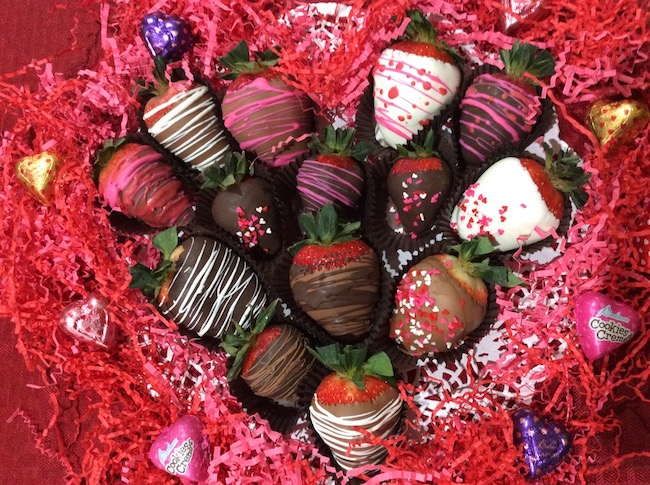 The arrival of our food evoked an atmosphere of a special outing. It was not your average plain-Jane eat-and-go lunch, rather; tea time had arrived, and the presentation was something to be noted. Our tea sandwiches and soups were elegantly arranged on beautiful bowls and plates. Our whole family felt as if we had stumbled onto our very own party. Even my son's peanut butter and jelly sandwich was placed with care on his tiny plate.
We found ourselves tempted to jump right to the sweets included in our meal (an array of scones, chocolates, and small cupcakes) but we stayed the course and enjoyed the savory dishes before us. Each sandwich was served with sides and veggies to compliment it. Once we devoured our meal, we all eagerly moved onto the cupcakes and other goodies.  Even my husband who was initially skeptical of the ability of tea sandwiches to satisfy his appetite was more than happy with his midday meal. We left very thrilled with our small-town adventure and with definite plans for future lunches and sweets shopping.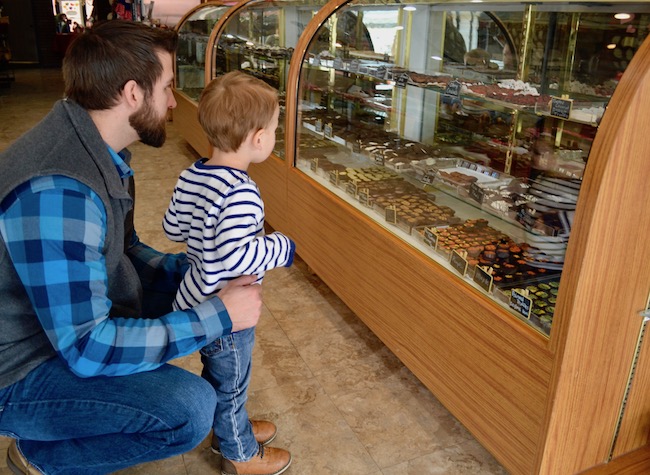 Coffman's Sweet & Sassy Confections is owned by Jim and Helen Coffman who make 90% of the chocolates available. The process of crafting the chocolates is quite lengthy but knowing even a tiny bit surrounding the process of making their chocolates helps you to appreciate the delicious morsels entering your mouth. The Coffman's shared with me the creation of their various coveted chocolates, including varieties such as their hand-dipped Oreos, strawberries, fruit peels, and fudges. 
For the chocolate selections which are not hand-dipped, Ms. Coffman creates the centers for each chocolate variety in advance. The coating chocolate is tempered in a large vat which takes at least four hours. If not tempered correctly, the chocolate will bloom (a whitish coating that can appear on the surface), resulting in an undesirable product. Once tempered, the chocolate is transferred into a piece of equipment known as an enrober. As a conveyer belt guides the centers, the enrober covers each center with layers of chocolate. Once enrobed, the tops of each chocolate are decorated to identify what hides inside of each. The chocolates are then moved onto a cooling rack and left to set overnight before they are ready for their grand debut. Each batch produces approximately 300-400 chocolates and takes about five hours to complete.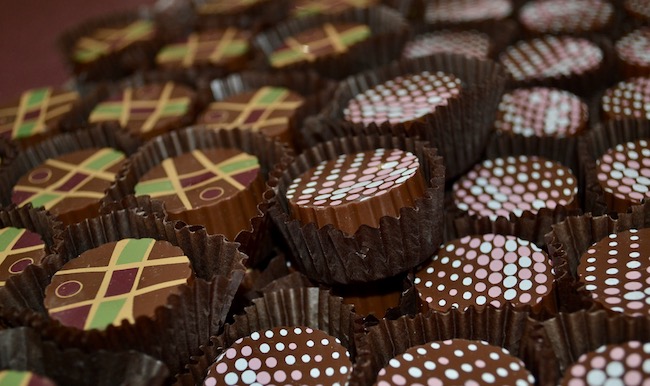 The Coffman's have always had the pleasure of providing quality chocolates to various gift shops, businesses and hospitals across Arkansas, and they continue to do so at their current location in Heber Springs. Coffman's offers something special for every season. The summer brings varieties of flavored popcorns and cotton candy. The crisp fall air guarantees the arrival of pumpkin goodies galore with bread, cookies and scones, along with their chocolate caramel apples. During the winter holidays divinity and fruit peels are popular, and each Valentine's Day they enjoy making thousands of hand-dipped strawberries for their customers.
The Coffman's aim to provide a place for their customers to bring friends and feel a bit fancier while dining on scrumptious tea sandwiches.  They wanted not only to offer chocolates but also to provide a place for their customer to create personal traditions.  After experiencing tea time for ourselves, I believe we have found our small-town tradition.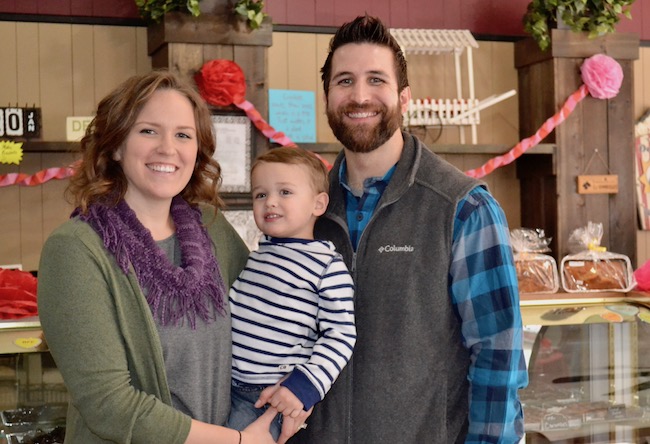 "For not just big cities have chocolatiers. Sometimes small towns in the mountains have them, too." ~ Ms. Helen Coffman, Co-Owner Coffman's Sweet & Sassy Confections