With temps dropping, it's finally starting to feel a lot like winter throughout the state of Arkansas, making it a perfect time to enjoy some delicious, homemade soup. While many soups can be bogged down with several ingredients, others, like this simple-to-make Potato Leek Soup, won't have you running out to the store in search of several items.
All you need are nine ingredients: leeks, potatoes, heavy cream, salt, pepper, bay leaf, celery, and fresh thyme. That's it, and everything is easy to find at any of your local grocery stores.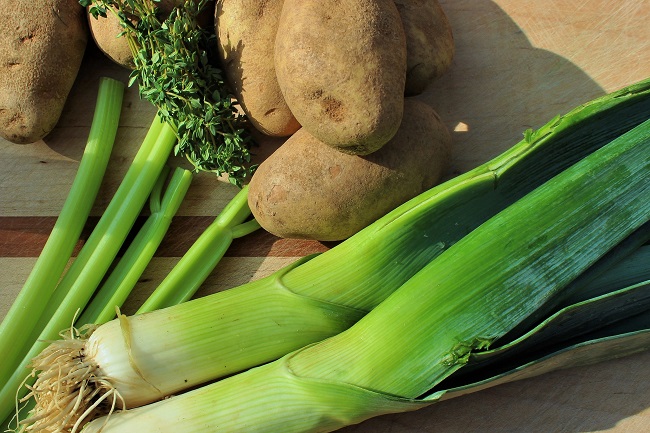 Unlike most heavy, chunky potato soups, this recipe yields a smooth and velvety broth, but one that is also quite hearty.
First things first, peel six russet potatoes, cut into large pieces, and place in a large pot with the chicken stock. If you're a little lazy, like me, you can buy your stock, instead of making one. Next, slice the white parts of the leeks into fairly thin pieces and add to the stock. Please make sure to discard the green part of each leek as they are tough and don't belong in the soup. Add some chopped celery, a bay leaf, and some fresh thyme, along with salt and pepper. Boil everything for 15-20 minutes, remove the bay leaf, and transfer the contents (in small batches) to a blender.
It is very important to not fill your blender to beyond the half-way point with soup. Also, make sure the lid of the blender is a little cracked, as this will allow some steam to escape and not have the lid potentially pop off from pressure. Blend each batch for 20-30 seconds and transfer into another pot. Once you've blended each smaller batch and returned it to the second pot, set your stove on Medium and add a ½-cup of heavy cream. The recipe calls for a full cup of cream, but I'm all for saving a few calories and found the end-product was smooth enough without adding the full amount of cream. Finally, heat the soup through and serve.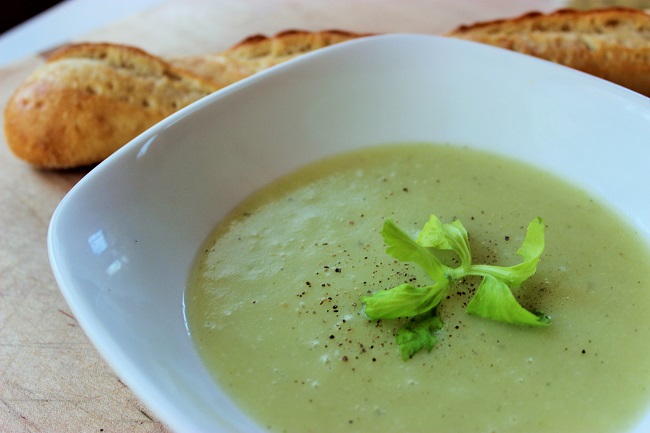 This Potato Leek Soup is simple enough to use as an appetizer for a small holiday party, or you can treat it as a full meal for the family on a Wednesday night. If you're doing the latter, I highly recommend toasting a nice, crusty baguette with butter to accompany the soup.
The end product is quite tasty and the mellow, green color makes for a beautiful presentation.