When I was a kid, I could not stand sweet potatoes. The very thought of them made my stomach turn. Boy have times changed. I now absolutely love them, and there's really no better time and place to enjoy sweet potatoes than right on the Thanksgiving table. With the holiday just around the corner, I thought it would be a perfect time to share with you a can't-miss recipe.
How does Roasted Sweet Potatoes with Prosciutto and Chimichurri sound?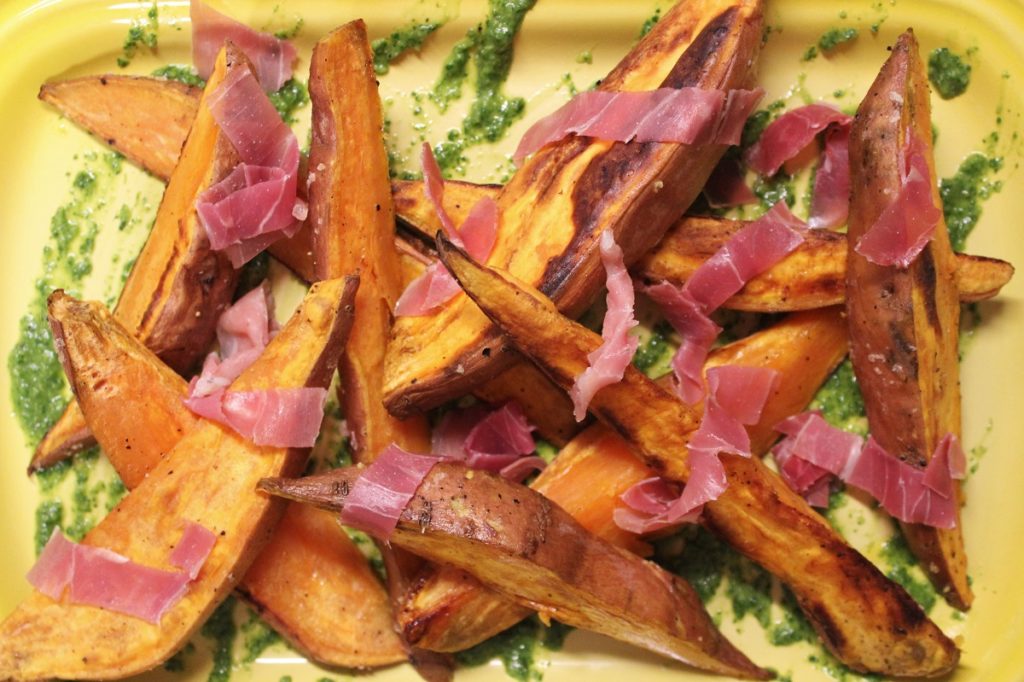 Now, I know what you're thinking? "Where is my sweet potato recipe loaded with brown sugar, cinnamon, and marshmallow topping?" Don't get me wrong, I love that as well, but I thought it would be a nice change to mix in a more savory version for Thanksgiving. And, if you're anything like me, you'll probably end up making both.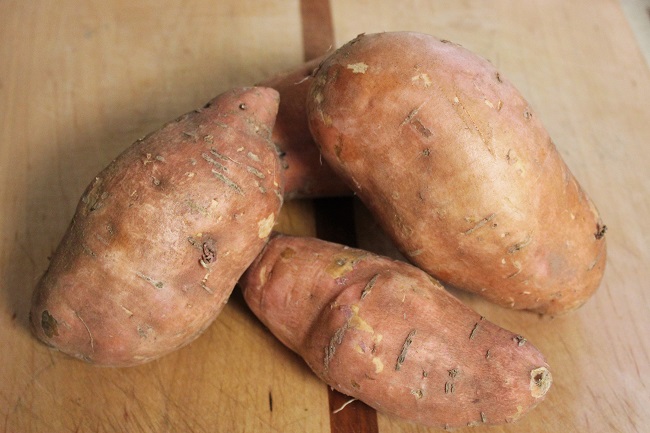 Here are a few tips when making this sweet potato recipe:
Make sure to cut the sweet potatoes in fairly uniform wedges. It's not a deal-breaker, but for presentation purposes, you're not looking for any misshapen wedges on the table.
When you're cutting the sweet potato into wedges, it's best to keep each piece fairly narrow. Large wedges won't cook through, and you really want a nice, soft potato once the roasting process is complete.
Place the wedges inside a massive bowl, top with olive oil, salt and pepper, and toss. This ensures an even distribution of the ingredients on each wedge.
For your chimichurri sauce, know that a little goes a long way. Make sure to evenly spread the sauce on your platter behind placing the roasted sweet potatoes on top. But again, don't go overboard with the sauce. You can always add some more later, if desired.
After slicing the prosciutto, make sure to separate the meat into strands. The meat will stick together and it's important to distribute it evenly across the sweet potatoes so as not to get big chunks of salty meat on each bite.
If you prefer crispier wedges, set the oven on broil and finish for 2-3 minutes before removing.
This recipe is truly is a unique take on a classic Thanksgiving side dish. The fresh, vibrant herbs with the sweet potatoes and salty prosciutto proves to be a winning combination and a visually appealing dish that is sure to wow your guests.
Learn more about how farmers are Growing Arkansas Sweet Potatoes here.