Chef Matthew Bell of Little Rock's South on Main has always prided himself on constructing a menu comprised of creative spins on Southern classics. Seasonal menus feature a rotating list of ingredients paired with staple proteins like rabbit, duck, trout, pork, beef and, yes, catfish.
From Day 1, Chef Bell knew catfish would always be on the menu at South on Main.
"I think it really speaks to Arkansans," says Bell.
And while the restaurant does offer the always popular fried catfish during its lunch service (comes with cole slaw, French fries, and hushpuppies), dinner folk should expect to see a lighter, seared version in the evening hours.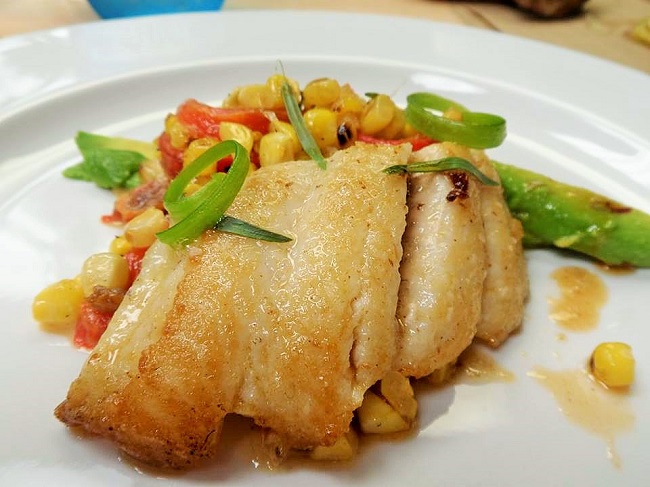 Says Bell, "I like fried catfish but prefer the seared version. The fish takes to the caramelization in the pan nicely and it really changes the flavor."
Evidently, catfish is also quite versatile. Over the course of the past few years, Bell has paired it with items like slaw and sweet potato fries, lentils, and pork belly, as well as fried Brussels sprouts, hushpuppies, and remoulade, just to name a few.
As for Chef Bell's favorite take on his catfish?
"I love the Catfish Maque Choux, but my favorite is with Brussels sprouts and grit sticks."
While I do love those grit sticks, fortunately for diners, the Catfish Maque Choux is currently on South on Main's Spring Menu. Bell takes this traditional Southern Louisiana succotash dish and adds his sweet and spicy pepper jelly, along with pieces of crispy fried okra. The end product is total comfort food, a wonderful balance of hearty vegetables with a mild and delicate serving of catfish. As someone who has ordered just about every variation of Chef Bell's catfish, I can tell you that his latest creation is my favorite one yet.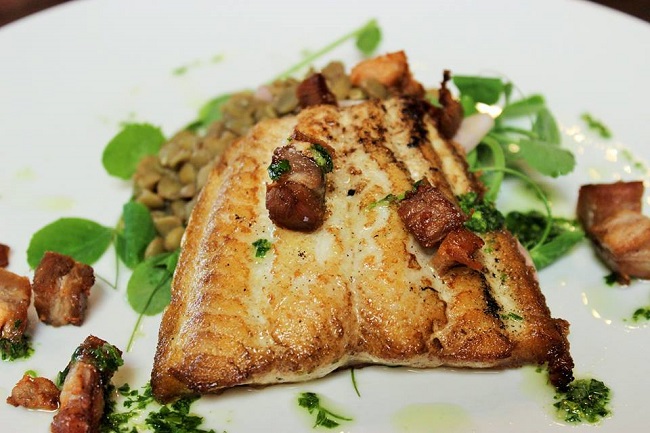 But maybe catfish just isn't your thing. Fear not, South on Main's menu includes a broad range of dishes, from The Double, a two-patty, sesame seed bun beef burger with pimento cheese to the Country Fried Cauliflower, a vegetarian plate featuring red potatoes, spinach, and onion gravy. You can even start out your meal with an order of fried chicken livers, some fried green tomatoes with crab remoulade, or a jar of egg salad. The restaurant is also home to one of the best bars in town, a perfect spot to enjoy an Old Fashioned, local beer on tap, some bar bites, and a concert.
At South on Main, you definitely have options. Just make sure to save room for some catfish.
Did You Know?
The catfish at South on Main comes from Pride of the Pond, a Mississippi company. South on Main is open for lunch and brunch. Click here for full menus. Music lovers can also check out the restaurant's complete schedule of concerts.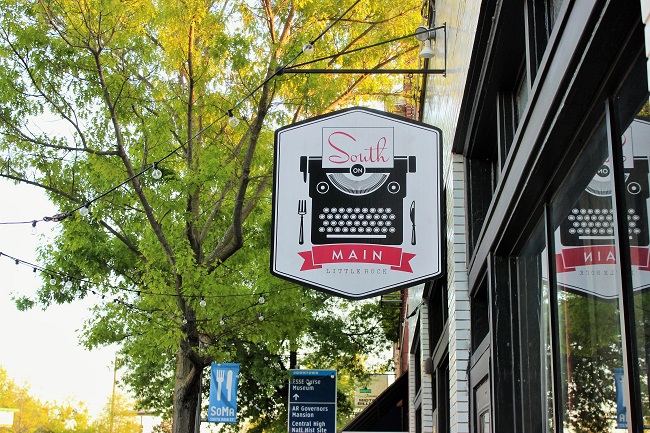 South on Main
1304 Main St (Little Rock)
Hours: Monday: 11 a.m.—2:30 p.m.; Tuesday-Friday 11 a.m.-2:30 p.m. & 5-10 p.m.; Saturday 5-10 p.m.; Sunday 10 a.m.-2 p.m. Reservations accepted for dinner.