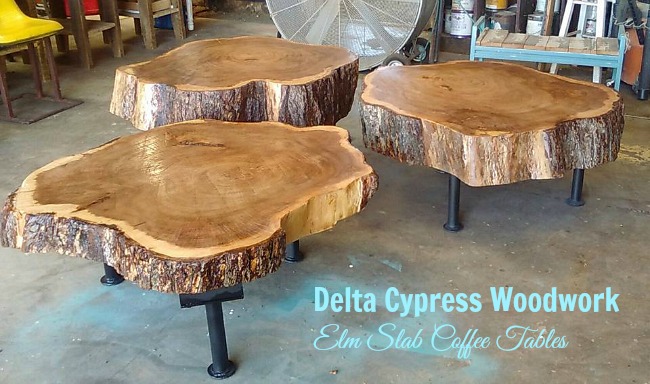 Local Mississippi County resident, Khris Goble, is preserving the history of Northeast Arkansas one plank of wood at a time. Literally. After a recent heavy spring rain, he fished a log out of a nearby canal, dragged it to his shop, and crafted it into a gorgeous tabletop. "I see value in everything," he said. He takes the idea of repurpose, reuse, and recycle to another level.
Goble grew up on his family's farm at Carson Lake off Highway 61 between Wilson and Osceola. "I drove a combine by age nine," he said. "Farming is all I knew." That's certainly not the case today.  Today, Goble is a wood artisan with an eye for furniture design and a passion for saving otherwise forgotten lumber. The road he traveled to discover his life's calling wasn't always a smooth one.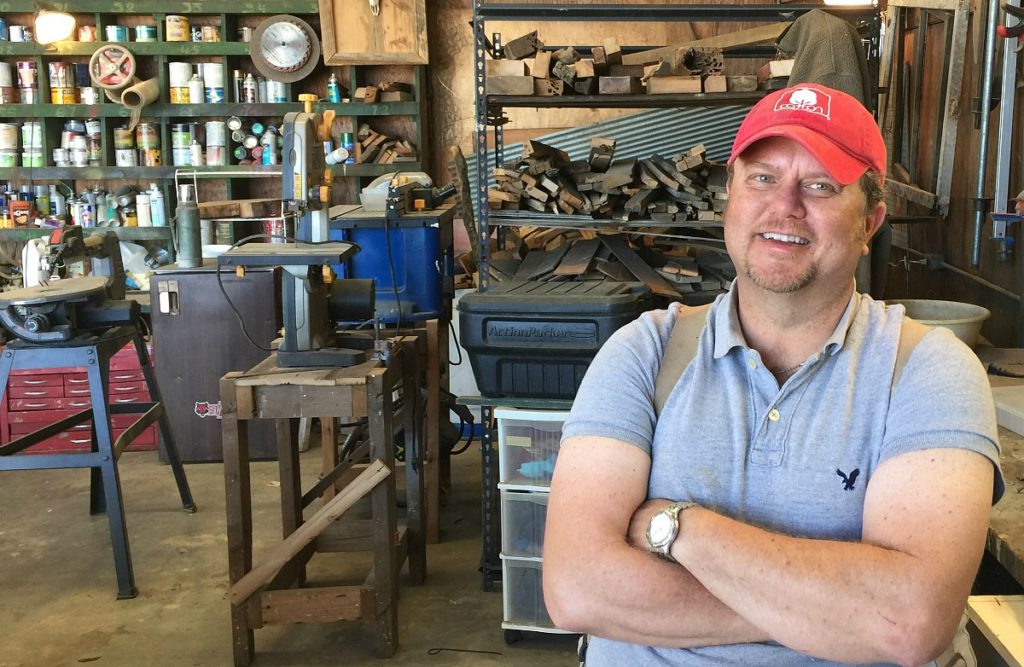 In 2005, Goble moved to Louisiana for a "change of scenery". While managing a friend's unfinished furniture store in Baton Rouge, he discovered he had a natural talent for building furniture and working with wood. "When I was a kid, my grandmother always took me to flea markets and antique stores on weekends. I think that stuck with me because I love old things, especially old wood," he said.
Nine years later at the age of forty-one, Goble had a stroke while honeymooning in New Orleans. Doctors said he would never walk again. "Heck of a honeymoon," he said with a sarcastic chuckle. Without insurance or options, the newlyweds returned home to the farm in Northeast Arkansas and thus began his self-directed rehabilitation. With the help of his wife, Goble began a six-month period of recovery, progressing from wheelchair to walker to cane to walking on his own. During this time, he spent as much time as possible woodworking in the shop behind the home place, crafting pieces from whatever scraps he could find. "Woodworking was my salvation. It was my rehab," he said.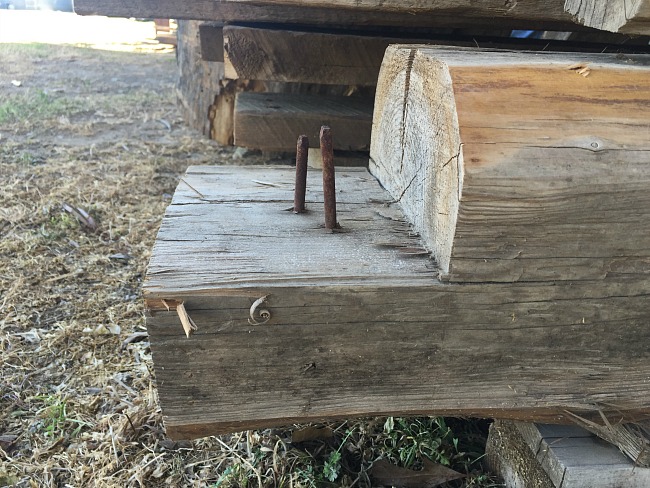 Two years later, Goble still has difficulty walking and never regained all the strength in his right hand. "I reached a plateau in my recovery," he said. That's certainly not the case with his business, Delta Cypress Woodworks. He continues to operate from the shop out back, surrounded by flat delta fields. "I work seven days a week because I love it. It's fun for me."
Goble works alone but shares his workspace with a family of barn owls. "They watch me work. We keep each other company." His workshop is jammed floor to rafters with reclaimed fixtures, odds and ends, furniture projects in process, and equipment. Folks in the area call him whenever an old house or building needs to be torn down. Reclaimed lumber is his raw material, and there's plenty of inventory in the area.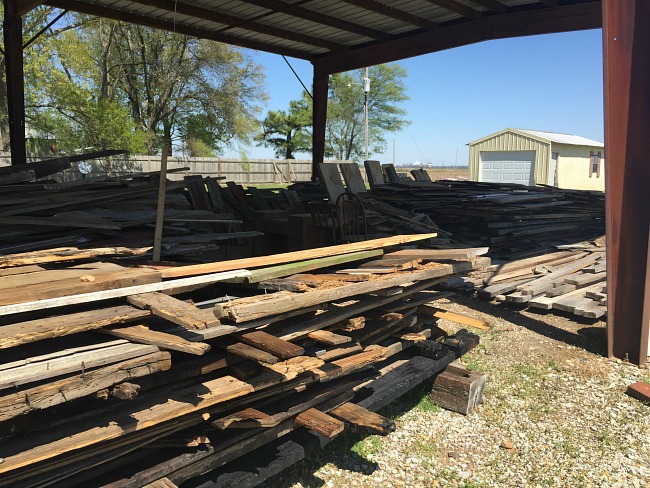 The covered outdoor space beside his shop is a woodpile maze. "I can tell you where every single board came from," he explained to me while pointing out a stack of cypress hand hewn logs, a pile of antique boards with wooden dowels still in place, and a pile of tongue and groove pine.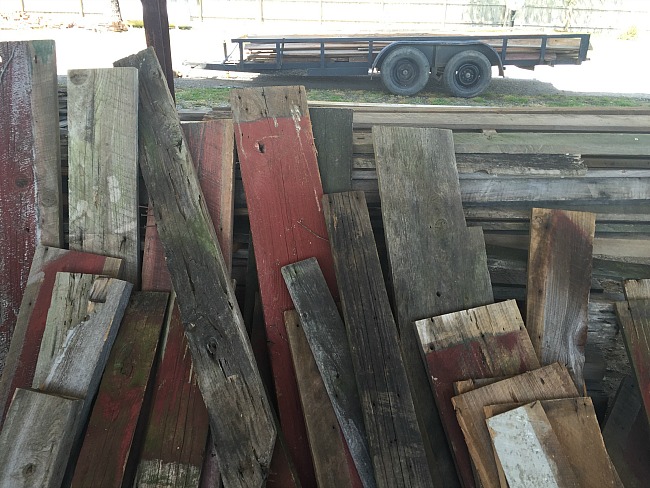 "Those came from the Morgan barn in Bondsville. And those reddish boards came from Jeff Lynch's barn behind the Hog Pen." As Goble describes the wood and the projects, I couldn't help but feel there was much more at play than mere woodworking. Those stacks of wood came from places I knew, places that had been part of my home county landscape for years. To me, they seemed anything but ordinary planks.
Most of Goble's projects are designed and completed on an "as ordered" basis for friends and area folks based on word of mouth recommendations. In addition to individual jobs, he's done work for Tyboogie's Café in Tyronza and Trolley Stop in Memphis.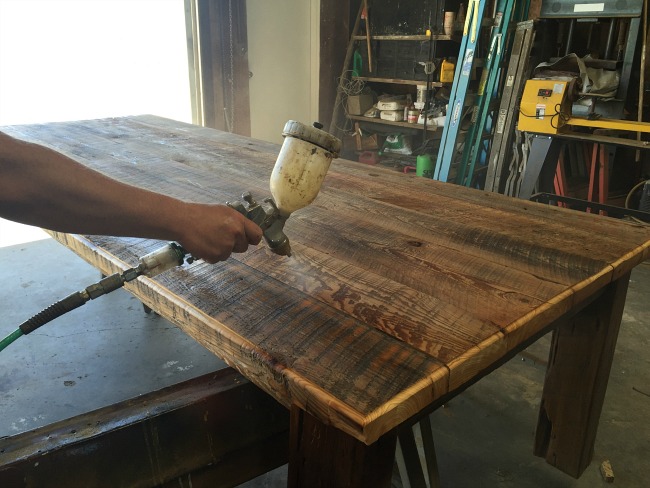 I watched as he added a coat of varnish to a gorgeous 700-pound table custom built for a local customer. I was surprised to learn he turns around most projects in only one week. My prediction… when Garden & Gun finds out about his pieces, this will change.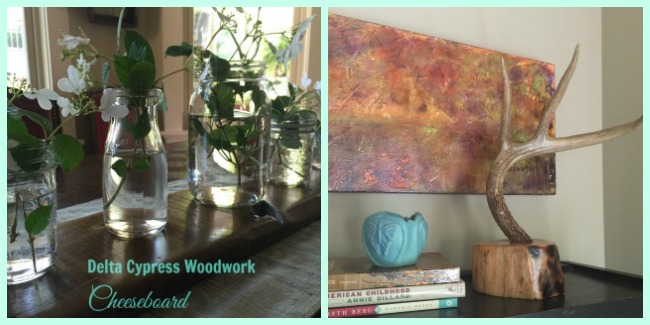 Goble has a few in-stock items, mostly smaller pieces like cutting boards and mounted antlers, which can be used as wall decorations or to hold jewelry. I bought one of his cheese boards a few years ago at Priceless Galleries in Wilson. Each piece includes a tag identifying the original source of the wood. I love that.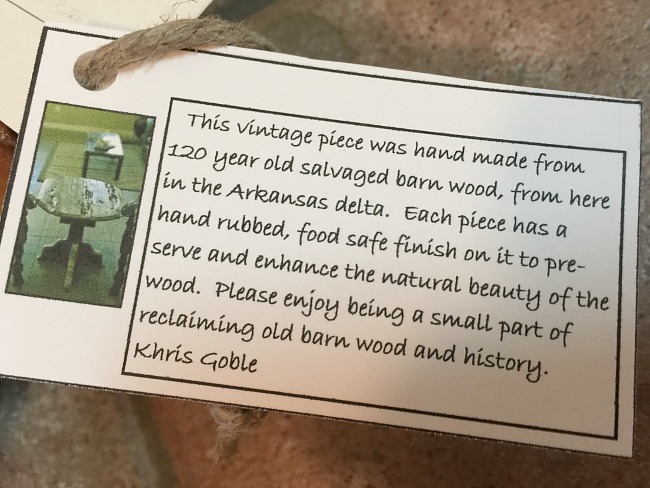 I also love this story's O. Henry type ending, not that this story is over by any means. Woodworking saved Khris Goble by helping him rebuild his strength, independence, and giving him a passionate purpose. He, in turn, reclaims wood from old Mississippi County barns and homes that otherwise would be lost. The history of those places lives on. And vice versa.
Goble prices his work at $20/hour and $5 per board foot. To inquire about a custom project, contact him directly at (501) 712-9159.