The night sky just got a little easier to see in Northwest Arkansas. Supporting STEM and Space, Inc., also known as S-Cubed, is a nonprofit group created to generate interest in science, technology and math and ultimately to see a science center built in Northwest Arkansas.
S-Cubed began on the campus of Northwest Arkansas Community College (NWACC). Dr. Katherine Auld, a science professor at NWACC, saw increased interest in building a planetarium in Northwest Arkansas and started gathering people across the area who share similar interests in space, science, and technology. They first met in October 2014.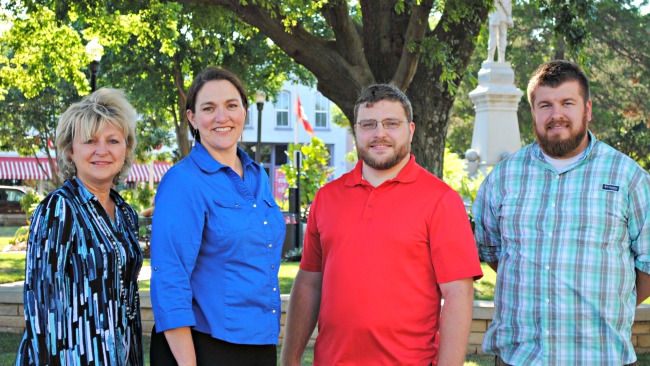 S-Cubed Board Members Penny Holland, Katherine Auld (Chair),
Clint Branham (Vice Chair), and Dustin Masterson
S-Cubed started its efforts to raise awareness of STEM and Space through a series of local events like Moon on Dickson. Each month during the quarter moon phase, a few members of S-Cubed set up telescopes on the corner of Dickson Street and West Avenue in Fayetteville. They don't charge anything to look through the telescopes, but they set out an Erlenmeyer flask for anyone interested in donating. These monthly moon viewings have proved popular with Dickson street goers and people often donate a few dollars when they learn of S-Cubed's mission.
Those donations have already started to pay off for residents in Northwest Arkansas. Recently, the group purchased nine small telescopes and placed them in libraries across NWA. These telescopes are available for patrons to check out for a short period of time.
S-Cubed's Dustin Masterson trains librarians in the use of their new library telescope. Librarians will give brief training and care instructions to patrons who check out the telescopes.
The telescopes in libraries program originated in 2008 when New Hampshire Astronomical Society Member Marc Stowbridge decided to donate a small telescope to his local library in an effort to generate interest in astronomy. The telescope was a hit. Other astronomy based programs across the U.S. loved the idea. The St. Louis Astronomical Society has placed 131 telescopes across the city. In Northwest Arkansas, you can check out telescopes in Bentonville, Bella Vista, Rogers, Gravette, Fayetteville, Prairie Grove, and West Fork, but bear in mind you might have to wait awhile to take your telescope home and check out the night sky. Fayetteville's telescope has 23 people on the waiting list. The interest in Bentonville is so high, a patron decided to donate enough money to purchase a second telescope.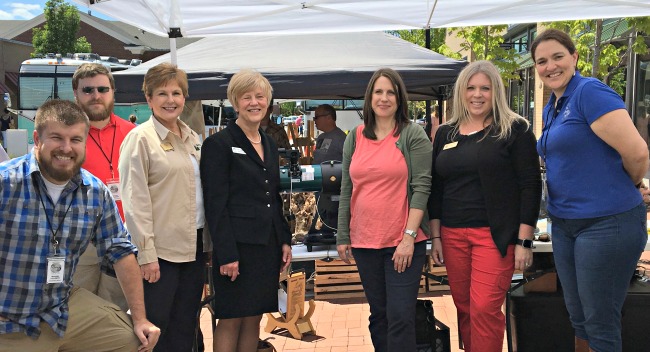 Members of S-Cubed and local librarians at First Friday in Bentonville.
The telescopes S-Cubed has placed in libraries is only a small part of what the group wants to accomplish. Soon, Northwest Arkansas will be home to one of the largest refracting telescopes in the United States. Swarthmore College in Pennsylvania decided to repurpose Sproul Observatory, which included finding a home for their 106-year-old telescope. The 24″ Brashear refracting telescope was made in 1911 and has a focal length of 36 feet. It sits on a base that weighs 50,000 pounds. The telescope has been used extensively for astronomical photography.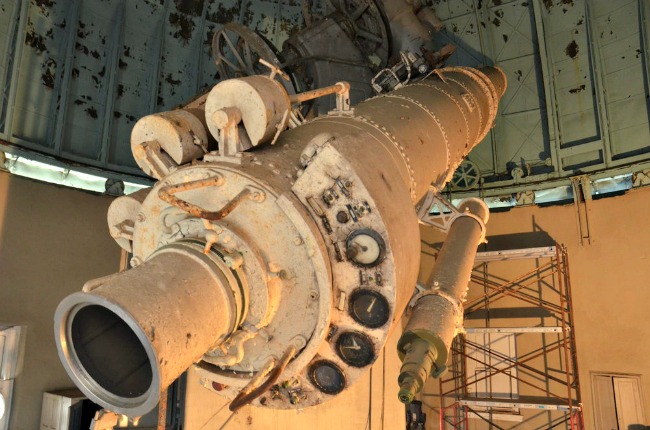 Katherine is a member of the International Planetarium Society and saw a notice about the telescope through the organization. She notified S-Cubed 's board, but the cost of relocating and storing the telescope seemed daunting. They contacted Swarthmore College to let them know that though S-Cubed would love to bring the telescope to NWA, they were a fledgling organization. A month later, Swarthmore let S-Cubed know they were the only serious candidate for the telescope and offered to help with the costs of dismantling the telescope and shipping it to Arkansas. S-Cubed decided to submit a full proposal for the telescope.
Katherine says, "When the email arrived congratulating S-Cubed on being selected to receive the telescope, I had to reread it and then remember to breathe."
The giant telescope is a coup for the group and Arkansas. It will provide the foundation for the planned science center S-Cubed hopes to build in the area. Though planning is in the beginning stages, Katherine says STEM and Space, Inc. already knows what they'd like to see inside the center. The Brashear 24″ refractor telescope will be housed in its own observatory to allow students and the public to view the universe up close. Katherine adds that one of the updates they hope to make on the telescope is a video capture system that will allow the center to stream the view from the telescope's eyepiece to an auditorium or lobby.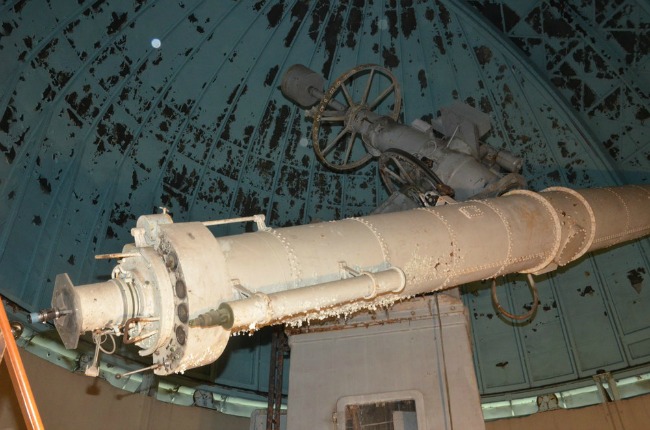 In addition to the telescope, the group plans on a large planetarium to "allow night sky tours on cloudy nights and explore celestial objects in a manner that even telescopes cannot accomplish." The planetarium will also show movies on a variety of subjects, from science to entertainment.
The group also wants to see a robotics lab that includes a maker space and a deconstruction lab where students can delve into technology, build robots and tear apart household objects donated by the community.
Science on a Sphere will be another unique space within the center. This room-size system uses computers to display planetary data on a six-foot globe. Children and adults alike can learn all about earth science through the globe.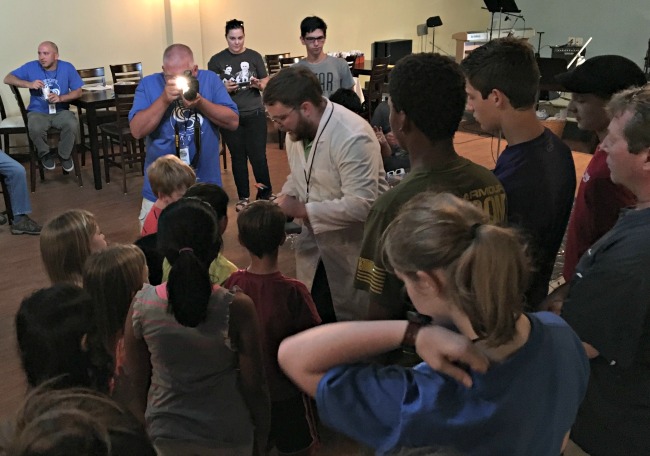 S-Cubed's Clint Branham demonstrates the creation of electricity
at a fund-raising event.
With rising levels of interest in astronomy and STEM education in the area, this is the perfect time to build a science center. Katherine says the center "will use the fascinating subjects of space and space exploration as a jumping off point to delve into science, technology, engineering and math. It will be an interactive, inquiry-based community location for learning and fun." The group plans on opening a temporary center within 18 months as it fundraises to build the full science center.
S-Cubed has raised $5,000 of the estimated $20,000 needed to ship and store the giant Brashear telescope. The group is currently working on developing partners in the area to help with both shipping and storing. They are also actively fund-raising for the science center. Katherine encourages everyone to check out the GoFundMe page at  www.gofundme.com/sproulrelo  to support the telescope relocation project.
To learn more about Supporting STEM & Space, Inc., including how to support the science center, visit www.nwa.space, where you can sign up for email updates and event notices. The group is also looking for volunteers to help with outreach events with the only prerequisite being an interest in STEM or space. Katherine also encourages residents and visitors to NWA to check out the Hobbs Star Parties at Hobbs State Park, held every month by the Sugar Creek Astronomical Society, one of S-Cubed's partners who perform maintenance on the library telescopes.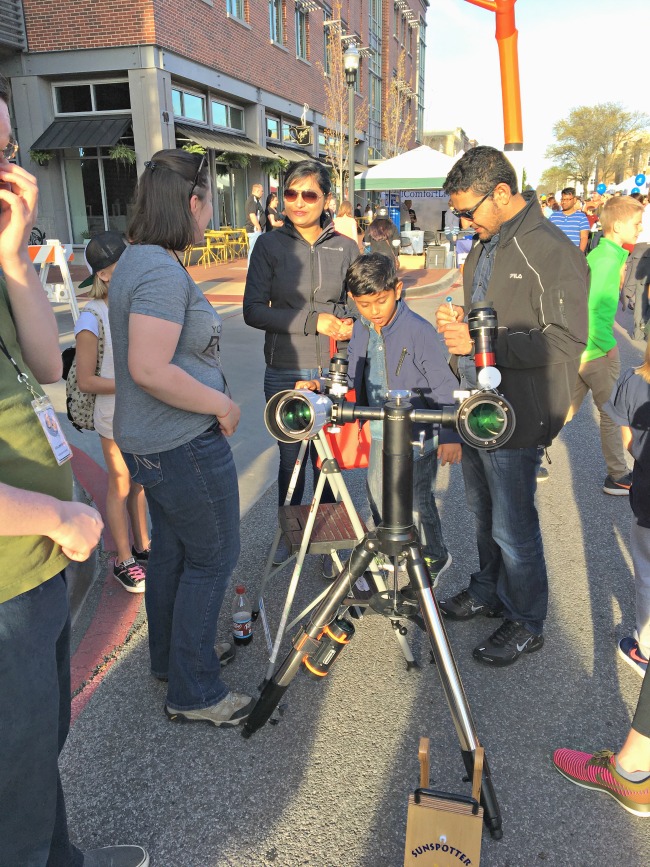 S-Cubed volunteer Becca Branham talks about solar telescopes and solar observation at First Friday in Bentonville.
Keep up with S-Cubed on Facebook at Space Science NWA and watch for the arrival of the giant telescope If you're in Northwest Arkansas, don't miss the opportunity to reserve a telescope from a local library.
The next Moon on Dickson will be Saturday, July 1, from 8 p.m. to midnight, and S-Cubed will be at First Friday in Bentonville on July 7. The next Hobbs Star party is July 22, and more information can be found on Sugar Creek Astronomical Society's Facebook page. Enjoy the night sky and anticipate the view a giant telescope will soon offer.
Photos courtesy of Supporting STEM and Space, Inc. and used with permission.