If you've ever imagined a future in which robots delivered food to your door, carried your books, or delivered your online purchases, that future may be nearer than you think.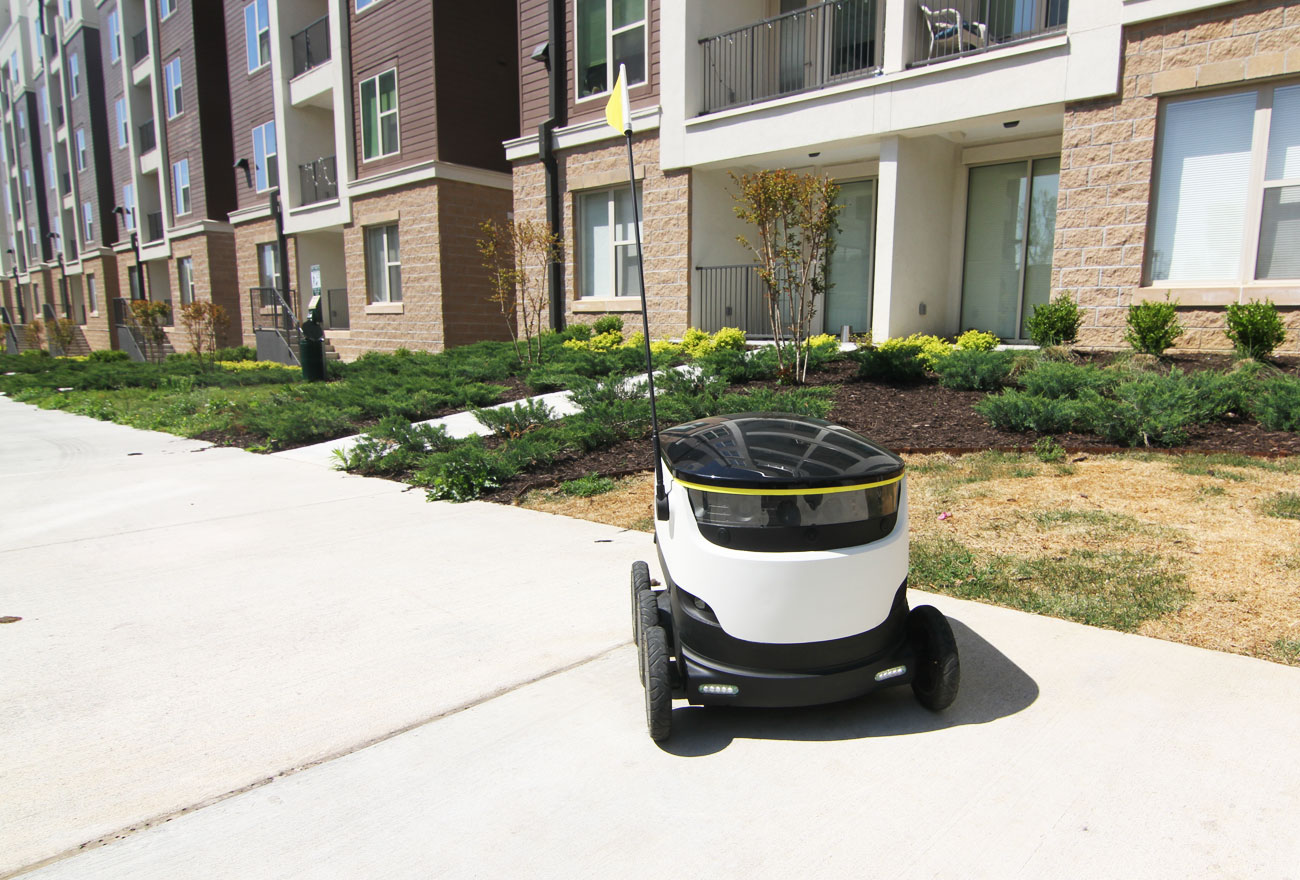 One of a fleet of delivery robots current being tested around Fayetteville
For almost a year, a fleet of robots has been making their way around the streets of downtown Fayetteville, mapping the neighborhoods and preparing to begin delivering everything from packages to pizzas to the people of the city.
The robots were created by Starship Technologies, a London, England-based company created by one of the co-founders of Skype, who is currently working with students from the University of Arkansas to test and implement the robot delivery technology.
Instead of the delivery drones that other companies are testing, these robots get around on wheels, making their way through town on what Starship communication director Henry Harris-Burland calls most city's most underused forms of infrastructure – the sidewalks.
The six-wheeled robots weigh around 40 pounds fully-packed, can carry up to 20 pounds, travel at around 4 miles per hour, and navigate using a combination of built-in sensors, cameras, and a proprietary mapping technology. Once they're packed up for delivery, they navigate to their destination avoiding pedestrians, minding traffic signals, and delivering items that can only be retrieved by the person who ordered them. You can even follow along with your delivery using an Uber-style app.
The mapping technology the robots use does require them to operate in an area for a period of time before they begin making deliveries. Once they've completed the mapping exercise, however, they are accurate with deliveries "within an inch," Harris-Burland said.
University of Arkansas students in the McMillon Innovation Studio are helping the robots with their mapping exercise in Fayetteville. The students operate and follow around the robots to assist with that process, as well as to help answer questions about the robots to locals when they encounter them.
"They're robot handlers, introducing the new technology to the public, and handing out flyers," Harris-Burland said. "It's really an important social acceptance research project, and they're finding out how people are interacting with the robots. Do they like them? Do they hate them? Do they care?"
It turns out, people don't tend to mind them at all.
"What we've found is that people don't really care," Harris-Burland said. "Once they're operating for a while, people barely notice them.
Starship is one of several companies trying to solve the "final mile" problem for delivery companies, which has been identified as the most inefficient for traditional delivery methods. The delivery robots are designed to carry items for a couple miles or less, and will concentrate on delivering mostly groceries, parcels, or food, Harris-Burland said.
Continue Reading at Fayetteville Flyer