Arkansas is a great place to live, but also a wonderful state to visit. The state welcomes millions of tourists each year, and with gems like Hot Springs, the state parks, the Clinton Presidential Library and Crystal Bridges Museum of American Art, more people are visiting than ever. Arkansas Welcome Centers are often the first experience visitors have in Arkansas. Their friendly staff help guide and inform visitors to the Natural State.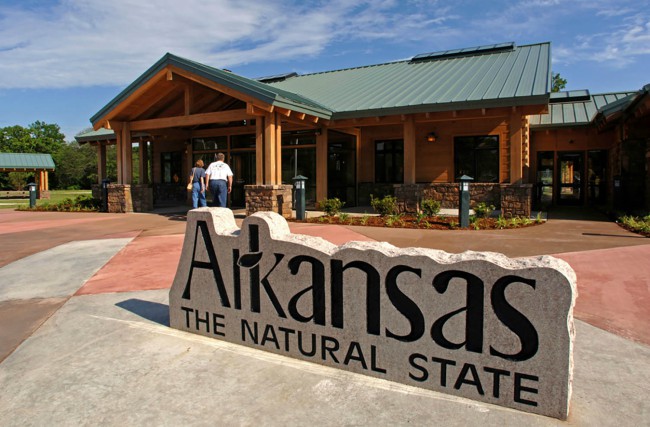 Arkansas boasts fourteen Welcome Centers along strategic entry points on Arkansas highways. The centers are a partnership between the Arkansas Department of Transportation and the Arkansas Department of Parks and Tourism. As early as the 1960s, visitors to Bentonville, Corning, El Dorado and Texarkana could find welcome centers upon their arrival. In the 1970s, four more centers joined them in Blytheville, Helena-West Helena, Van Buren/Ft. Smith and West Memphis.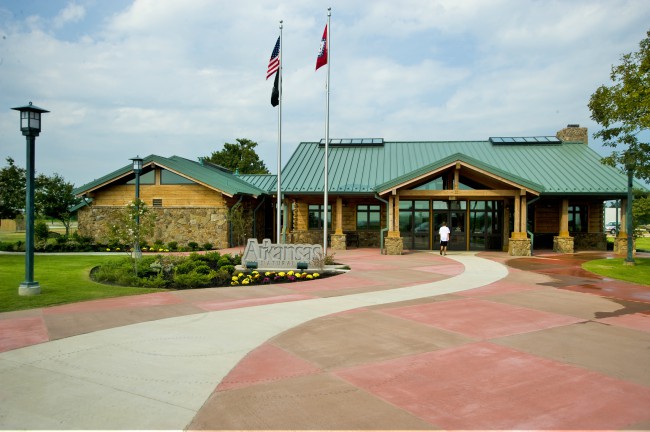 Another four expanded the Welcome Centers' reach in Harrison, Lake Village, Mammoth Spring and Red River. Siloam Springs received a Welcome Center in the 1990s to complete the thirteen strategic points of entry to receive visitors. All centers have been updated to fit the needs of twenty-first-century tourists. A central welcome center in Little Rock also greets visitors in the state's capital.
Kayla Hardage is the Welcome Center manager at the central office in Little Rock. Maintaining fourteen centers is a large job, but she embraces it with enthusiasm. The centers employ 46 full-time employees around the state. "All our centers are great and our staff is truly like family," she says.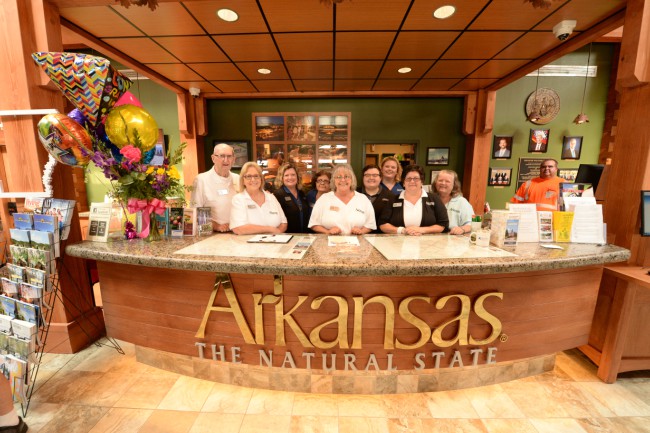 Arkansas Welcome Center staff are often the first experience visitors have with Arkansas. "Our goal is to present a positive first impression of Arkansas and provide information that will encourage visitors to extend their stay and experience more of Arkansas," Kayla says.
When you step inside any of the fourteen centers, you'll be greeted with a smile, free fresh coffee and a clean restroom. The centers offer over 1,000 Arkansas publications ranging from restaurant, lodging and attraction guides to local and regional magazines. They also offer vacation planning kits, state highway maps and hunting and fishing guides. All welcome center staff are trained to be familiar with the publications and the state's attractions to assist travelers with any questions they have.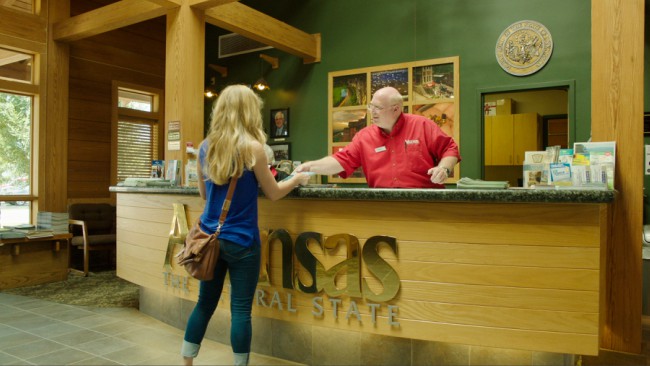 The Arkansas Welcome Centers' staff take their jobs seriously. The centers are laid out by the twelve tourism regions in Arkansas. The central center in Little Rock serves a dual purpose of being the reception area for the department of parks & tourism and the only centrally-located welcome center. It also fills requests for tourist information from foreign countries.
To gain firsthand knowledge of the state they represent, the staff participates in Familiarization Tours. The tours are done twice a year and include two of the twelve regions, so staff need a total of three years to complete the tours. They experience a variety of Arkansas's attractions, lodging and dining venues so they can whole-heartedly recommend them to visitors. "This is truly our greatest training asset," Kayla says.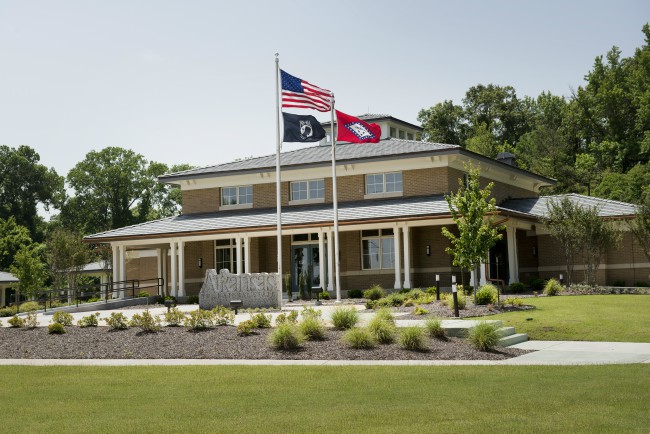 Besides their presence in the centers, Welcome Center staff are involved in various projects each year. Staff are available to set up booths at local events or meetings and to speak on the tourism industry in Arkansas to schools, civic groups or anyone else interested in Arkansas tourism. They have a booth each year at the Arkansas State Fair and keep many popular state guides on hand for fairgoers. The central office also manages the tourism gift shop in Little Rock. Recently, the department also worked with the cities of Little Rock and North Little Rock to open a self-serve welcome center in downtown Little Rock.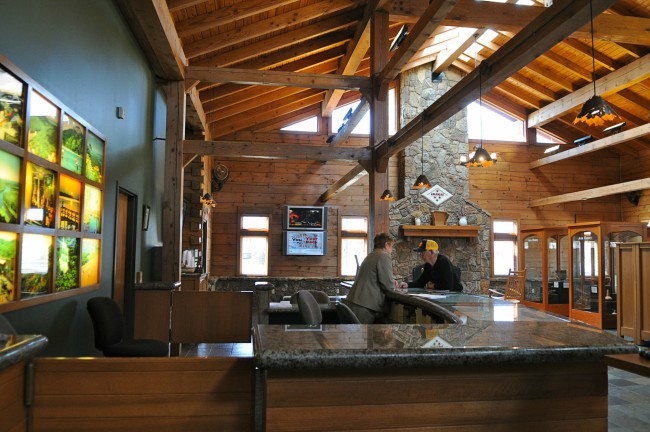 Social media is also an important component to reaching the state's visitors and local residents. Each Arkansas Welcome Center maintains a Facebook page. Residents of Northwest Arkansas can follow the Siloam Springs and Bentonville Welcome Center pages. Southern residents can follow the Texarkana Center page. Everyone can find a center near them by searching for Arkansas Welcome Centers on Facebook. All the pages keep visitors and locals updated on upcoming events and attractions in the area and also share information from other parts of the state. It's a great way to see what's available to visitors and residents alike.
"Arkansas is our product to sell, and is an easy sell with all of our great assets!" Kayla Hardage says of the fourteen Arkansas Welcome Centers. The centers are open 8 am to 5 pm seven days a week, with extended hours in the summer. Find more information at Arkansas.com or by visiting any of the state's fourteen Welcome Centers in person. Hot coffee and friendly faces will be waiting for you.
Photos by Arkansas Department of Parks and Tourism and used with permission.