I remember visiting a zoo as a preschool student and being amazed by the animals, but also disappointed that the animals were all far away behind thick glass enclosures or across moats and fences. I wanted the chance to see the animals up close. Arkansans have that opportunity to safely view elephants from just a few feet away with a visit to Riddle's Elephant and Wildlife Sanctuary.
The elephant sanctuary is down a winding road near Greenbrier, although it's officially in the small community of Quitman. Follow the signs to the sprawling 330-acre retreat. Here the rescued elephants are allowed to roam across the land, getting as close to their natural habitat as they've ever been.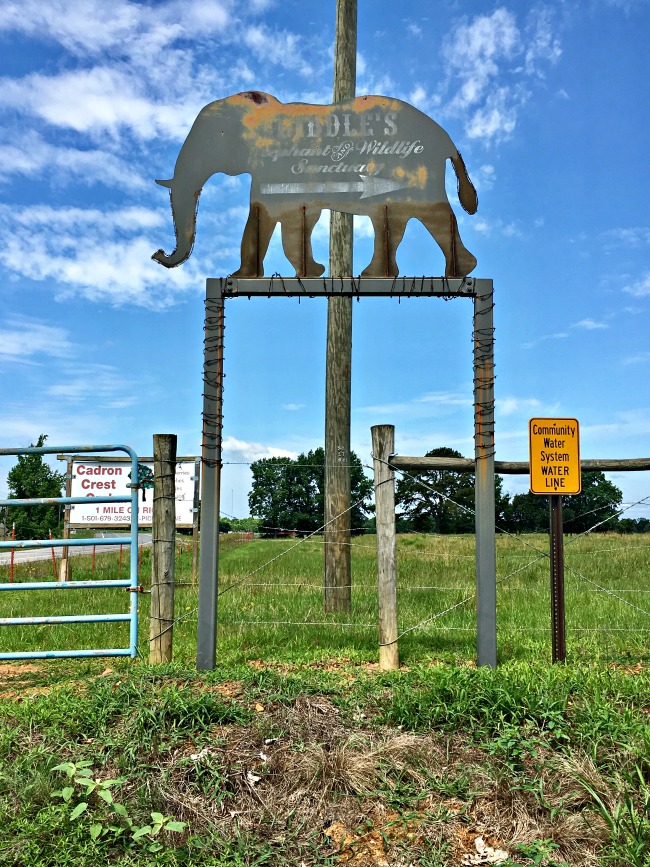 Owners Scott and Heidi Riddle have been in the elephant business a long time. They opened their sanctuary in 1990 when elephants still filled circus tents and zoos and the large animals didn't always receive the proper treatment and care they deserved. The Riddles saw a need for a safe place where elephants could go for any reason, whether they weren't wanted anymore or they had a reputation as a problem elephant. The sanctuary is often the first place these elephants have ever been allowed to wander freely.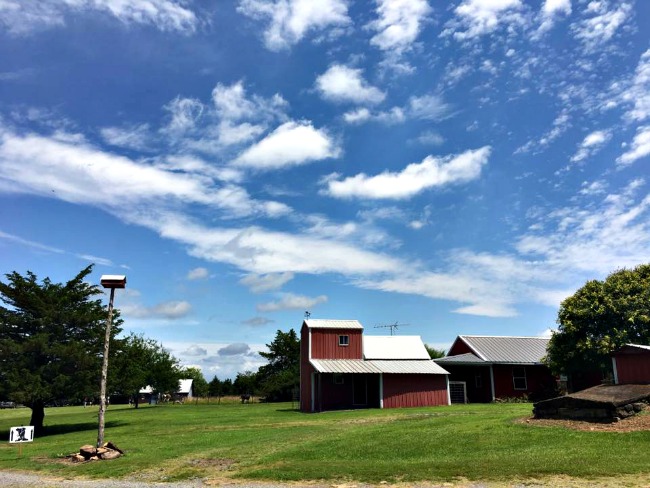 The sanctuary has housed as many as fourteen elephants at one time, including baby elephants born at the sanctuary. Part of the reason the Riddles keep the elephants is for the ability to study them closely, to learn more about the massive animals in the hopes of finding ways the species can survive and thrive for future generations to enjoy.
Wild elephants are threatened by illegal poaching and human infringement on their territory. Asian elephants are endangered while their African counterparts are listed as threatened. The Riddles state on their website, "we are implementing a sensible and effective strategy for preserving and expanding the number of elephants throughout the world."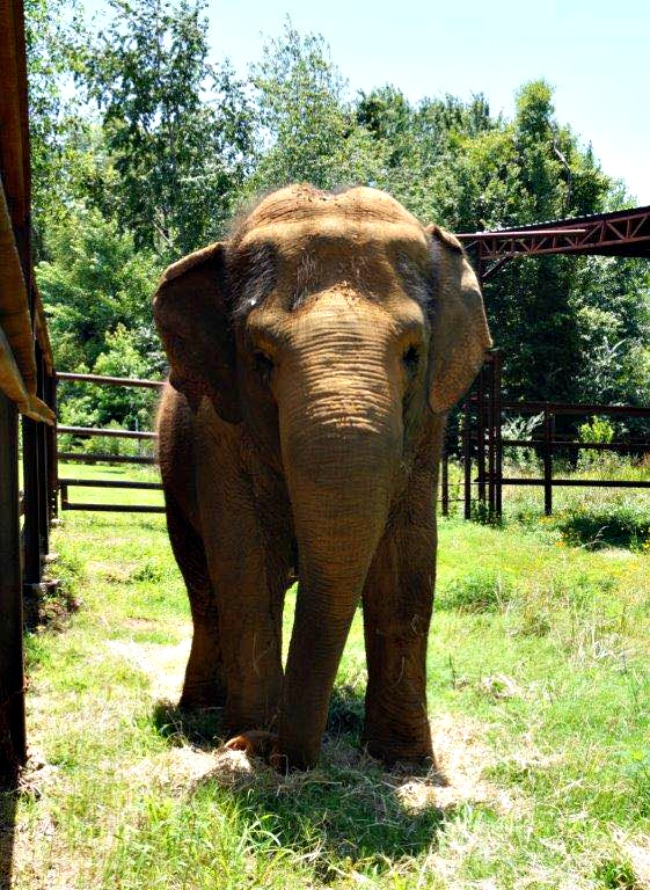 Education is a second component to the sanctuary, and providing the public an opportunity to see the elephants helps make people aware of the elephants' situation worldwide
The sanctuary currently has two elephants, Betty Boop and Peggy. Both elephants were circus animals prior to arriving at the sanctuary. In July, Michelle Deitz, of Arkansas Fun & Adventures, visited the sanctuary with her young daughter. The elephants are brought into a fenced enclosure for the day to allow the guests to see them up close. "I have always cared deeply for all animals, and elephants are among one of my favorites," Michelle says. They were excited to come face to face with the two elephants.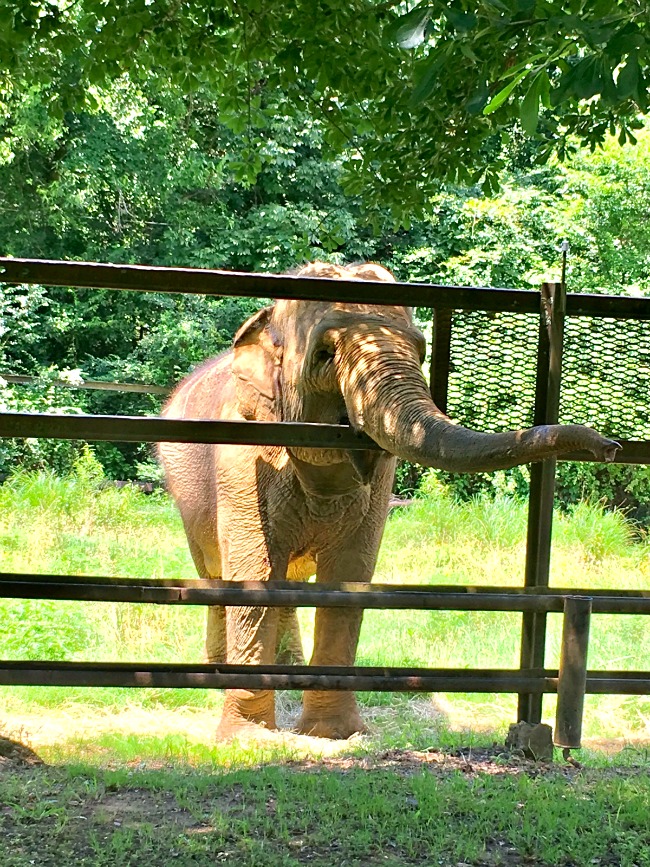 Betty Boop, called Booper, was born in 1972. She retired from the circus after receiving a hip injury from another elephant. Booper's caregiver fed the elephant apples, carrots and a head of lettuce while Michelle and her daughter watched. Elephants are strict vegetarians, but they enjoy a wide variety of vegetation, from grass, plants, and leaves to roots, fruit and vegetables. Booper likes to push over small trees to eat the leaves. Though she was enclosed in a pen, she was only a few yards away from Michelle and her daughter.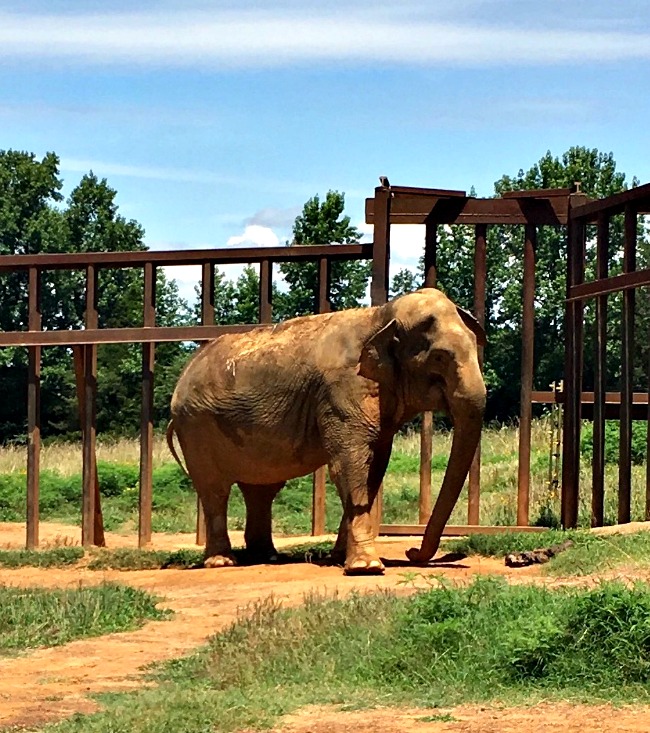 Peggy was in a separate pen. She wasn't quite as friendly as Booper, but she's also much older. Peggy was born in 1958. Elephants can live from 48 to 70 years, depending on their species and living conditions. At 59, Peggy has seen a lot, from her days in the circus to her retirement at the sanctuary.
You might hear the elephants make noise on your visit. When children are asked what sound an elephant makes, they imitate the elephant's trumpet call. Elephants only trumpet when they're highly stimulated. They make many other sounds though, from a low rumbling, like a very large cat purring, to chirping and squeaking. Peggy can sometimes be heard barking like a seal.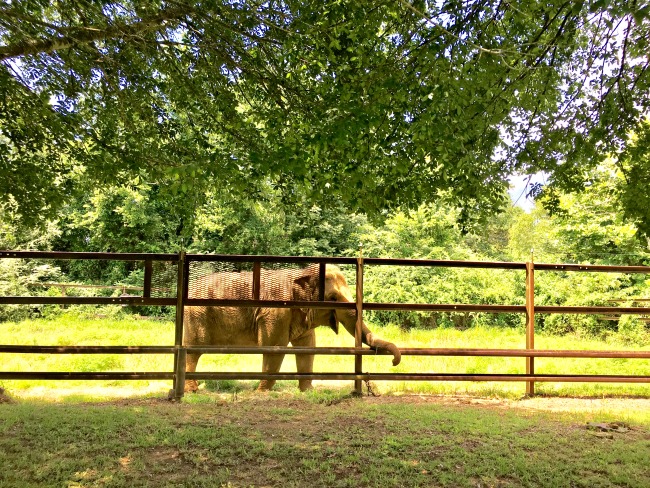 "Of course we have seen elephants before at various zoos, but there was something more special and intimate about seeing them up close in their natural habitat," Michelle says. "They seem so relaxed, so free and happy to be at the sanctuary. It warmed our hearts knowing they were well protected and cared for."
You can see Peggy and Betty Boop, too, by taking a visit to Riddle's Elephant Sanctuary. You need to plan ahead, as the sanctuary is only open to the public the first Saturday of each month from 11 a.m. to 3 p.m. The entry fee is $5 per person. The next available dates for viewing the elephants are August 5th, September 2nd, and October 7th.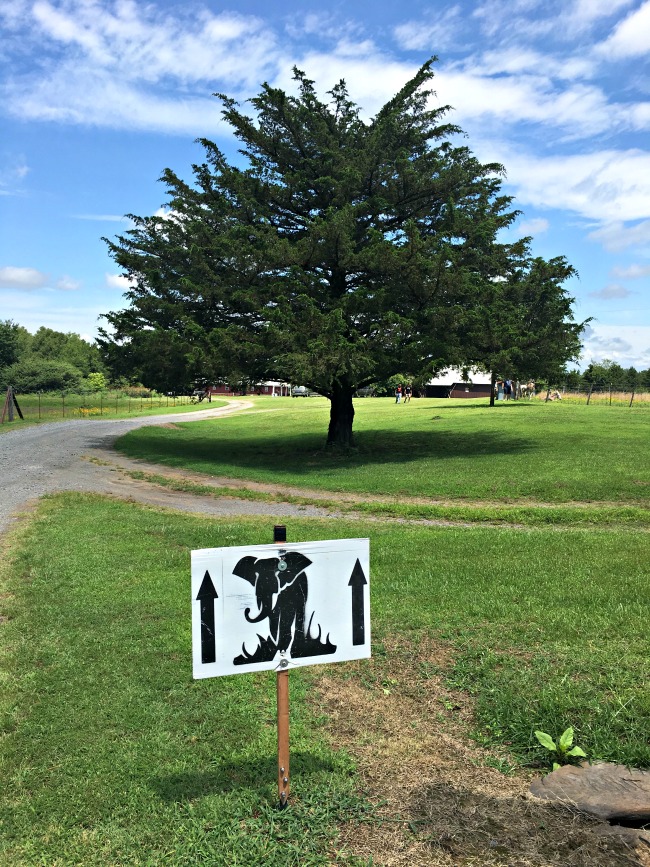 Photos courtesy of Michelle Dietz of Arkansas Fun & Adventures and used with permission. Visit her Facebook page for information on any Arkansas adventure.