For a few minutes, imagine that you are living in Northern Arkansas in the early 1900s. The splendor of the Ozarks is as breathtaking as ever. Just a few miles south lies the meandering Buffalo River in all its stunning beauty.
All around you are the wonderful melodies that emanate from nature; birds, squirrels, insects, and a plethora of unknown creatures unite as they fill the air with their tales of adventure and survival. Suddenly, a very different arrangement of tunes dominates the scene. In the distance, there's a sound of a deep whistle, and all around there is a mighty rumble. Soon you hear a constant flow of screeches and squeals.
These new sounds are as unmistakable as the calls from the creatures: A locomotive has arrived!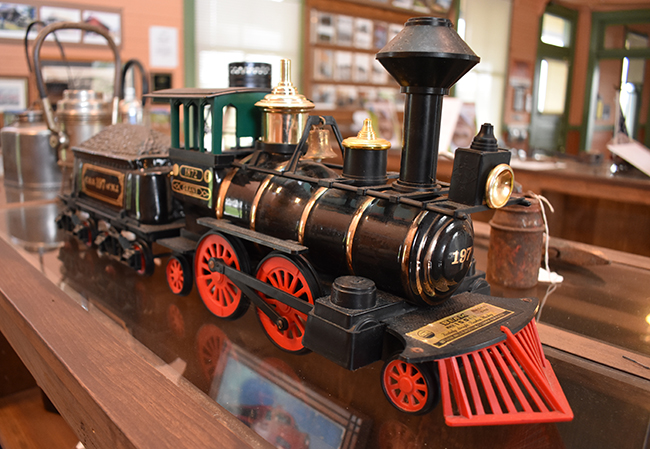 Rail systems changed the world and transformed the way people lived. They were critical to the Industrial Revolution, and the development of export economies. That was certainly true of mineral-rich and forested rural areas like northern Arkansas.
Zinc, limestone, marble, construction stone, dolomite, glass sand and lumber were among the many important natural resources that were plentiful in northern Arkansas. Rails were considered the key in utilizing these resources.
At its peak, the Missouri and North Arkansas Railroad, or M&NA, stretched from Joplin, Missouri to Helena, Arkansas. This railway went through the mountainous Ozark region of southern Missouri and northern Arkansas, which was the result of incredible human effort. Portions of pure mountain had to be moved to allow for a smooth rail surface. Imagine the sheer amount of work it took to accomplish this back then while using dynamite, drills and hand implements. For me, it's an ordeal when I hit a stone while trying to plant a shrub.
As was the case all over the U.S., railroads brought people, and more people meant bigger towns and cities. Thus, train depots were a desired element for local economies, much like an access on a major highway. The small town of St. Joe in northern Arkansas contained one of these train depots that still stands to this day.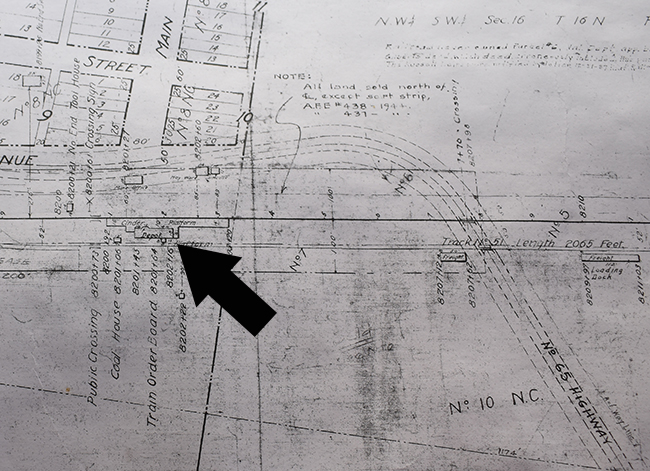 Mining and lumber were huge for the local economy during the days of rail, and at one point, St. Joe was larger than the nearby town of Harrison. Unfortunately, many factors, including the overall decline of railroad popularity across the country, hit regional carriers and rural areas hard. The railway closed for regular service in 1946, and eventually the track was salvaged.
Even though this rail line is but a whisper of what it once was, there are many imprints that remain to this day. One outstanding example is the St. Joe Depot, which was recently restored and converted into a wonderful museum.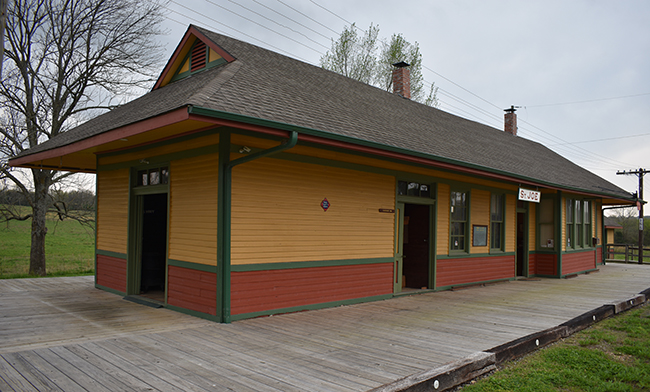 In the years between 1946 and its recent restoration, the St. Joe Depot was used as a church, a temporary school after a fire that destroyed the main school, and a feed store. It eventually became vacant and fell into a state of severe disrepair. Large holes in the roof threatened to hasten rot and collapse. Finally, a concerned group of people who recognized the historical significance of the depot began efforts to have it restored.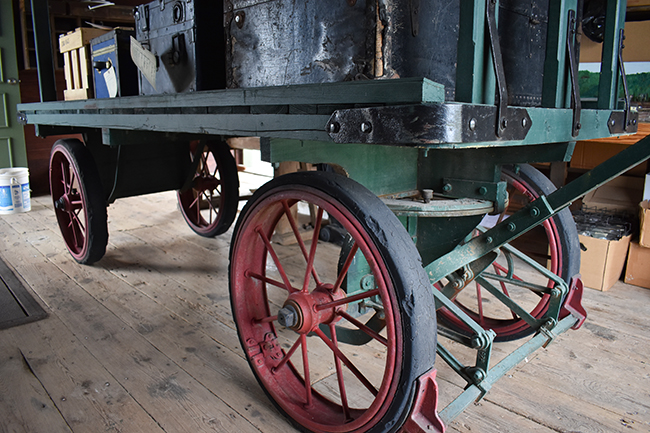 The former mayor of St. Joe, John B. Henley, is recognized for his leadership and commitment to the restoration process. I recently had the privilege of touring the museum, and I can say that St. Joe has a real treasure to be proud of.
During my tour, a wonderful gentleman by the name of Louis Still, who was also instrumental in the restoration process, talked about the history of the depot and pointed out the many artifacts and photos displayed throughout the building.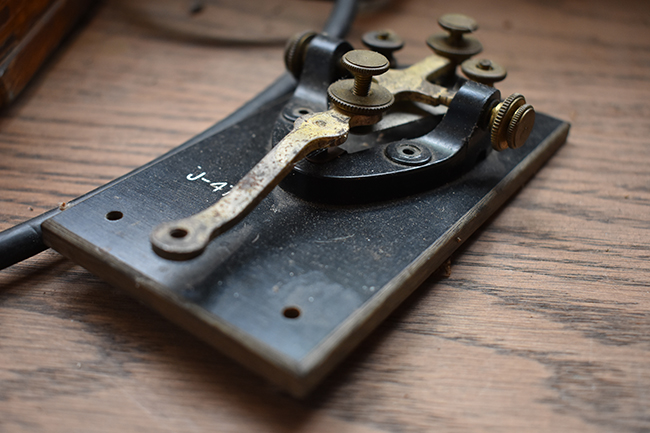 As my daughter and I walked around, both inside and outside the depot, I couldn't help but feel a sense of awe. The sheer amount of history contained in this building is staggering. I was walking in the same building that train passengers and workers were walking in over a century ago. This train depot was in operation during the sinking of the Titanic, both World Wars, the Great Depression, and many other significant world events. I imagined what conversations might have been had inside that building during those tumultuous events.
The depot property is also host to a historic Civil War marker.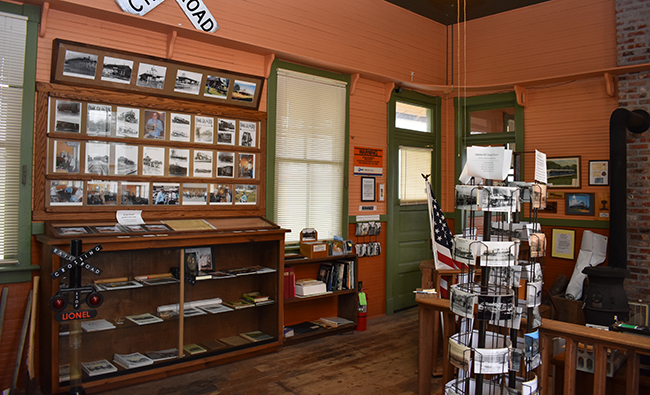 St. Joe is located on U.S. Route 65 and enjoys a proximity to the Buffalo River. In fact, the St. Joe area features some of the best river access points available, and many people travel there for just that reason.
But if your travel plans take you through St. Joe, stop in and have a look around. Take in what many visitors took in over a century ago as they stepped off the train and began a new life in that region of America.
If you listen long enough, you just might hear the whistles, the rumbles, and the screeches of the mighty locomotives that rolled through many years ago.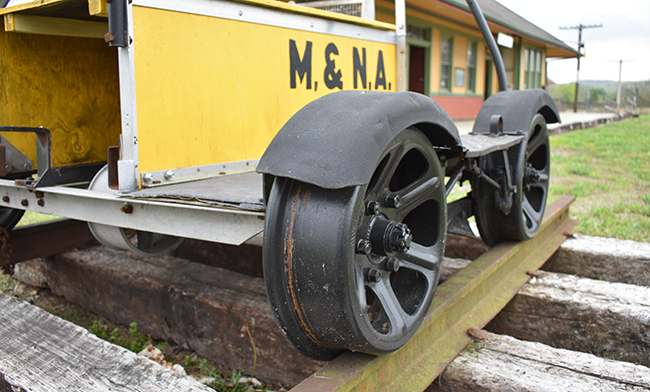 You can learn more about St. Joe, Arkansas by visiting http://www.stjoearkansas.org/