If anything can be gleaned by the first few hours of the Chad Morris era at Arkansas, it is that the man moves fast.
Less than a day after accepting the position and signing his contract to coach at Arkansas, and he's already been reaching out to recruits on behalf of the Razorbacks. He's been quickly assembling a coaching staff. He's already met with the team. He even talks pretty fast.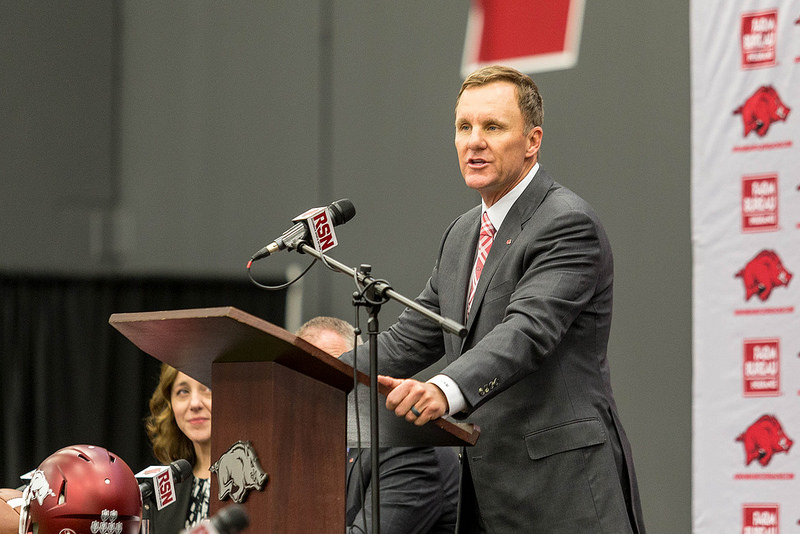 Morris was officially introduced as the new head coach of the Razorbacks on Thursday, and he wasted no time letting the crowd of reporters, boosters, and staff in attendance at his introductory press conference know how things are going to move now that he's in charge.
"You'll see an exciting brand of football, sideline to sideline, end zone to end zone, and there won't be much time to sit in your seats," Morris said. "We'll go fast, we'll play fast, and we'll have fun doing it."
New athletic director Hunter Yurachek introduced Morris, and credited interim AD Julie Peoples Cromer for taking the coaching search "to the one-inch line," before he arrived. "I was just the big hefty lineman that helped push the ball over the goal line," he said.
"When I heard we were on track to hire Chad Morris," Yurachek said. I was excited, and I was on board from the start."
He had been familiar with him as a coach, but also as a recruiter of one of his sons.
"He was recruiting my son earlier this spring when he was invited to one of their prospect camps this spring," Yurachek said. "My wife called me and said, you know what coach Morris is doing. There are over 400 kids at this camp, and he has gone through the stands and introduced himself to every single parent here, and he is spending 2, 3, 4, 5 minutes with each one.
"That speaks volumes to the quality of person that Chad Morris is, and how he invests in relationships especially through the recruiting process," Yurachek said.
Morris cut his teeth as a high school coach in the state of Texas, where he honed his tempo-based offense and won three state titles as a prep coach. He broke into college coaching as the offensive coordinator at Tulsa in 2010, two seasons after his mentor Malzahn held the role. In 2011 Clemson hired Morris away from Tulsa, and their recent championship-caliber run in the ACC began with Morris at the offensive controls and when he left for SMU. There, he took the cellar-dwelling Mustangs from a 2-10 record his first year to the school's 7-5 record this year before accepting the Arkansas job on Wednesday.
Morris is probably best known as an offensive mind. He took over an offense that was 128th in the FCS at SMU, and in his third year with the program this year, the Mustang's offense finished 10th in the country in scoring in 2017.
He expects more success on that side of the ball at Arkansas.
"Offensively, you won't see a more explosive offense in college football," he said.
He also promised to hire, "the best defensive coordinator" in the nation as well, though he stopped short of naming names at that position Thursday morning.
"I've got a short list, and some that I've had to play against, be around, watch, admire from afar," he said. "But we've got a great plan for that, and we hope to get on that today."
Recruiting – particularly in the state of Texas – will be a major focus for Morris.
"Recruiting and retaining is our top priority," Morris said. "To the Razorbacks of the future…we're coming at you. Our jets fueled up and we're ready to go."
Cover photo: New AD Hunter Yurachek, Chad Morris, and family call the Hogs / Photo: Todd Gill, Fayetteville Flyer
Continue Reading at Fayetteville Flyer